Yorkshire is renowned as a hotbed for cycling, with the county recently becoming the UK's first UCI Bike Region and named as host for the 2019 World Cycling Championships. Last week also saw news that the Tour de Yorkshire will be extended to a four day race in 2018, including a two-day women's race. And, proving that good news comes in threes, Struggle Events have added to Yorkshire's headlines by announcing the dates for two of the region's must-ride sportives.
Struggle events have gained cult status in double-quick time, with riders travelling from Ireland, Scotland and even Jersey to test their legs against Yorkshire's most notorious roads.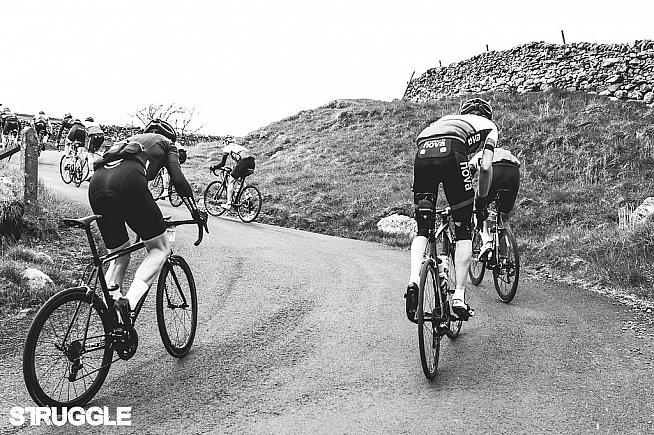 Two sportives are on offer, Struggle Dales and Struggle Moors, with both events held on extremely challenging routes within the Yorkshire Dales and Yorkshire Moors. Both events cover over 100 miles with circa 10,000ft of climbing - a challenge not to be underestimated. Just ask Sportive reporter Jim Cotton, whose report on the 2017 Struggle Dales is available to read here.
For 2018, Struggle Dales will take place on 27 May and Struggle Moors will be held on 8 July. Riders can pre-register now at www.ridethestruggle.com for a chance to secure their entry before everyone else when entries open in November 2017.
Both Struggle sportives boast a number of the UK's sought-after climbs. The Dales sportive includes Greenhow Hill, Park Rash and Malham Cove, while The Moors features the feared Rosedale Chimney, Glaisdale Horror (Caper Hill) and Cote du Grosmont.
Director of Struggle Events Ltd, Matthew Mannakee said: "This year we saw a huge increase in numbers for The Dales as there is huge interest in conquering the feared climbs Yorkshire offers.
"We have had an astounding number of riders already pre-register for next year with 2500 already on our list and only 1000 places for each event. This year Struggle Dales sold out, so we are advising riders to pre-register now and sign up as soon as the event opens for entries to avoid disappointment.
"Our God's Own Country has quickly become the capital for UK cycling. We're proud to continue to host such popular events that showcase our region to riders coming from far-flung corners of the country.
"The inception of this year's Struggle Moors event was designed to feed the hunger of Yorkshire's huge community of hardened cyclists, but also to attract the nation's keenest endurance riders to take on Yorkshire's toughest terrain."
Speaking of feeding, both Struggle events are catered for by sports nutrition brand OTE, while riders get free event photography from Dan Monaghan of Cadence Images.
For a taste of what to expect, check out this video of the 2017 Struggle Dales.
Up for the challenge? Pre-register now at www.ridethestruggle.com.
0 Comments