Dozens of cyclists on last weekend's Pedal for Scotland sportive suffered punctures when tacks were sprinkled on the course by what the organisers branded "idiotic" saboteurs.
Around 8,000 people, many of them not regular cyclists, take part in the annual charity ride from Glasgow to Edinburgh, raising money for STV Children's Appeal. The tacks were reported on the road at Whitecross and Linithglow, Falkirk.
Dozens of cyclists were reportedly affected, with many unable to finish the ride as the event's mechanics struggled to keep up with demand on their services.
Pedal for Scotland is held on closed roads, with some locals along the route objecting on social media to the disruption caused.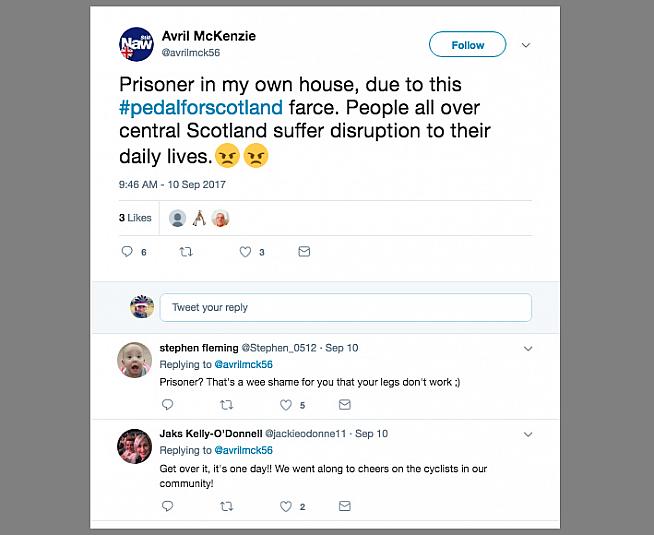 Police Scotland said that they were investigating the incident.
"The matter was reported to police around 1.10pm on Sunday, September 10, on Station Road. A number of bikes were damaged, however no cyclists were injured," a statement read.
"Inquiries into the circumstances are ongoing. Anyone with information is asked to contact Police Scotland on 101, quoting incident number 2396 of September 10."
A statement from event organisers, Cycling Scotland said:
"Nearly 8,000 people had a fantastic time cycling with Pedal for Scotland. Friends, families and colleagues were raising money for charities close to their hearts and there was enthusiastic support from spectators in most towns and villages along the route. We regret that the action of an idiotic individual or group of people has caused problems for event participants and risked serious injury to people. It has also slowed us down in opening the roads again. The operational team helped remove the tacks as soon as they were reported.
"Friends, families and colleagues create the inspiring Pedal for Scotland atmosphere so we would like to thank everyone who stopped and helped their fellow participants and special recognition is due to The Bike Station mechanics for fixing as many punctures as humanly possible in a very short time period.
"Events of all types have to both prepare a wide range of contingency plans and share information before, during and after the event with key partners, especially the Police and other emergency services. Regardless, everyone involved in organising events will always hope that no one will commit such a senseless act of sabotage.
"We would ask anyone with information about who committed this crime to report it to Police Scotland."
If you have any information on the tacks incident you can report it to Police Scotland by calling 101.
0 Comments