In what looks like an uncommon outbreak of common sense, the UCI has clarified that riders at "mass participation events" such as gran fondos, sportives and centuries may use disc-equipped bikes.
The change is with "immediate effect" and comes just in time for some of the biggest European events such as L'Etape du Tour.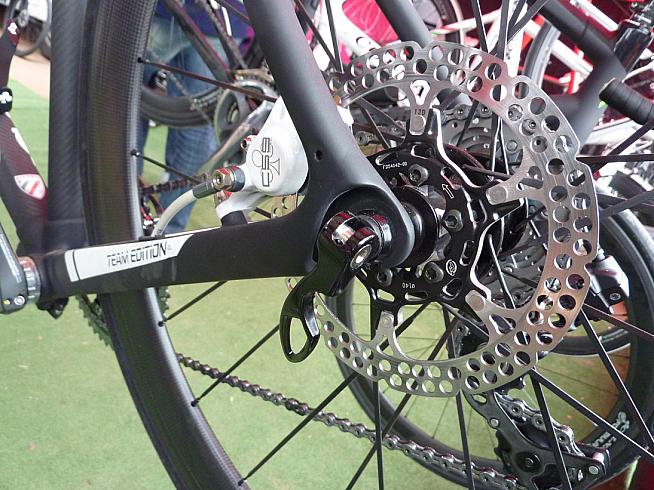 The decision was made during the UCI Management Committee meeting in Lausanne, Switzerland on June 2 and 3. The news release from the Committee meeting states:
"In the area of equipment, the UCI Management Committee approved a clarification to its regulations to make it clear that the use of disc brakes - already widespread - is authorised in mountain bike, trials and mass participation (road) events. These clarified rules are applicable with immediate effect."
The ban on discs at the pro level remains in place. "Their use in events on the international or national road race calendars remains suspended at the request of the Association des Groupes Cyclistes Professionnels (AIGCP), supported by the Cyclistes Professionnels Associés (CPA)."
Disc brakes were being trialled in the pro peloton. The prohibition came in the wake of an injury to Fran Ventoso of Team Movistar at Paris-Roubaix that may or may not have been cause by a brake disc. The Spanish rider suffered a deep gash to his leg and believes it came from a disc. The two teams that were running discs as part of the UCI trial have questioned whether a disc was to blame.
The decision to suspend the brakes trial was seen as relatively conservative and the cycling world's reaction seemed to be largely dependent on whether you were a fan of discs or not.
Whatever the merits of the ban it had — probably unexpected — repercussions below the pro level. National federations implemented the change at the events they sanctioned down to the gran fondo/sportive level and organisers — including ASO, which runs L'Etape — gave notice that discs were not allowed and no refunds would be given.
With the UCI's statement it should be free rein for discs in the Alps, Dolomites and Pyrenees this summer. That is, if you want heavy and ugly brakes on your bike...
0 Comments