In any era, Heinz Stücke would be a considered a remarkable man: a little eccentric, but remarkable nonetheless. He has been described as a traveller (certainly), a vagabond (unquestionably) and a long-distance touring cyclist (unequivocally). It is, perhaps, this last description which has brought him to worldwide attention. Heinz is also, by almost any measure, an adventurer of the sort that first crossed the world's oceans, or widest continents and explored beyond the farthest horizons.
For those of you who are less familiar with his story, what makes him remarkable? In 1962, at the age of 22, Heinz left his home in North West Germany to go for a bike ride. To this day, he has never returned. In the intervening years he has cycled 648,000km, through over 200 countries and some 80 territories. To put that in context, that is sixteen times around the world or, very nearly, to the moon and back!
For most of those kilometres, Heinz rode a bike that weighs 25kg and carried between 40 to 50kg of equipment. That's nearly 13,000km every year, for the last 50 years, on a bike weighing a total of some 75kg. And there are sportive riders who worry about riding 150km on a bike weighing 7kg!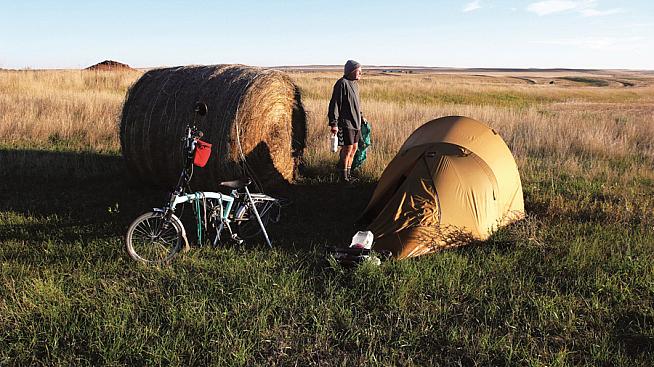 It is difficult to do justice to Heinz's story. Every day is a new adventure: he has seen things very few of us will see, he has been to places very few of us will ever go, and he has been doing it for over 50 years. He has, thankfully for us, kept accurate records of his travels in precious journals, including over 100,000 photographs and slides.
I first met Heinz in 2006, just after he had had his bicycle stolen from a park in Portsmouth, where he was sleeping. Having such a famous bicycle meant it was returned to him, undamaged, a few days later - perhaps no one else had the legs to pedal a 25kg monster. He was fascinating and engaging, with a story that harks back to the days of Marco Polo and his exploration of the Silk Route. We met, by chance, as we both rode along and I couldn't quite believe what he was telling me: I found it difficult to comprehend the numbers even then, and the numbers have only gone up since!
Fast forward nine years and Heinz is back in London to launch a book about his travels called "Home is Elsewhere", a story about his 50 years around the world by bike. For the last five of those years, Heinz has completed a total of eight trips, covering 52,800km, riding a Brompton folding bike.
Personally, I find this almost as remarkable as riding a 25kg heavyweight. Bromptons are small-wheeled, folding bikes, with funny hinges and rubber suspension blocks, most usually ridden by commuters. They are most definitely not designed for riding around the world. It is testament to the efficacy of Andrew Ritchie's design, and the quality of the engineers and craftsmen who build this little bike under the M4 flyover in Brentford, that it can stand up to this kind of punishment. As a demonstration of the quality of British design and engineering, it's got to be up there with anything Rolls Royce or Aston Martin can produce.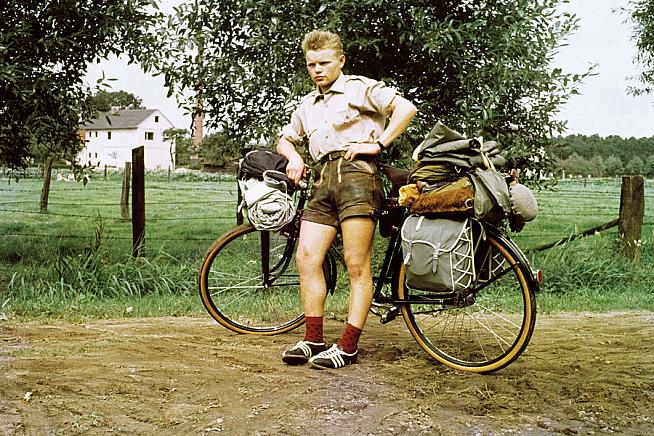 I wanted to know why Heinz had chosen a Brompton. His reply was succinct: "Because they paid me." After years of riding his full sized bike, he admits it took him a couple of years to get used to the Brompton. However, he soon discovered one advantage of the Brompton: its compact design has allowed Heinz to explore those parts of the world that are more difficult to reach. As he can fold his bike up and easily put it in the hold of a plane or the boot of a car, it's one less logistical issue for him to worry about.
For a man who seems to have left the rat-race behind for the last 50 years, it is interesting to ask Heinz what worries him when out on the road. It's not dogs or scorpions or hostile locals, it's normally money and bureaucracy. It has been a constant struggle for Heinz to earn enough money to fund his travels. He has relied upon the generosity of others and sold his books and pamphlets to raise the funds required to reach the farthest corners of the globe.
He is, however, constantly frustrated by bureaucracy. This is normally of the petty kind, of the "computer-says-no" variety, which has meant he has missed connections or a weather window to ride a particular route. Heinz told me it is much easier in less developed countries, where a $5 bill normally solves most issues and opens most doors.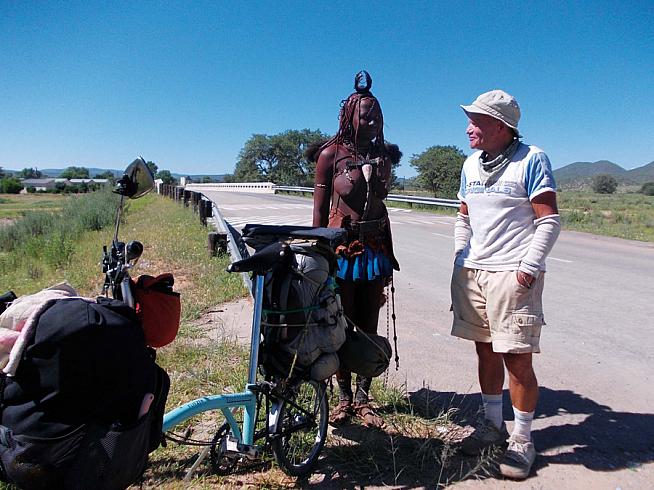 As a cyclist, I also wanted to know about food. During those long days in the saddle, does the thought of his next meal play on his mind? He told me he carries the basic items with him: rice, milk powder, tea, coffee (a proper cyclist!) and sugar, but invariable manages to find food somewhere. Heinz is certainly animated when it comes to his food and can reel off his favourite dishes in a flash. He fondly recalls eating fresh sardines, dripping in olive oil and cooked over a wood-burning fire, on the beach in Morocco. However, his favourite dish is Indian thali. This is a meal, based around rice, which is made up from a selection of dishes and which he has eaten all over India and Nepal during his travels. As you might expect, he has a remarkably strong constitution!
There is so much to the life of this man, that it is hard to capture it in an hour's conversation or a thousand words. He is cut from a different cloth, plays by a different set of rules and is all the more extraordinary for it.
I ride back to Waterloo station with Will Butler-Adams, the CEO of Brompton, on our respective folding bikes. We reflect on what Heinz has achieved and try to put these achievements into perspective. We both agree that we are lucky to have met him, as we are unlikely to meet his like again.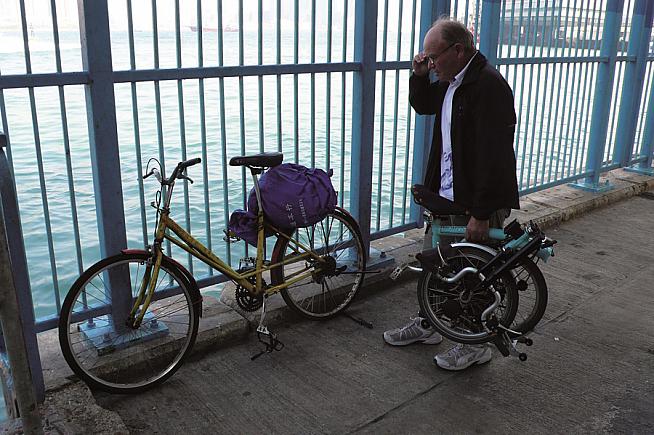 Home is Elsewhere: Heinz Stücke: 50 Years Around the World by Bike by Eric van den Berg is available to purchase through Brompton.com and in Brompton Junction stores.
A short documentary for Home is Elsewhere: 50 Years Around the World by Bike can be seen here: https://vimeo.com/145371171
0 Comments