In November 1962, a 22-year-old German named Heinz Stücke left his job as a tool and die maker and rode out of his hometown on a three-speed bike, with a dream to explore the world on two wheels. 50 years, 196 countries, 21 passports, 378,000 miles and 100,000 photos later, Heinz Stücke is in London, the home of the Brompton bike to share his experiences and remarkable achievement before an audience at the Design Museum. 
The event is a celebration of Stücke's epic travels with the launch of a new book, 'Home is Elsewhere: 50 years around the world by bike' by Eric van den Berg. Now 75 years old, Stücke chose a Brompton bike for the final 5 years of his travels and he will be joined in conversation by Brompton Bicycle CEO, Will Butler-Adams OBE.
During his travels, Stücke encountered many obstacles and near death experiences, which saw him hit by a truck in Chile's Atacama Desert, chased by an angry mob in Haiti, attacked by bees in Mozambique, detained by military in Cameroon and losing his bike in Siberia before having it stolen in Portsmouth.
Dutch travel writer Eric van den Berg dug into his vast collection of journals, photos, postcards and notes, and visited the cyclist to get an answer to that most pressing question: why?
"When I set off in 1962," says Heinz, "never in my wildest dreams did I imagine the incredible journey I was embarking on. My bicycle was my salvation, it gave me the freedom to take in the lives of others and explore the world's many great wonders and wildernesses. From 2010 I covered 60,000km on my Brompton bike and it was always reliable, just what I needed when I took it across the icy plains of Canada. It's great to be back in the UK to re-live my adventures with everyone."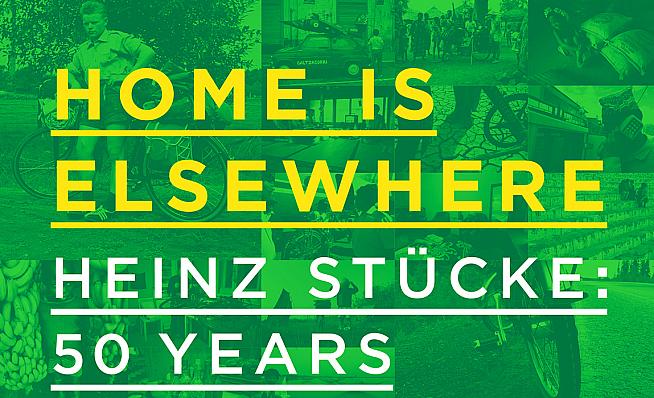 Brompton Bicycle CEO, Will Butler-Adams, hailed Stücke's achievement. "Great adventurers are rare; driven by a pure desire to explore people and places," comments Butler-Adams. "Heinz is such a man who spent fifty years circumnavigating our planet, at a speed with time to absorb the nature of the land he travelled through. His Brompton helped him in the latter years to reach the unreachable and fulfil his dream. His story needed to be told to inspire others to embrace the simple joys of travelling by bike. We are honoured to have been part of the team that have brought this incredible story to life!"
This week's book launch coincides with the Design Museum's Cycle Revolution exhibition, which includes a display of the oldest Brompton prototype in existence, designed by Andrew Ritchie in his flat in 1975. The latest addition to the Brompton bike collection, the Brompton Black Edition is also be on display. For those wishing to try a Brompton bike, there will be a new Brompton bike hire station positioned outside the museum's front entrance for the duration of the exhibition.
"Home is Elsewhere: 50 years around the world by bike" is available to purchase through Brompton.com, Brompton Junction stores and the Design Museum shop from Thursday, 10th December with an RRP of £15.00 or can pre-ordered now online at Brompton.com.
A short documentary for "Home is Elsewhere: 50 years around the world by bike" can be seen here: https://vimeo.com/145371171
0 Comments