Rapha launching a range of MTB kit is the sort of news that could have appeared as an April fools story a few years back.
Even now in the gravelly present, the appearance of a trailwear collection was a bit of a surprise move from the brand that originally had both stylishly shod feet firmly fixed - toe straps tightened to the last notch - in the road cycling milieu.
They've since embraced gravel, and now dipped a toe into the rowdier side of cycling with the trail collection of MTB clothing. I've been trying out a couple of items from the range over the past few months, enough to gather a few thoughts together - although as it turns out, I've spent more time off the bike in this kit than on it. .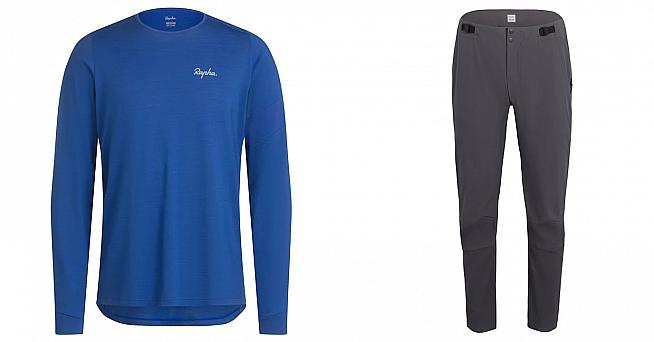 We'll start at the top, the merino top which is the Rapha Trail Merino Long Sleeve Jersey.
Compared with Rapha's road cycling jerseys this is at first glance a relatively low-tech bit of kit: no aero panels, concealed pockets or laser-cut sleeves in sight.
It is however a lovely thing to wear. The lightweight merino fabric - it's 52% merino wool and 48% nylon, a blend "developed for enhanced durability and all day comfort on the trail" say Rapha - is soft on the skin and the loose fit boosts breathability.
Speaking of fit, I found the sizing to be on the large side. I had to exchange my usual medium for a size small - something I've found recently with Rapha's more endurance-focused "regular fit" kit.
The small was a perfect fit - not restrictive or tight, but close enough to allow movement without feeling like you were wading through a washing line of billowing bedsheets.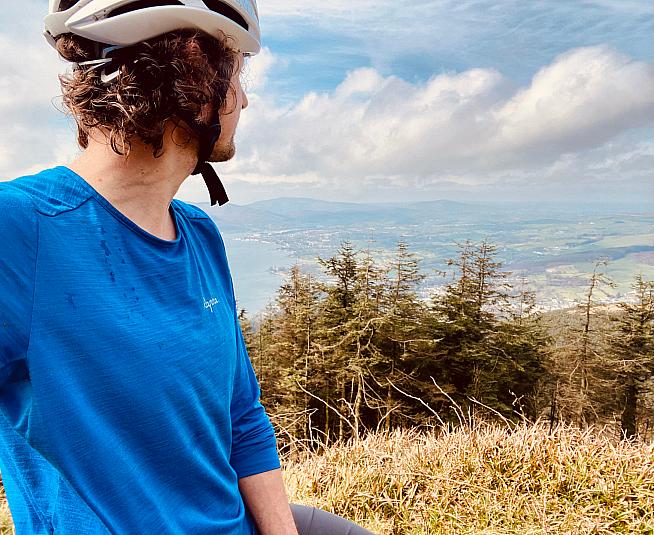 Design wise, Rapha have exercised restraint while retaining a few signature flourishes - the top is available in a choice of four plain colours with a discreet Rapha logo on the chest and stripe on the left sleeve. There is nothing about the jersey that screams cycling, you could easily wear this as a casual top. I've recently got into running - purely tactical, it's a way of getting a dose of oxygen and endorphins when time is too short for a ride - and this top has been ideal during the winter and early spring months.
The relaxed fit means you could wear it with a base underneath, but I can't imagine it being necessary - I've worn it on runs when it was snowing, with a gilet over the top, and was never cold.
For me, the material is suited to cooler conditions (less than 10c, say) where it is just the right weight to maintain body temperature at a comfortable leve even when you're working up a sweat.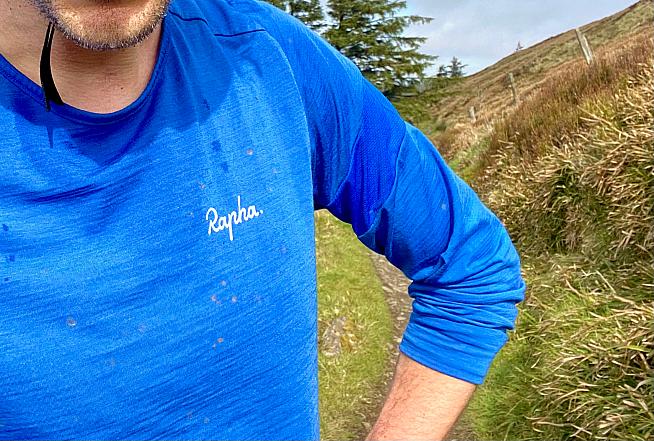 The same goes for Rapha's MTB trousers or 'Lightweight Trail Pants' to give them their official title. These are more obviously a 'technical' garment compared with the jersey, and clearly cut with a cycling position in mind.
There's a generous allocation of pockets to compensate for the lack of jersey pocket storage, and they are positioned to allow easier access when in the saddle than out.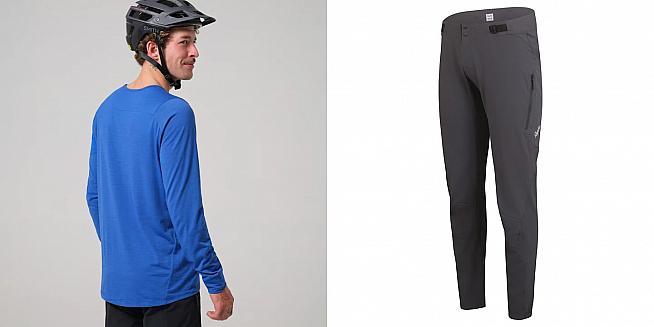 Two thigh pockets are zipped and the front waist pockets are deep enough to comfortably swallow a smartphone. There are no pockets on the rear - the reasoning being that you're likely to be sitting on it - but Rapha have launched a Trail hip pack (aka a bumbag) as part of the collection to boost your luggage capacity.
The legs taper towards elasticated cuffs at the ankle, the better to avoid fouling the chainring, and they perform well on the bike. There's no chamois or padding of any sort in these trousers, so I wore them with a pair of padded undershorts when cycling and was comfortable on trail rides of 1-2 hours.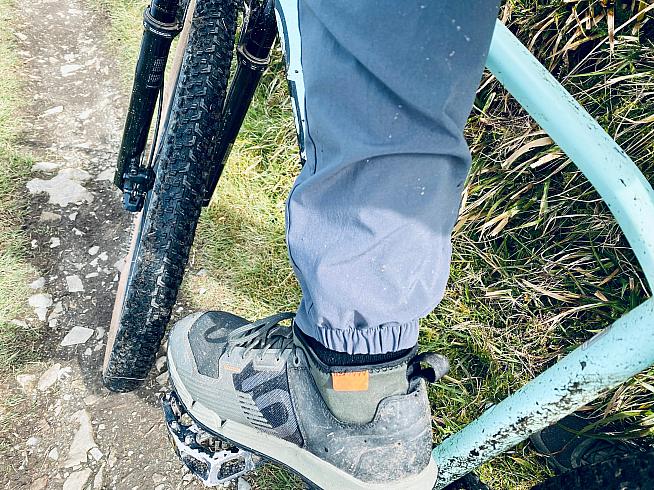 As with the top, these trousers were pressed into service on many runs over the early part of the year. The cut is loose enough to allow free movement - I tested medium, but again, I could possibly have downsized to small - and their light weight is a real advantage: I never felt weighed down or encumbered, whether on the bike or on foot.
The trousers have a snap button and zip to fasten, with two adjustable webbing straps at the waistband to secure the fit; these work well and seem robust.
The material is not waterproof, but it has a DWR (durable water repellent) treatment which I've found does effectively shrug off light rain; it also dries incredibly quickly, you needn't fear getting caught out by an unexpected shower. This is in contrast with the merino top which, being a wool blend, is absorbent and quickly gets heavy when wet - although the light weight means it also dries fairly rapidly.
Both the t-shirt and the trousers come with some handy repair patches included. I've not had to use these yet but my past record suggests it's only a matter of time, so this is a nice touch.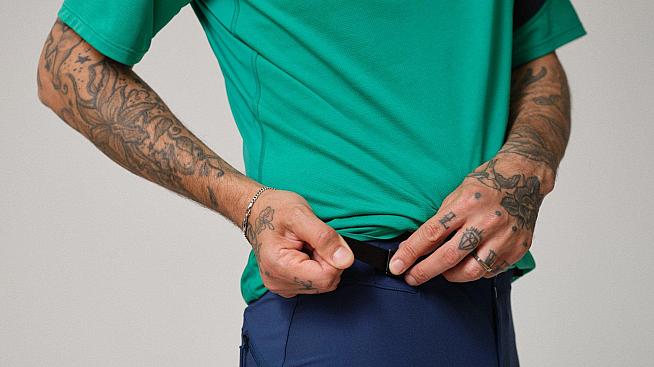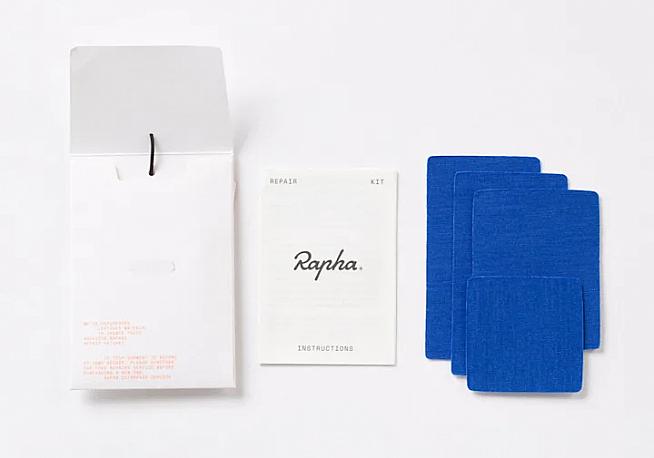 So are Rapha onto a winner with their new trailwear range - or have they accidentally branched out into running kit instead?
I think it's an interesting debut. The performance is good, and the versatility for casual off-bike use, running, or rides that will involve some walking/socialising, is a bonus. I would still reach for a jersey and bib shorts for longer rides, or harder efforts, but the heavy rotation of these pieces in my wardrobe speaks for itself: these are highly practical, functional pieces rather than specialised kit designed to excel in just one cycling discipline.
As for the aesthetics, Rapha have played it very conservatively - the design is understated verging on boring depending on your tastes.
I think it looks good, in a sober sort of way, but where's the fun in that? There's so much more scope to get imaginative - particularly with MTB kit which has always had more of a tradition of out-there design.
Then again, Rapha's road cycling range started out with very basic, pared-back designs too - remember their original merino blend jerseys with that single stripe on the left arm? Wild! - before gradually unleashing the creativity of their own design team and a host of collaborations with other brands and artists.
There are already indications that Rapha will follow the same path with their off-road range, with the launch of some printed trail pants and a collaboration with Brain Dead.
That's a promising sign, because the design, functionality and choice of materials is on point. All it needs now is a little creative flair and Rapha could really make inroads into a few more roadie-turned-mountain bikers' wardrobes.
Rapha Trail Merino Long Sleeve Jersey, £95 - www.rapha.cc
Mens Trail Lightweight Pants, £120 - www.rapha.cc
0 Comments