There are three questions everyone asks when buying something new: does it do what I want, what does it cost, and does it look great?
So long as you're not a label snob, Rockrider by Decathlon makes great equipment that works and doesn't cost a fortune.
I tried out their compact 5-litre Mountain Bike Hydration Pack on the recent Dales Divide, a bikepacking ride around Cumbria and Yorkshire. The Rockrider pack was the perfect solution for hydration and food storage over a four-day tour needing lots of water and food.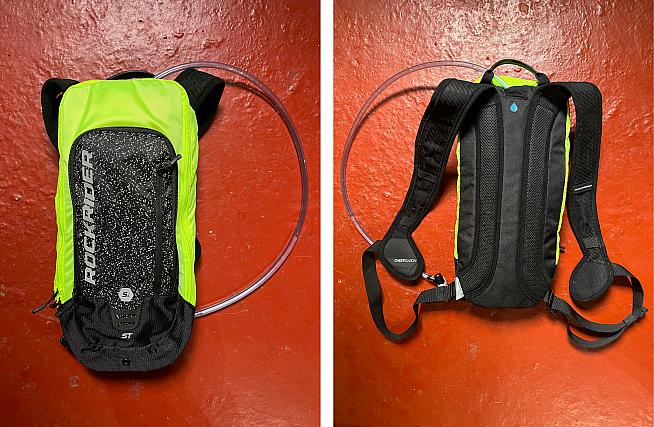 Rockrider is Decathlon's mountain bike range with a price-conscious range of bikes and gear. The bag tested has a five litre capacity in total, comprising a one-litre water bladder and an additional four litres of space for stuff.
It has three compartments, one for a phone and smaller, flatter objects like a wallet while another zipped-up pocket can be used for mechanical stuff - a great place for a few tubes (if riding with those), tyre levers, and spare hangers. And it has a small mesh zip-up pocket in the compartment, ideal for storing away any waste until off the trail and can be disposed of.
The main compartment has a separate section for the bladder and a hooking system so the bladder doesn't move or change position while cycling.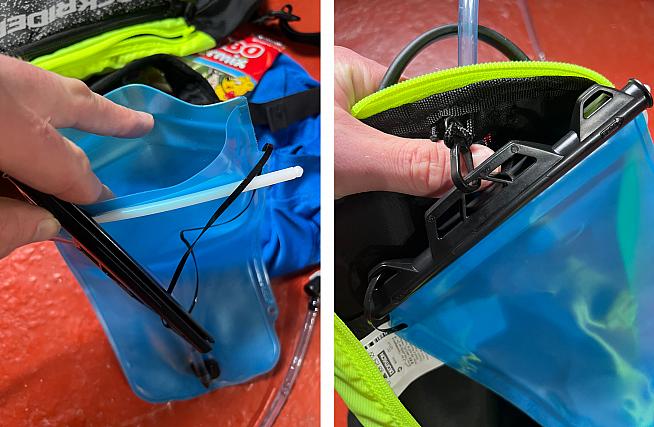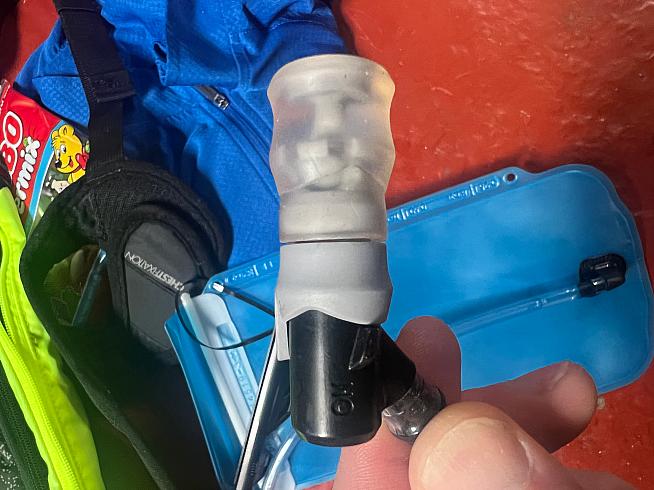 On the rear of the pack there's a small reinforced handle for picking up when not on the back. There's also a small mesh-covered access port from the main compartment for running the bladder's hose outside.
The pack's straps are lightweight, adjustable, and padded for rider comfort - the back is made from perforated foam. Both straps and back are made from ventilating materials. A velcro "chest fixation" system is in place for securing the shoulder straps across the chest while wearing the pack, distributing the pack's weight more evenly.
The pack tested came in a very practical black and fluorescent yellow material. There is also a light-compatible insert on the bag for further visibility. The pack is made from a polyester, polyurethane, and polyamide blend.
The bladder is as straightforward as the pack. It's a one-litre bladder sealed with a folding lock system. The sealing/ locking mechanism is strapped to the bladder to avoid losing it. The hose is easily three feet in length, making reach from pack to mouth very easy. The mouthpiece has a locking feature to prevent leakage from the hose when not drinking. None of the bladder's components looks replaceable - when one thing goes, it'll be time to replace the whole bladder.
Test conditions
A friend and I rode the Dales Divide - a 600km ride from coast to coast to coast. We rode the ride over four days. And the days were long. Sometimes it was quite hot and sweaty, and other times it was just long. He bonked, I bonked, all riders bonked. The Dales Divide was the perfect ride to have a little pack on the back with extra liquid and food in.
Full disclosure - this isn't the first hydration pack I've used while bike riding. And I've evolved a system that works for me. I always reserve the hydration pack for liquids and food. It's great to ride along thinking about what's in the pack. And the collecting! Collecting even more food to stuff into the pack is wonderful when burning that amount of calories!
Getting the pack's straps dialled in for wearing comfort is a cinch. And, once adjusted to fit where and how I wanted to wear the pack, there was no need to think about it again. The pack was comfortable even while jostling up and down gravelly and rocky sections. I didn't feel it move around much and could focus on the task at hand - safely riding, which is too hard for me sometimes!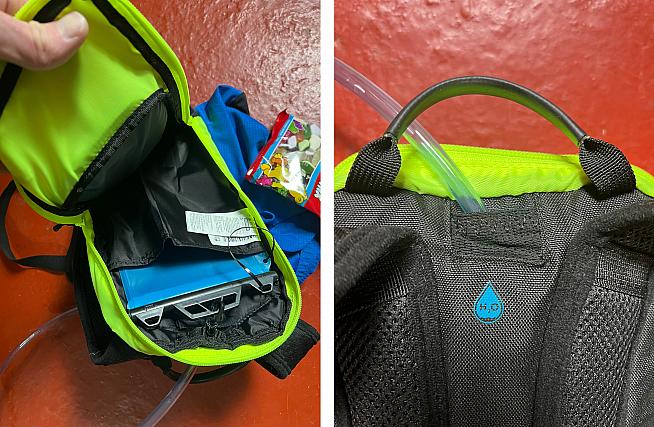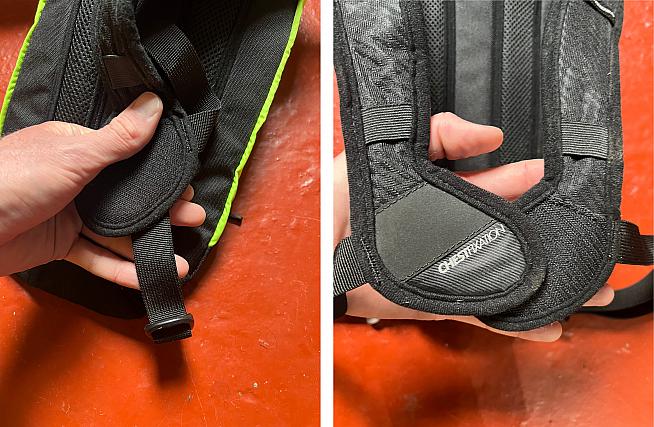 The "chest fixation" system works well too. It works for distributing the load. Also, rather than having to unclip to take the pack off - something many other packs have - it's just an easy unvelcro'ing. This was super helpful when it was cold on the ride, and either I didn't want to take the gloves off or the cold had reduced dexterity in my fingers. If in the cold, howling winds on top of the moors, I was sure I would get the pack off.
On the other hand, and we saw the other hand, when the temperatures were high and bodies were cooking, having something with weight on the back can be a recipe for a sweaty, gross affair. But, the back and strap's construction helped avoid too much sweatiness while riding in hotter temperatures.
I'd rate the pack highly for its comfort.
Usability (pack and bladder)
Again, I've got my system - if it ain't edible and smothered in chocolate, it ain't going in the bag. Everyone has their preferences. But I can see the utility of that middle pocket with its space dividers for all things mechanical. If you are out on a shorter, half-day ride and don't need any other bags, the pack is a perfect one-stop-shop fitting food hydration, mechanical, and phones/cards for some fun.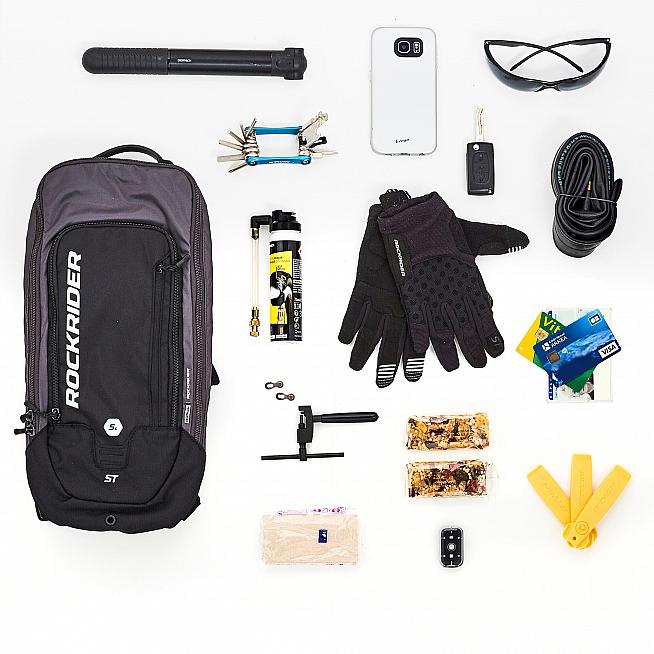 Loading the bladder and sealing it up was easy.
I think it's too much to carry electrolyte tabs on longer rides, so I don't bother. I would grab 1 litre cartons of apple juice on this ride and fill up the pack. I couldn't clean the pack between refills, so it was always apple juice to avoid a disgusting flavour melange.
I have heard and read of hoses kinking on packs, but I didn't experience that with the pack. I tucked the mouthpiece into the tab across the strap and drank from it as and when. I never bothered locking the mouthpiece and never experienced any dribbling or leakage.
There was even one incident where I was mucking around, trying to ride down a hike-a-bike section, hit a rock, the front tyre stopped, and momentum lifted me off the back and over the handlebars to land squarely on my back - where the pack with a sealed bladder and phone was stored. Despite the sudden introduction of ground to these things, nothing suffered any damage!
I'm back now from the ride. I followed the washing instructions for the pack and bladder. The bag and mouthpiece show no evidence of apple juice, and I wouldn't expect it to taste of apple juice the next time the hydration pack is called upon for its services.
To sum up
Water, liquids, and food are critical for long-distance riding - they're even great for a club ride!
The Rockrider hydration pack is ideal for all of the above. Although billed as a mountain bike pack, it's also a great bit of kit for bikepacking.
It is considerably cheaper than its rivals and better than many of them. It ticks many boxes around usefulness, comfort, the quality of manufacture and longevity, and cost.
Rockrider Mountain Bike Hydration Pack - £29.99 from decathlon.co.uk
0 Comments