The phrase "Keep 'er lit" is, as most Irish readers will know, a popular expression of encouragement in these parts.
It loosely translates into King's English as "keep going", but maintaining a literal state of maximum litness is particularly sensible advice for cyclists too. It doesn't pay to hide your light on winter roads, stretch in the evenings or not, and I rarely roll out for a ride without a rear light these days.
Over the past couple of months that light has been the Icon3 from Northern Irish company See.Sense.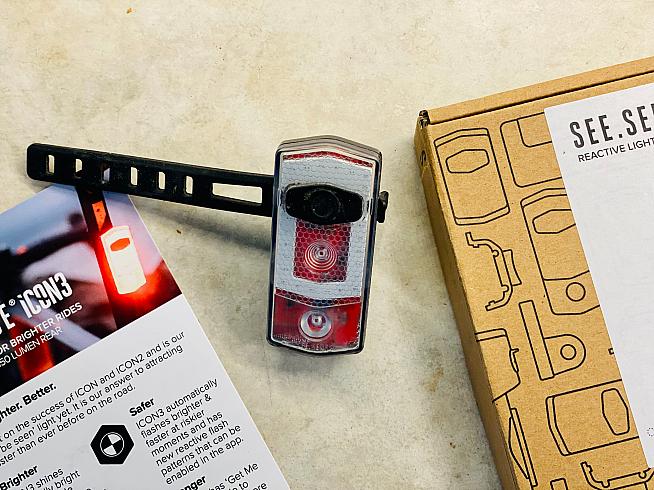 Now in its third iteration, the Icon3 is a smart light. On-board sensors detect your speed and the proximity of vehicles and adjust the light's brightness and flash pattern accordingly - the idea being to catch the attention of drivers and alert them to your presence.
The Icon3 packs a few other neat features too. Pair it with the See.Sense app on your phone, and you can quickly change the flash pattern, check the remaining battery charge or even activate an alert if someone moves your bike - a useful feature if you've popped into a shop or cafe mid ride without a bike lock.
All this tech is packed into a very neat little unit; at 50g the Icon3 isn't much larger or heavier than a standard rear light. Its plastic shell feels lightweight but well built, and operation is simple with just a single physical on/off button to get the hang of.
The light itself is extremely bright at 350 lumens with 270° of side visibility. To give an idea, that's almost four times the 80 lumens beam of something like the Moon Comet-X Pro, another light that I use regularly. I was left seeing stars once or twice before I learned not to look directly at it when switching it on.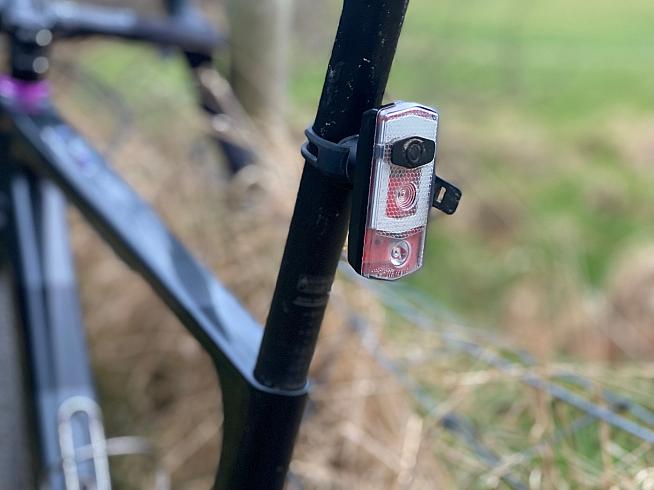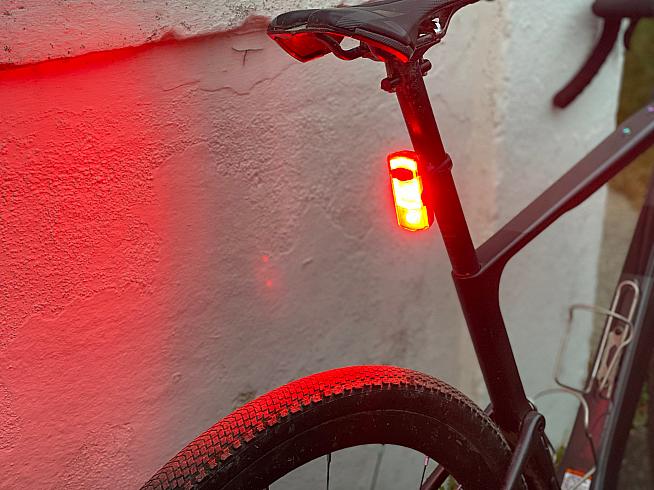 It's hard to assess just how effective the flash pattern is in terms of attracting the attention of drivers, but when you combine an onslaught of lumens plus a reactive flash pattern there's not much more you can do to stay seen.
The light comes with a neat little quarter mount for attaching to a seatpost via a sturdy rubber band. It's quick and easy to install or remove, and sits securely. My test unit has seen plenty of gravel and broken roads over the winter and has stayed securely attached.
Riding through filthy off-road conditions does throw up one minor niggle though. The Icon3, like its predecessors, is a boxy little unit and its broad, flat rear-facing surface is a magnet for muck thrown up by the rear wheel.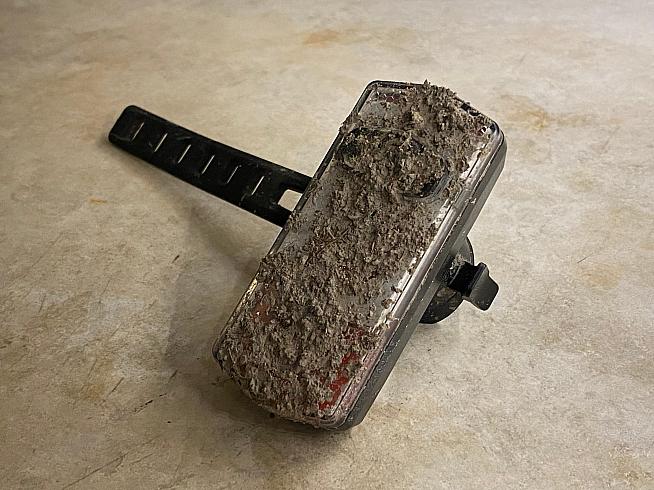 With most rear lights a quick wipe would sort that out, but on the Icon3 you have not only the on-off switch but two extra concave recesses for dirt to gather.
The switch is covered by a rubber cover which can be removed and cleaned from time to time; so far it's proven effective in keeping water and grit out of the unit.
You'll need to take care how you clean it though; a wipe with a damp cloth does the trick, but don't be tempted to run it under a tap like I did. Afterwards I noticed some small droplets of moisture inside the casing, which is of concern given the electronics within.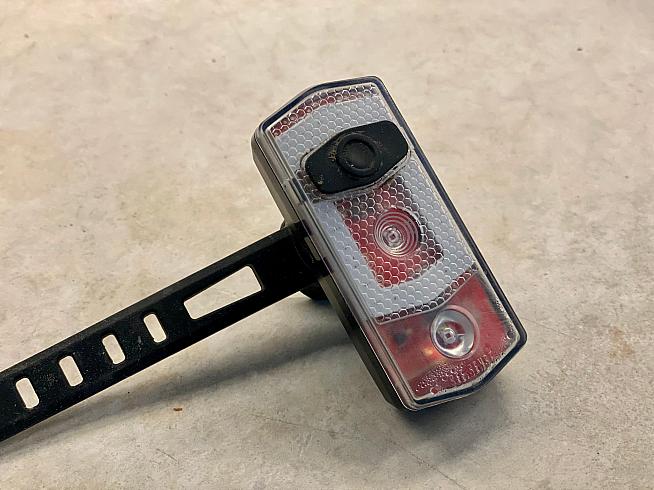 I guess the switch is located on the rear face to make it easy to reach while riding, which it is. Still, I wonder if it might be preferable to have it tucked to the rear or side of the light rather than direct in the firing line.
This is a minor point though, and for general on-road riding, even in winter without mudguards, it's not an issue.
Battery life is a claimed 16 hours in flash mode, and this seems roughly accurate. After a 7hr ride the app showed I still had 50% battery left.
On to the smart features, and it's a solid 10/10 for the app which is simple, clean, intuitive and a pleasure to use. Plenty of much bigger brands could take note.
Of all the Icon3's bonus features, the one I had highest hopes for was the theft alarm. Once armed through the app, this is supposed to notify you via your phone if your bike is moved.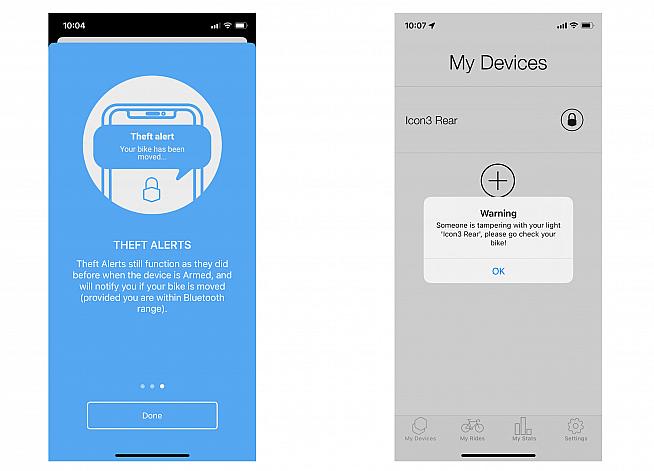 After trying it out I'm not entirely convinced about this feature, simply as I couldn't get it to work consistently in home testing. I tried leaving my phone on the kitchen table, arming the alarm, and then wheeling my bike - with Icon3 attached - out through the front door and into the garden. I'd then walk back to the kitchen and check if there was an alert on my phone.
It does work sometimes, but not always. The light has to be within bluetooth range of your phone, and it seems even just a few metres distance to the next room can occasionally foil it.
Then again, even a physical lock isn't 100% secure. If you're just popping into a shop for a minute there is at least a sporting chance that you'll be alerted should someone grab your bike.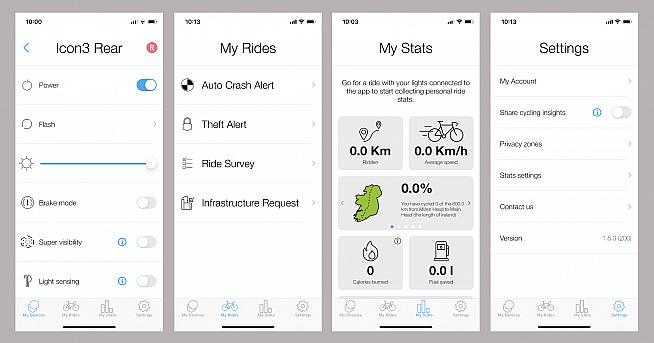 There are a few other features packed into the app. Auto Crash Alert, as the name suggests, will send a pre-set text message to the contact of your choice if the Icon3 detects a crash. I've tried to test this by tossing the light onto a sofa, which apparently didn't meet the required threshold, but in the event of an actual accident the message includes a link to your location on Google Maps to facilitate a speedy rescue.
There are two other features, Ride Survey and Infrastructure Request. The Ride Survey asks "Did anything annoy or scare you during your last ride?" and, if you answer yes, invites you to drop a pin on a map showing the location of said nuisance.
The "Infrastructure Request" feature is a more detailed version of the survey, which again allows you to submit a request for specific infrastructure improvements or facilities such as parking, traffic calming, road widening, path segregation etc using pins dropped on a map.
What do See.Sense do with this information, you might wonder?
I put the question to them, and they came back to say that all the data is aggregated into the See.Sense Report dashboard: a big map, which is made freely available to the public along with campaign groups, town planners, etc to help inform their campaigns and work.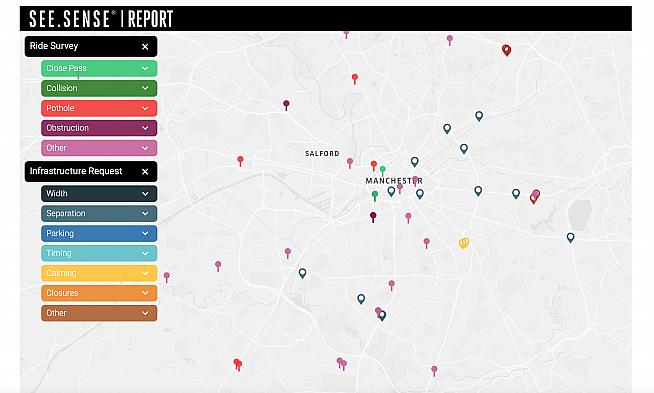 See.Sense are also working with cities around the world to use the data they collect to improve conditions for cycling.
For example, they say, "we have recently worked with TfL in London, in which our sensor data was used by TfL to further understand the risks to cyclists in their aim of achieving Vision Zero."
These features may seem to go well beyond the remit of a bike light. It makes sense when you consider that See.Sense originated after founder Philip McAleese had a cycling accident which inspired him to look for a way of making cycling safer. This mission informs not only the basic functionality of the Icon3 - its brightness and dynamically reactive flash pattern - but the company's wider mission, via the app, to enable cyclists to help actively shape a safer, more cycling-friendly built environment.
When you look at it like this, the Icon3 is not just a light, it's a tool for change. If used to its full potential, it will not just keep you as an individual safer but may help keep fellow cyclists safer too.
it should be added that the See.Sense app is freely available without the need to buy a light. So anyone can download it and report a pothole or request a cycle path on your local commute.
If you happen to be in the market for a brighter than average bike light, then the Icon3 comes highly recommended. You're not only supporting a company that's actively advocating for cyclists, you'll have an excellent light too.
Just take care how you clean it; for gravel or bikepacking, something cheaper and simpler may be more practical.
For road riding, commutes and all-round intelligent illumination, See.Sense continue to keep 'er lit.
See.Sense Icon3 rear light, £99.99 from seesense.cc
0 Comments