I've seen gravel cyclists take some stick for the amount of gear they lug around. Why the need for so many bags - and what's the deal with "cargo pockets" in bib shorts?

I like to travel light, but I'm on board with the luggage trend. Bags make sense for gravel, allowing you to carry food and gear for longer, wilder rides. Easier to access than a jersey pocket, and with more capacity, what's not to like?

The Restrap Top Tube Bag is a good example: a convenient, capacious and easy to access bag that sits behind your stem, right where you can reach it.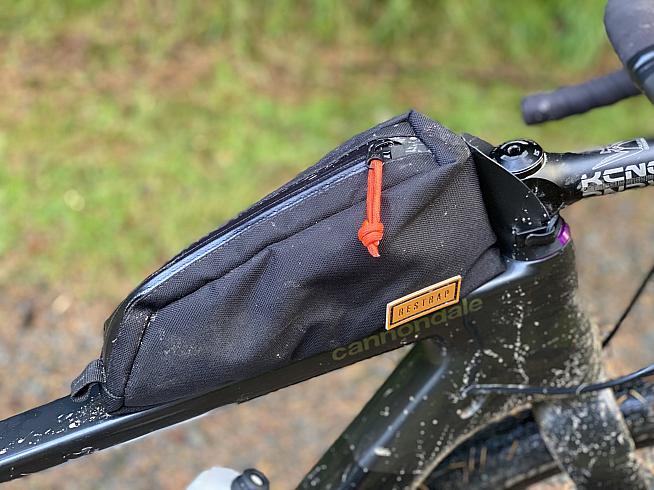 Based in Yorkshire, Restrap make a full range of bikepacking luggage, including frame bags, saddle packs and smaller bags like this top tube option.

Their bags are made in Yorkshire and they mean business: the design and quality is top-drawer. I've used their Race Saddle Bag on a couple of multi-day bikepacking tours and it's a quality piece of kit involving a holster and separate lightweight dry bag. The holster sits snug beneath the saddle without the dreaded tail wag or droop that afflicts some bags, while the pack can be easily and quickly removed and refitted at cafe or overnight stops.

With this experience in mind I had high expectations for the Top Tube Bag, and it doesn't disappoint.
The design is simple, but effective: a sturdy waterproof bag, with four eyelets in the base to allow for easy attachment to bikes with mounts in the top tube. A non-bolt on version with velcro straps is available too, if your bike isn't fitted with top tube mounts.
An elastic strap and collar at the front hooks beneath the stem to keep the bag stable, and it works well.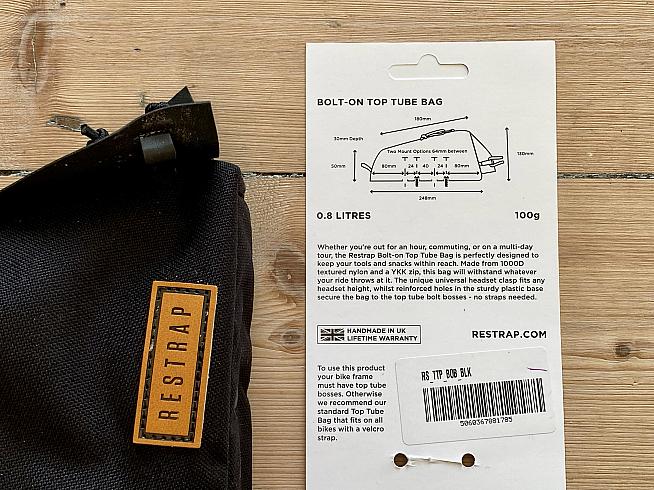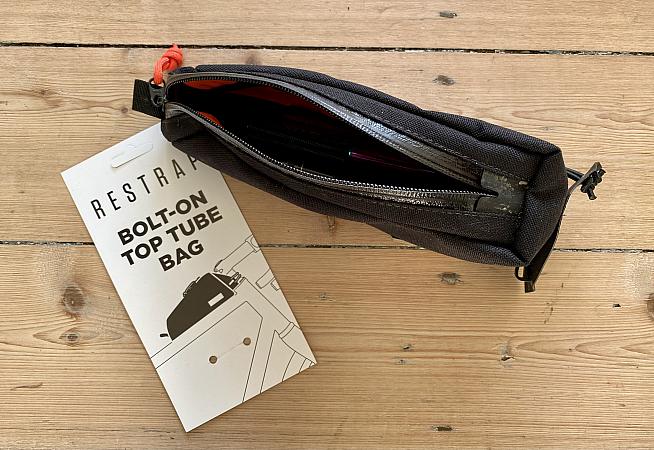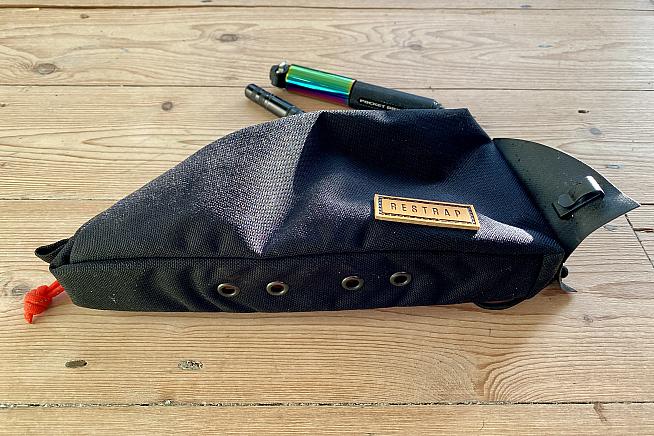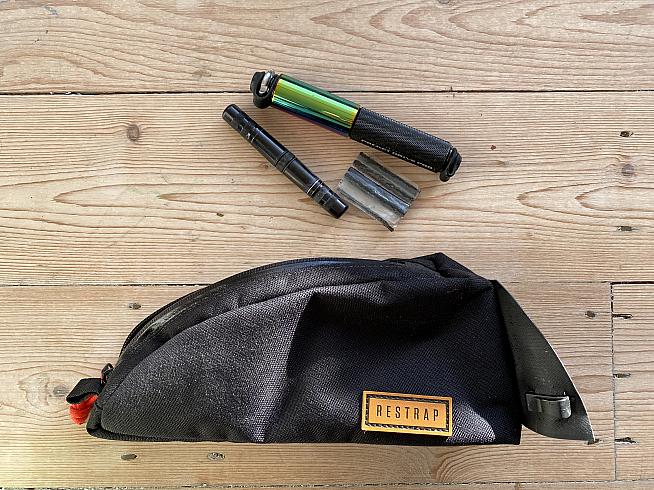 Materials and construction looks to be high quality, as you'd expect. Restrap offer a lifetime warranty on their bags for added reassurance, but I doubt many customers will have cause to use it.

Fitting the bag is quick and easy, the eyelets were perfectly spaced for my Cannondale Topstone. I was slightly concerned that the collar might impede the stem when turning the handlebars from side to side, but in practice it's not noticeable; there's enough give in the collar to allow free movement.

At 0.8L capacity, there's plenty of room in the pack for a good ride's worth of calories - I managed to fit in some of Chris's panforte, two snack bars, a pack of marzipan balls, small pack of Haribo, mini pump and tubeless repair kit without stretching the seams unduly.

Some vital stats: the bag measures 248mm along the base and is 30mm. Weight is a claimed 100g and my sample came in a few grams lighter. It's constructed of 100% waterproof nylon, claim Restrap, and the inside has a cheerful orange lining which helps with picking out contents.

The plastic base of the bag is not lined, and I noticed my pump rattling against the bolts on rougher gravel sections. I fixed it on the fly by simply shuffling the contents so the pump was resting on some Haribo, but it would be easy to cut and insert a small piece of foam padding for longer off-road adventures.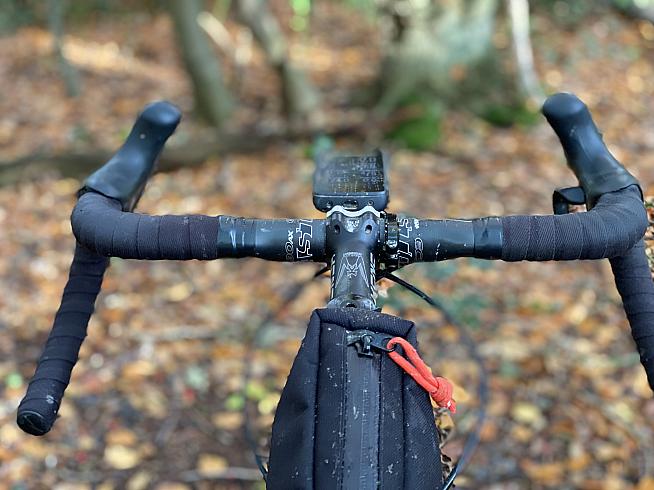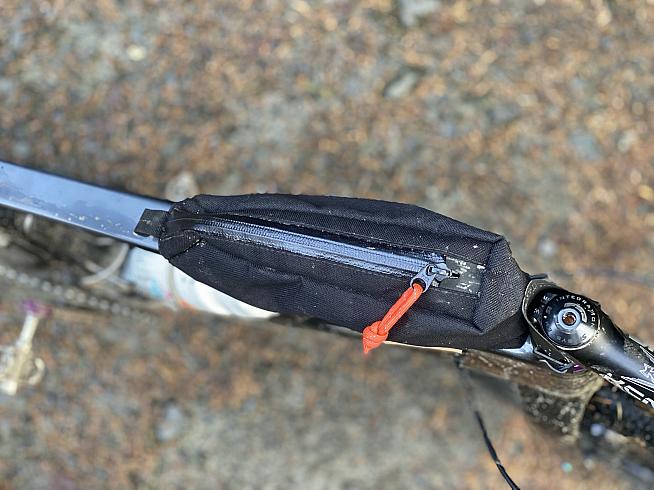 The zipper has a handy cord puller and slides open easily on the move. It's also protected by a waterproof sleeve, to help keep your snacks etc dry. I've yet to test the bag's waterproof credentials in a downpour, but I've run it under a tap to clean off muck and the inside stayed dry.

Aside from moisture, your snacks, tools, electronics etc are pretty safe in this bag; I often ride with the zip half open and the bag keeps its shape well, there's little chance of stuff bouncing out even on washboard descents.
As someone who typically forgets to eat until it's too late on long rides, I really enjoy having snacks easily to hand. This nifty little bag is basically a bikepacking buffet table; much easier than fumbling around in your back pockets, especially when you're bouncing along rough trails.

There's nothing to fault here; I guess the only extra feature that might be handy is a cable port allowing you to charge your bike computer from a power bank, for example. These ports are not a typical feature of top tube bags, although many frame bags (including Restrap's) do have them. You could still run a cable into this bag through the top zip, albeit compromising the waterproof sealing.

I'm running a dynamo hub at the moment and got unduly excited at the idea of using one of the spare bolt holes in the base (only two of four are used) to run a cable through, but unfortunately the eyelet is just a touch too small. I've not ruled out summoning up my inner MacGyver and fitting a wider one; it would be a neat solution to have a cable from the hub entering the bottom of the bag to connect to my USB-Werk cache battery.

Anyway, that's a bit of a niche tangent.

For all-day or multi-day rides this is another solid, well-made piece of kit from Restrap. I'm confident it will last the distance on whatever missions I can throw at it. Even on shorter rides of an hour or three it's a handy addition; it means you can wear a T-shirt and still have a way of carrying a few snacks and spares.

In short, if you're looking to add a bit of luggage capacity then this bag is highly recommended.
Restrap Bolt On Top Tube Bag, £37.99 from restrap.com.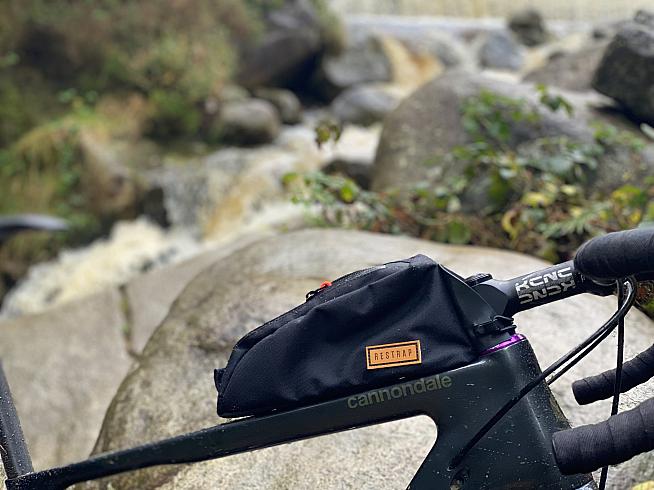 0 Comments