There's a lot of learning goes with the switch from road cycling to MTB - and a fair bit of unlearning, too.
Take shoes for example. "Cleats = good" is the unquestioned orthodoxy on the road; being stuck to your pedals makes for more efficient pedalling.
But off-road? Being stuck to your pedals is a liability, as I learned to my cost the first time I hit the trails in my cyclocross shoes and SPDs.
Wobbling through a succession obstacle-strewn switchback descents, pedals sparking off rocks as I went, I'd go to stick out a foot for balance - only to find I couldn't, and nearly wrap myself and the bike around the nearest tree.
A set of flat pedals were quickly procured, and at the same time I switched to a set of flat soled MTB shoes - the Adidas Five Ten TrailCross XT.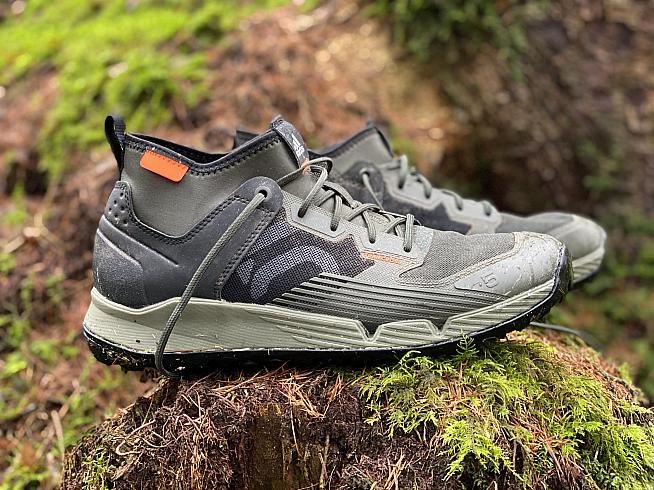 Equipped with a rubber-studded outsole - Five Ten's "Stealth Phantom Dotty" - designed to grip to flat pedals, these shoes have been a revelation.
The grip is superb. When pedalling, they stick to the pins on my DMR V12 pedals like glue - but if I need to pull an emergency dab, I can simply lift my foot off the pedal.
It's a world of difference to riding in normal trainers on flat pedals. The soles are stiff enough to feel like you're getting decent power transfer through the pedals, but not so stiff that you can't walk in them.
In fact, I've occasionally pulled on the TrailCross XT for walks in the park. Lace-up closure is an old-school but proven technology, and while they lack the full cushioning of a running shoe they're more than comfortable enough for strolliing around in.
It's on the bike that they really shine though.
The connection with the pedal is so tenacious that I found myself having to learn a new technique for adjusting foot position. Where SPD cleats have float, allowing a bit of lateral movement of the foot, once these shoes are biting on the pins the only way to adjust is to slightly lift your foot off the pedal and change position.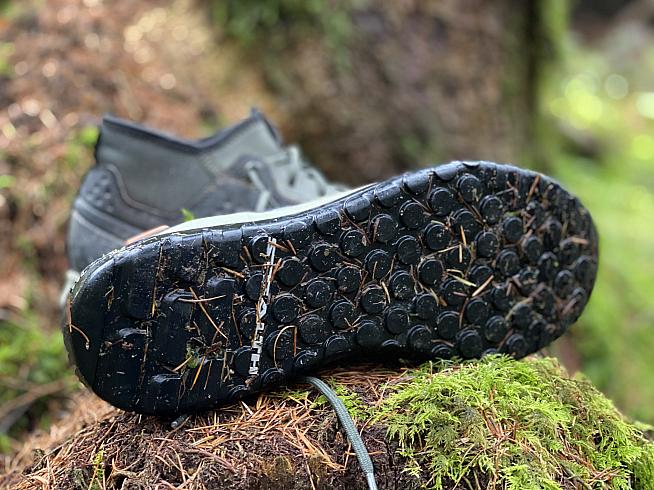 It quickly becomes second nature, and the stop-start nature of pedalling on technical trails means I really don't miss SPDs at all.
On the contrary, I've got faster since I can now attack technical sections of trail with confidence, knowing that I can quickly bail out if I overshoot my skill level.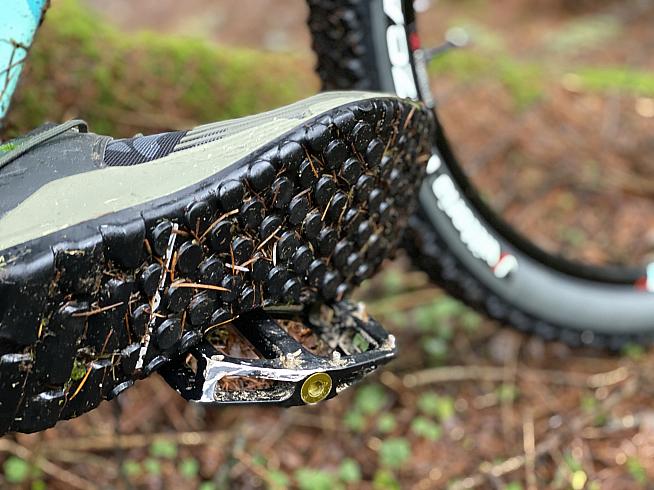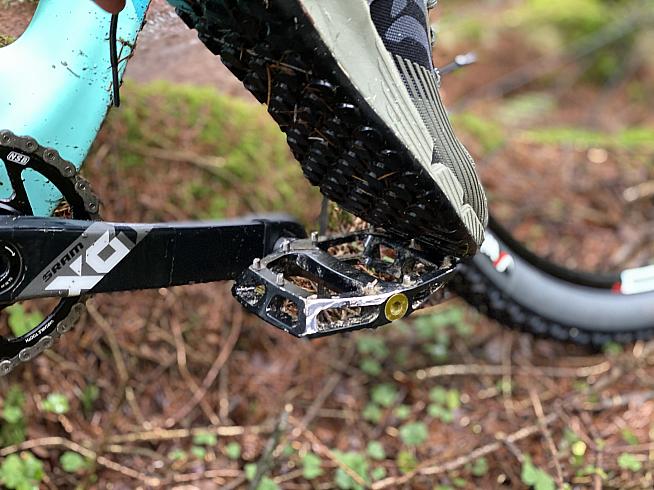 The sticky rubber tread is topped by rubber and a textile upper, with a neoprene cuff that fits snugly around the ankle. This is a really nice feature, doing a great job of preventing trail debris from working its way into your shoe and chaffing annoyingly at your feet.
There's further protection around the heel, and the shape of the shoe - almost like an ankle boot - helps keep your feet secure on the pedals.
The TrailCross XT strikes a nice balance between weight and durability. Construction feels high quality, with a chunky rubber bumper at the toe for protection. My pedals have taken a beating and are already covered in scuffs, but the shoes still look good as new.
I've worn them in rain, snow and sunshine, and while they aren't waterproof they do keep out light showers. Midsole drainage ports allow water to escape from the shoe for quicker drying when you splash through a ford or get caught in rain.
For freezing conditions you might want a heavier winter shoe, but team the TrailCross XT with a good pair of socks and overshoes and you could pretty much ride them year-round in our milder UK climate.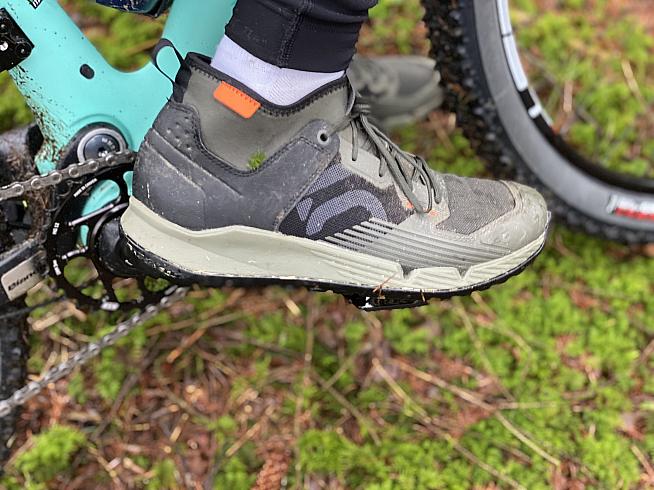 They'd make an excellent choice for an off-road touring or bike-packing shoe where you might be spending significant chunks of time on foot, whether that's yomping over unrideable terrain or taking in the sights during off-bike leisure time.
For bikepacking events like the Veneto Trail, on technical terrain with room for just one pair of shoes, the TrailCross XT would be first thing on my kit list.
The only potential issue to note is sizing; the Adidas site warns these run small and to order a size up from usual. I opted for my usual size and yes, the fit is a bit on the snug side; I'd say if you have wider feet or are borderline between sizes then going up a half size is advisable.
That aside, I really can't pick fault with these shoes. Five Ten have pedigree when it comes to MTB footwear, and it shows.
If you're looking for a good-looking, hard-wearing and comfortable shoe to hit the trails, the TrailCross XT are bang on the money.
I may still be finding my feet when it comes to mountain biking, but I've definitely found my shoes.
Adidas Five Ten TrailCross XT Mountain Bike Shoes - £130 from www.adidas.co.uk.
0 Comments