The Rockrider ST500 Mountain Bike Shoes from Decathlon are a trainer-style cycling shoe designed for mountain bikers looking to start using cleats.
They sit above the entry-level ST100 shoes in Decathlon's Rockrider range, and feature a hybrid sole that accepts recessed cleats, along with a tread designed to provide traction and comfort when walking.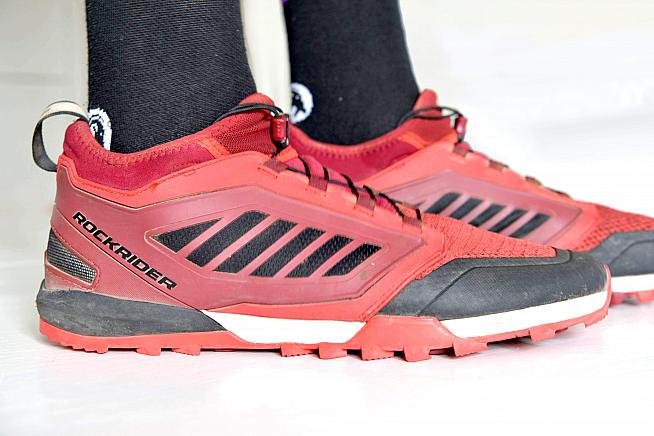 Rockrider took two years to develop the ST500, trialling the shoe in the lab and in the field with upwards of 50 different testers. The aim was to develop a shoe that is comfortable and provides grip while walking and cycling on MTB trails.
At first glance they could easily be mistaken for normal trainers, rather than cycling shoes. The hybrid soles have a studded tread that optimises grip both when on the pedals and when walking, with the cleats recessed out of view.
The lightweight uppers are made of a 3D mesh to increase breathability. This is useful when out on long, sweaty rides, and helps the shoes dry off quickly after going through puddles.
For additional comfort, the uppers incorporate elasticated sockliners from heel to toe. The sockliners help the shoes be a little more comfortable, while the elastication prevents stones and any unwanted objects making their way into the shoe while wearing. The shoe also features shaped foam around the heel, offering additional foot support.
The ST500 comes in three colourways - red, black and blue. The pair I got were in the red colourway. A bit of flash, but I liked the styling and they matched my kit!
Care instructions are nice and simple. Just wash the shoes in cold water. Following common sense and care instructions provided, the ST500s come with a 2-year guarantee.
Tested in the Atlas mountains
I wore the Rockrider ST500 Mountain Bike Shoes for about eight days straight across the Atlas Mountain Race. Four days were spent doing a minimum of 15 hours cycling daily. The other four days were spent roaming and walking various landscapes after I scratched from the race, and was travelling about Morocco until I could be reunited with my regular shoes at the finish line.
Suffice it to say, for better or worse, these shoes became a part of me.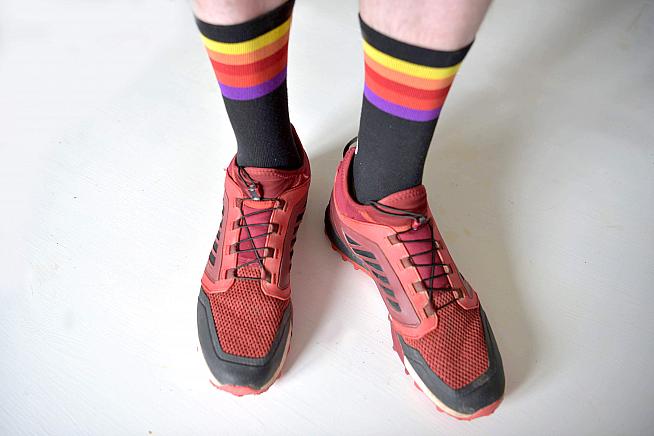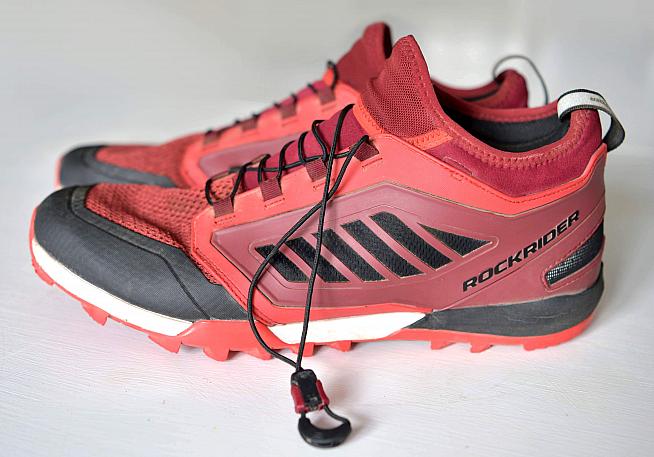 Clip Set-up and Riding
I'd never used MTB SPDs prior to this review, and I'm a convert. They're just so simple. So simple.
Decathlon claim a weight of 367g per shoe (size 8.5), and even in the larger size tested they do feel pretty light - they're comparable to my road shoes, not that I've ever weighed them. Clearly, I am no Adam Hansen, baking my own ultra-light carbon fibre shoes.
Lacing up and fastening the shoe is a quick and simple affair. Tighten the shoes to comfort using the drawstring, fasten in place and tuck any excess into the shoe.
Setting up the cleats on the shoe was easy. There's only one fixing point on the sole (some MTB shoes offer two points) - a decision taken by Decathlon, "so that mountain bikers who are starting out with cleats do not use a position that is painful for their knees."
Of course, even with one mounting point you can still adjust cleat position a few mm in each direction to find your ideal fit. Rockrider also provide a guide on the sole, for reference.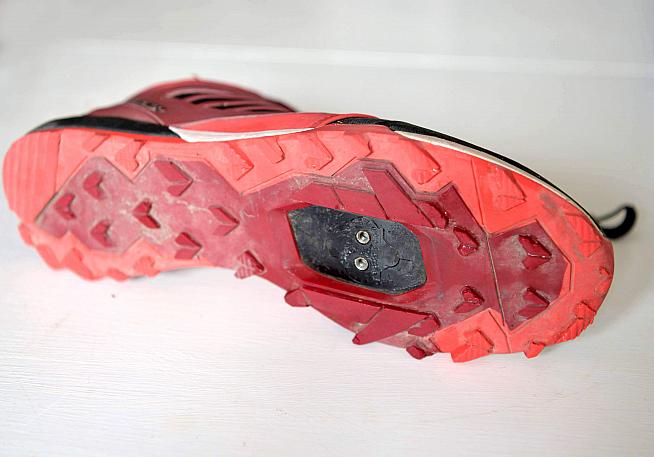 The shoes are compatible with Shimano flat/SPD M324 and Shimano SPD M520 cleats, as well as B'Twin (another Decathon brand) cleats and pedals. However, the shoes don't accept cleats for Enduro/ Freeride-style platform pedals (i.e. Shimano SPD M424) so do check before purchase.
With cleats installed, the next step was to clip onto pedals and ride!
Clipping in first time, every time
I've been riding road SPDs for years, and clipping with double-sided MTB SPDs is comparatively simple. Basically, I'd stand on the pedal and was clipped in. No faffing around trying to flip the pedal to the right side and get alignment right while trying not to fall over.
The Rockrider shoes are as light as my road-shoes, more malleable and easier-to-use. I may say screw convention and what others think - let them waddle about in their road SPDs at the coffee shop, while I walk around with ease.
While putting on the shoe I found the tab at the heel of the shoe very useful. To prevent stones and sundries getting into the shoe, the tongue and liner comes up high on the foot. The little tab at the heel is great to pull and tug on the shoe to get the feet fully inserted.
There were several hike-a-bike sections on the Atlas Mountain Race. Long, steep uphill sections where everyone knew it was better to walk and save energy over trying (and failing) to cycle, wasting precious energy. Usually, the sections were steep with loose gravel and sand. I never had any issues with grip underfoot. Never slipped at all. The sole's tread design gave me the traction needed to keep pushing along.
There were a couple of river crossings involved too. Some rivers were a matter of hopping rock to rock and not going in the water. One, where water levels came about a quarter-way up the shins.
Again, moving through and over slippery conditions, I was able to move with confidence because of the grip and traction provided. The shoes' 3D mesh upper dried out quickly enough and moved air through to socks so when I was going to bed an hour or two later, I wasn't cold.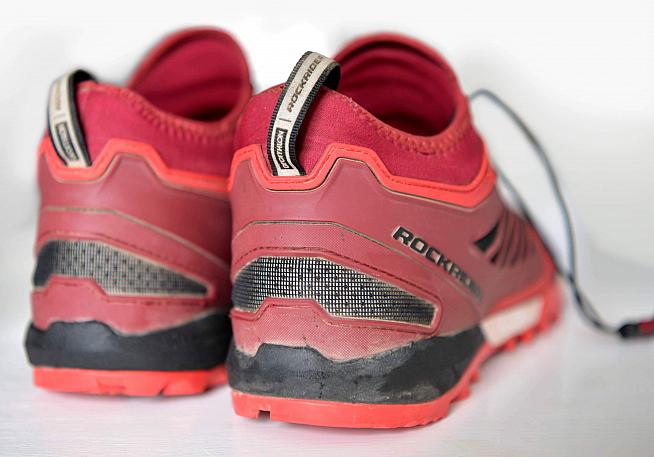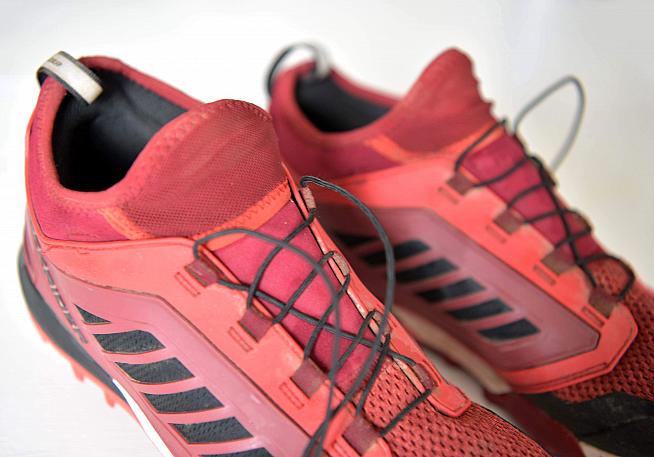 After leaving the race (a mangled rear derailleur once again proved my downfall), I ended up being stuck for close to 96 hours with the Rockriders as my only choice of footwear while off the bike.
I've got to say, aside from the extreme smell (caused by river water and sweat), it wasn't so bad. Vaporflys they're not, but the shoes are flexible enough to serve as general purpose trainers. After a little time I took off the metal cleats, simply as I didn't like the sound of them scraping while walking and just wanted to preserve them from damage.
Aside from that, the shoes were comfortable as I traversed a few different surface types.
Again, I may look at adopting these shoes for road riding. Before giving any consideration to this, though, I needed to see about getting rid of the dead body smell. Following Rockrider's instructions of a cold-water wash, I was able to exorcise any lingering smells.
Conclusion
The Rockrider ST500 may be marketed as a shoe for riders easing into SPDs, but they are a great shoe overall. The design is well thought out, resulting in a light shoe that is comfortable on and off the bike - and offer excellent grip on those sections where you find yourself having to walk the trail.
If you're looking for a versatile shoe that can handle cycle touring and off-bike duties alike, the Rockrider ST500s offer great value.
Rockrider ST500 Mountain Bike Shoes - £49.99 from decathlon.co.uk
All photos by Peter Levenspiel

0 Comments