"Yippee, it's forecast to rain relentlessly all day. Let's go for a ride," said no one, ever.
Well no one except me, after acquiring a pair of Stolen Goat's Orkaan weatherproof bib tights. "Weatherproof" to most people is a sensible precaution, but I looked upon it as more of a challenge. One which the tights stood up to pretty well, as it happens.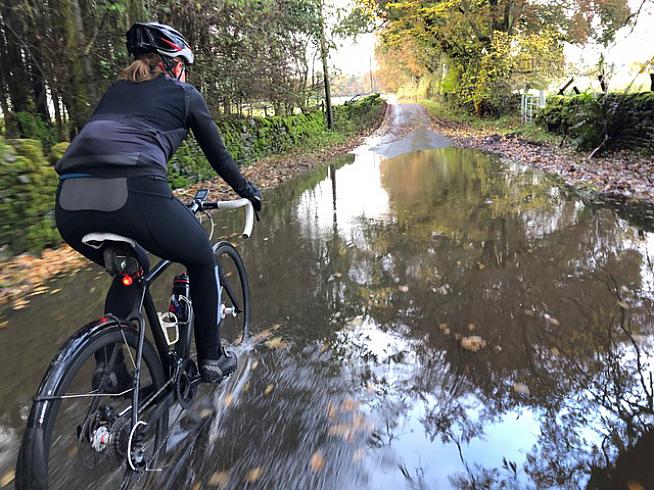 The Orkaan full length bib tights are described as both wind repellent and water resistant. They are designed for longer rides of over two hours in the spring/autumn rather than the depths of winter; suitable for riding in temperatures down to 5 degrees. They have fleecy Roubaix lining and are described as breathable, but more wind resistant than standard tights. Stolen Goat say the water repellent quality is manufactured into the garment, so washing the tights shouldn't reduce the effect over time.
These tights are stretchy and comfortable with minimal seams. They look and feel like a good quality piece of kit. I used the sizing chart on Stolen Goat's website and found it accurate. The shoulder straps are nice and wide, and there's an integrated back panel for a bit of extra warmth.
They were slightly long in the leg for my stumpy pins, so the elasticated foot strap hung off my foot when I put them on, but once on the bike this wasn't really a problem and I much prefer this design to zips at the ankles. I found the chamois pad comfortable throughout the ride, it has a dimpled surface, which improves air flow apparently.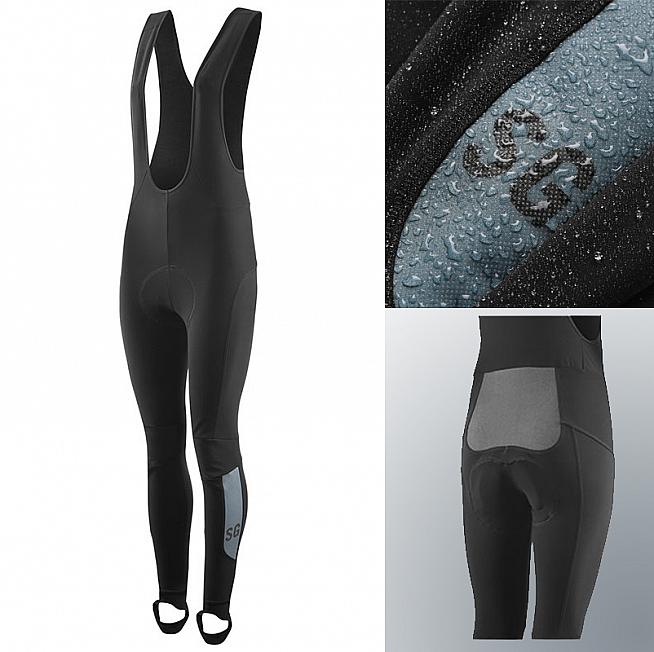 A really good feature on these tights is the reflective detail. The side calf panels on both legs and a decent-sized panel on the lower back (clearly visible below a jersey or jacket), which look grey in daylight, become reflective if you're enjoying riding in the wind and rain so much that you stay out until it's dark enough for car headlights.
I was less keen on the knee panels. I couldn't find any information about this feature on Stolen Goat's website, but guess it offers a bit of additional protection against the elements. For me they were unwelcome because they gave me less flexibility about where to distribute the couple of extra inches of fabric caused by my legs being a bit shorter than the tights.
And now back to that ride... The forecast did not lie. What started as a bit of a shower soon became a downpour and stayed that way for long enough to test the limits of 'weatherproof'.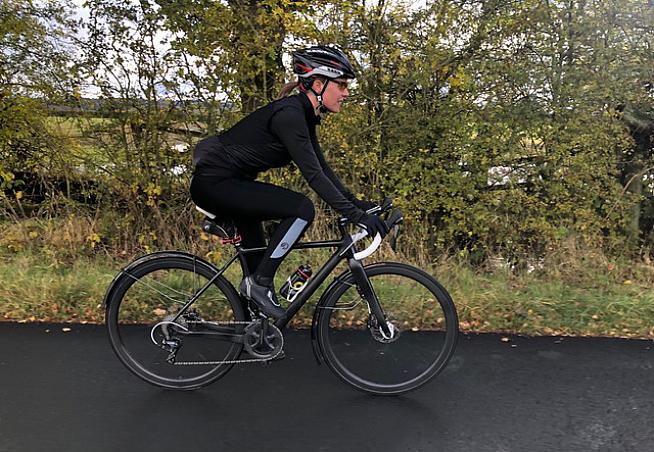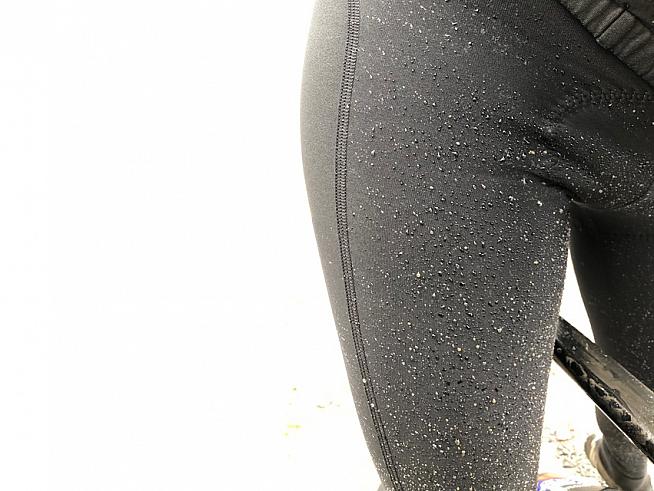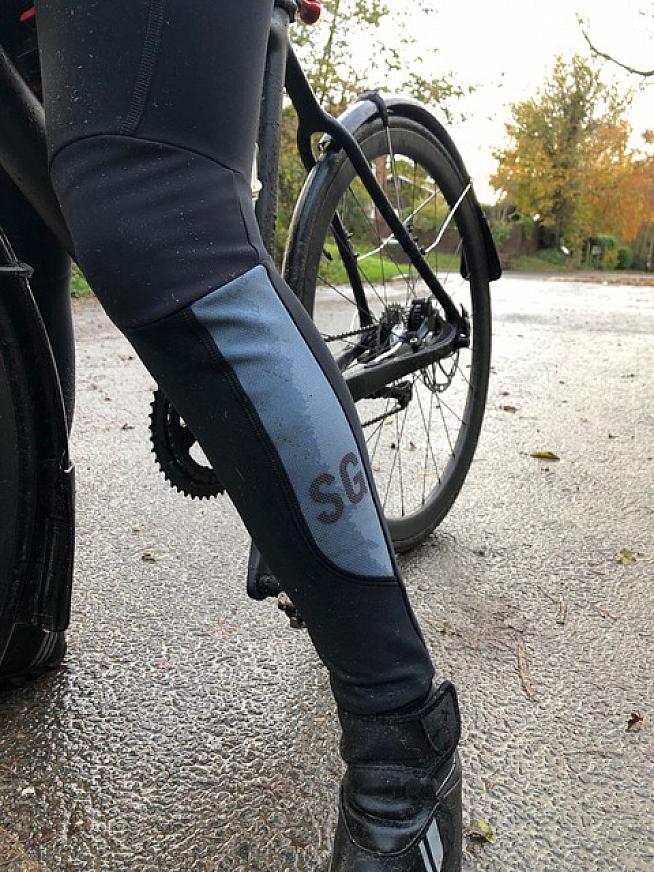 At one point I glanced down and my Garmin astutely informed me it was "wet on road" - the 's' of west being obscured by a muddy droplet of water flung up by one of many ginormous puddles. Initially, in light rain, the water beaded on the surface of the tights. As it got heavier and more persistent I began to feel it soaking in a bit, but I was 90 minutes and some pretty heavy showers into the ride before I noticed the knee panel starting to feel a bit damp.
I was pretty impressed with that. Being water repellent rather than waterproof, the tights are still breathable and they kept me at a good temperature throughout the ride. The air temperature was around 7-8 degrees and I never felt cold at any point.
Stolen Goat also have a crash repair policy and offer a lifetime guarantee (based on the reasonable lifetime of the garment, not the rider) and will repair garments to help extend their use, which is nice for you and the planet.
I can see me getting a lot of use out of these tights over the next six months, and if you can't wait until spring, have a look at Stolen Goat's Climb and Conquer deep winter version.
Orkaan Weatherproof Bib Tights, £125 from stolengoat.com.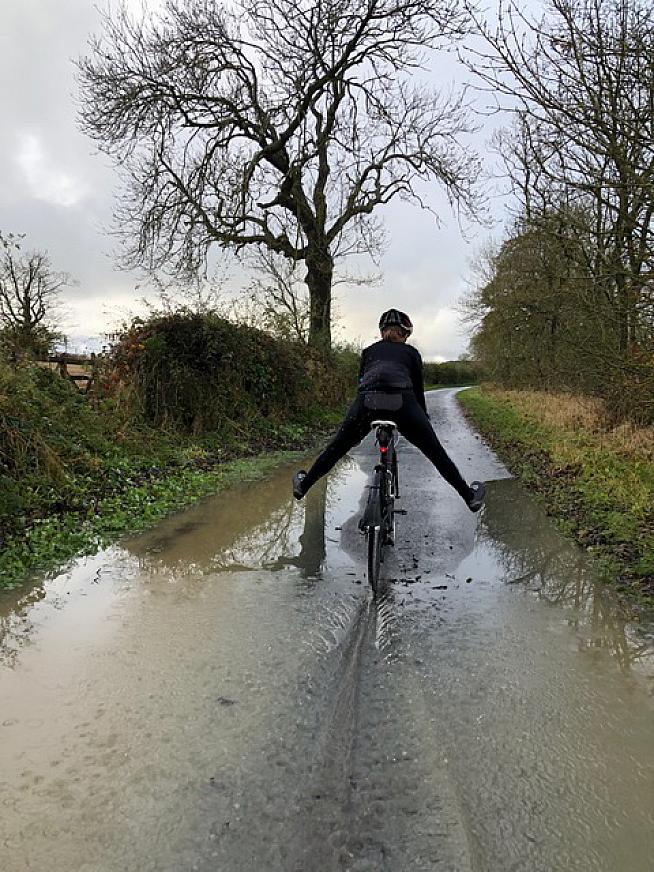 0 Comments