Does your pre-ride fettling routine still find you holding your bike's rear wheel off the ground with one hand while turning the cranks with the other? Maybe it's time to welcome a Hobo into your home.
This artfully bent steel tube from Cycloc serves as a simple display or work stand, slotting through your bike's bottom bracket to lift the rear of the bike a few inches off the ground.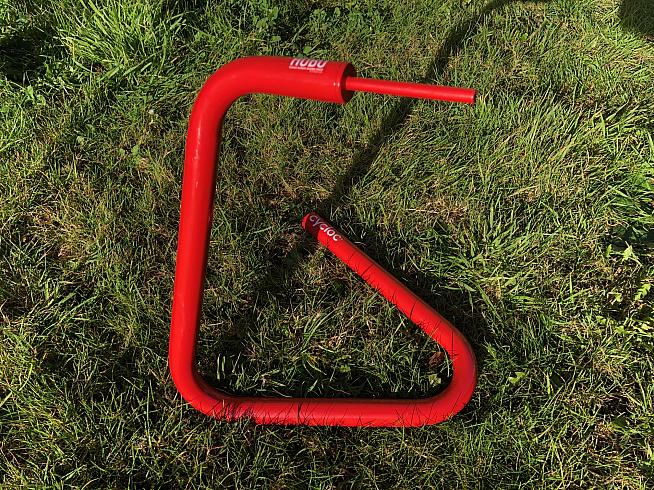 Why "Hobo"? Well, it's designed for bikes with a hollow bottom bracket, see.
Clever name, clever product? It actually is pretty handy. The Hobo comes with a selection of three adaptors (read: plastic tubes) designed to fit a range of bottom bracket standards, and if you're running Shimano or SRAM it's a nifty solution.
Campagnolo users will find it doesn't fit any current Ultra-Torque cranksets, so check the compatibility guide before splashing out.
With its swooping curves and choice of four glossy colours, the Hobo scores high on aesthetics - although I'd mark them down half a point for using stickers rather than etched or painted-on logos.
As for function, it does a decent job as a work stand for basic fettling, but for anything involving a bit of grunt you'll want a proper stand that clamps the bike more firmly.
However, if you mainly want a way of storing or displaying your bike without leaning it against a wall, then the Hobo is an elegant choice. Yes, it's slightly expensive at £59.95 - but on the other hand, it's cheaper than redecorating your hallway after the inevitable dirty tyre marks up the wall...
Cycloc Hobo - £59.95 at cycloc.com
0 Comments