Every now and then some lunatic politician suggests that the law should be changed so all cyclists should have to wear helmets, put on a hi-vis jacket, have licence plates and have a bell. Indeed, many countries currently have a law that states all pedals must have reflectors, which is a bit of a problem if you are riding clipped in. I've not yet seen a pair of Shimano SP-D pedals with reflectors.
We can argue about the rights and wrongs for helmets for the next three days but I have some sympathy for the idea of compulsory bells. Yes, it is possible to shout at people instead of ringing a bell but in the middle of a busy, noisy city it is often difficult for shouting to cut through all the other background noise. A bell does cut through. On top of that, there is something much more polite about ringing a bell than shouting at people.
That said, I've not had a bell on my road bikes since I was about 9 years old. If you've spent five grand on a beautiful hand built steel frame, do you really want to ruin its beautiful lines with a bell? You've spent a fortune on making sure the bottle cages look perfect but you can't find a bell that blends in properly...even the £60 Spurcycle bell, which almost sucked me in!
And then I came across Hide My Bell, the perfect solution for road cyclists looking for a bell for their bike. The Dutch inventor of Hide My Bell have come up with a combined bike computer mount and bell, which means that the bell can barely be seen and fits in with the overall aesthetic of a road bike. It appears to be both simple and ingenious but would it actually work on the road?
I had a Hide My bell shipped to my hotel in Merano in the Alto Adige, where I was on a cycling trip in the Dolomites. Removing my old Garmin mount and putting on the Hide My Bell took under three minutes and was a super simple job. And then I went for a ride. I have to admit that it took me a while to remember that I actually had a bell that I could use, so used I am to shouting at people. But over the course of the next two weeks, riding in Italy, Austria and Germany, I found it extremely useful and now feel it is a vital part of my bike.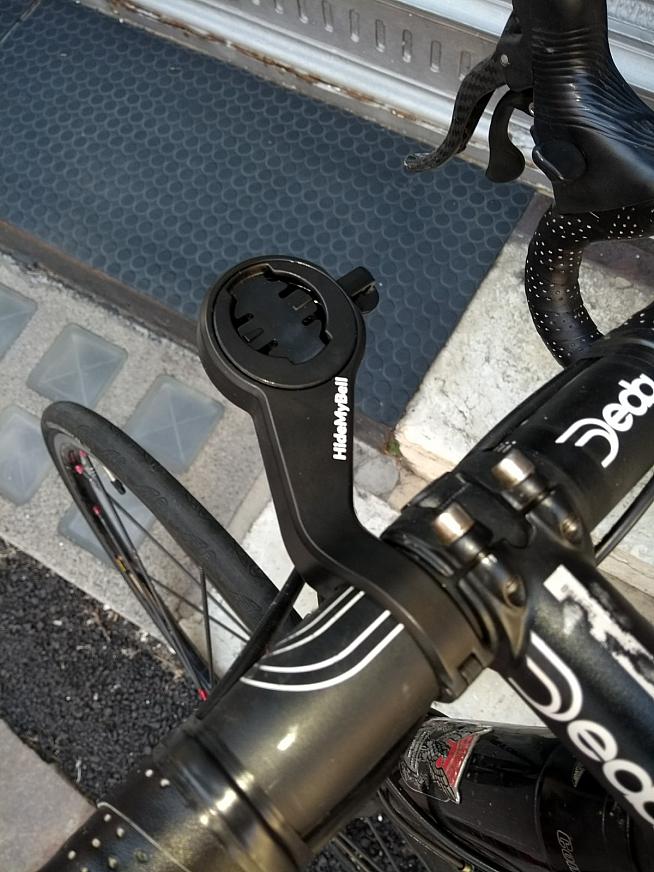 Initially it feels a bit odd having to lean forward and pull up the little plastic tab to ping the bell but with its 85 decibel ping those who you are trying to warn of your presence know about you quickly enough. And surprisingly they seem to like it. Several times I was thanked by people walking dogs or riding horse for giving them decent warning of my presence (one woman in Yorkshire said: "That's fantastic").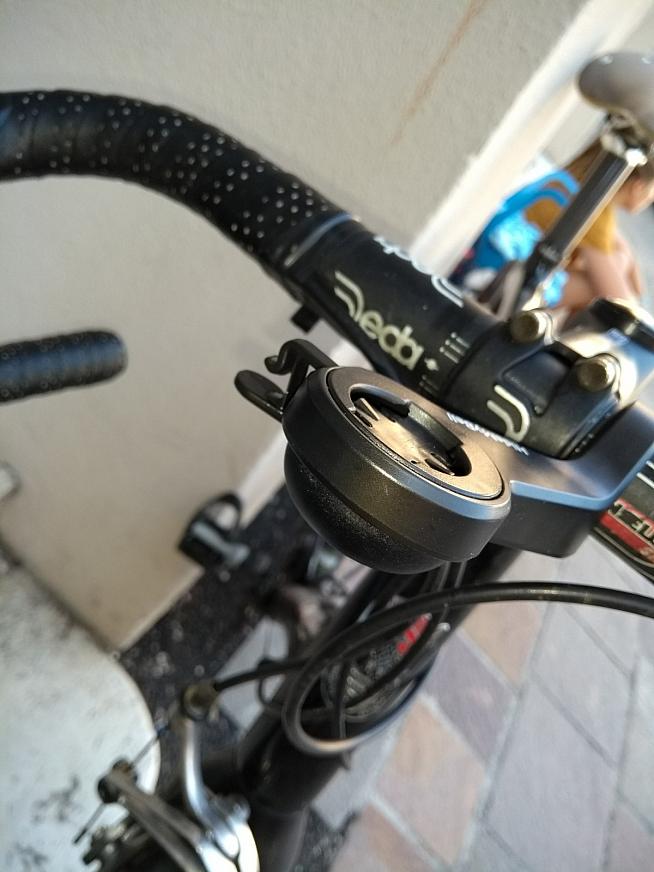 Mathijs Wagenaar, the bell's inventor, explains how he came up with the idea: "I used to ride with my bike computer out-front and a separate bell hidden underneath the stem. But deep inside I knew there had to be a cleaner way, more integrated and more lightweight. That's how the idea for HideMyBell was born. My three main goals: the mount has to look good, the ring must be loud and clear and the bell must be easily accessible.'
At just 48 grams, the Hide My Bell is not much heavier than a normal bike mount and it is compatible with Garmin, Mio, Bryton, Polar, Sigma and Wahoo bike computers. There is also a mini version and an aero bar version, so it should fit almost all road bikes. It is also possible to buy an additional fitting that means you can mount either a front light or a Go Pro camera under the mount, which is a pretty cool additional feature (if you like recording your rides).
I've now fitted a Hide My Bell on all my road bikes and recommending them to lots of fellow riders. Apparently Chris Froome has been spotted using a blue one in training (they come in black, red, blue, green and white). At 35 euros per Hide My Bell they aren't inexpensive but they do definitely make a noticeable difference to my safety on the road and they will definitely be my top choice for Christmas and birthday presents for friends who are cyclists.
Visit the Hide My Bell website.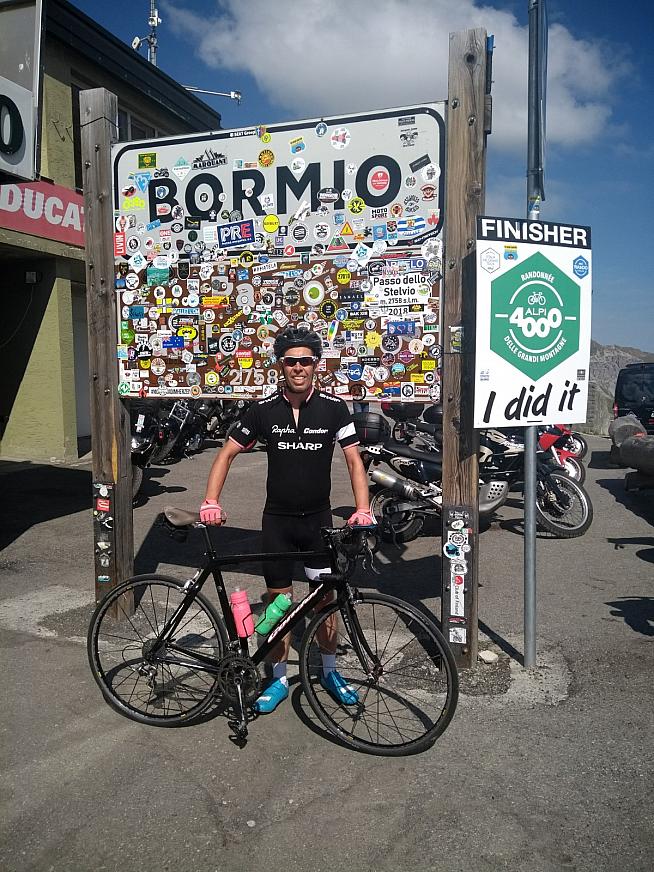 0 Comments