Is it too soon to talk about Christmas? Probably - but here's a little head start for your wish list courtesy of Maps International: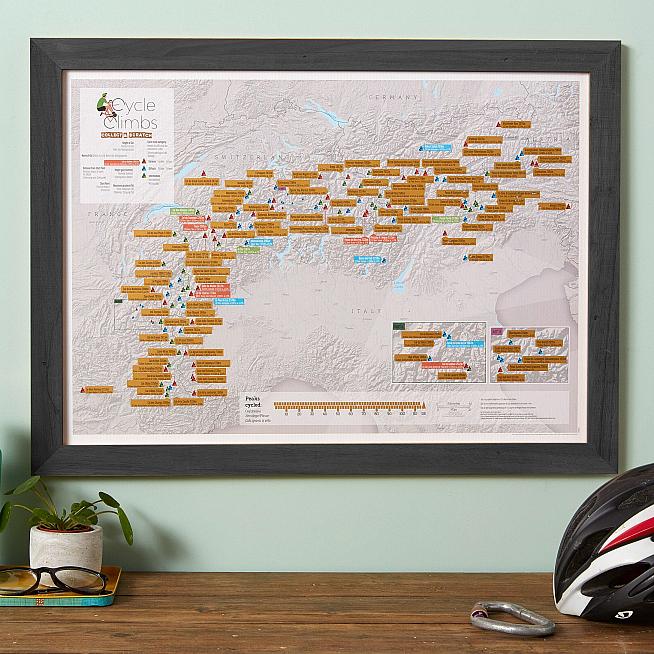 That's right, it's a scratch-off map of cycling's iconic Alpine climbs, allowing obsessive col collectors to keep track of and revel in their gravity-defying exploits.
The new print follows on the company's hugely popular map of UK cycling climbs, and features a whopping 115 climbs ranging all the way from Mont Ventoux in southeast France to the Kitzbuheler Horn and Grossglockner in Austria.
Along the way you'll find a who's who of all the legendary climbs from Grand Tours past and present - Alpe d'Huez, Col du Galibier, Passo del Stelvio - alongside lesser-known but equally fearsome peaks like Monte Grappa, with gradients touching 20%, and the 34km long Forcola di Livigno.
Our review sample now hangs in pride of place at Sportive.com HQ as a focal point for the admiration of guests and visitors. When it comes to Alpine climbs we've barely scratched the surface (ahem), but we can report that each climb's stats are printed beneath the scratch-off coating - ensuring the print stands testament to your mountain goat credentials even as you work your way through them.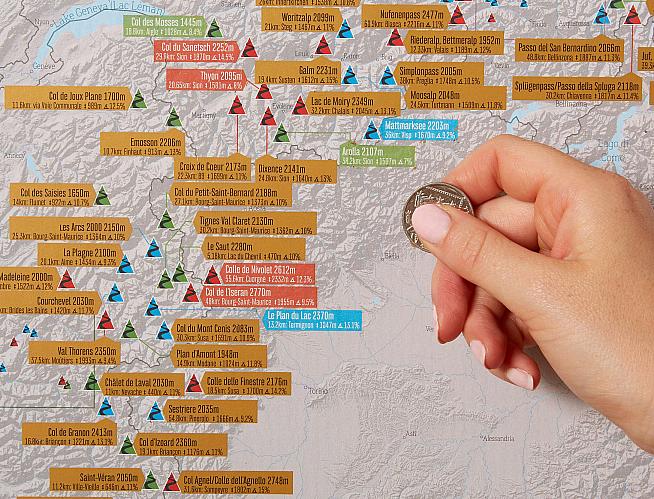 The map measures 59 x 42cm and is available as a print on silk art paper for £14.99, or mounted and framed for £80. The print quality and attention to detail is excellent, with inset boxes for areas with a high density of climbs and a colour-coding system that ranks peaks for difficulty.
Our only minor, nerdy quibble is that the cyclist pictured is wearing a green points classification jersey - shouldn't that be the polka dots of the King of the Mountains leader?
Bottom line, it's another winner from Maps International and will surely go down a treat with anyone who tends to disappear to France on weekends around mid July.
Just be warned: equipped with this map, those disappearances may become a lot more frequent. Once you start scratching, you'll want to complete the set...
Scratch Off Alpine Cycling Print, £14.99 from www.mapsinternational.co.uk.
0 Comments