"That's not meant for off-road" I heard as I rode the Pinnacle Arkose 2 effortlessly past a chap on a mountain bike in the woods.
It sounds like a made-up anecdote but it did happen. I shouted back it was a 'cross bike. He said "Oh". I'm unsure if he knew what that meant. Perhaps not everyone got the memo about the whole gravel/adventure/go-anywhere bikes that have drop bars.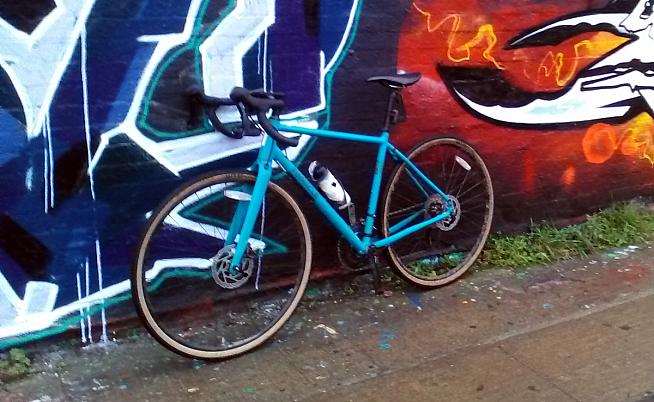 Whilst the Pinnacle Arkose isn't a pure cyclocross bike, it sits within the new breed of gravel/adventure bikes designed for riding a wide spectrum of cyclocross/off-road terrain. Fortunately, living near Epping, I've got access to some woods with bridleways and mud tracks plus plenty of rough/gravelly paths along a canal: the perfect playground to test the Arkose's credentials.
The Pinnacle Arkose 2 (Arkose is a type of rock, in case you were wondering) comes in at £1025. It features a Tiagra groupset, with the exception of the 48/32 FSA chainset, and Shimano RS405 hydraulic disc brakes. The supplied tyres are 37c and intended for light trails/gravel.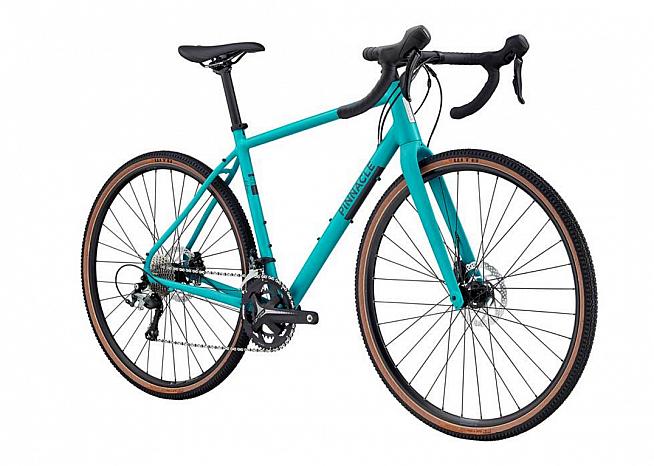 This model comes in a fetching shade of jade - different to the norm, but it's nice and subtle. The cable placement is designed for the UK climate, meaning they're easy to access but internally routed in places to keep mud and grime off.
The full build in size medium weighs in at 10.3kg. I wasn't sure if this was considered heavy (maybe I am spoiled by having a race-specific road bike) but a look around suggests that's about right for this type of bike, with bikes costing a few hundred pounds more from the likes of Specialized weighing the same. I noticed the recently reviewed Mason Bokeh, which clocks in at around three times the price of the Arkose, is only a kilo lighter.
You can fit tyres up to 45c wide and even swap the supplied 700c wheels for 650b for more off-road type conditions. There's mounts for mudguards and a rack which makes it suitable for commuting or touring. The rear wheel uses a regular quick release whilst the front uses a 12mm thru-axle.
According to the labelling, the medium I was sent suits heights between 5'7" and 5'10". I'm 5'11" and a bit and found the size perfect. In my experience it's always better to be at the top end of a height range for a bike. I'd say the 'M' would be fine up to about 6ft - fortunately there's plenty of Evans branches around if you're not sure of size.
The Arkose range includes various gearing options including the now fashionable single chainring. The '2' is has a double up front. Although I think a single ring sounds good, I preferred the double as I was able to swap out the chainset to use my power meter, which is Shimano only.
At the time of writing I've clocked up almost 400 miles on the bike on a mix of roads, gravel and mud paths during a period of pretty foul weather including snow and ice. Initial impressions were of an upright and smooth ride. It's a slightly unusual level of comfort compared to my harsh commuting tyres or aggressively set up road bike. The geometry is definitely suited to comfort over longer rides.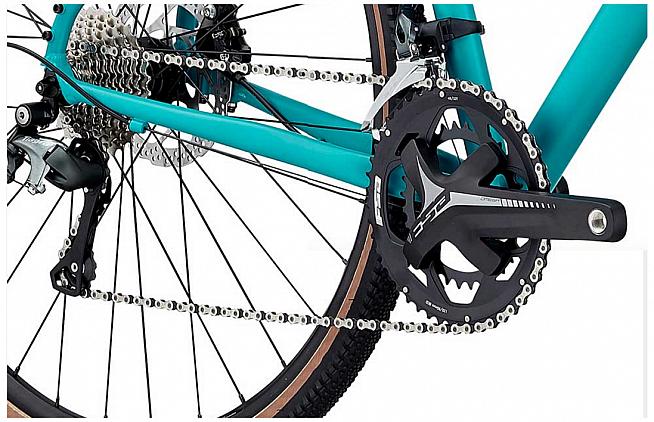 There isn't a great deal to say about the Tiagra 4700 gearing - it works, and works perfectly as you'd expect - unless you get it truly caked in mud. The supplied chainset is a 48/32 which is standard for 'cross racing, but I swapped that for a 50/34 since that's what I had to go with my power meter. Incidentally, this was made easier to do by the fact the Arkose eschews the ubiquitous press-fit BB in favour of a BSA threaded bottom bracket - welcome news for anyone keen on DIY bike maintenance and upgrades.
There's an 11-32 cassette on the back which should give plenty of range for just about anything. Even with a slightly bigger small chainring than supplied I had no trouble riding up muddy climbs.
I've had very limited time with hydraulic disc brakes so was keen to try them out properly. I was surprised how delicate they felt but there is a lot of modulation and the stopping power was excellent when you needed it (which is usually far too often in my case). They sound pretty awful when they get wet or dirty, but that soon resolves itself. I didn't need to make any adjustments and didn't experience any rubbing. The stopping power in the dry isn't massively better than my Ultegra rim brakes, but you do feel the benefit when it gets wet with only a modest drop-off in stopping power.
The tyres are 37c WTB Riddler and I absolutely loved them. Rated at 45-65psi, I started out at the top end of that but quickly went to nearer 50psi. They don't quite have grip in very wet mud (and they're not really designed to) but in all other conditions they're excellent. On the road they're perfectly fine - they're not as zippy as race tyres, as you'd expect, but they didn't feel sluggish. On gravel and dirt track they grip beautifully and roll really well. Not once did I feel the back wheel slipping out on anything other than wet mud, even swerving round puddles at 20mph on gravel. I am probably cursing myself here, but after weeks of terrible weather over every kind of surface I've not had any punctures either.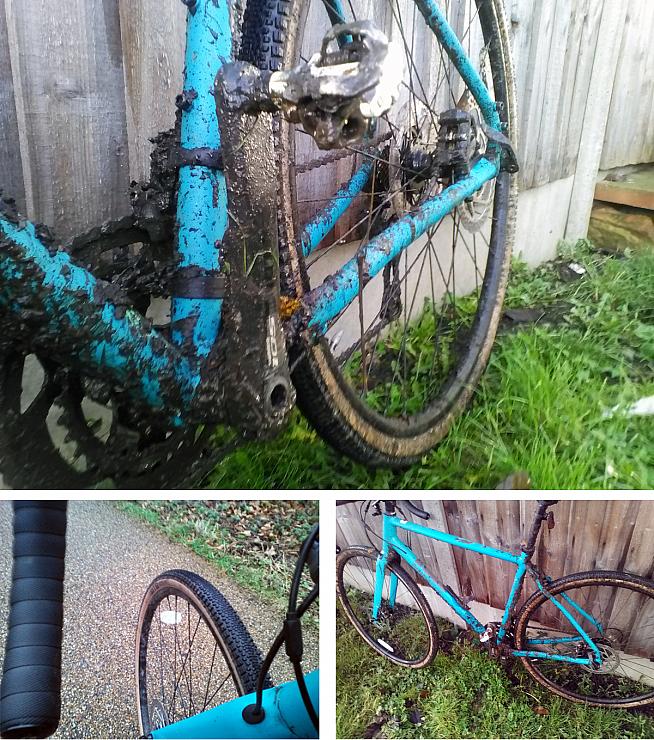 The Arkose feels most at home along paths, dirt tracks and gravel. The geometry feels perfect for the undulations, sudden turns around puddles, cobbles and occasional bunny hop. I'd struggle to find anything to change on the bike - even the supplied saddle was surprisingly decent, though I found the flared drops of the handlebars took a little getting used to. The only slight criticism is that the front wheel went a little out of true - admittedly after several weeks of abuse.
I did a lot of commuting on the road and found the Pinnacle Arkose 2 perfectly adequate on tarmac. I wouldn't use it for a club run or anything very hilly (it's not slow, but the geometry doesn't really suit powering up hills out of the saddle) but for anything else it's a great option. With the versatility on offer I could see it being used with 28/32c tyres for year round commuting, then up to 35/37c for winter with plenty of off-road riding thrown in.
It has turned out to be an ideal commuting bike, since I tend to avoid the traffic and use gravel and bumpy paths along the canal on the way home. There's a nice sense of freedom when you realise you don't have to follow paths and can just as easily take the grassy option straight through the middle.
After a few days' commuting I decided to really put the Arkose to the test properly with a ride of the local woods. It had rained the day before so it was very muddy, but the divots and bumps were hidden beneath a sheet of fallen leaves.
I quickly realised why people love this sort of riding in winter. Riding on the road in low temperatures it's the wind-chill factor that gets you. Off-road you're putting in the same effort but without the wind cutting through, so it's possible to work up a sweat. Then there's the general technical 'on the fly' nature of the riding. You're never quite sure what's coming and what adjustments you'll need to make, and when you hit a really muddy section you're not quite sure if you'll make it through without putting a foot down.
Riding up a 6% gradient, muddy, wet climb is good fun, putting down lots of power trying to control the back wheel that wanted to slide. I wanted to push the bike so it was only right that I rode down the hill too - without braking. Riding at 25mph down a 6% slope on mud and leaves was a mixture of fear and fun. I got in the drops and off the saddle thinking a spectacular crash was near, but it didn't happen - I was very firmly planted to the ground and was just about able to navigate some pretty harsh undulations along the way.
I did it all again and it felt no less perilous. A later ride in the woods in ice and snow revealed no trouble keeping the bike upright in some appalling conditions.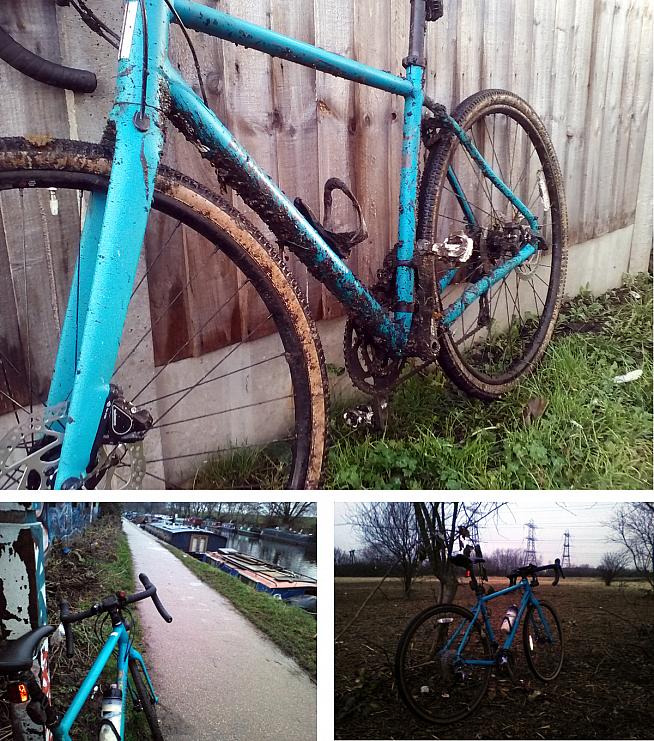 Overall, if you're looking for an all-rounder that's suited to commuting and long rides, there is virtually nothing not to like about the Pinnacle Arkose 2. As someone who commutes on canal paths and roads, the Arkose is an ideal middle-ground between a road bike and a mountain bike. The performance and comfort along the gravel and mud is well worth the trade-off of very slightly less speed on the road (assuming you're using the supplied tyres).
When you add in its 'cross riding prowess too - something I'd recommend everyone to try - the Arkose 2 as a complete package offers excellent value.
Pinnacle Arkose 2, £1,025 from www.evanscycles.com
1 Comments