Crankalicious is an Essex-based company offering a huge array of 'handmade' cleaning products and various polishing bits and bobs to make your bike (and clothing) look the part. They're not just based in Essex but actually make the products there too - any company that makes its products in the UK gets an immediate thumbs up from me.
I dislike bike cleaning as much as the next person, but with 750 miles a month averaged since the start of the year in UK weather it's a necessary job. If nothing else the price of 11 speed chains and cassettes forces my hand so I'm a relatively regular cleaner.
I was provided with Crankalicious bike wash, degreaser and some tyre cleaner. My first impressions were that they looked like toiletries due to the smart labels and lovely colours: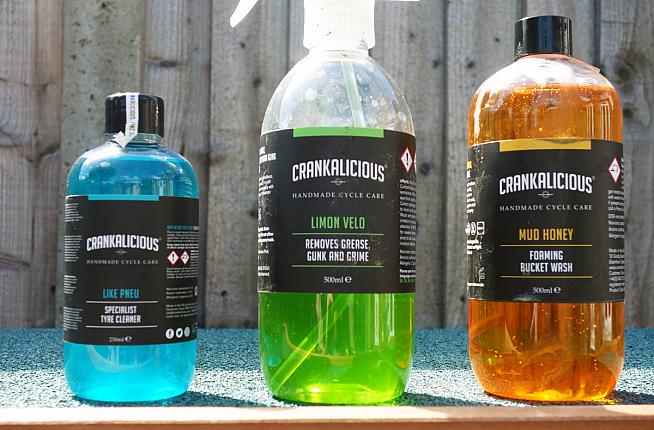 Limon Velo Degreaser
With the amazing things you can do with technology today, you have to assume something as straightforward as a degreaser is going to degrease. With one exception (it was some blue stuff and you diluted it with water), every degreaser I've used has done the job reasonably well. Of course it's very hard to compare one degreaser to another as grime tends to be inconsistent but I expect nothing less than shiny from a degreaser.
As expected, the Limon Velo degreaser worked well. I sprayed it on my drivetrains, gave the cassette some attention, left it for a few minutes and rinsed with a hose. It's impossible to say it's better than another effective degreaser, but it absolutely works; my drivetrains were as clean as they could possibly be, so far as the naked eye could tell.
The other brand of degreaser I used recently came in an aerosol can, but I found the Crankalicious spray bottle much easier to use in terms of getting the right amount of spray (plus, of course, you can see how much is left).
The 'Limon Vilo' (a pun on Limoncello I assume - jury's out on that one) degreaser is water-based and costs £4 for 100ml or £10 for 500ml. It's very hard to put a figure on it but I'd expect the 500ml bottle to give me 20-30 very thorough cleans.
Mud Honey Bucket Wash
Turning to the Mud Honey bike wash, Crankalicious recommend you fill a bucket - warm water if possible - and use 2-3 capfuls (the cap is pretty small). That seemed too little to me, but I was wrong. The stuff is incredibly concentrated. Three capfuls in about 4 litres of water produced a very rich, lathery result (I used warm water as recommended). Two capfuls would have been plenty.

Again, the product worked very well. It was so foamy that it could 'sit' on the frame rather than just run off. I gave my frames a gentle rub with one of those foam/scouring combo pads that you pick up in packs of five for a quid and the results were excellent after rinsing off. So clean was my white frame (a commuting bike that's lived through thousands of wet miles) that the few bits I'd missed were very obvious - some of the grime I was washing off around the chainstays had been there for years.
The Mud Honey is pretty strong stuff; you're advised to use gloves, and I can see why - it even managed to remove the gummy residue of a top tube sticker from a long-passed sportive.
Mud Honey costs the same as the Limon Velo at £4 for 100ml or £10 for 500ml. It's so concentrated that it's going to last for ages, I'm definitely expecting to be on the same bottle this time next year.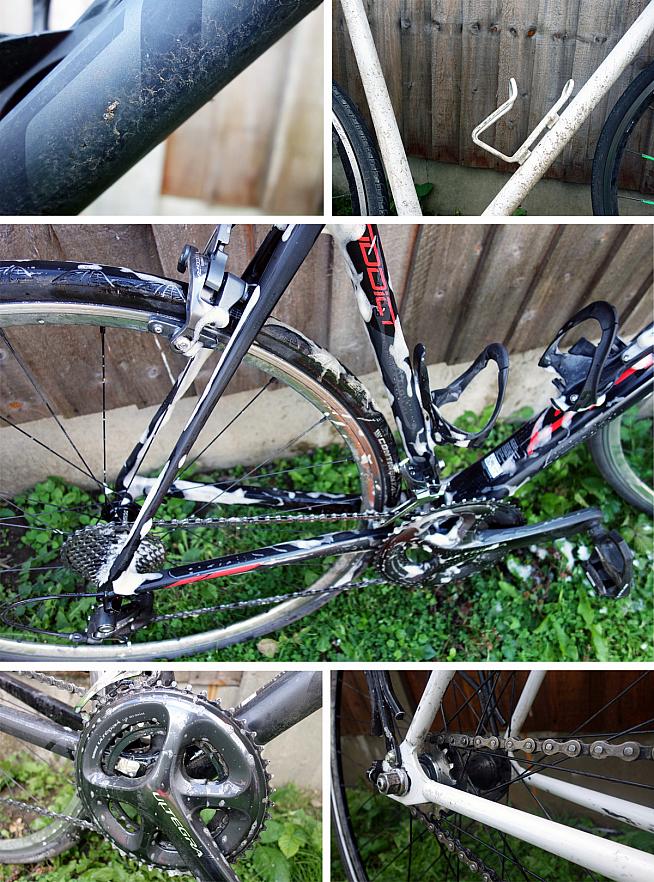 Like Pneu Tyre Cleaner
I also tried the Like Pneu tyre cleaner and it did indeed clean my tyres. I have to say I'm not entirely convinced there's a lot of people requiring immaculately clean tyres, but if you're a YouTube vlogger, hang your bike on the wall or just consider your bike your pride and joy then snap it up.
Crankalicious also offer a seriously impressive range of polishes and 'improvers' for different frames types and all manner of accompanying accessories, plus some stuff for washing your kit. If you can clean or polish it then Crankalicious seems to have a product for it. Like Pneu costs £4 for 100ml or £8 for 250ml and, again, it should last a long time.
I also had the opportunity to pick up a Kwipe chain cleaning wipe. It's essentially Crankalicious's chain cleaning product in the form of a wet wipe in a little packet, like a hand wipe you get from a restaurant.
A quick run through of the chain and all the surface muck is gone. No match for a proper clean, but a great product if you're doing a multi-day ride or you've finished the dirt/gravel section of a long ride.
The cleaning product is called 'Gumchained Remedy': a pun so good it warrants a nod of approval and almost excuses the previous efforts.
Verdict
The Crankalicious products I tested were as good as or better than anything else I've ever tried - and I've used a lot of cleaning products over the years, with no loyalty to any one brand. Moreover I think they're very good value based on how little product is required to get results.
Add the fact you're supporting a UK company, and I think Crankalicious should be one of your first ports of call for cleaning kit. If that wasn't enough they're pretty colours, and you get the occasional good pun to distract you from the chore of cleaning.
0 Comments