Spring in the Surrey Hills: nothing is more certain than ubiquitous potholes and scabrous roads. When I got the chance to try a Parcours carbon wheelset promising deeper, more aero rims and wider, more stable tyres, I jumped at the chance.
Parcours are a UK company sourcing wheelsets that are manufactured, like virtually all carbon wheels, in the Far East. Core to their philosophy is that aero wheels should be accessible to all - they strip away the marketing and in-house R&D of the big brands, but still offer after-sales support that may be lacking should you purchase direct from overseas manufacturers.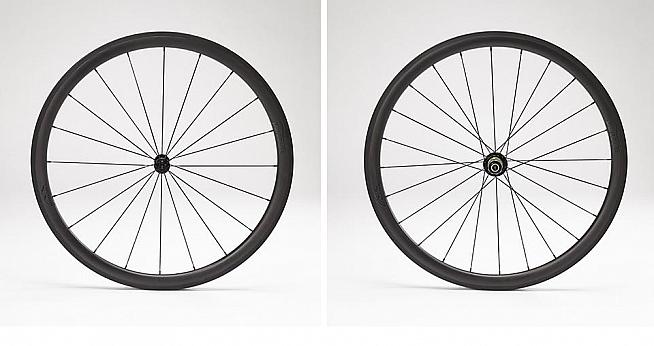 Parcours offer three different flavours of road wheels: the Grimpeur, Passista and Chrono, each targeted at different disciplines. The Grimpeurs, as the name suggests, are their lightweight climbing wheels and feature medium-profile 38mm rims built up with high-quality Sapim CX-Ray spokes.
The rims feature a fashionable U-shaped (so-called toroidal) cross section which lends aerodynamic benefits, and the claimed weight for the wheelset is 1465g, which is certainly respectable for clinchers.
Out of the box, the Grimpeurs have a pleasingly stealthy look: no garish decals here, just a discreet etched logo on the matte black, unidirectional carbon rims. They're a great-looking wheel, and suited my murdered out Ribble to a tee.
What else is in the box? Parcours supply a set of carbon brake pads, and the wheels come complete with skewers (these were missing on my test set, but Parcours assure me they come as standard).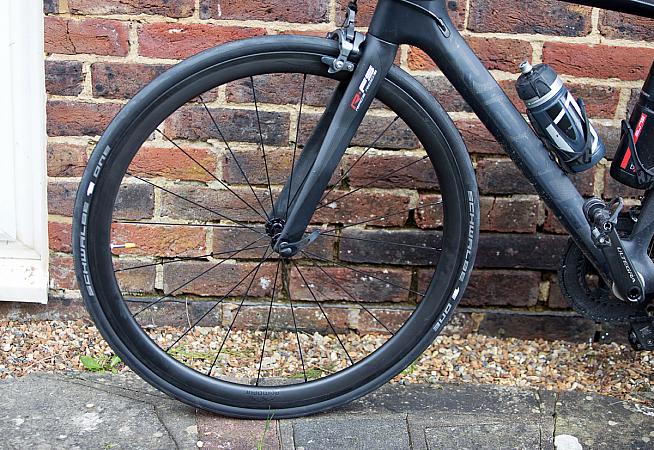 I fitted the wheels with a new pair of Schwalbe One clincher tyres in 25mm. The Parcours accept standard clinchers, although if your preference is for tubeless they're designed to be tubeless-compatible. With the right tape, valves, tyres and sealants I'm open to the benefits of tubeless, and the Parcours website offers advice on set-up, but it's beyond my wit at present.
However, the 26mm width of the tyre bed on the Grimpeurs does allow for the use of wider tyres, meaning that some of the vaunted comfort of tubeless tyres is accessible. Running fatter tyres with lower pressure on the Parcours was noticeably more pleasurable, and while skinny tyres at high pressures may be faster in the velodrome I'm willing to believe the 'fat and low' combo is the way to go for 'real-world' sportives.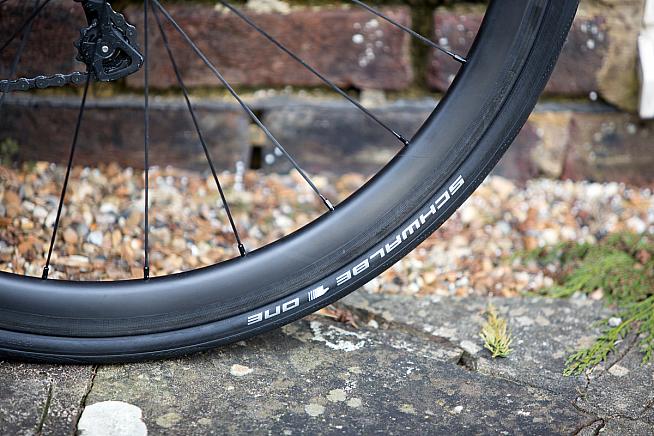 Even on the first mile from my house on the Grimpeurs the difference was immediately noticeable; they soaked up Surrey's craggy road surfaces and, relative to my ageing Fulcrum wheels, cornering was sublime. I am perched 210 metres above sea level, and having ridden a sportive the week before on my regular wheels, I noticed an immediately improved connectivity to the road and, importantly, increased confidence on the inevitable sharp descent that lies minutes from my front door.
I ran the Parcours at a slightly lower than usual (for me) pressure of 90 psi, which felt right. Compared with skinnier tyres and higher pressures this enhanced the comfort, handling and descending speed - although at some perceived cost in terms of hill climbing speed. Strava and power data together suggested that the wider, lower-pressure tyres weren't in fact conducive to faster climbing - but with so many other variables potentially coming into play, I wouldn't say this is down to the wheels themselves.
For a wheel named Grimpeur ("climber") it may seem odd that ascending was where I saw the least benefit, but as the wheels excelled in so many other areas I could potentially turn a blind eye. I descended rapidly, cornered confidently, and despite blustery spring weather, I had no concerns over sidewinds. For me, I would ditch my regular set of wheels in favour of the Parcours for any ride over two hours where I wanted sensation in my hands at the end of the ride.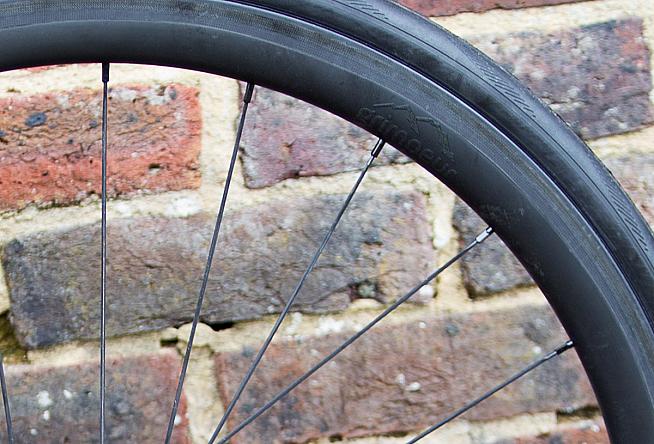 One concern in making the move to carbon rims is stability, particularly on windy days. But I found the 38mm rims were stable even in gusty conditions, and comparable in this respect to my aluminium Fulcrums.
Comfort, however, was in a different league, with none of the wrist or shoulder jarring that I experience on long rides on the Fulcrums. This may of course be attributable in part to the wider tyres, but certainly the combination of 25mm rubber on the wider rim beds of the Grimpeurs was a pleasing combination.
Finally, braking - often a concern for riders making the switch to carbon rims - proved a non-story, at least in the dry test conditions. The rims and provided pads performed perfectly, with adequate stopping power and not a hint of squeal or brake rub.
Conclusion
After riding the Grimpeurs I'm sold on the virtues of 25mm tyres on wide rims. The ability to run lower pressure, and greater contact with the road makes for a more comfortable ride, with nippy descents and sharper cornering.
Personally I would save my old alloy wheels for the wet and put some wider more durable tyres on these; they might also come out for the odd hill climb. There is no doubt the Parcours wheels would be my choice for anything in the dry (as I'd like to keep them pristine), rides over 50km, and any time I might want to feel my extremities for the rest of the day.
Finally, it has to be said that at £750 the Parcours Grimpeurs, while not exacty cheap, are really exceptional value for a full carbon clincher of this standard.
If you're carbon-curious and looking for the best bang for your buck - with the peace of mind that comes with UK service and warranty - then Parcours are well worth a look.
Parcours Grimpeur carbon wheelset, £749 from www.parcours.cc
0 Comments