There's an old wives' tale about departing swallows marking the end of summer, as they start their annual migration to Africa.
This is of course total rubbish.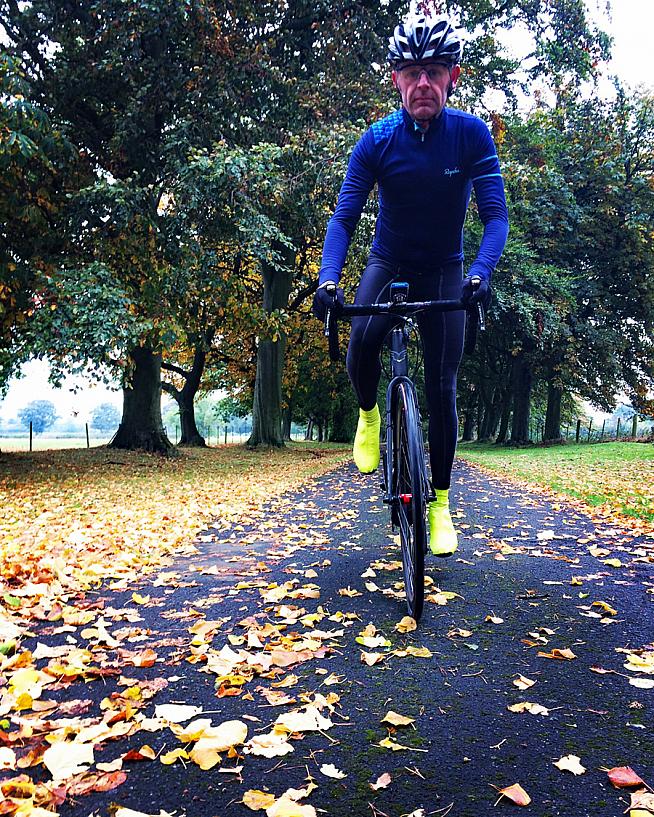 While it might be biologically a sign that summer is packing up her bags and heading out the door, all true-blooded cyclists know that the real sign that summer is over is the arrival of an email from Rapha announcing the launch of their new season of cyclocross clothing.
Clicking the email takes you to a digital display cabinet of shiny, sugar-coated goodness. It's the haute couture equivalent of peering through a sweet shop window and has been known to cause gentle salivating, closed-eye rapture and maybe even a smeary mark where you mentally pressed your nose ever-so-slightly too hard against the imaginary glass. Or maybe that's just me?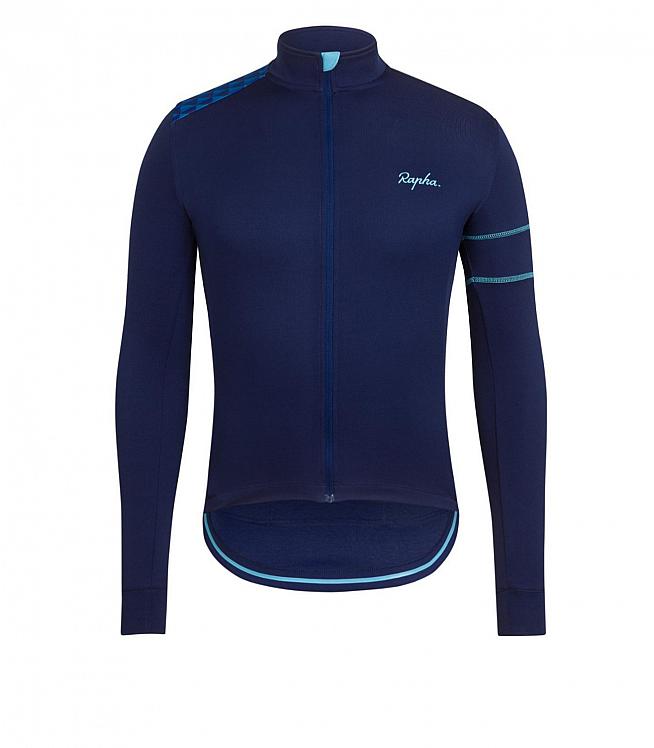 So enough of the fanboy waffle, what about the jersey?
For the last three seasons Rapha have produced a small range of cyclocross-inspired clothing, normally comprising both long and short-sleeved jerseys, socks, cap, buff, umbrella, cuddly toy etc etc. This year was no exception. Their 2016/17 'cross range includes two different long-sleeved jerseys, a short-sleeved jersey and a variety of other carefully coordinated bits.
The logic for having two different long sleeved jerseys in what is quite a small/niche range of clothing, is really for exactly that reason. CX is actually quite niche. It's heavily competition driven. Racing at warp speed on 'wrong' bikes, in frequently atrocious weather conditions, with a mix of riding and running often involved (see here for a better explanation) puts quite distinctive demands on your clothing.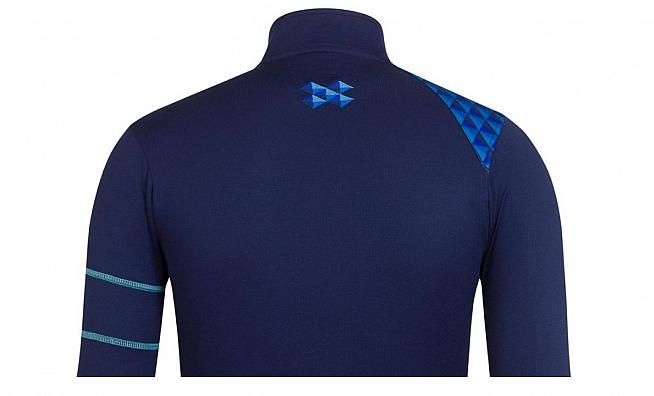 CX racing is mainly a winter sport, and so is often cold and wet, but as you're likely to push your heart rate up through the roof, you soon generate enormous amounts of heat, so your jersey has to help you warm up quickly pre-race, then keep you warm for the first 10 minutes, but then somehow magically transform itself into something cooler and more ventilated for the remainder of the race.
So how the hell can a jersey be expected to do that? This awkward set of demands is why Rapha have made two slightly different CX jerseys this season. One is for pure flat out racers, with snug aero fit, manmade super-breathable fabric and minimal features.
It won't keep you warm when you're standing still. If you put on even a few extra grams you'll look like Michelin man, and it's a little shouty for wearing down to the pub. But if your aim is to go warp speed for 60 minutes, their Cross Long Sleeve Race Jersey is the one for you.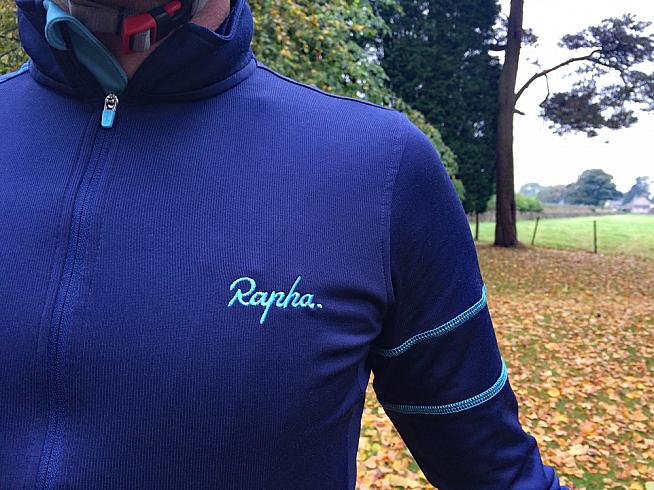 I tested the other one - the Rapha Cross Long Sleeve Jersey. This one would still work perfectly well in a race situation, but to my mind it's significantly more versatile than that. It differentiates itself from its racier brother by being constructed from a 70/30 mix of polyester and Rapha's RPM150 merino wool. Rapha describe it as "a new softer, lighter more breathable Sportwool™ merino blend milled to Rapha's specifications".
The combination of the two fabrics seem to give a perfectly balanced finished product, with the polyester helping with the great fit (their older merino jerseys sometimes had a slightly saggier, less svelte look than this one), but the incredible feel, breathability and low stink attributes that merino is so lauded for.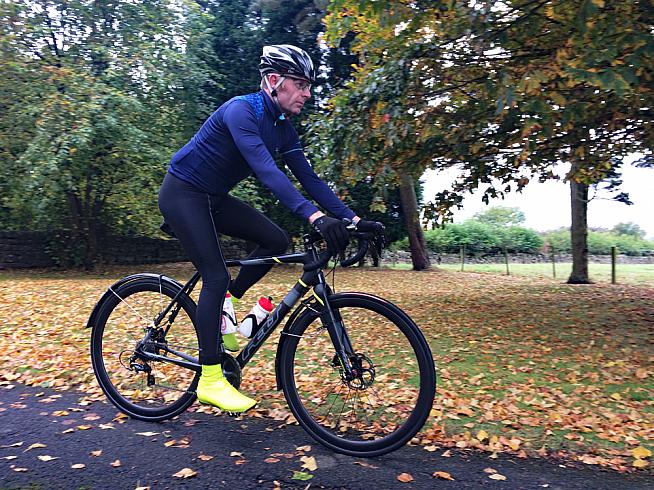 The Cross Long Sleeved jersey comes in a really fab blue - just the right shade. It's bright enough to make you stand out slightly if you happen to veer away from the mud/roots/rocks and onto something darker, harder and more filled with cars, but not so bright that you look like a Belgian from 1986.
There's some subtle detailing like the pale blue stitching around the top of the left arm to demarcate the area that Rapha uses as a design feature of pretty much all their clothing. There's also a pale blue zip baffle, which travels from the base of the jersey up to top where it becomes a beard guard, and an embroidered Rapha logo on the left breast.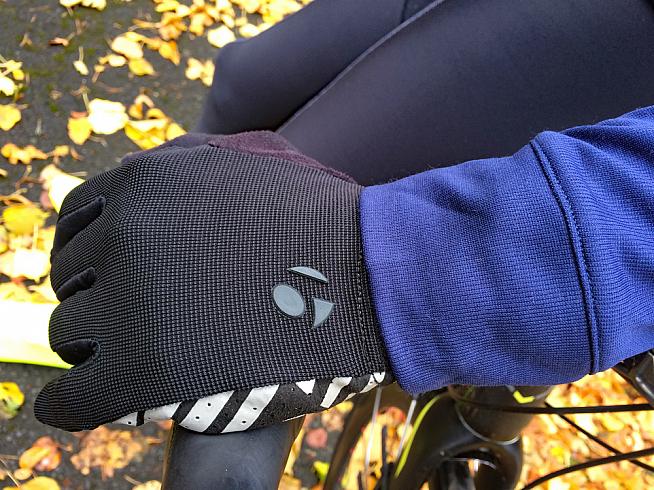 The fit of the jersey was absolutely spot on. The cut is quite racy, so it's worth trying one on first if you can. I'm a 36" chest, and the size small looks like it was tailored specially for me. It's the little details, like the fact that the seam where the sleeves join the main body sits perfectly on the edge of my shoulder bone, that make the jersey feel more like a custom fit, than an off the peg one. The sleeve length is equally 'Goldilocks-like' - not too long, not too short, just right.
I've been lucky enough to own Rapha CX jerseys from previous seasons too, so I could easily compare them. This year's version boasts marginal gains that elevate it above the level of previous models - for example, the pockets at the rear (three standard open pockets and one small zipped one for keys) are a tighter fit than previous years. Although this means you have to think more carefully about what you're carrying, the positive trade-off is that the pockets sit closer to the jersey and don't suffer the unsightly sagging that the previous iterations suffered from when heavily loaded.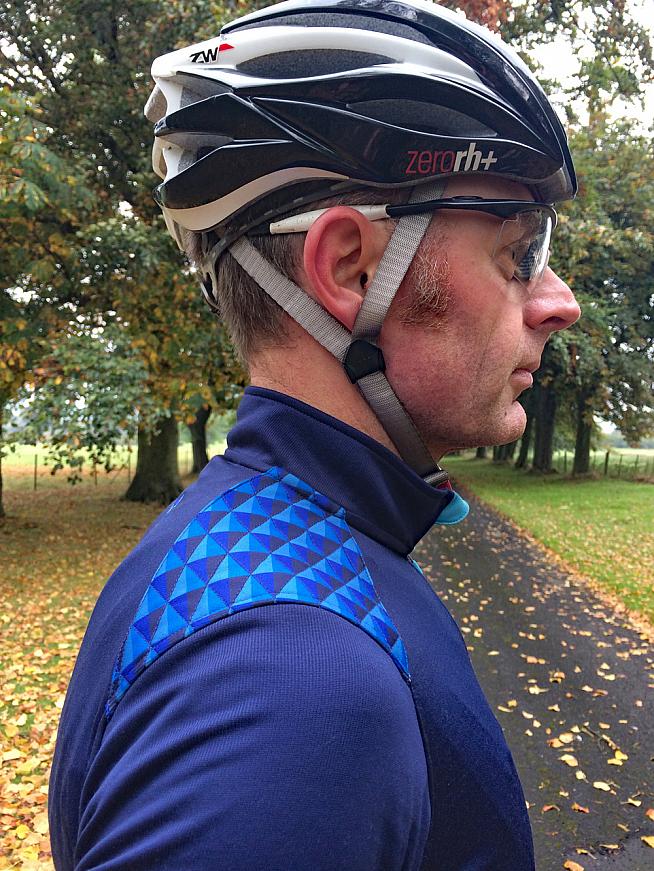 The padding on the right shoulder is spot on too. This is a feature that I suspect a lot of owners won't ever test in anger, but the logic for the padding is that when you smoothly leap from your machine mid-race lap and flick the bike up on to your shoulder for the run up the mandatory flight of grease-covered steps, the padding softens the blow somewhat and takes the level of pain down from 10 to 9.5. Marginal gains, like I said.
So what's it actually like to ride in? While I've yet to actually use it for any CX racing, I've definitely tested the jersey at race-pace and I'm happy to report it passed with flying colours.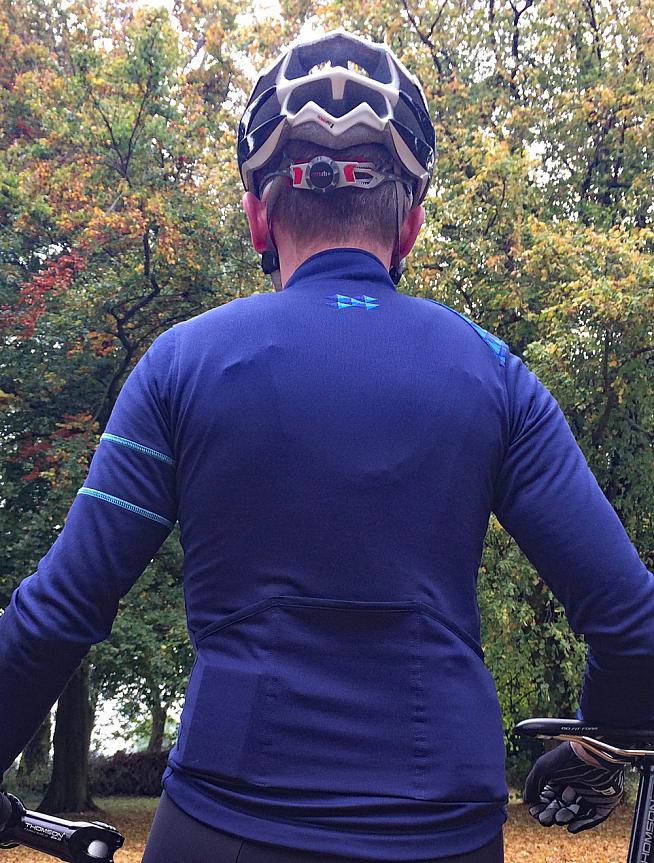 Autumn has arrived with a vengeance up in the north-east this year - it barely made double figures last weekend. So the conditions were perfect for jersey testing. Cold enough to warrant long sleeves, windy enough to really tell how good a job of insulating you the jersey was doing. And just enough dampness in the air to make you glad of the wool content.
During the test period I've done everything from gentle pottering, some constant speed mile-munching, urban riding with full on sprints from traffic lights, flat out gripping-on-for-grim-death singletrack through the woods, and "oh my legs have gone piff, I'd better ride the last bit pretty gently" warm downs. Each time I rode, I wore the jersey with either a merino or a man-made base layer underneath, and I did quite a few hours where I had a light windproof jacket on the top too. The jersey coped well with changing temperatures, both externally and self-generated.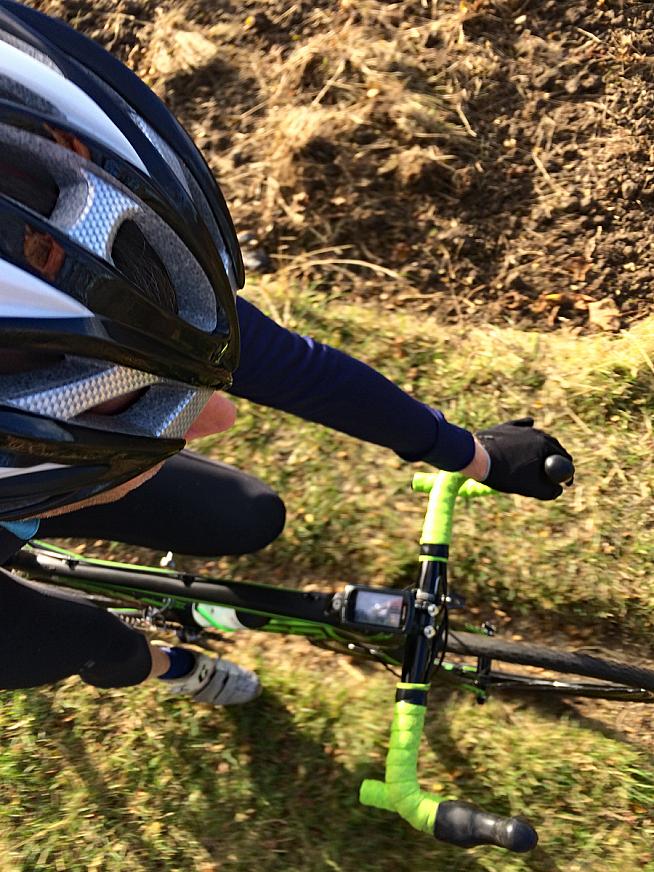 On a related point - you only notice how good a zip is when you can undo and do it up one-handed whilst riding. This one is spot on - the combination of the slight stiffness of the fabric and the smoothness of the operation of the zip mean even when your hands are cold and you're wearing gloves, temperature regulation is easily accomplished.
No matter where you read them, reviews of Rapha kit always tend to say something along the lines of "beautifully crafted, great fit, amazing attention to detail, costs a lot of money". And it's true. This jersey isn't cheap. But the fit, detailing, performance and even the way it looks are as close to perfect as anything I own.
This jersey is way too good to only be worn when CX racing. It's too good to actually only be worn for CX at all. I suspect I will end up using it whenever a long sleeved jersey is required. And although the initial cost is high, Rapha's free repair service for their clothing which has either been crash damaged or has suffered a 'failure', means I should be able to keep wearing it for years to come.
I'd better stay away from the crisps and the cake though, as the fit is definitely on the racy side.
Rapha Cross Long Sleeve Jersey, £130 - www.rapha.cc
0 Comments