Brainy Bike Lights first shone onto the market with the launch of their original square bike light design complete with the international symbol of a cyclist on a bike two years ago.
The successful launch and subsequent sales heralded a new approach to bike safety, based on scientific research on how our brains recognise and interpret symbols.
Crawford Hollingworth of Brainy Lights is a behavioural change consultant, and he had the 'light bulb moment' following a near miss and an aggressive encounter with a motorist in London whilst commuting. Certainly, any cyclist that has ridden in the dark in any town or city will no doubt have had similar experience.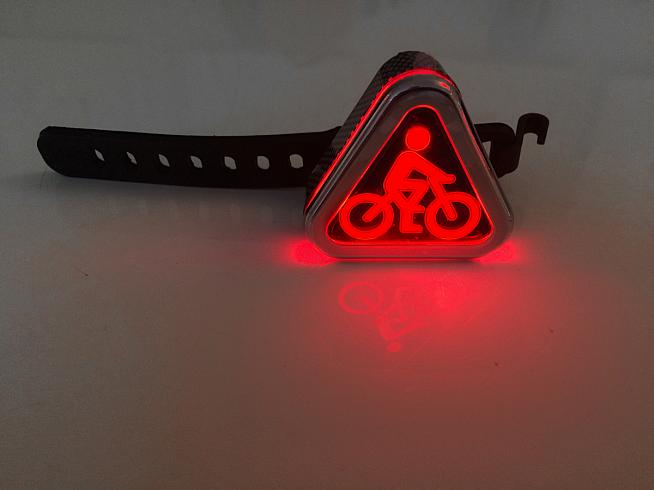 RoSPA figures show there are 19,000 cyclists injured, including 3,000 seriously injured or killed on our roads each year. Worryingly, 25% of fatalities are caused by cars or taxis hitting cyclists from behind.
Determined to create a light that would increase the safety of urban cyclists, Crawford came up with the idea of using the international symbol of a cyclist on a bike. Research was commissioned and carried out at Oxford University to explore the effectiveness of the new symbol lights against standard design bike lights. Results demonstrated that in urban light clutter conditions, the new lights offered the advantages of:
· Identifying cyclists more quickly and accurately than a traditional light
· Priming drivers to have a greater sense of the vulnerability of cyclists on the road
· Speeding up drivers' reaction times, giving extra time in case of emergencies
Following feedback from users of the original square battery powered lights, Brainy Lights have developed a new lightweight rechargeable triangular version - the triangle in itself being a recognisable warning shape.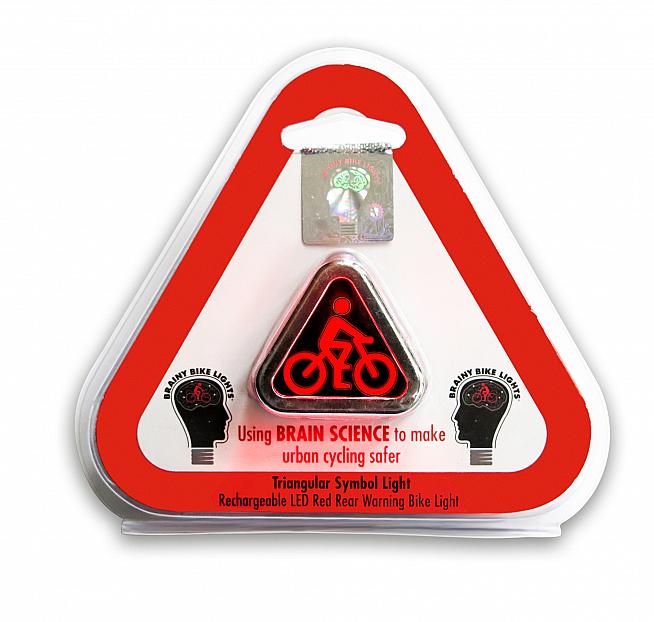 On paper the specification looked impressive, but how would the light perform in real life?
The new design is currently the subject of a Kickstarter campaign to fund production, but after meeting with the Brainy Bike Lights team at the the Cycle Show I got hold of an early production sample to test for myself.
The compact and very light (30g) triangular light attached easily to the seat tube of my bike by first fixing the rubber strap to the post then popping in the light. The button that pops into the strap is so designed that the light can turn to ensure you can position the light correctly. Usefully, this fixing system allows the light to be fitted to the rear of your helmet or backpack.
I tried the light on my helmet with no adverse effect on comfort whatsoever. Indeed, you wouldn't know it was there.
There are four red light modes: steady, flash, hi-intensity steady and hi-intensity quick flash. To operate you simply press the pronounced button (easily operated with gloves) located at the rear of the light to scroll through the modes; press once for steady light, twice to flash, thrice for hi-intensity, four times for hi-intensity flash and once more for off.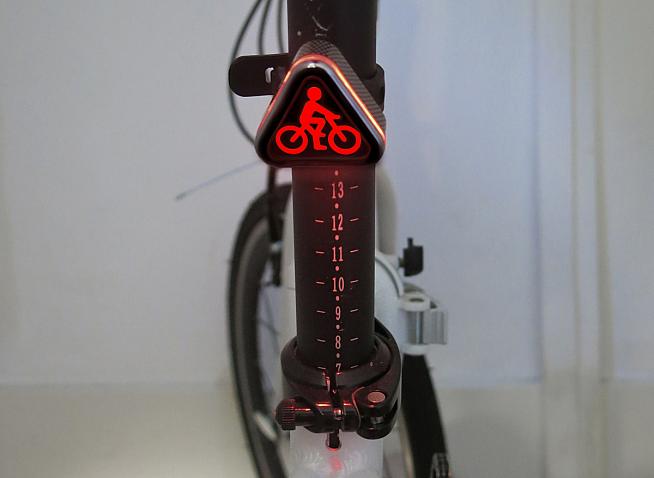 Recognising that reviewing the brightness and effectiveness of a rear bike light whilst wearing it has its limitations, I gave the light to a colleague who commutes every day by bike. This gave me an opportunity to assess its performance by observing them on their commute.
Although the unit is small in size - just 4cm along each edge - the red cyclist on a bike symbol showed up very well both in dry and wet conditions. In my opinion it certainly stood out and you were in no doubt that a cyclist was in front of you.
The hi-intensity option was particularly good on poorly lit roads.
Also, a thin strip of red light is emitted from all three edges, providing a limited degree of peripheral illumination.
When eventually it had to be recharged (it has a maximum run time of 32 hours on normal flash), it was a simple case of using the USB cable provided.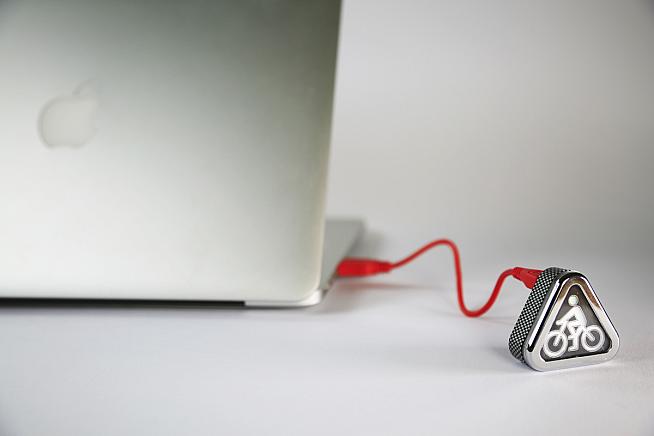 There are other lights on the market that are brighter, but some of these can dazzle and could easily be mistaken for a vehicular light. I believe the clear and simple bright red cyclist symbol is effective in warning other road users of the fact that a cyclist was ahead.
Additionally, its unique and stylish design with chrome trim and carbon fibre effect casing, attracted a lot of interest from other cyclists in the office; I had difficulty in getting the light back from my colleague as he loved it so much!
I am convinced the unique design and functionality has fulfilled Crawford's original desire to create a light that will increase cyclists' safety. Indeed, it would be hard to argue against Professor Charles Spence from the Experimental Psychology Laboratory at the University of Oxford. When asked about his opinion on the use of the bike symbol on the original lights, he said: "This bike symbol light could make a major contribution to cyclist road safety."
Full production will start in November following the end of the Kickstarter campaign, which runs until 30 October.
The rear light is expected to retail at £25, but backers can snap up a discounted price of £20, or £35 for a pair of front and rear lights. So if you like the design, backing the campaign really is a no-brainer!
For more information check out the Kickstarter campaign or visit www.brainybikelights.com
0 Comments