I have been riding the Venon VR for about six months now, and in general I love it. But it does have a few shortcomings that might be a bit much for others to let slide.
The Vitus guys say they have "brought the new Venon VR range to the forefront of the latest technological developments, incorporating disc brakes across all models" with a revised frameset which they claim offers enhanced performance and comfort levels.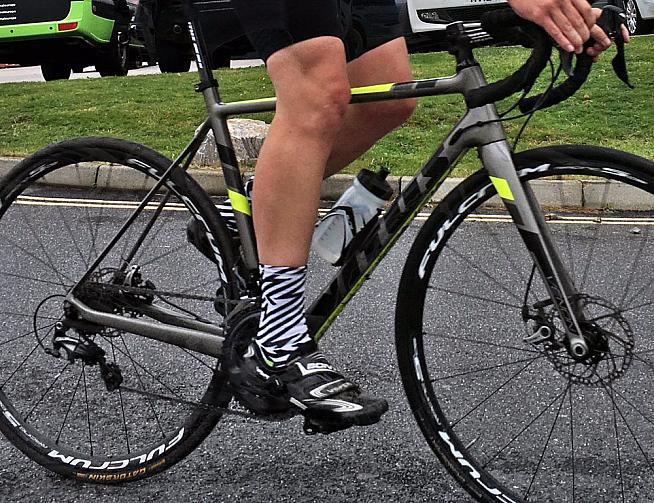 To be fair, the Venon VR has had a complete redesign and some cool upgrades, including a full Shimano Ultegra groupset (only the cassette is 105), TRP Spyre disc brakes - more on these later - and a lovely Fulcrum 5 disc brake wheelset to finish the bike off.
The frameset is made from lightweight T700 high modulus carbon fibre with tapered headtube and carbon steerer on the forks. It's a stiff frame but will not make you feel like you are on a full racing machine by rattling your ribs into matchsticks.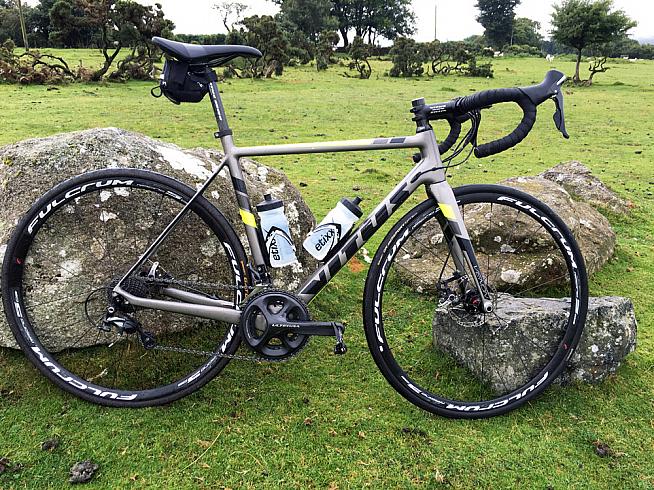 The frame has full internal cabling compatible with both mechanical and electronic groupsets. As Vitus mention on their website, "the addition of slender seatstays and a 27.2mm seatpost results in increased vertical compliance which translates into a smoother ride and reduced road vibration. The bottom bracket area is oversized to improve lateral stiffness and improved power transfer; up front the tapered headtube increases front end stiffness for improved tracking and handling."
So, in translation, you have an endurance level geometry that won't have you sitting upright like Mary Poppins, but the slightly taller headtube does bode well for all day comfort.
Another notable feature is the dropouts. The front fork has a through axle, a sensible design to improve handling and counteract the brake forces transmitted through one side of the forks. The rear axle however is standard 135x9mm QR, with the option to convert to 142x12mm with a dropout adaptor sold separately.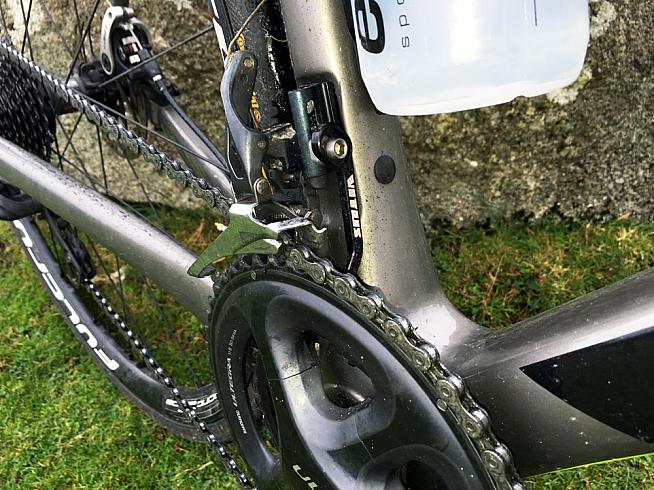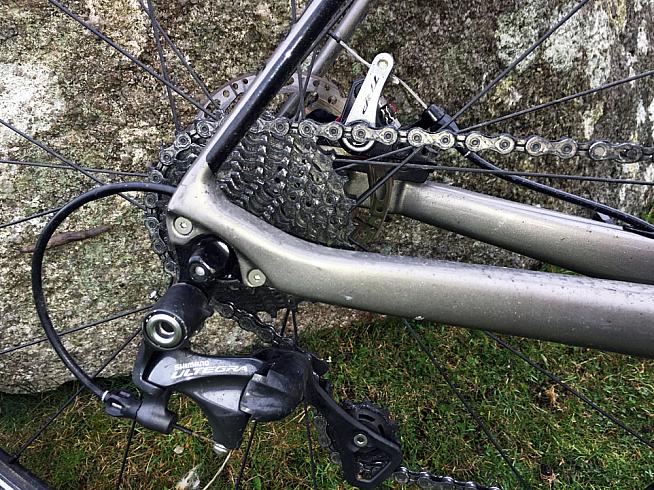 Vitus is owned by online mega-retailer Chain Reaction Cycles. This means there is no middleman, you deal direct with Chain Reaction which enables them to keep prices low - take a look at the price tag on similarly specced bikes from other brands and the benefits to the customer of this model are clear. On the other hand your local bike shop might not be too keen to repair or service so just be aware. However, the guarantee from Chain Reaction is rock solid so you are covered there.
As for the service - sometimes a question mark over online retailers - my experience of the order and delivery process with Chain Reaction was great. Bike set-up was a snap: I literally rolled it out of the box, turned around the bars and I was good to go.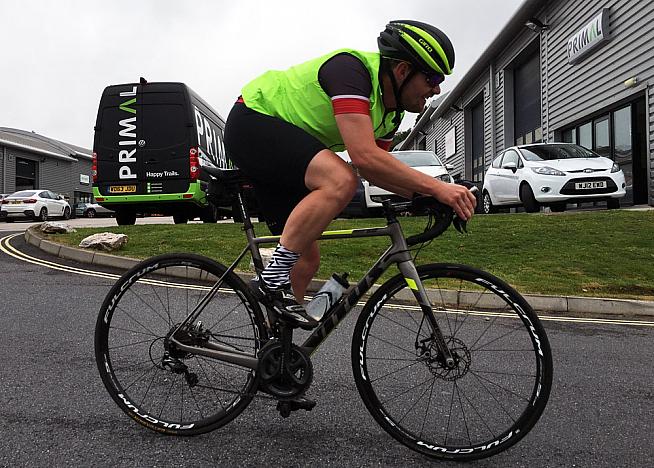 The ride is, as Vitus say, stiff - but not so as to give you lower back ache. The bike comes fitted with 25mm Continental Grand Sport tyres which offer confident handling, but the frame will accept up to 28mm tyres if you wanted to go wider for extra comfort.
Speaking of wheels, the Fulcrum Racing 5s are solid performers. When the going gets steep there's a minor weight penalty to be paid for the addition of discs, but they'll repay you with the added stopped power on the way down - and anyway, at a shade over 1700g for the pair they're certainly no heavyweights.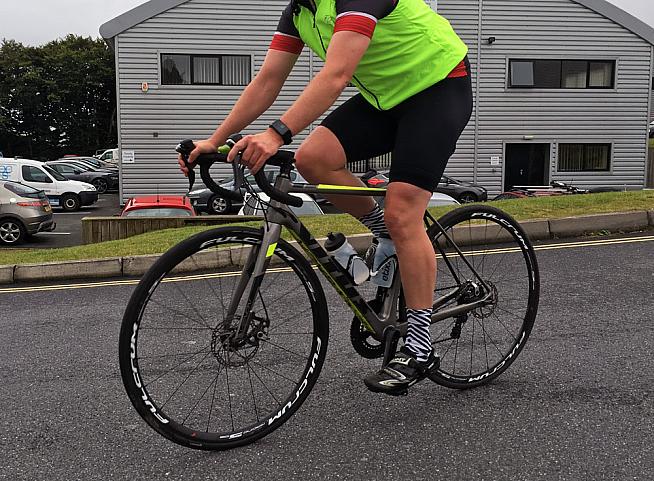 Looks are, as ever, subjective, but I really like the Venon's classy styling with a mainly grey colour scheme enlivened by a blaze of fluoro yellow on the underside of the downtube.
As you would expect with Shimano Ultegra, the shifting is smooth and this is ably complemented by the Vitus finishing kit. I have ridden over 1000 miles on this bike and it would be a bike that I personally would buy.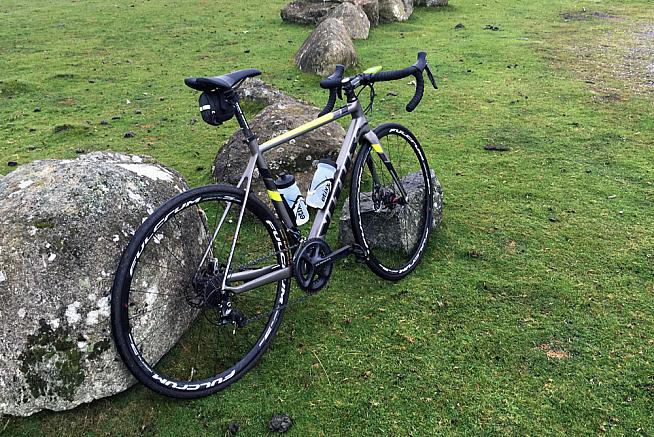 There's a lot to like about the Venon but, as I said, there are a few issues worth calling out.
The front through skewer is not designed correctly, I am literally having to tighten this up every ride to avoid a rattly wheel. What's more you can't just turn it, the skewer has to be positioned just so for it to tighten.
For roadies new to through (or thru) axle skewers, they differ from a QR axle in that you physically have to take out the full skewer to be able to remove the wheel as the dropouts are closed. They're a good idea, providing extra stability at the wheel hub to counteract the force of disc brakes - but in this case the execution is below par.
The skewer itself will turn freely unless you position it into its divot and then tighten. However even upon turning tightly, within a few hours the skewer has come loose again. Although not dangerous it is very annoying having a wheel rattling about.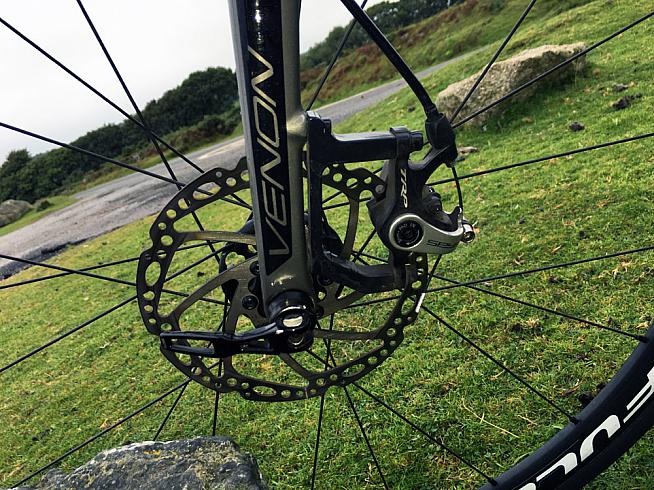 Then there's the brakes. I have since read up on this, and it seems to be a common problem with cable actuated disc brakes: they need regular adjusting, at least once every three weeks. If you can do this yourself great, but if not then it can be tiresome.
Those quibbles aside, the Venon VR is a very good bike with an excellent groupset at a price that offers great value. I can see this on the gravel, or even on the local cross scene, while anyone looking for a light, fast, disc-equipped bike for their next sportive will find the Venon VR a compelling package.
Vitus Venon VR Disc, £1,399.99 from www.chainreactioncycles.com
0 Comments