Rouleur, the creators of every cyclist's favourite jazz-mag, certainly know how to put on a show.
Running from November 3rd-5th, Rouleur Live promised to bring their magazine alive with guest speakers, displays of exotic cycling memorabilia, and lots and lots of space for their dizzying array of advertisers to show off their latest products.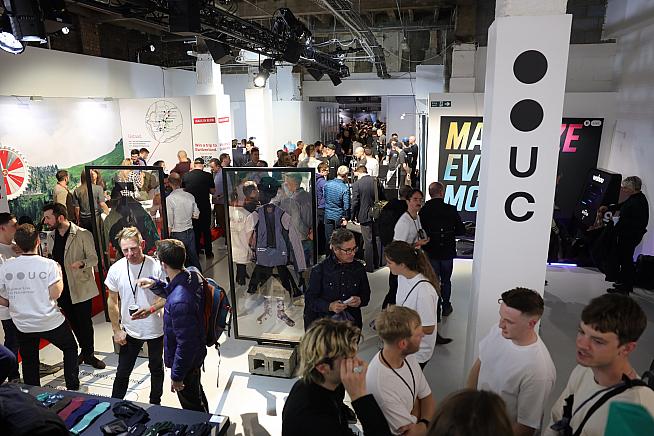 Sportive.com sent Alex along to London's Victoria House to find out what all the fuss was about.
Photos by Peter Levenspiel and James Hedley.
Shimano goes to 12
You used to have to sell a kidney to be able to afford Dura-Ace, but thanks to the great component drought of 2021 even your most moneybags mates are struggling to get hold of the new R9200 series components.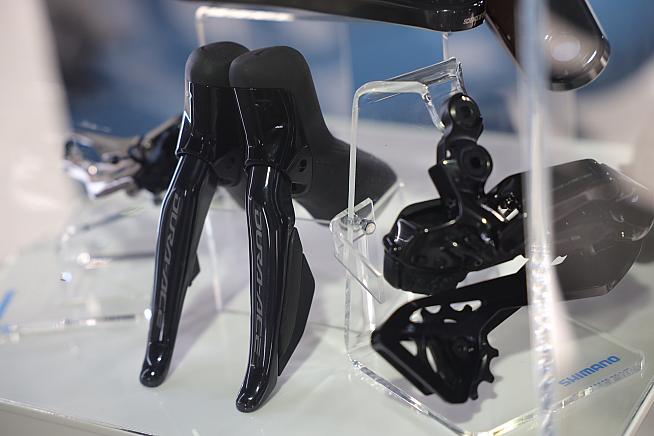 No wonder the Shimano stand displayed their blingiest bits behind Pink Panther-inspired perspex cases.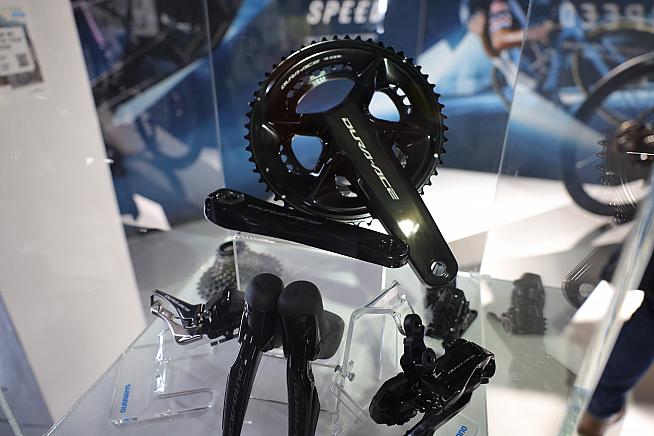 Genesis
Whether Genesis bikes were named after the naffest prog-rock band of the seventies or the Bible's wackiest must-read book, they certainly know how to make sweet looking bikes.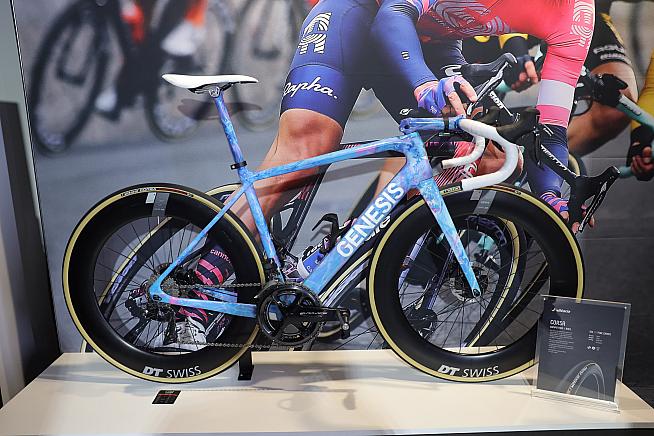 Genesis weren't at Rouleur, but this tie-dyed beauty was being used to show off Vittoria's latest Corsa tyres. Mmmmm.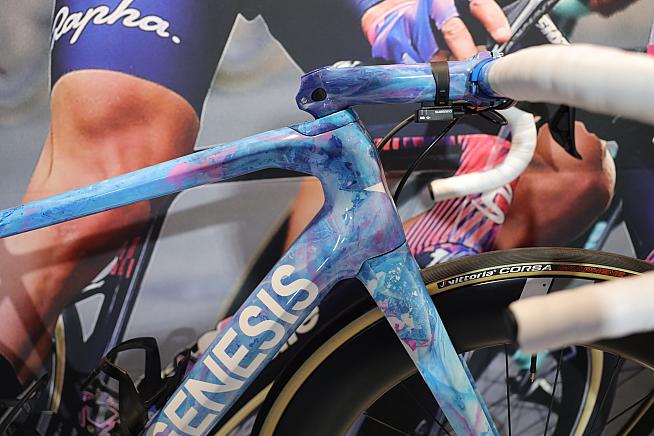 Tour de France Jerseys by Santini
Santini have the honour of making the race and category leaders' jerseys for the Tour de France. Not only could you look at their jerseys, you could also listen to their design team talking about their jerseys with a certain Fabian Cancellara...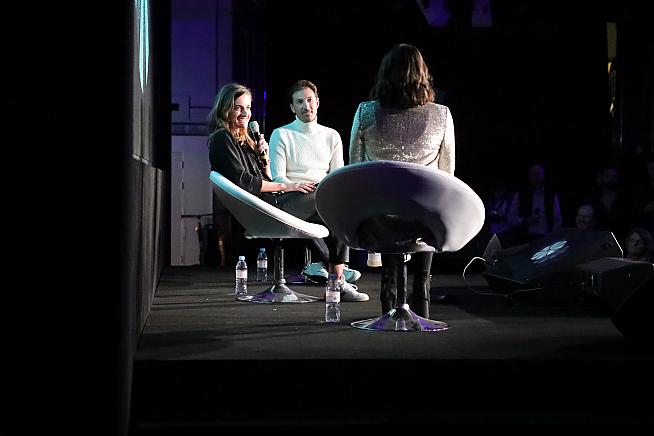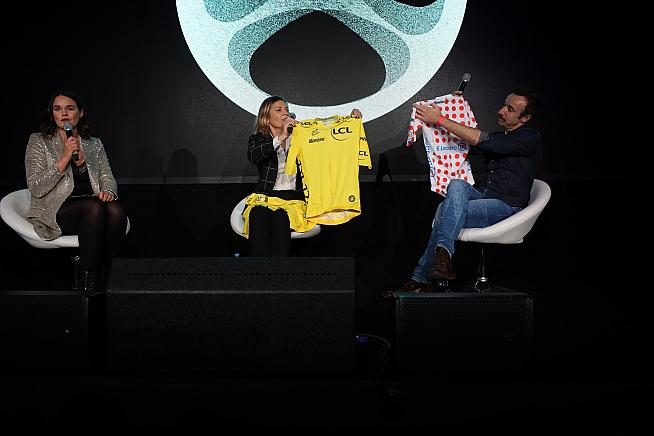 ...and watch the design team watching videos of their jerseys!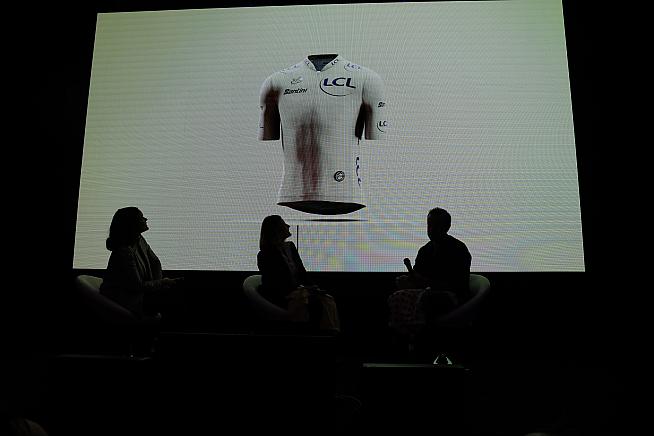 In this new age of inclusivity, it is great to see that Santini offer their jerseys in two cuts. One for race-like whippety cake dodgers, and one for the other 50% of the cycling community...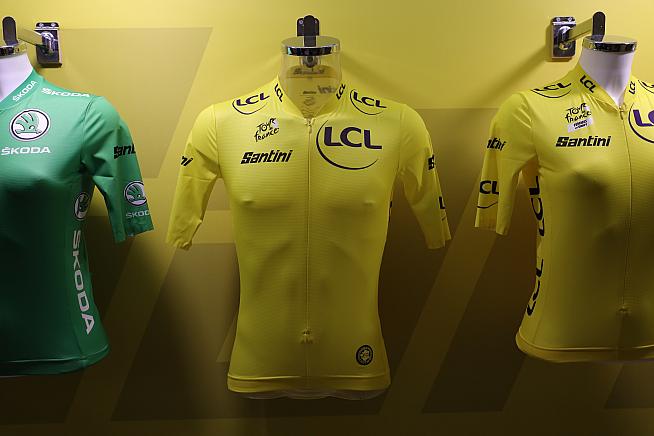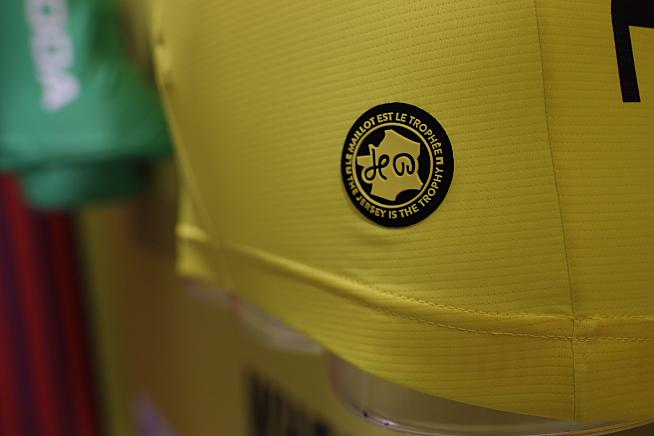 ...booby Mamils. They're also making the jerseys for next year's Women's Tour de France as well, so Chapeau! and all that.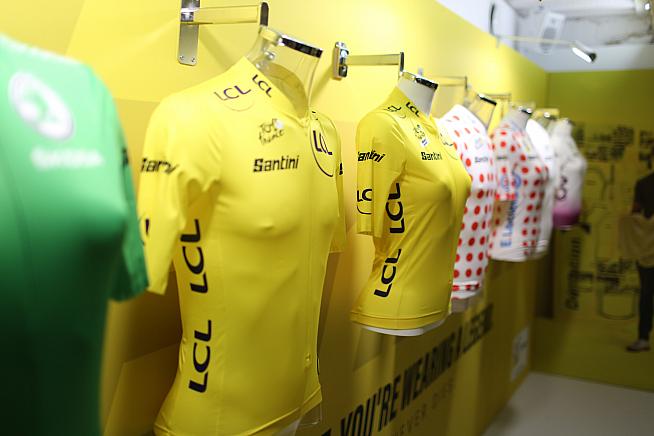 TWMPA Cycles
It's fair to say that sportive.com photographer Peter Levenspiel really gets wood. So no surprises that he spent a disproportionate amount of time snapping the ash-framed bikes on the Twmpa Cycles stand.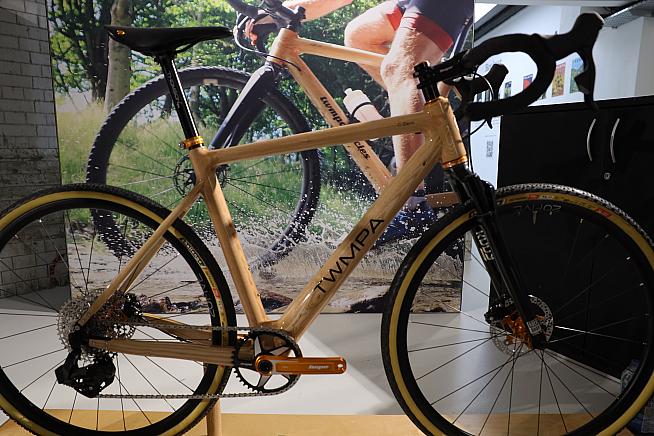 Twmpa reckon that the natural tendency of wood to absorb shocks, which makes it the material of choice for axe-handles, also make it ideal for off-road bike frames.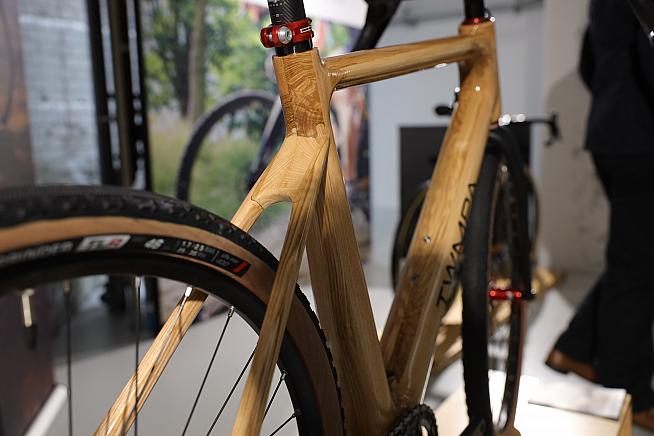 Expect to see more and more gravel bikes fitted with suspension forks in 2022 as the bike industry slowly reinvents the mountain bike all over again.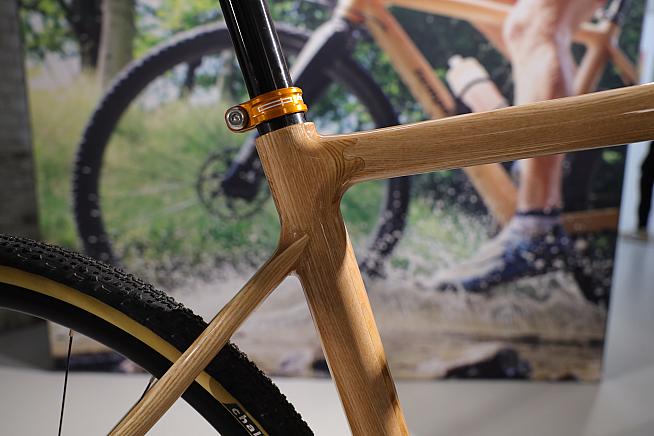 Three layers of yacht varnish show off the natural ash grain and help keep the water out...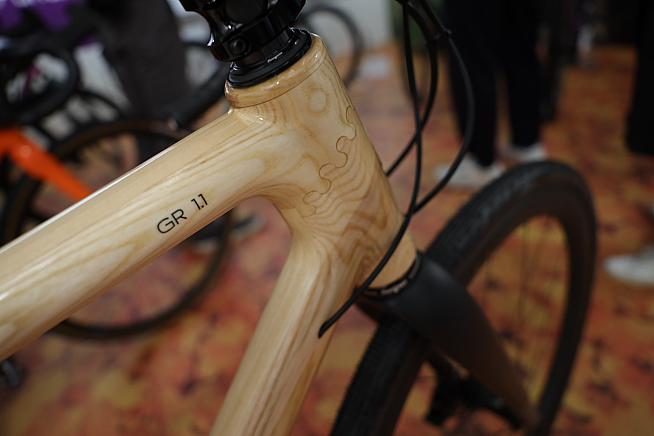 ...whilst a resin coating adds extra protection, and prevents the varnish from yellowing. It would be criminal to hide the workmanship that's gone into these frames under two coats of brilliant white gloss paint.
This model was fitted with the Campagnolo Ekar groupset developed for gravel riding.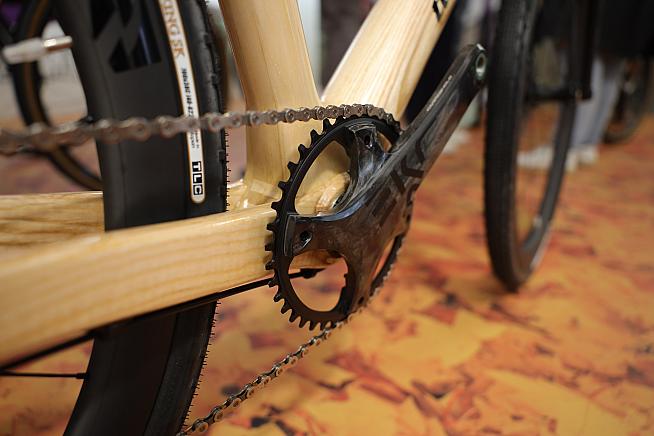 The joints between the different sections of wood are works of wonder.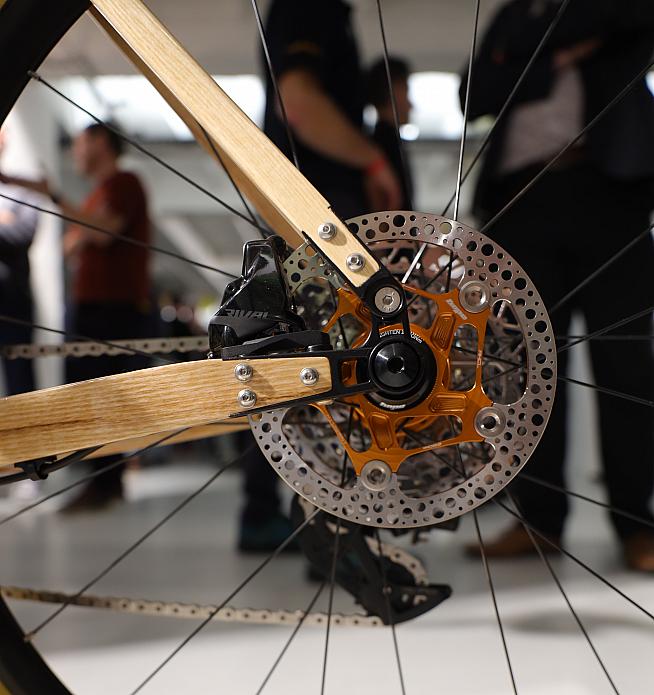 No room for metal here - even the head tube badges are wooden.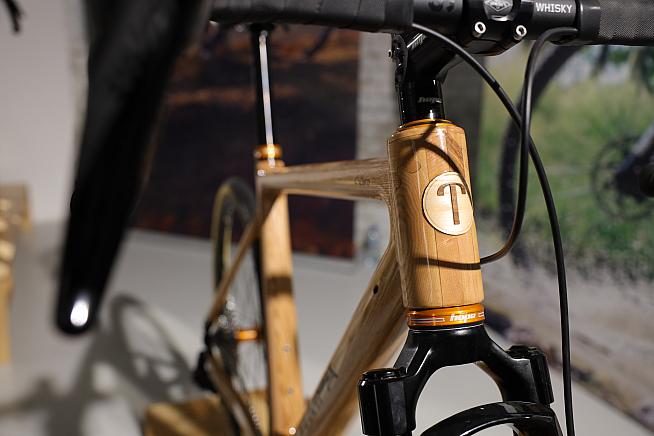 Moscon's muddy Paris-Roubaix Pinarello Dogma
This filthy looking Pinarello Dogma F was ridden by potty-mouthed pro Gianni Moscon to fourth place at the gloriously wet 2021 Paris-Roubaix.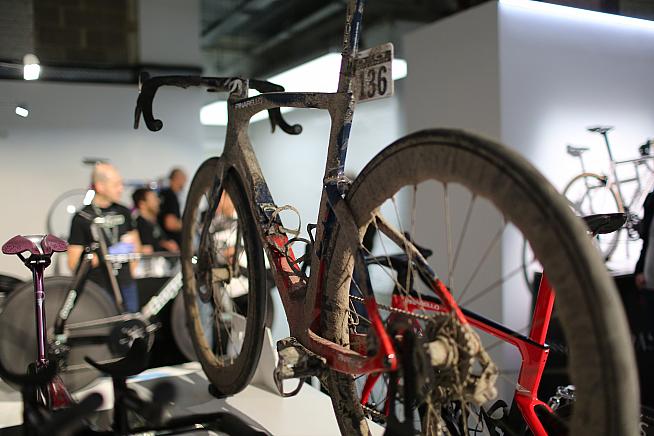 Not cleaning your bike after a tough wet Sunday ride is unforgivable for a club rider, but a marketing opportunity for Team INEOS.
The 2021 Paris-Roubaix race was the first time Team INEOS used disc brakes in the pro peloton.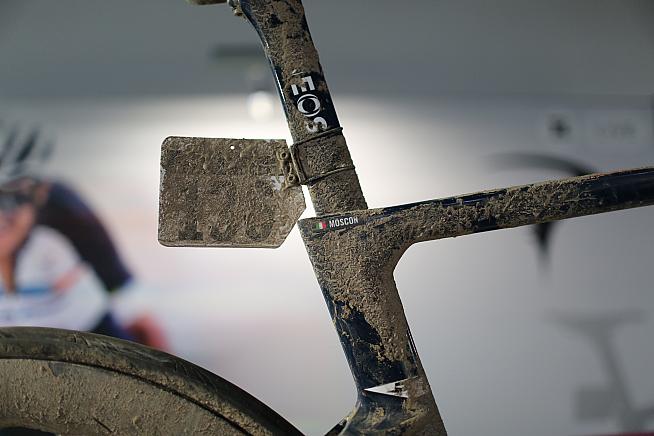 Getting hold of the new Dura-Ace 'unobtainable' R9200 groupset isn't an issue for the Pro-Tour teams.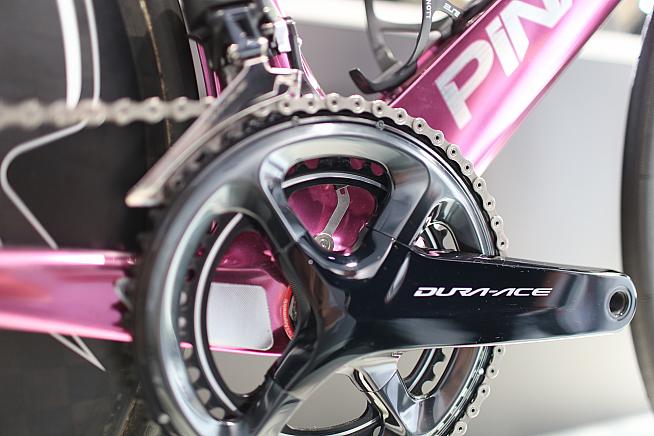 Computational-fluid-dynamically-designed gorgeousness on the Egan Bernal's special edition 'Ergo Pink' Bolide ridden on the final stage ITT to celebrate his victory in the 2021 Giro.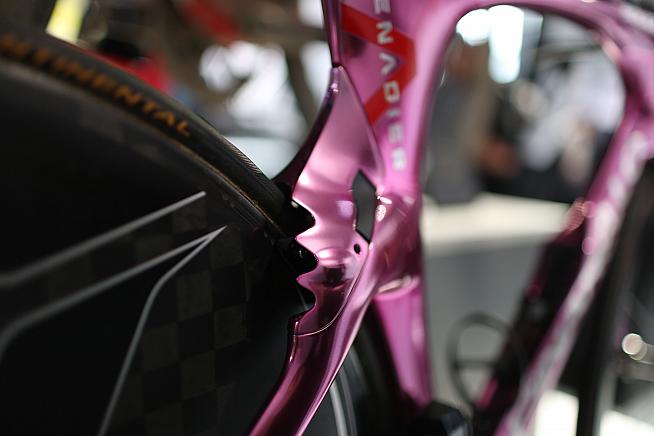 Aerodynamic optimisation technology that has been perfected by Formula 1 teams looking for their own marginal gains has been trickling down into the cycling industry for a number of years now.
The space between the fork legs and front wheel has grown in recent years - the cycling equivalent of the 'thigh-gap'.
Another notable success for Team INEOS this year came when Richard Carapaz won the men's Road Race at the Tokyo Olympics.
This bike was made by Pinarello for Carapaz to celebrate that victory, and then promptly taken from him so that it could be exhibited around the world. Bit rude.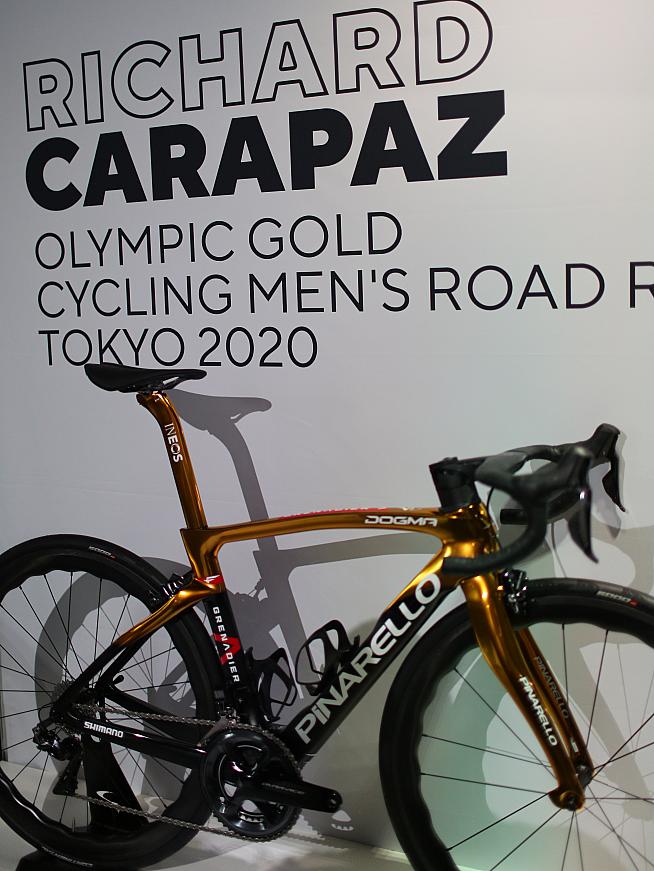 Hope Track Bike
A British Olympic success story could be seen on the Hope stand. British Cycling bods started developing this bike after the Rio Olympics, and got Hope involved in the project in 2018.
Hope built the frame tubes, Lotus wanted to get involved, so were tasked with the manufacture of the fork blades, whilst Gloucestershire-based specialist engineering company Renishaw made the 3D printed titanium drop-outs, seat collar, cockpit and bars.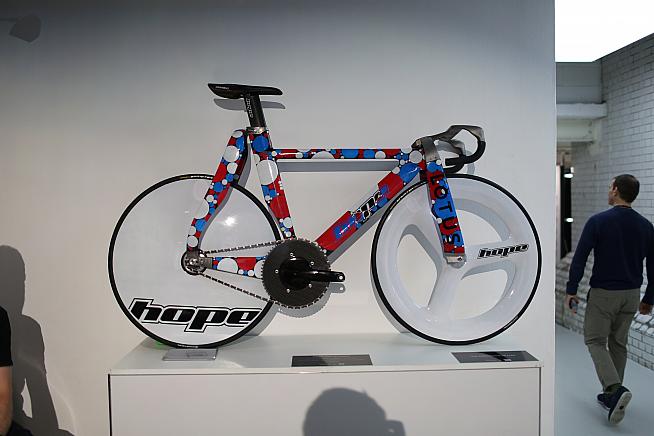 British Cycling bought 40 of them, and so far they've helped earn Team GB seven Olympic medals. Costing £25,000 each, we think British Cycling will be using them for a few more years to come.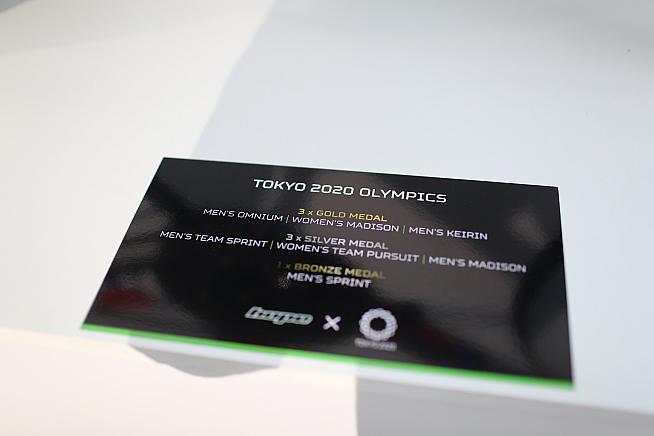 That's a 62 tooth chainring paired with a 15 tooth sprocket giving an 8.82 inch gear. Surprisingly, that's an easier gear than a 50x12 gearing found on many road bikes. Larger chainring and sprocket combinations may be heavier, but they also reduce the friction caused by the chain wrapping around tighter bends, thus increasing the efficiency of the drivetrain.
It's also good for freaking out your opponents.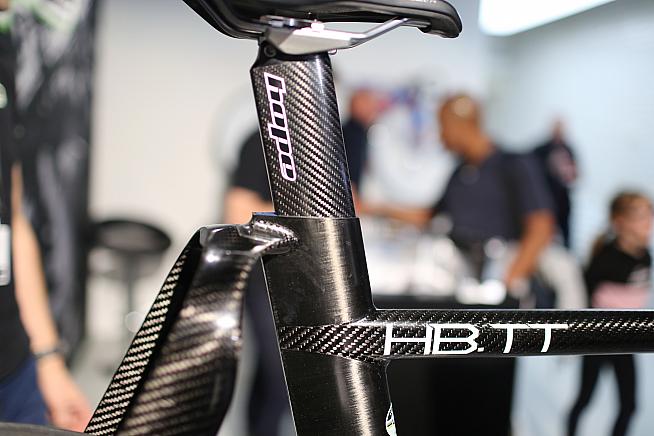 22mm tyres are fine if they're only ever going to be ridden around wooden indoor velodromes.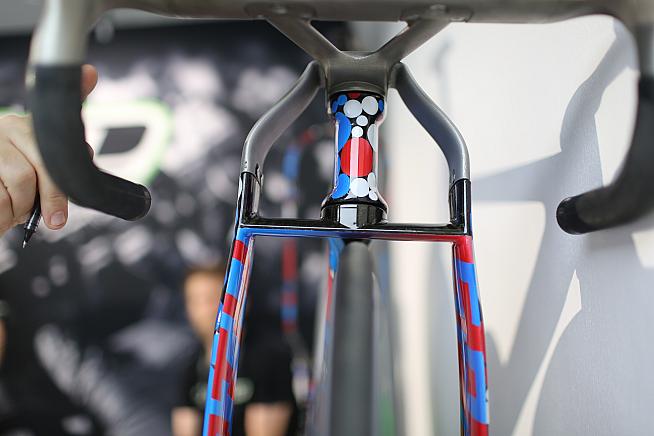 The widely spaced seat stays and fork blades are designed to maximise aerodynamics with the rider in-situ - gently breaking up the smooth airflow before it first hits the rider's legs behind.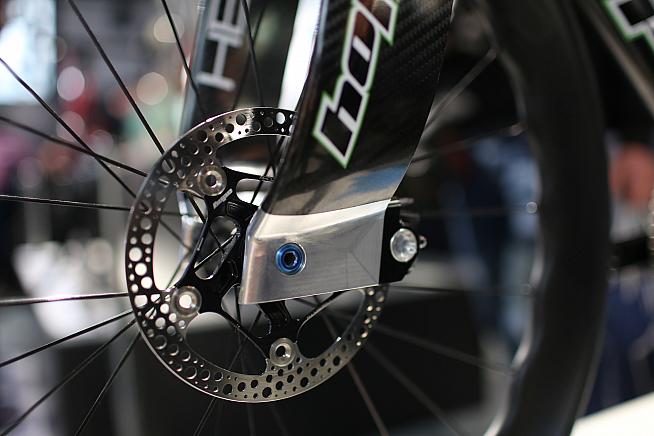 Renishaw's first product was used in the building of the Concorde aircraft. Forty years later their engineering expertise was used to develop the titanium sections of this frame and forks.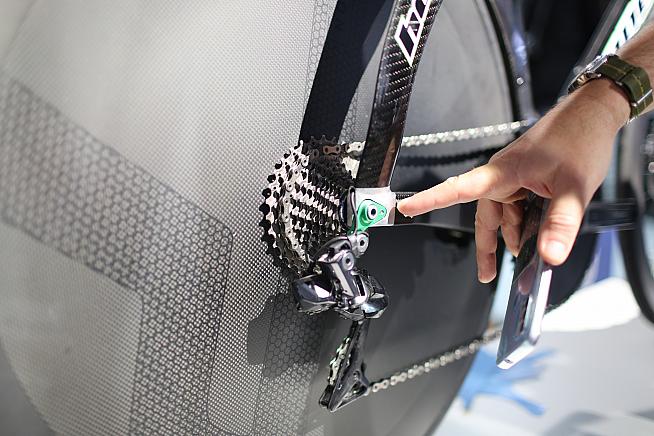 Saddles are supplied by US-based Simmons-Racing, who have created bespoke carbon weight-weeny wonder shoes for the likes of Alex Dowsett and Bradley Wiggins in the past.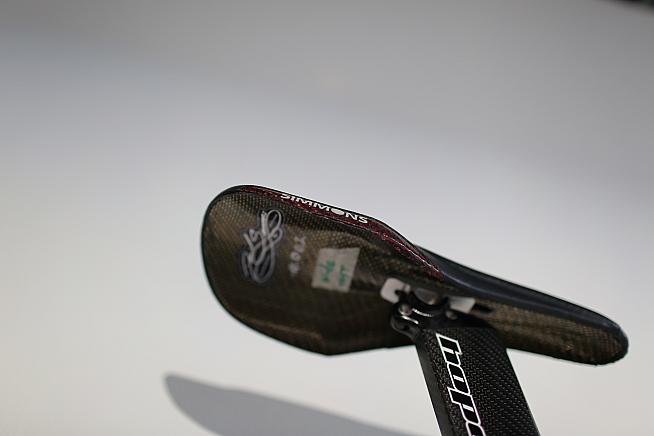 The moulds used for the carbon frames cost between £30K-40K each. Three different sized moulds were needed, but each frame produced could be further modified slightly in three different ways, to give a total of nine different sized track frames.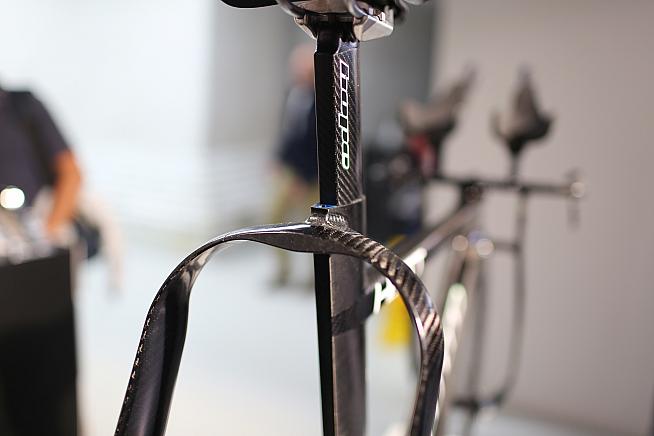 Hope are working on a prototype TT frame that takes many of the features developed for the British Cycling track bike. To reduce costs the outsourced 3D Titanium parts will be replaced with either carbon or machined aluminium. By bringing the manufacturing of the frame and forks entirely in-house, Hope believe they can offer a complete TT bike for a price in the region of £12-15,000.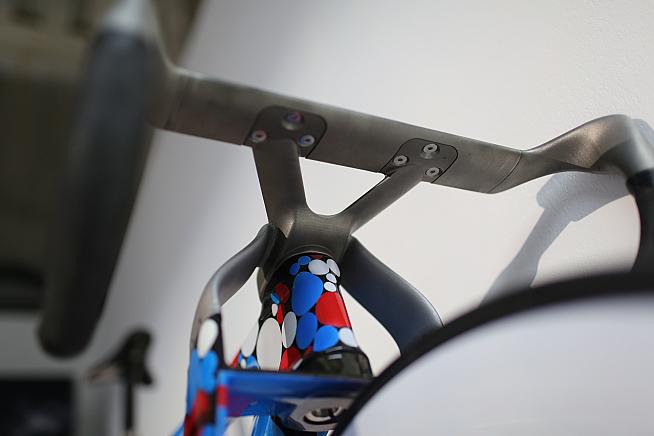 The aim is to have the bike ready for launch in the summer of 2022.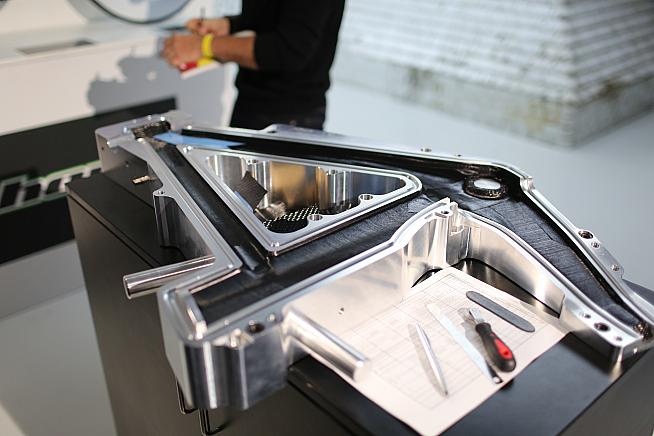 Integrating the front disc brake with the fork drop-out and routing the hydraulic cables through a hollow in the blades give clean lines and obvious aero-benefits.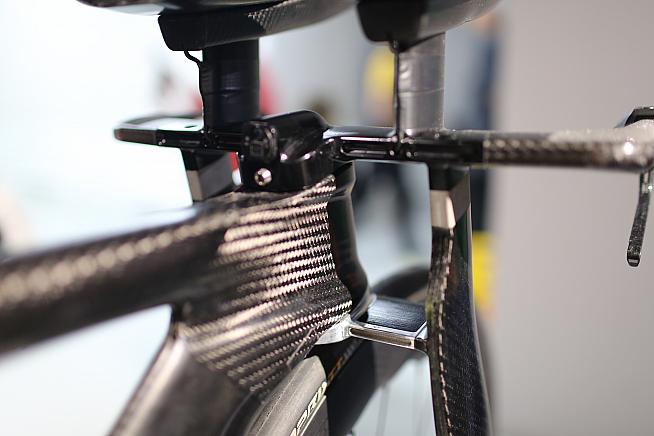 A Di2 junction box integrated into the cockpit is another neat looking feature of this prototype.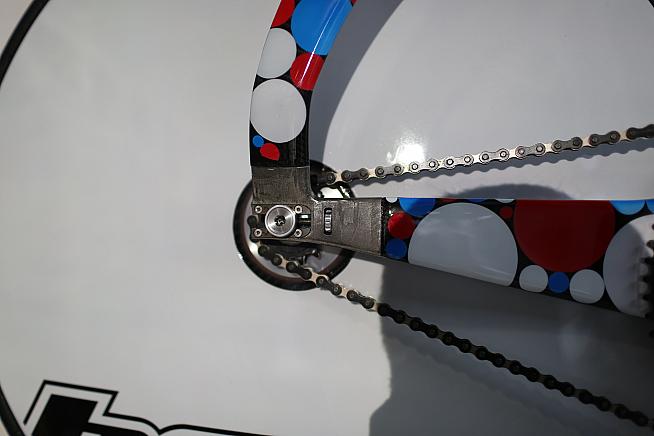 Whilst the top of the seat stays and seat collar joint was made from 3D-printed titanium on the Olympic track bikes, Hope have managed to manufacture this complex piece from carbon.
Hope are of course experts at machining metal, so replacing the 3D printed titanium rear drop outs with machined aluminium was one of the easier technical challenges they faced.
'HB.TT' is the working name for this prototype - expect the final model that comes to market to be have a slightly more catchy name.
Lizzie Deignan's Trek Domane
Lizzie Deignan rode the Trek Domane SLR to victory in this year's inaugural women's Paris-Roubaix.
This is her spare bike from the race: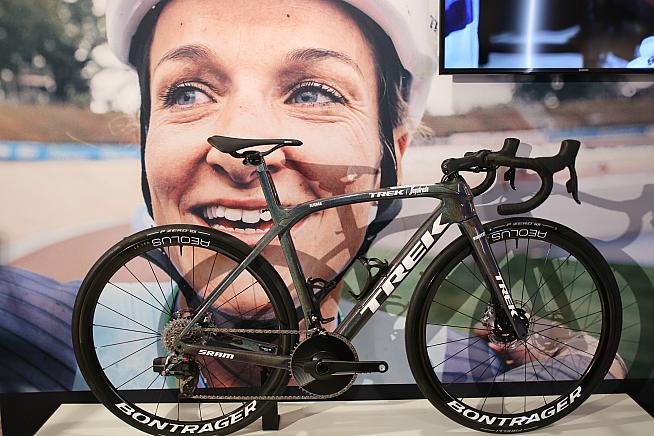 Photos of the bloodied handlebars went viral after the race, showing just how tough Lizzie's Sunday in Hell had been.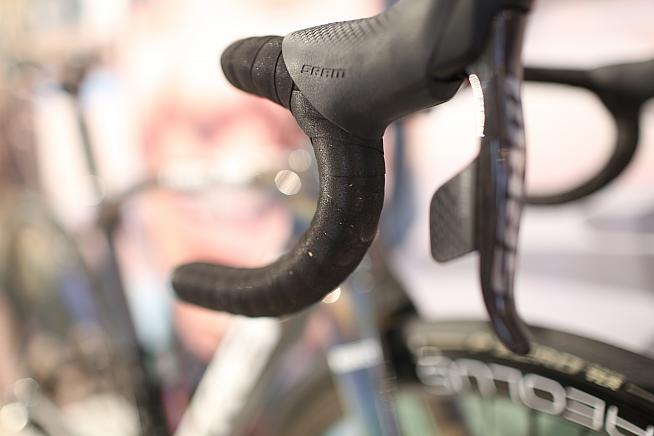 The pan-flat parcours of Paris-Roubaix meant that Deignan could ride with an SRAM Red eTap AXS 1x setup - pairing a 50 tooth chainring with a 10-33 cassette.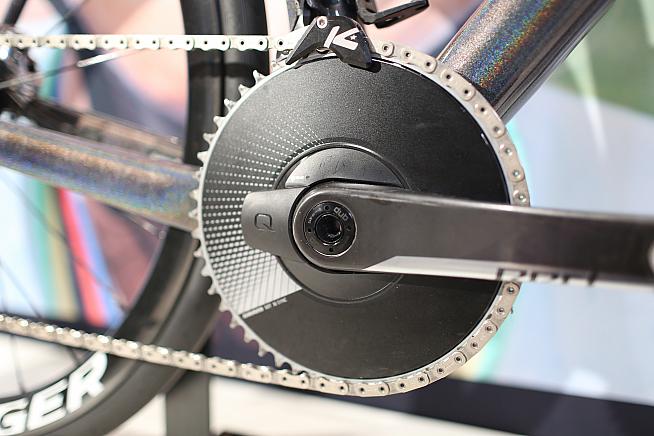 When you're riding Paris-Roubaix, knowing exactly where and when each secteur of pave arrives is crucial. Deignan's solo victory came after she gapped her rivals on the very first cobbled section.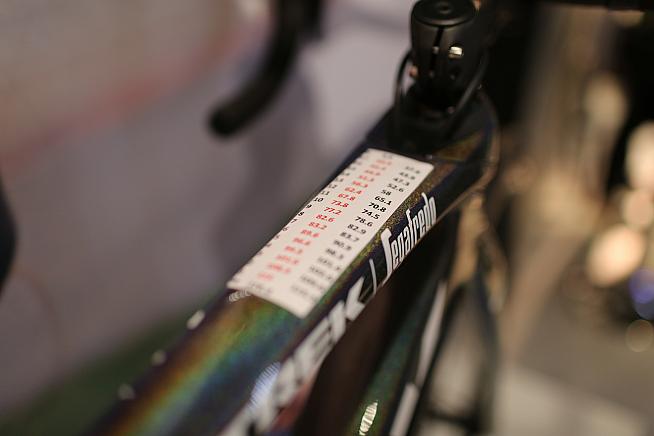 What the Duck?
EF Cycling's POC Tempor TT helmets were produced in collaboration with streetwear brand Palace.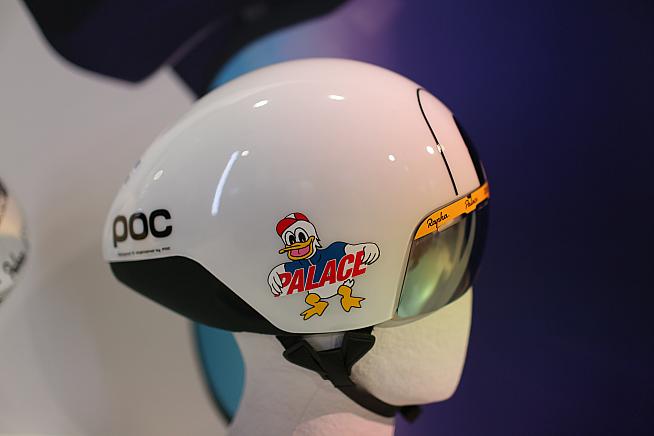 They were only worn for the TT in the 2020 Giro d'Italia, but live long in the memory.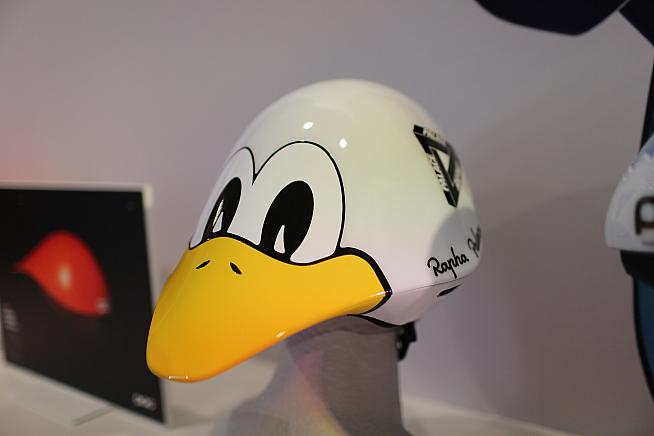 0 Comments