I wasn't planning to ride the Orro Sussex Downs Classic, but fate threw me a bone - Eoghan's friend is expecting a baby (not his, allegedly), so I took his place while he headed to Germany.
Billed as a 102-mile (for the Epic course) tour of greater Sussex's gnarliest ramps, the Classic did not disappoint.
Event HQ was the All England Jumping Course in Hickstead. The standout hills on the course are Ditchling Beacon and Kidds Hill, aka The Wall. I've ridden Ditchling more than enough times, but had somehow avoided Kidds Hill up to now, so was looking forward to ticking another hill off my 100 Greatest Climbs app.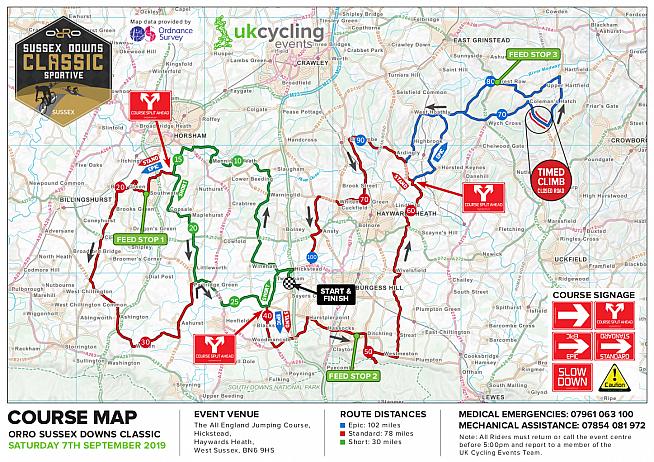 I rolled up to ride headquarters bang on 8am. Sign on was swift, with just the gentlest of interrogations about my Rapha Festive 500 cap; the guy at the desk wanted to know had I actually completed it?
Well, I have - but only once in many years of trying. The Festive 500 should come with a health warning, "may be damaging to your Christmas". I wear the cap as a badge of pride for surviving it with relationship intact.
As I grabbed my bike to head for the start grid a Grinch-green fixie caught my eye. I complimented the owner, who told me he'd built the bike himself at a framebuilding course run by Geoff Roberts at Enigma Bike Works in East Sussex.
It turned out to be an expensive project, as he ended up buying one of Enigma's titanium bikes as well - but his fixie had somehow got the nod today.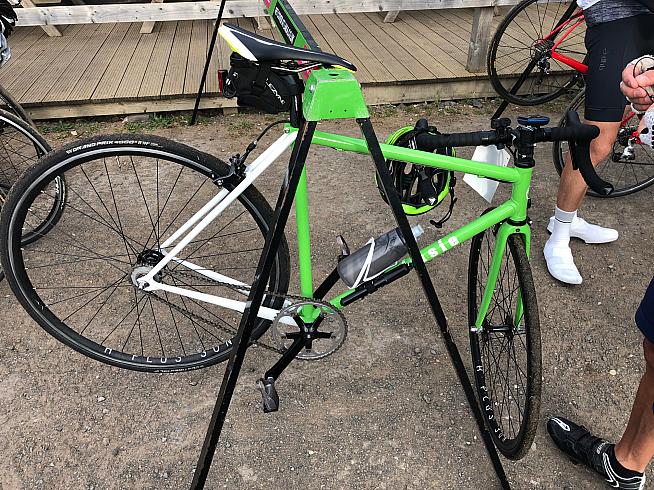 It's a lovely looking lugged steel frame, and he even designed the "Simsie" branding for the downtube and headbadge himself. A man of talent, albeit questionable sanity to ride fixed gear on a course this hilly. He assured me that even Ditchling was rideable on his fillet-brazed steel filly, but it just sounds like a 'mare to me.
After the usual briefing ("beware of village fetes" being the only twist) we were unleashed into the Sussex countryside on what was a fairly crisp but bright late summer's morning.
The course headed north and then west for a lazy loop inside Horsham and Billingshurst; Ditchling Beacon marked the halfway point at 80km, before a much lumpier western loop completed the ride.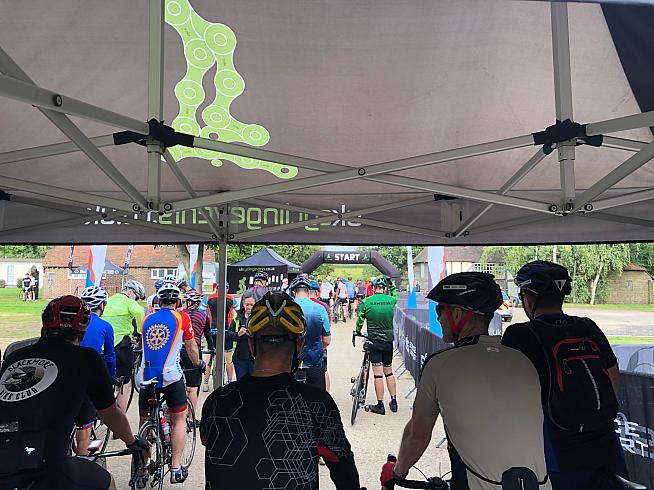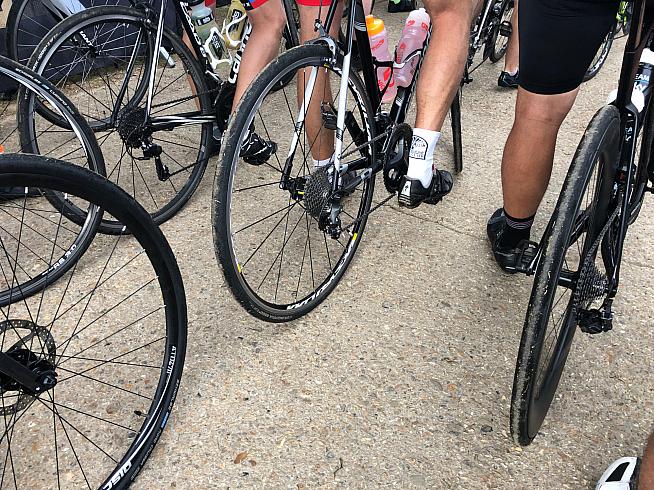 A couple of sharp climbs early on softened me up a bit, but in reality the first half of the course is the easier.
No fear though, in the absence of serious climbs a local motorist took up the challenge of raising my heartbeat. I was midway across a roundabout in Ashington, 43km in, when a lethally inattentive driver entered the roundabout and attempted to drive straight through me.
I yelled as loud as I could while pulling to my right, and he/she spotted me at the very last second, slamming on the brakes with the bonnet just inches from my rear wheel.
The roundabout was otherwise deserted, in broad daylight, with clear sightlines, and I was passing right under the driver's nose. It's depressingly easy to see how accidents happen when semi-sentient cretins like this are allowed to roam the streets.
What can you do though, other than shout some choicely seasoned verbal feedback. Time to get myself a mounted camera.
I rolled on, thinking that it would be just typical if, having taken the notoriously lucky leprechaun Eoghan's place on the ride, I took a bullet/dozy car marked for him.
I was heading east now on Spithandle Lane, which I know well, although I usually ride it in the opposite direction out of Steyning. We were headed towards Ditchling Beacon, the first of the two major climbs, which loomed out of the course profile at the 80km mark.
The second feed stop came just before Ditchling, at St James's Montefiore Cricket Club on Keymer Rd.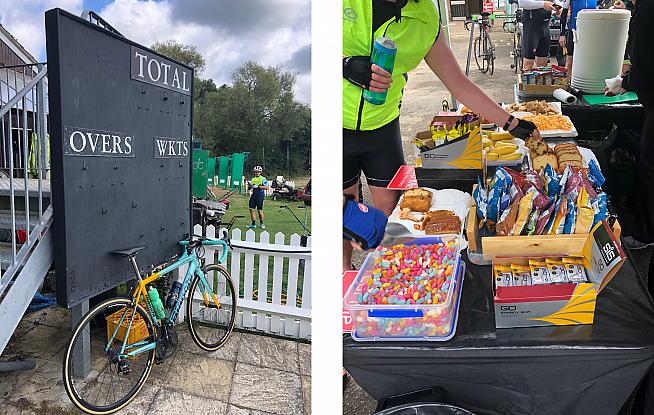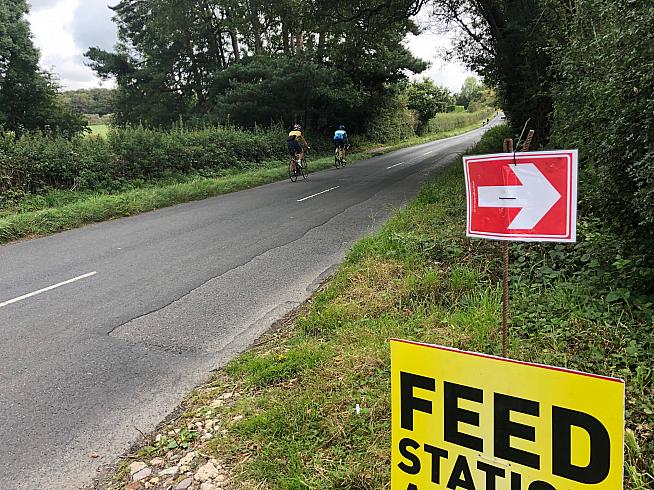 On the way out, I caught up with a small bunch of guys riding together. By their accents they seemed to be Londoners, and one asked as we entered Ditchling whether the climb was nearby. "Just around the corner," I answered, and he narrowed his eyes and took up a battle stance on his bike.
In fact, by the time we'd negotiated the traffic in Ditchling and down the approach road to the Beacon, it was maybe another half a mile; I hoped he wouldn't peak too soon.
Ditchling is the home of Orro, the bike brand who sponsor this sportive. They're relatively new; I remember a few years back at a trade show speaking to a rep, who swore me to secrecy and ushered me into a side room to reveal the launch model. Since then they've grown in reputation and, though I've never ridden one, the bikes certainly look the part.
Orro are certainly well located for bike testing. Ditchling Beacon isn't the steepest climb in the South Downs, or the highest, but it's probably the best known. It's featured in the Tour of Britain, and even the Tour de France, and thousands of cyclists are familiar with it through the annual London to Brighton charity ride, where it serves as a sort of end-of-game boss, a final fearsome hurdle for exhausted riders before they sweep down to the seafront in Brighton.
The Beacon is also the highlight of popular early-season sportive the Puncheur, which features a summit finish in the car park at the top. I was curious to see how the organisers would handle the turnaround at the top, and they did a great job of it - routing riders through the car park and straight down the descent.
Not the full descent, though. I'd just about settled into my aero-tuck when a marshall at the bottom flagged me into a side road, Underhill Lane, as the course diverted east rather than back through Ditchling city centre. This made sense from a routing point of view, but did rob riders of the fast blast along the straight road.
Underhill Lane sounds like Bilbo Baggin's address but is a tight, lumpy squeeze for anyone fatter than a hobbit - I had to hold my breath and lean into the hedge to avoid scratching the paintwork of oncoming SUVs piloted by local gentry.
The next section was a pleasure though. I was vaguely aware that the remaining 50 miles were a spiky hill fest - and not just Kidds, but a who's-who of local hillocks. In the meantime though, there was scenery to enjoy. The hedgerows hung heavy with fruit, jet and oxblood blackberries, hips and haws; on one corner a pear tree had shed its load and I picked a path gingerly through smashed fruit on the tarmac.
In-the-know foragers could skip the feed stations entirely, subsisting on handfuls of provender snatched from the hedges, but it's worth mentioning that the feed stations were well-stocked. I stopped at all three of them, as much for a rest as to top up my bottles. "Real food' - flap jacks, crisps, jelly babies, bananas, cake - was supplemented by the usual gels and energy bars. I pocketed a couple but couldn't finish the blackcurrant gel I sampled; I'd rather be fed in a ditch, to paraphrase our current PM.
With Ditchling done my thoughts now turned to course options: the split was just ahead. As usual, the lazy devil on my shouder floated the option of taking the medium course rather than the epic. I was having a minor bonky moment so the option to downsize was tempting (it always is).
With my legs feeling suddenly heavy and reserves running low, I pulled over on near the start of a long uphill drag - the aptly named Chilling Street - for a breather. Some tiny wooden stumps in the verge outside a grand looking house provided a perch; a rifle through my pockets turned up a banana I'd brought along from home.
I munched the banana and took a few snaps of passing riders, in the pretence that this was a casual photo stop rather than emergency refuelling. Just chilling guys.
After five or six minutes I was ready to crack on. The course split came a couple of miles later, and I followed the arrows right onto the epic loop before I'd time to think better of it.
The 4km descent of Coleman's Hatch was a nice reward, but as per usual it was brought to an abrupt halt by another savage climb - in this case, the much anticipated Kidds Hill.
The road here had been closed to traffic especially for the sportive, and a banner marked the start of the timed KOM section with prizes for the fastest man and woman on the day. I weaved the bike around the barrier placed to stop cars, nodded at a more ambitious rider than myself who was stood at the roadside necking a pre-climb gel, and braced myself for the uniquely pride-sapping experience of winching in slow motion up a smallish hill while riding a bike painted in tribute to Marco Pantani.
The night before I'd watched a preview of Kidds Hill shot by Cycling Weekly. One of the guys describes it as climbing through a tunnel towards the light. It's a great description and very true, as I could quickly appreciate once the road ramped up.
I say quickly, but nothing else about my effort was quick. It's not even that bad a climb, but to be frank I didn't even try. I knew there were plenty more hills to come after this, and my box of matches was not so much running low as fully emptied, the empty box blowtorched then doused in seawater and trampled by a waddling herd of sealions. In other words, no matches left.
I hauled myself to the top (9 minutes 30 seconds; shut up), and stopped at the junction alongside a couple of guys who'd passed me on the way up and were now paused for reflection. We didn't speak - it was a companionable silence, no words were needed - setting off singly at intervals of a few seconds.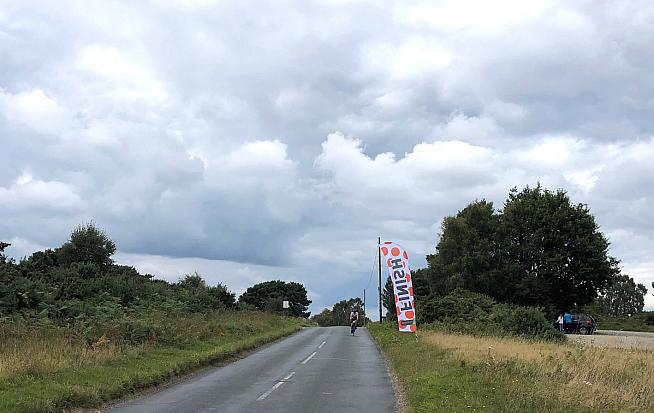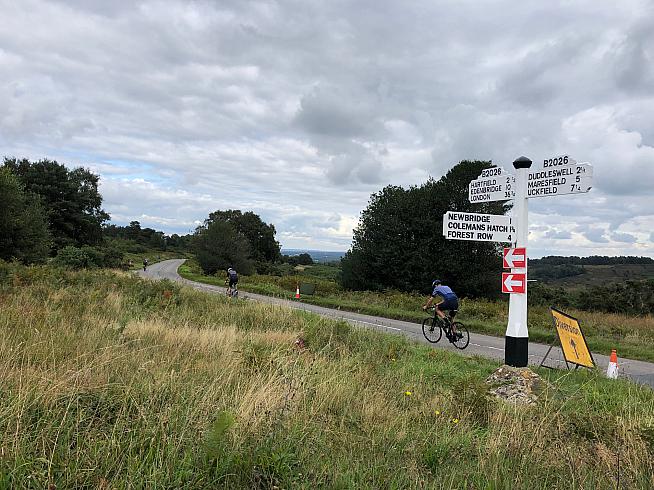 116km in, about 50km to go. I wasn't massively enthusiastic about the ride at this point, but on the plus side I'd passed the halfway mark and done the two key climbs - from here on, it was all about getting back to HQ.
There was one more feed stop at Forest Row, and for reference it's worth filling the tank here because the climb out of town is a stinker. Priory Road is the name to watch out for. It's not steep - 4% average over 2.7km - but at this stage in the ride you just think, why?
Forest Row was a tonic though. Again there was some sort of fete in progress with, if I recall corectly, Ska music blasting from somewhere or other. In any case, the bustle of normal people engaged in something other than bike-based suffering was a welcome relief from the solitude of the endless hills and hedgerows.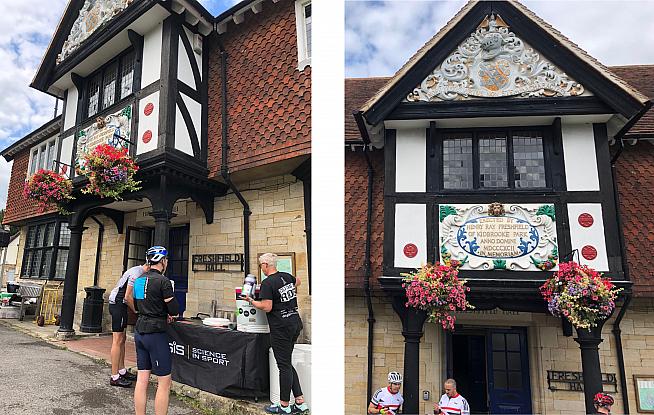 The route back to HQ rose and dropped with stomach-churning regularity; my chain and jockey wheels by now were squeaking shrilly for lube echoing the cries of my soul.
There's a lovely little section around Ardingly Reservoir which is difficult to enjoy when you're knackered but definitely worth incorporating into a pleasure ride if you're in the area. The lane dips down into an enchanted little hollow surrounded by trees, there's a  quaint house by a pond, it's all very fairytale-like, until you're hit with the steep climb back into the real world.
Anticipating that climb, I was clicking desperately into bottom gear when I overshifted the chain off the back of the cassette. I hopped off the bike and saw that the rear mech was wedged tight against the spokes of my rear wheel - the result of some ill-advised fettling with the stop limit screw the night before.
Thankfully it hadn't quite gone into the spokes; another fraction and I'd have been walking the 20km back to base.
Just a few minutes earlier I'd helped a rider with a similar problem, his chain was wedged tight between the cassette and the chainstay. We managed to free it by loosening his wheel; he nodded at me now as he headed on past up the hill.
I remounted and set off after him. It was 3pm now, and a lovely sunny-through-the-clouds sort of day. With the end in sight my spirits lifted again. It's easy to forget sometimes, but on a long ride there are always going to be high and low moments. In the lows, the secret is to keep pedalling. Or maybe it's to stop pedalling, have a snack and a rest. Then resume pedalling.
Musing on this and similar catchy pearls of wisdom, I cruised squeakily along the blissfully flattish final miles and was surprised to find myself back at the entrance to ride HQ a couple of clicks earlier than anticipated. I wasn't going to quibble, but in fact there was still a good half mile along the rutted concrete roads of the race course before crossing under the finish arch.
162km in 7hrs 30; a bronze medal was dropped over my helmet, and I wheeled over to the grass where a few other epic stragglers were sitting enjoying gourmet burgers and drinks in the sunshine.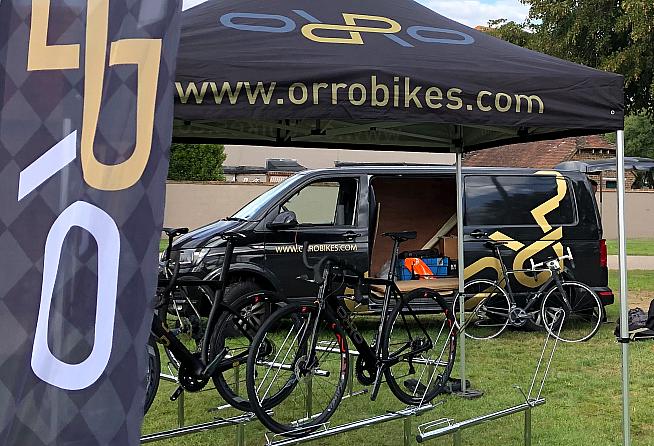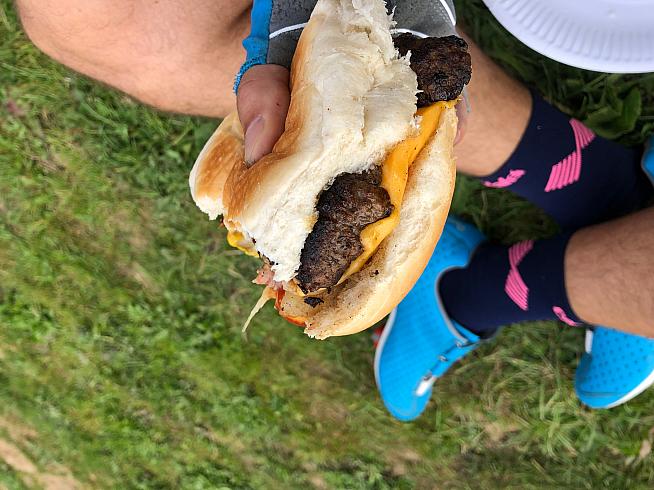 It's easy to underestimate local sportives, but the Orro Sussex Downs Classic is no pushover. It takes in two of Sussex's classic climbs, but don't go into it thinking that Ditchling and Kidds are your only worry; the second half of the course is relentless, testing stamina and willpower as you struggle to find a rhythm amid the constant ramps.
Looking at Strava, quite a few riders have managed to complete the course in under six hours - the fastest being Frank Denzol and Richard Down in times of 5'23" and 5'24" respectively (30km/h speed). That's a cracking effort. I'd say if you're looking for a late-season fitness test then targeting a sub 6-hour lap of this course will push most riders. For myself, I'd like to aim for under 7 hours next time.
Whatever your fitness level though, the Orro Sussex Downs Classic is not just a challenging ride but also an enjoyable tour through some fabulous Sussex scenery.
I'd recommend this sportive, but it's perhaps best summed up by the slogan on the matching jerseys of a couple I encountered along the way: "Undulating my arse". Keep that in mind, and you might enjoy it.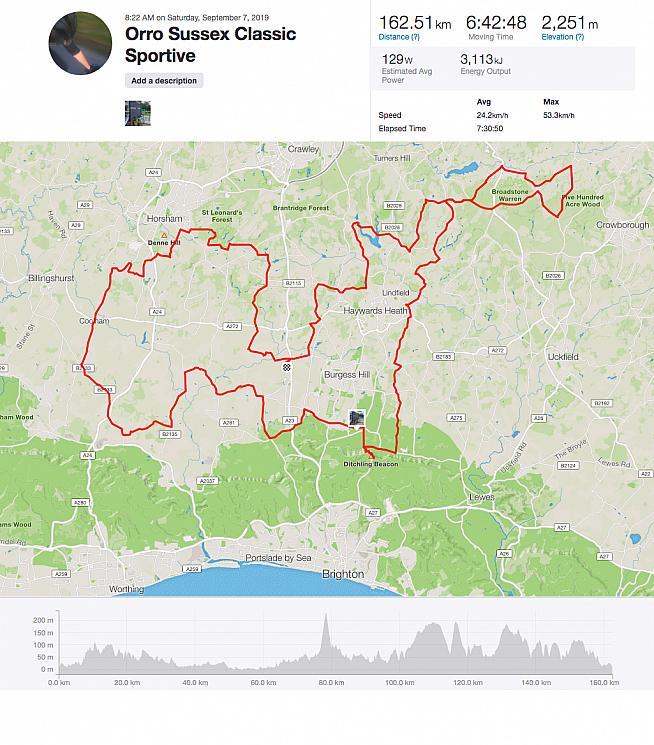 The next UKCE sportive is the Forest of Bowland on 29 September. Check out the full programme at www.ukcyclingevents.co.uk.
0 Comments