Each spring, Beachy Head Cycling Club (BHCC) organises the Sean Yates Spring Classic. This early season leg-warmer takes cyclists through the hilly Ashdown Forest - a succession of constant ups or downs that honed the fitness of ex pro and Tour de France stage winner Sean Yates. This is not an event for those suffering from vertigo!
For pros and amateurs alike, the BHCC Spring Classic is a great yardstick to see where your fitness is after the long winter. I joined 195 other cyclists on a chilly, clear day to tackle the longer of the two routes.
Heard the saying, 'Fail to prepare, prepare to fail'? Well, that summarises my experience. I came wholly underprepared, and paid.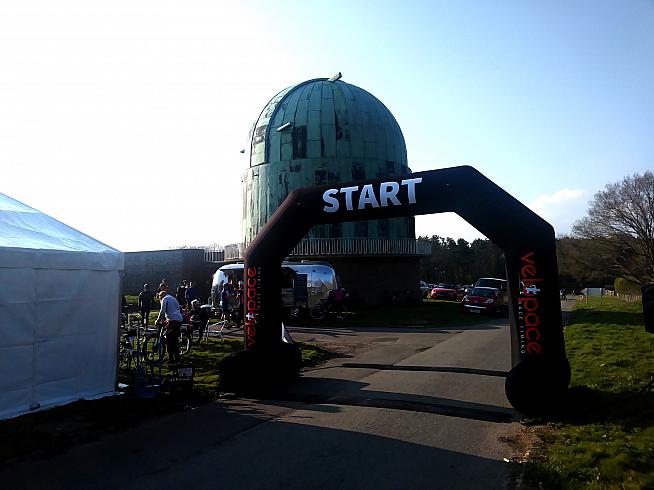 The Sean Yates Spring Classic starts at the Observatory Science Centre near Herstmonceux in East Sussex. There are two routes. The Epic at 100 kms (62.1 miles) features 1,587 metres of climbing, while the Challenge at 67 kms (41.6 miles) offers cyclists, a still challenging, 1,091 metres of climbing.
Beachy Head Cycling Club put together a fantastic event. Event registration was managed through BHCC's website. A few days before the event, an event pack landed in my email outlining everything from parking availability to safety, routes and even what beer would be available at the end. I quite enjoyed the hazard descriptions:
"At just 4.5 km into the ride there is a pot hole the size of a small car, you could lose several riders in there."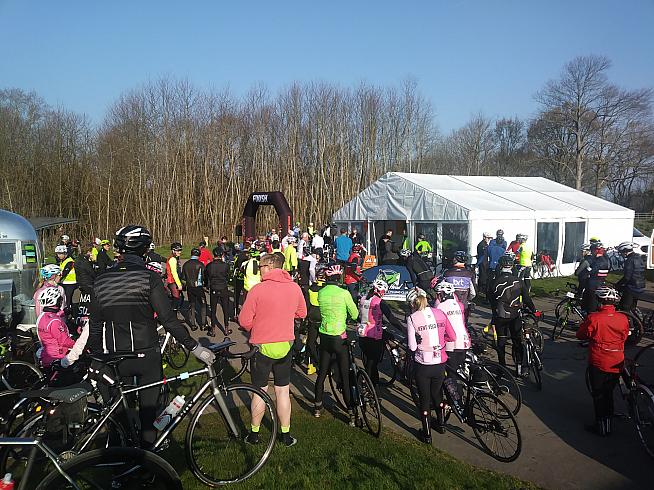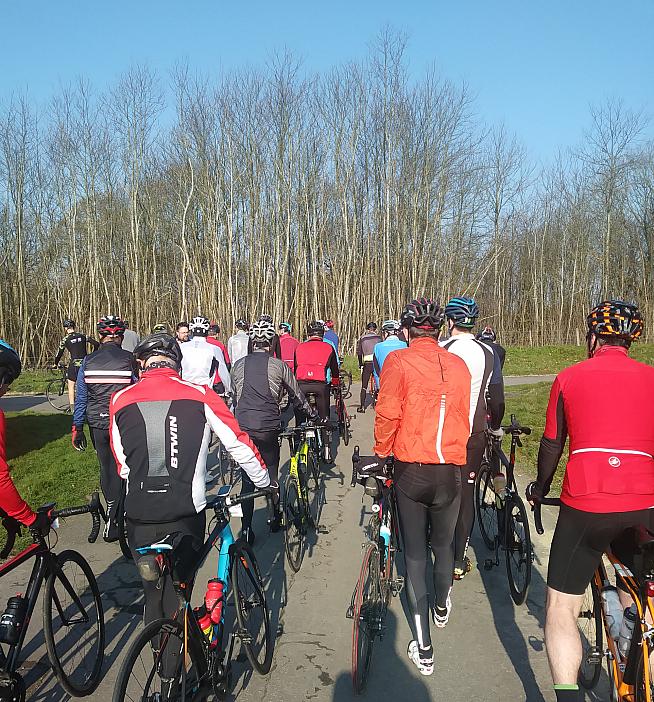 On the day, the HQ was a hive of activity with plenty of parking, a bag drop, early morning catering and bike mechanics. There were only four portaloos for 200 people, but a lot of smiles among the assembled riders - although I overheard many a cyclist comment on the route's challenges!
Cycling the Sussex High Weald
Both routes, the Epic and the Challenge, test cyclists' stamina, winding their way through the Sussex High Weald and the Ashdown Forest. Anytime you see the words 'Sussex High Weald' and 'Ashdown Forest' in a route description, read 'a lot of hills' as the sub-text!
The Sean Yates Spring Classic certainly had its share, featuring some of the finest climbs that East Sussex has to offer. Starting at 8:30am, blocks of riders were released in groups of 15 from the science centre. We were lucky with the weather. It was definitely a chilly weekend, but the day of the event there were no spontaneous hail storms (as there had been the day before) or precipitation to speak of at all.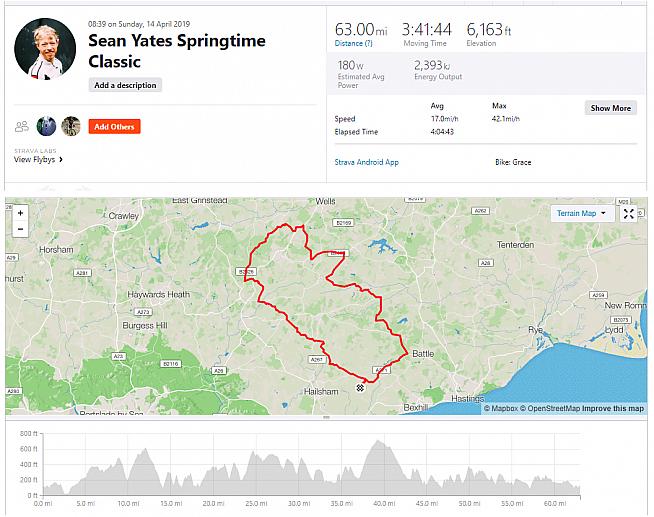 This time of year can be hit or miss with road surfaces, with cracked and potholed tarmac and loose grit washed across roads. Riders exercised caution and sense. Fortunately, as far as I heard, all cyclists read BHCC's hazard list and managed to avoid the cyclist-eating hole 4.5km in!
It didn't take long for the climbs to start. Across only 100km, the Epic featured no fewer than three category 4 climbs: Brightling Hill, which is 2.72km (1.69 miles) long with an average 4% gradient, Tide Brook is 2.11km (1.31 miles) long with an average 5% gradient and the final, Black Hill, is 3.56km (2.21 miles) with an average gradient of 4%.
There were many other hills thrown in between these monstrous climbs, lest one forget what a hill is... This event is definitely a climber's delight as the route seemed to consist only of climbing or descending with little variation - there weren't many flats.
I was already cooked coming into the feed station. Hubris entirely ruined me - I underestimated the route's difficulty and length and just didn't bring enough fuel. I brought three hard-boiled eggs and three bars with me to cover the 100km route. I also cycled to and from the event, which brought the total distance for the day up to 205km (127.8 miles). Definite schoolboy error.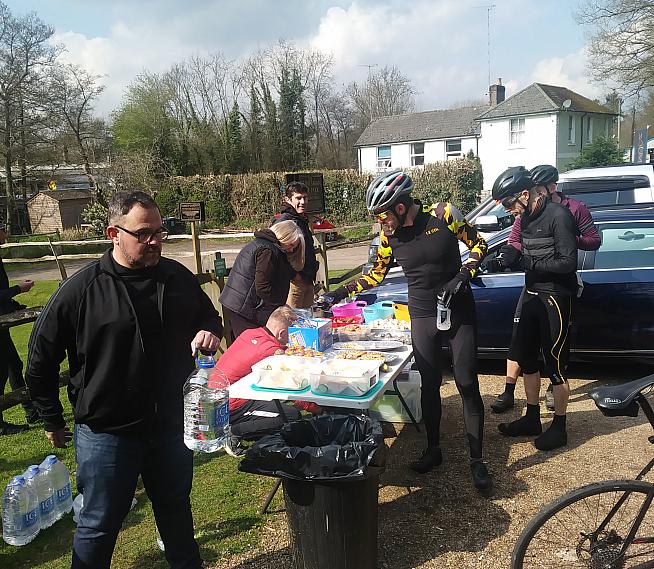 For the last 15-20 miles I managed to sit on the wheels of two cyclists who kindly tolerated me drafting silently behind them. They dropped me with about two miles to go, but I found them back at race HQ and was able to thank them for their help.
I always love cycling events for the sense of community - not only among cyclists, but the volunteers too, right down to the home-made treats. A genuine and warm-hearted thanks goes to all the volunteers who gave their time baking cakes and goodies or stood on corners directing cyclists through the chilly day.
Post-ride
Back at HQ the centre was replete with weary cyclists chatting about the spin - the triumphs and challenges.
And what better way to celebrate a testing spin than with a beer and some food? Local Eastbourne-based Beer Me Brewery supplied four different beers - Big Blond, Indian Pale Ale, Mango Unchained, and the famous Eastbourne Blanche Witbier.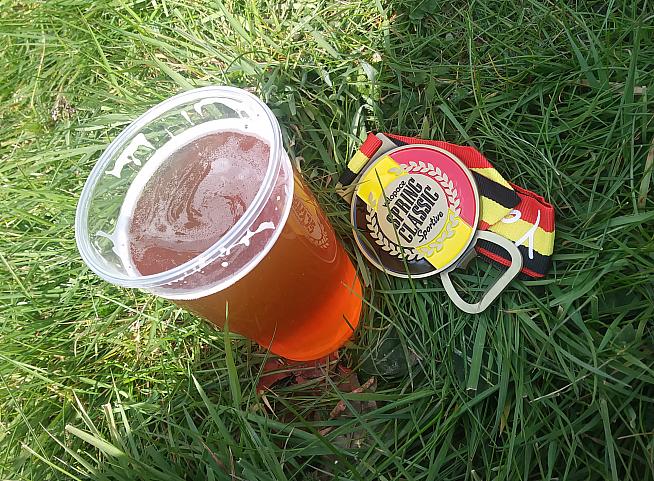 Mama C was on hand too, with a variety of delights from burgers to bacon baps to chocolate brownies!
The Sean Yates Spring Classic is a great event. BHCC's event organisation wanted for nothing. The cycle itself was a challenge that I came unprepared for. But, I came away knowing where my fitness is and what I have to do now.
I have a full event calendar that I'm looking forward to even more now!
The next edition of the BHCC Spring Classic takes place on Sunday 19 April 2020. For details of this and their other sportives, visit www.beachyheadcc.com.
1 Comments