Let's face it: Gran Fondos in the conventional sense just aren't for everybody. The jostling for positions, risky overtakes to move up from 1243th to 1117th, and the quite frankly petrifying thought of racing down some of those Alpine passes just to stay in contention... I'll be the first to admit that, some days, I'd rather just do a group ride.
But with this shift in what people are looking for at events and sidestep away from all-out competition, certain event organisers have stepped up at exactly the right time with an alternative. Recently retired pro Fabian Cancellara is one of those disrupting the status quo with a refreshingly new take on mass participation rides by creating a series of events that him and his small team are pitching as their boutique sportive series, Chasing Cancellara.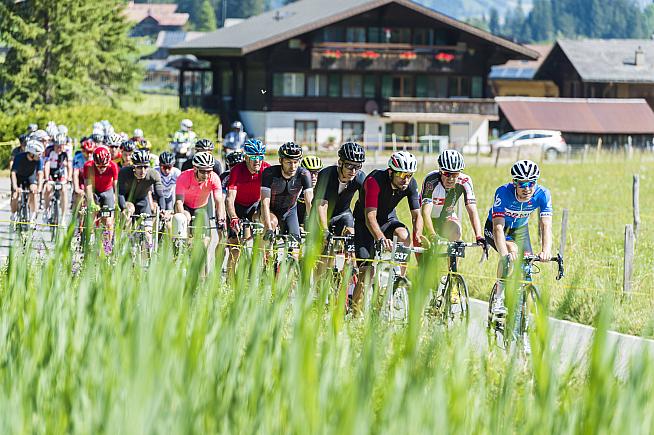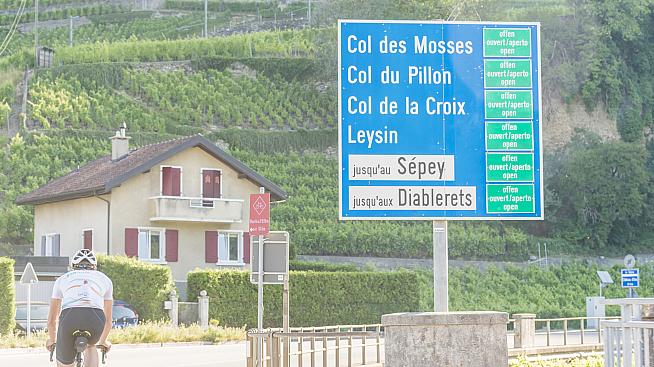 Started in 2017, the idea behind the series is that people would get the chance to ride with Cancellara, with the aim of seeing if they can beat the double Olympic Champion over different format races. To some this might sound insane, but Cancellara is not the racer he used to be and his aim is to allow people to spend time with him, hopefully rubbing off some of his passion for cycling at the same time. For 2018, Chasing Cancellara consists of fairly modestly sized, high-end events in Denmark, Switzerland, Dubai and Italy, and there's talk of branching out into Belgium and the UK for 2019.
Other than the overarching concept of 'chasing' Cancellara, the line of attack differs at each event, with formats ranging from short, snappy outright hill climbs (Ticino) to team racing formats (Denmark) or a longer loop with timed segments. That's what on the schedule for today, the Chasing Villars event: 90km, 2,700 metres of climbing and three timed climbs. The start is in Aigle, with the Col des Mosses, Col du Pillon and the Col de la Croix ahead of us.
We're staying in the lavish mountain town of Villars-sur-Ollon, Switzerland, looking forward to an event that promises to occupy the sweet spot between all-out racing and your most sociable, gregarious group ride. It doesn't disappoint.
We meet in and depart from Aigle on the valley floor, riding five neutralised kilometres before the first climb at KM0. A rolling start, with a clutch of competitive riders pushing hard in the mellow first part of the climb was how things kicked off. Three of them quickly get a lead that looks insurmountable, while we tuck into a group with Cancellara, ex-pro Phil Gaimon, and Nathan Haas from Katusha-Alpecin amongst others. We're clearly in good company but there are no egos in sight.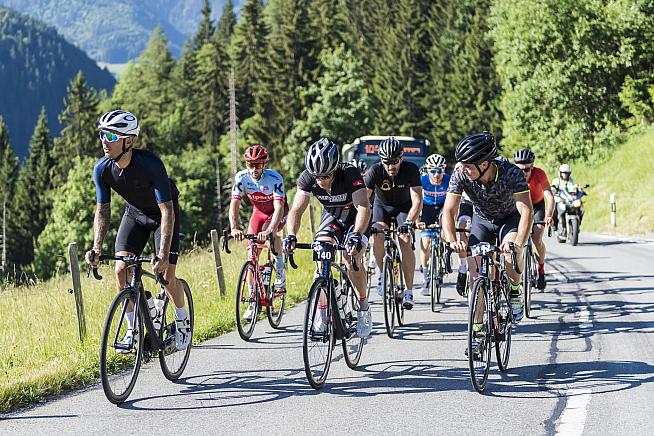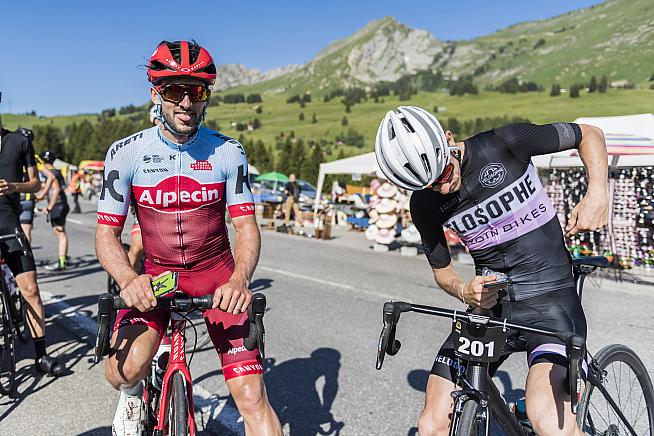 At the top of the Col des Mosses (18.7km, 5.5% average), there's a feed stop and we're met by the sight of that gaggle of riders who had beaten our group to the top. High fives all round as they welcome us in. We patiently wait to create a larger group in order to to ride under motorcycle escort to the bottom of the next timed climb. There's such a convivial atmosphere that it feels like these are your regular Sunday ride buddies, and after around ten minutes and the arrival of more riders, we set off down the mountain towards Gstaad, flanked by those motorbike outriders.
Cancellara isn't with us on this first descent; he's hung around the top, unreservedly greeting each rider as they cross the timing mat and confirming just why he's such a popular figure in Switzerland, a true gent and people's champion.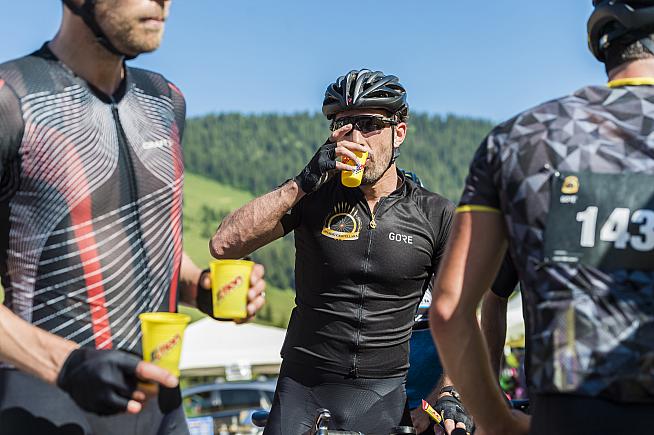 Down in the valley there's a headwind and the luxury of riding in such a well-formed and well-behaved peloton should not be underestimated. We soar through the valley, past idyllic Swiss Alpine pastures, high-end chalets and just a few eyebrow-raisingly wealthy cars.
Fabian - first name terms, of course - has already pointed out the density of achingly expensive private schools in the area. This part of Switzerland is something else and it all looks like the pages of a tourist brochure.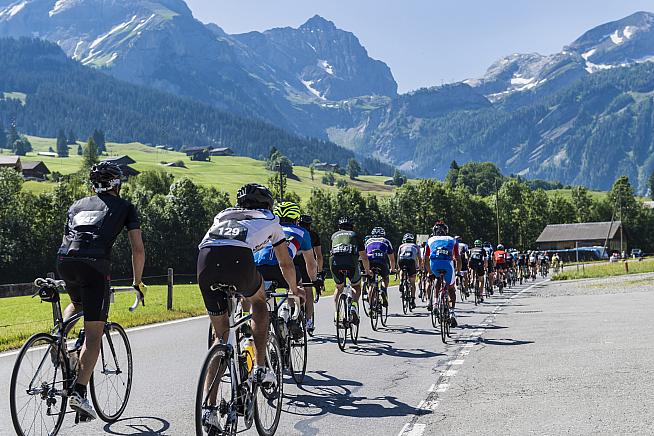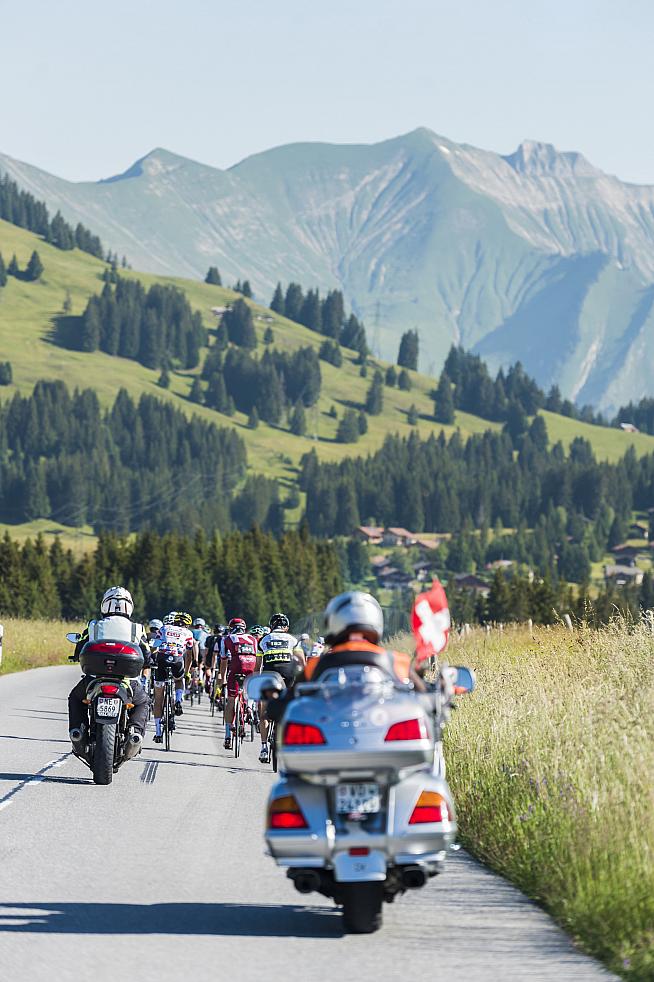 But just as Switzerland has its detractors, so too does Cancellara. And the most notable is stood next to him right now, ex-pro Phil Gaimon. That American rider with a 'clean' tattoo, who rode for Garmin-Sharp and Cannondale, the one with a wry-humoured YouTube channel called 'Worst retirement ever', and three published books under his belt about the trials and tribulations of trying to make it as a pro (note: great summer holiday reading).
Cancellara vs Gaimon: Grudge Match
In fact, the real reason we're at 1,200 metres above sea level in the lavish town of Gstaad is because Gaimon's latest book, which came out in late 2017, implicitly accuses Cancellara of motorised doping. Controversial, yes and picked up as click-bait by many online channels, his off-hand comment soon spun out of control.
Fortunately the accusation was smartly countered with an invite to Chasing Cancellara in Switzerland rather than a court case. So just before the second climb of the day, the Col du Pillon (6.9km, 5.2%), we hang back and wait for Cancellara, who rolls up with another group of around 30 riders. It is time for the showdown: Fabian vs Phil, although judging by Cancellara's broad grin it is clear that he is not overly concerned.
In terms of power-to-weight, Gaimon has the advantage, and truthfully even when Cancellara was at his best, he was never really a mountain specialist. As the climb ramps up Cancellara jokingly asks how many watts he's pushing. They're both in the 600s, claiming they're at 80% effort.
Gaimon rides with a liveliness on his pedals, quickly drops Cancellara and powers past the strung-out riders on the road. There's encouragement and warmth between the two at the top, with an accepting handshake at the summit of the climb, because at the end of the day meeting face to face and suffering together is the best way to build any friendship.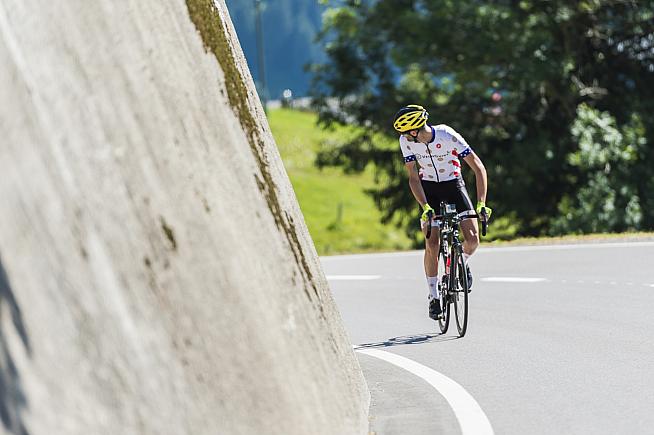 Duel done, it's time for another descent and then a closed road for the Col de la Croix climb and the finish line at 1,778 metres. This one is even more beautiful than the last, breaking the tree line and unleashing expansive views of sky-high Swiss peaks. The forests give way to rock formations that wouldn't seem out of place on the backdrop of an epic film. The heat of the day and difficulty of the climb starts to bite, but we ride together in small groups rather than pushing on, which makes it all that much better.
In the end, 40 riders beat Cancellara's cumulative climb times, earning a hand-signed certificate from the double Olympic Champion and three-time Paris-Roubaix winner that testifies to their feat. Ever smiling, the tall Swiss rider hands out medals to every single competitor, displaying a genuine aptitude for conversation that many would do well to learn from. It's clear that this is a rider who wants to meet his fans, give them time, and inspire them to do great things too.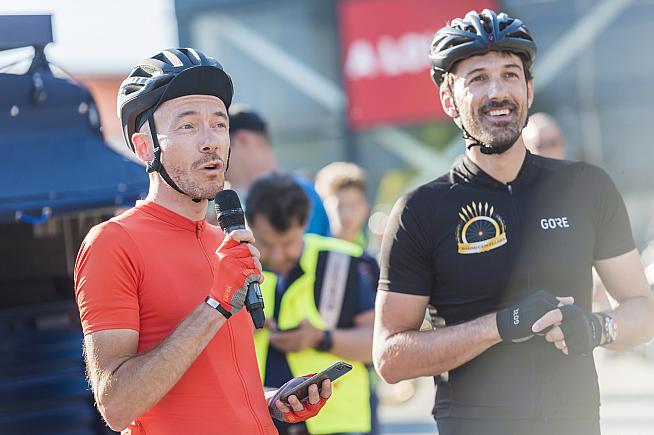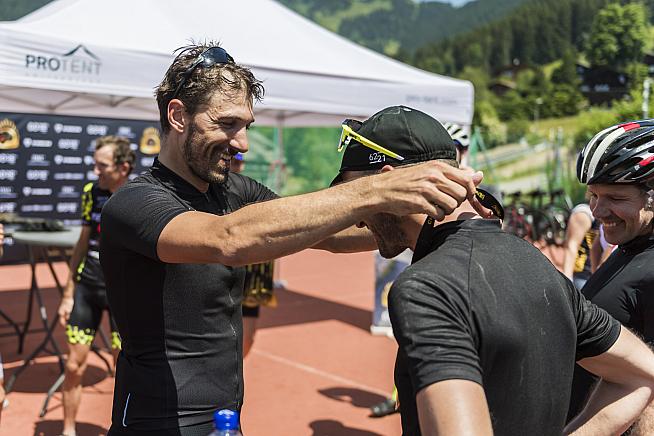 In all, a great day, that truly tied a knot between amateurs and pros, the good life of social rides and the thrill of racing. There is a further positive footnote, too, as Katusha rider Nathan Haas reveals in a heartfelt post-ride Instagram message what a boost the event has given him in his struggle to return to form and fitness.
Whether you're amateur or pro, Chasing Cancellara is a breath of fresh air in terms of its concept, and with the addition of new formats and locations it could be our new go-to series. Next stop, Denmark.
All images by Phil Gale / Emmie Collinge
Find out more about the Chasing Cancellara seris at www.chasingcancellara.com.
0 Comments