Having already admitted an attraction to the messier side of cycling by regularly partaking in an Evans MTB sportive or three, I couldn't pass up the chance to combine on- and off-road in a CX sportive, right on my doorstep on the Surrey/Sussex borders.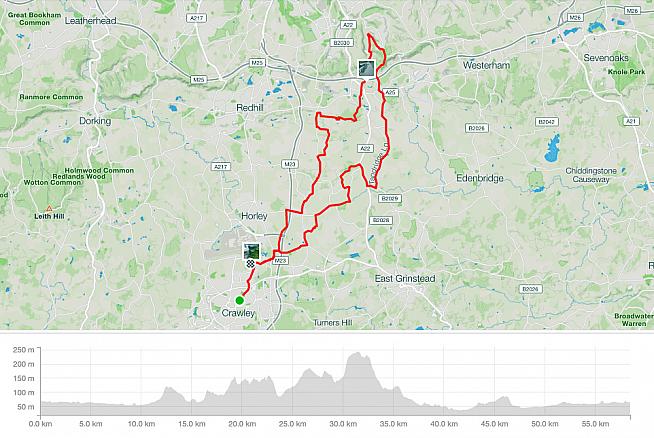 The Evans Gatwick Sportive Cross on the 18th February ran out from my place of work to visit lanes both familiar and new, north of Crawley and deep into the North Downs escarpment. For this challenge, I needed something more suited to the messy stuff than my Kinesis Racelight and more speedy than my Charge Cooker.
Luckily, such a beast exists - a so-called adventure bike. Now, pretty much every off-road ride I have had lately turns into some sort of adventure, usually involving A&E visits, sticking plaster and paracetamol, but this time my partner in pain was more suited to the terrain than I appear to be: the Pinnacle Pyrolite.
A new addition to the Pinnacle range for 2018, the Pyrolite features 650B wheels and TRP Spyre cable-operated disc brakes, along with practical features like rack and fender mounts in the name of versatility.
I was determined to find out just how good it was, or how bad I was, and I didn't have long to wait. The first section of rough stuff came not far from the start. Turning off the main road and on to a path less traveled, dodging potholes became a lesson in futility and some light relief was briefly sought in cracking the ice on kerb-side puddles like coffee-coloured creme brûlée.
As the metalled and pockmarked surface gave way to mud and slush, an eternity of tractionless rear wheel spinning and front front wheel slides seemed to be my destiny - or it would have been, if I hadn't had the foresight to replace the stock WTB Horizon tyres with a pair of narrow-width MTB treads for the event.
Knowing the off-road sections would be slippery and deep in effort sapping mud due to recent rains of Biblical proportions, it seemed logical to be prepared with some knobbles with which to cut the muck with. As it was, some of the sections demanded frequent use of Shanks' Pony, hoof deep in organic matter.
My hooves weren't the only things clogging up; after on particularly boggy sector, there was so much Surrey slurry stuck around my front mech that vigorous stick work was required to stop me walking it back home.
Once back on solid ground, my average speed climbed up, helped by the fast spin up of the smaller wheels and the wide range of the 9-speed Sora rear drive. Had I been carrying much more weight though, e.g. bike packing, my uphill progress would have been reduced to glacial pace. An even wider range would be better on the 11-32 cassette, coupled with more potent stoppers. The cable discs, I feel, were at their limit and I definitely missed the power and modulation of hydraulic anchors.

The northern-most reach of the course involved a laboured climb up Gangers Hill into Woldingham: a struggle at the best of times on smooth roads, but nigh-on impossible for the average sportivista on a heavier bike like the Pyrolite. I managed to pilot it a respectable half-way up the rugged, barely metalled Church Lane, which my GPS suggested has a gradient so high in the teens that it's eligible to vote.
The reward (there's always a downside to this climbing) came soon enough, with a twisting descent back towards the A25, the bike changing effortlessly from an off-road beast to a descending monster. The descent was enlivened by a barrage of clay clods picked up miles back, spinning off the tyre treads and making slurps from my water bottle come with added minerals. And leaf litter. Much of the previous hour's toil was forgotten along sweeping lanes, taken at relatively insane, I mean sensible, speeds.
A quick stop at the feed station resulted in a wash and top up of my hydration equipment, a stuffing of my cake hole, and a deep inhalation of jelly beans before the remaining, relatively tame closing section back towards HQ.
One more slippy, sloppy section into Horne and a couple of gritty-toothed grins at some mountain bikers toiling in the opposite direction brought me out into the middle of a local cycling road race - I resisted taking the chequered flag with my arms aloft as there were many young and impressionable people about and I would have definitely fallen off.
As the ride revisited the reverse route taken earlier that morning I encountered other participants just as filthy as me who hadn't even done the off-road sections - it seems it was that grim all over - and I rolled into the finish marquee to collect my RideIT 10 year commemorative medal and complimentary bike wash.
Twenty minutes of medium-pressure squirting seemed ineffective at removing all traces of loam from the bike's frame, the shark-skin rough finish needing almost as much agitation as I was beginning to feel. Some soaking with proprietary products, designed to take muck off, seemed to do the trick later on although I keep finding bits I've missed (and I'm absolutely not being lazy and not doing it properly).
As always, the Evans event ran smoothly, from registration at the start to finish. Signage and directions, on-the-road support and feed stations were top notch and everyone seemed to enjoy their ride, despite the filth on- and off - the roads.
The Evans Sportive Cross series resumes in November 2018, but there's a packed programme of road and MTB sportives before. Find a ride near you at www.evanscycles.com.
0 Comments