Although I'm not new to sportives, I am new to mountain biking. Up until this year, I hadn't really ridden off road, save for a couple of occasions when my concentration wavered during a ride and I've wobbled off the highway into the undergrowth.
After an event organised by Evans Cycles up at the Cannock Chase Trail Centre in the Midlands, I got bitten by the bug and bought a season ticket to A&E in the shape of a Charge Cooker, a 'mid-fat sled' according to my young chums at the shop. Since then I've acquired couple of broken ribs, a gashed shin and various bruises in amusing places - and, undeterred, I've begun dabbling in the world of off-road sportives.
For me they've been a good way to get out and expend some energy but not all of the day, like a road sportive can. Usually they're capped at a modest sounding 30-odd miles, but as that involves a lot of speed-sapping gravel, twisty forest trails and insane climbing it's as efficient a way of burning off doughnuts as an epic road ride.
Time to chronicle one for Sportive.com, I thought; and in the words of Margaret (in G&S's Ruddigore), "Basingstoke it is".
Heading out at the usual ungodly hour, especially as we creep towards the winter solstice, was never going to be easy. So bleary eyed was I that I nearly squirted sriracha sauce in my porridge instead of syrup, and then ended up forgetting my drinks bottle and my GoPro (routinely taking it on my MTB escapades in the vain hope that one day I'll get some 'rad' footage from it).
I eventually arrived at Queen Mary's College, event HQ for the Evans Cycles Hampshire MTB sportive, where I parked, signed on and proceeded to the start tent. And then, as I was the only one ready to go, waved away the pre-ride safety talk and toddled off down the road.
As I used to work on the sportive side of things for Evans, I was confident I could handle this: all I had to do was follow the arrows. Although I did bag a map to be on the safe side - you know, in case someone asked me for directions.
Dutifully following the pink signs, I rode on what I began to feel was an inordinate amount of road riding for an MTB sportive, but I put that down to my confidence in the route marking and the fact I was enjoying the tinny playlist chirping in my ears. I had a chat with a group of roadies out on a Saturday morning run, continued to follow the arrows, convinced that the next left turn would plonk me knee-deep in mud and second-hand cow feed any minute.
Five miles on and the boundless optimism was beginning flounder a little; on close inspection, none of the names of the roads or villages I'd passed through were even on the map I had. I reckoned I must've missed a turning due to my inattention or some rascally local spinning a sign, so I backtracked scouring the verges for salvation.
By the time I got back to the first left turn pink arrow, I remembered that all of the arrows out of HQ had been yellow and I'd been following the route laid out for the next day's road sportive. Taking the, in hindsight, obvious turn off the roundabout, within 50 yards the terrain because more suited to fatter tyres and bouncier forks. A squeak had developed in my saddle which I imagined was repeatedly chanting 'Twat - twat - twat' at around 90 revs per minute; I drowned it out with the drone of Morrissey, prattling on about a puncture bicycle on a hillside desolate. Yes, that made me feel better...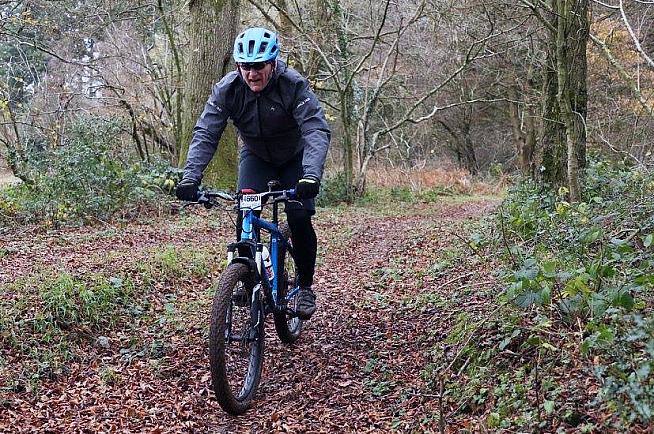 Once off the beaten path and on to one of a bridle nature, I felt a lot more comfortable. Way markers were reassuringly much more frequent, and where there was no place for a laminated sign, a length of hi-viz tape was usually secured to a tree or in a hedgerow.
The going wasn't particularly rough, but my tyres were sucking up as much clay as they could so I alternated from de facto slicks across the fields to being pelted with clods on metalled sections where I speeded up and the tread cleared itself.
Unlike the Surrey Hills, Hampshire doesn't have the same extremes of gradient, but it was nonetheless quite taxing at times, and the downhill sections quite exhilarating, if you kept your mouth shut and avoided the clay diet.
The strangest part of the day was cycling along a track bordering a 'conservation area' - not 20 yards away were a dozen or so Barbour-clad outdoorsy types, with shotguns broken over the crooks of elbows or holstered casually over shoulders. Each one was standing by a white wooden post, staring intently at the stubbly crop field, paying no attention to the wheezing mud monster behind them. As soon as I'd reached a wooded area, the air began to fill with Purdeys and Remingtons discharging their pellets at flapping targets, presumably driven from the direction they were concentrating on.
 A few miles further on, there were more white posts and at the foot of each one there appeared to be piles of discarded cartridges, all the same colours sprouting like cordite crocuses.
Pretty soon I was upon the first feed station, at the end of a rather enjoyable, twisty technical wooded trail where I shot a quick smile and pose for the on-duty photographer.
Having forgotten my drink, I lay under the open tap of the drink dispenser and then gorged myself on jelly beans and Madeira cake. After my unintended 10 mile road ride, I didn't have time to tackle the medium route as planned, so branched off to complete the short route as quickly as I could, and began to catch up with those who had started the day with a better sense of direction.
Back at HQ, hanging my head in shame I confessed my navigational sins to the chaps signing me back in. But, despite my hopelessness, I really enjoyed my day. Mountain biking tends to bring out more universal camaraderie that is sometimes lacking from road events. There can still be dicks on MTBs but there seem to be fewer of them, and they finish long before the likes of me.
I've been enjoying my MTB sportive excursions this year - not that I'm ever giving up on road events, but they've taken me to parts of my local area I usually speed by. And that's the argument I used to use when justifying road riding over driving.
Maybe we all need to slow down and get muddier. And get lost or fall off from time to time.
The Evans Cycles Ride It series runs throughout the year with road, MTB and mixed terrain sportives taking place across England and Scotland. For more info and to take part visit www.evanscycles.com.
0 Comments