"London calling to the faraway towns..." The familiar lyric barks out from the sound system as if to beckon myself and fellow townies. "Engines stop running, but I have no fear" - too true, there won't be any cars on the route today and I feel excitement... not fear!
30,000 cyclists are gathered at the Queen Elizabeth Olympic Park as the organisers pump out London Calling, by The Clash, as the first wave sets off at 5:45am.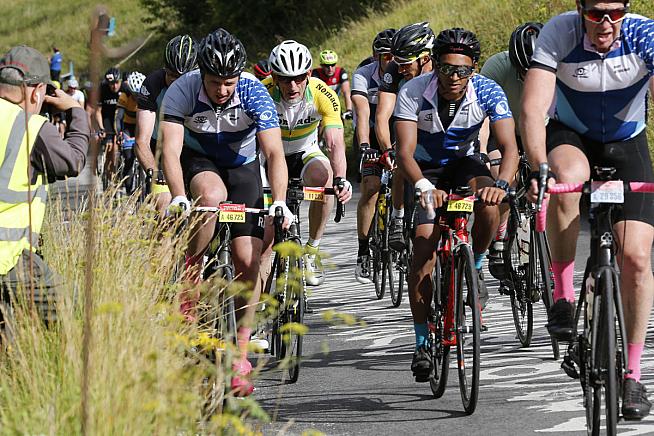 Roll back two hours and the atmosphere is in complete contrast. Like a scene from a dystopian movie, it's damp, it's dark and it's miserable. The mood was somewhat muted as a rather drizzly ten mile spin from West to East London is endured.
"London is drowning, and I, I live by the river...."
Spirits are lifted as thousands of riders converge onto the Olympic Park, the rain has stopped and the sun has risen. Bags are dropped off, queues are formed and the excitement begins.
This is my second Ride London, and the first for my fellow Sussex Nomad and club juggernaut, Jason. He's twenty years my junior and the only Nomad who regularly hammers me on the climbs. I've got my work cut out to stay with him... I'm hoping that the beer he was chucking down his neck last night will help my cause.
Shortly after rolling over the start line, we turn onto the A12 and Jason's turbo kicks in. I immediately have to make an effort to latch onto his rear wheel. A few miles later and the lactic is already starting to build up in my quads as I make a number of valiant efforts to re-attach myself to his wheel as he drops me again and again. Finally some six miles in, I take the sensible option and let him go... a white, yellow and green blur disappears into Limehouse Tunnel, never to be seen again.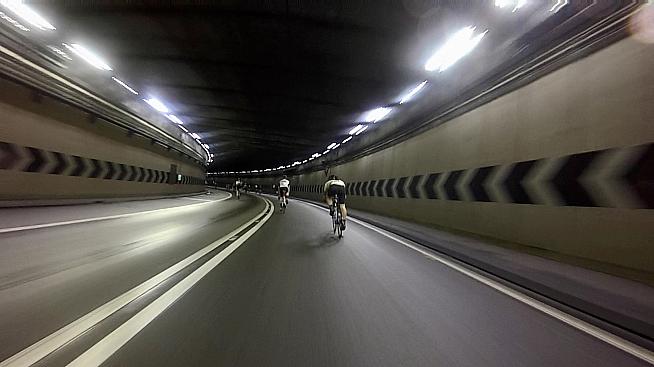 I am relieved. My legs can spin a bit more smoothly and I can ride the remaining 94 miles at my own pace.
The roads are still damp after last night's downpour as central London's monuments come and go. The ride turns towards Surrey via Richmond Park, Kingston and Hampton Court as the full force of a pesky headwind blowing up from the south west is felt.
With safety in mind, the organisers staggered the start times more than last year, resulting in fewer cyclists on the road at any given time. As a consequence, I find it difficult to shelter in a suitably paced bunch and expend precious energy soloing into the wind whilst bridging between groups. It still feels fast, but I'm slowly dropping off the pace and I'm finding it increasingly demanding to match last year's average speed of over 22mph (35.5kph).
Out in Surrey, the damp and leafy lanes of Byfleet, Ripley and West Horsley are conquered at speed; but then my progress is suddenly halted... "Nooooo!" I felt myself screaming to myself, "Puncture!"
It's not a complete disaster, I have a spare tube. But the loss of momentum is frustrating, as hundreds of riders hammer past whilst I endeavour to beat the world record for the slowest ever puncture repair. I waste a lot of energy in a futile attempt to fully inflate my tube, and lose a whopping eighteen minutes to the clock.
Once remounted, I take my frustrations out on the climb up to Newlands Corner. I was up and over without a second to spare and into the nice long descent down to the village of Shere, making myself more aero by hovering over my top tube whilst lowering my torso to the handlebars. My momentum was beginning to return.
It was time to recalibrate my goals. The 'elapsed' time was taking no prisoners, so I switched my focus to beating last year's 'moving' time. But to achieve this would mean riding a negative split, with most of the climbs still to come. It's challenge time!
First up is the climb up to Holmbury St. Mary; I push hard as I fight to beat the clock. It ticks away as I pass rider after rider and then attack the descent with equal gusto. I'm feeling good, I may just do this. Next up is Leith Hill, over a mile long, the hardest climb of the day.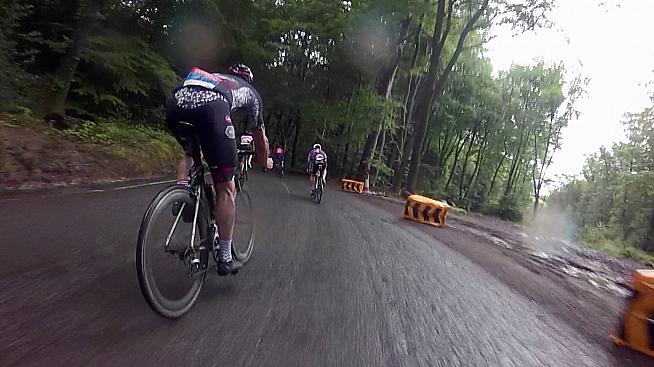 At almost 1,000 feet, Leith Hill is the second highest point in south-east England. The road doesn't go to the top of the hill, but nonetheless it's a challenging climb with a couple of 15% stretches which get me out of the saddle for the first time today. I overtake everyone in my path, but this is of little consequence as the clock is still racing ahead of me.
No time to be lost on the descent either as I hurtle down to the A25, covering the technical two mile descent in a shade over four minutes. Another handful of seconds are grabbed back, but my shiny white Nomads jersey has miraculously changed colour into a rather unfetching, mud splattered garment.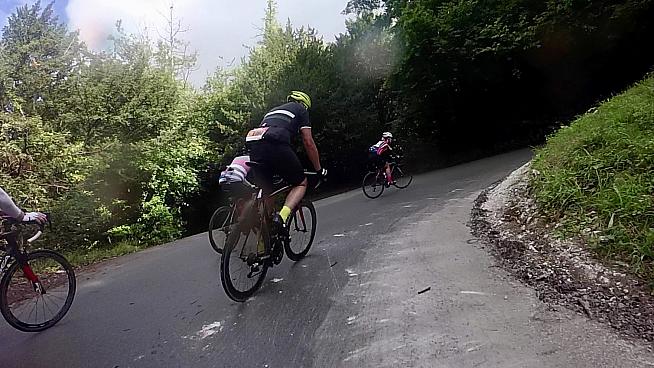 Next up is the iconic Box Hill, a popular destination for cyclists and climbed nine times during the 2012 Olympic men's road race. I love this climb, I like the hairpins and the way you can stay seated and spin up the hill at speed... and I need to! I steal another chunk of time away from the clock in my attempt to reach The Mall in record time.
With all the major climbs behind me now, I am in full swing and totally committed to take every opportunity to take more time back from the clock.
The memories of last year were starting to return, I was beginning to experience the exhilaration again... riding at speed through the closed roads of Surrey and London with likeminded riders, racing for the line while being cheered on by excited spectators.
I was hurtling through Kingston, with about 15 miles to go, when I got a text from Jason. It popped up on my Garmin screen: "Just finished... 4:13..." was all I could glean at the pace I was going. "Wow, well done Jason," I thought to myself, "you're a juggernaut!"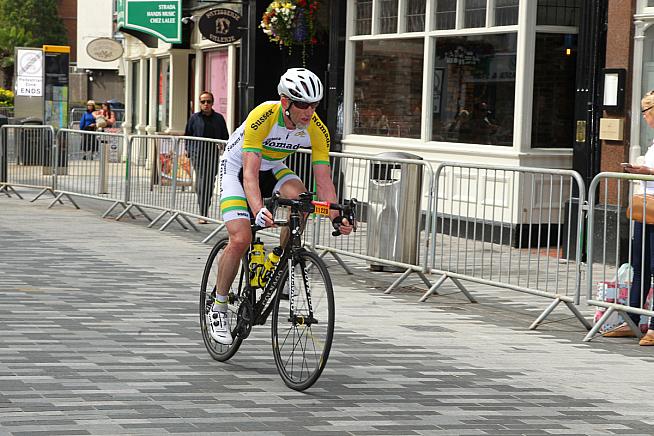 Talking of juggernauts, I was going at a fair lick myself. I'd finally found a group to work with and my average was creeping back up towards 22mph. South-west London started to fly by... Wimbledon Hill, Putney Bridge, Kings Road and then onto Victoria Embankment... but I was running out of road.
Vauxhall Bridge, and the clock cruelly delivers its final blow... I could no longer beat last year. But this was no knockout punch. I was caught up in the excitement and thrill of the action as the last mile approached, enjoying the high-speed battle in the mini-peloton that had now formed.
Westminster Abbey... Whitehall... Trafalgar Square...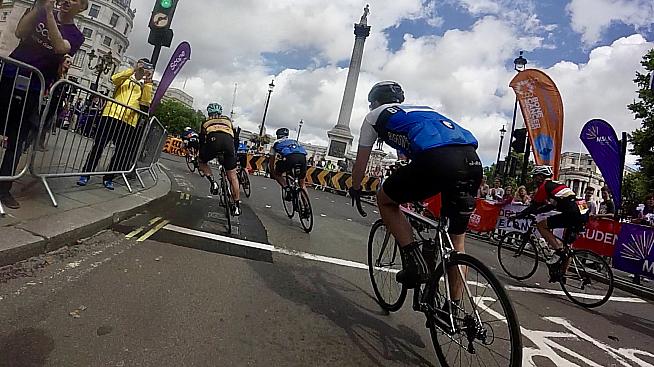 With Nelson's Column looming in the background, riders start to stream past as a sharp left is taken prior to Admiralty Arch... the gateway to The Mall. We are greeted by the familiar reddish asphalt, flanked by huge Union Jacks hanging from flagpoles between each of the lush green trees that line this avenue leading to Buckingham Palace.
With 500 metres to go, the adrenaline kicks in: I find myself a gap and sprint for the line... in my mind I'm contesting a Tour de France sprint finish... my heart rate peaks and I'm under the finishing banner with the remnants of the peloton in my wake.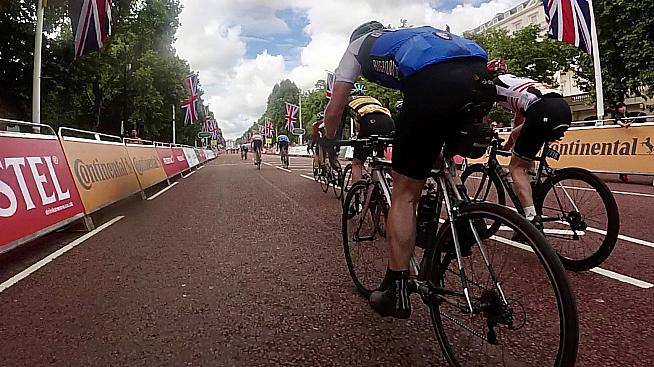 "London calling, yes, I was there too
An' you know what they said? Well, some of it was true!"
Not as fast as last year, not as exhilarating as last year - but definitely more satisfying. I had to work so hard to get my average up to 22mph that I was euphoric by the finish. A well-deserved medal was waiting for me, gleaming almost as much as the satisfactory smile that started to spread across my face.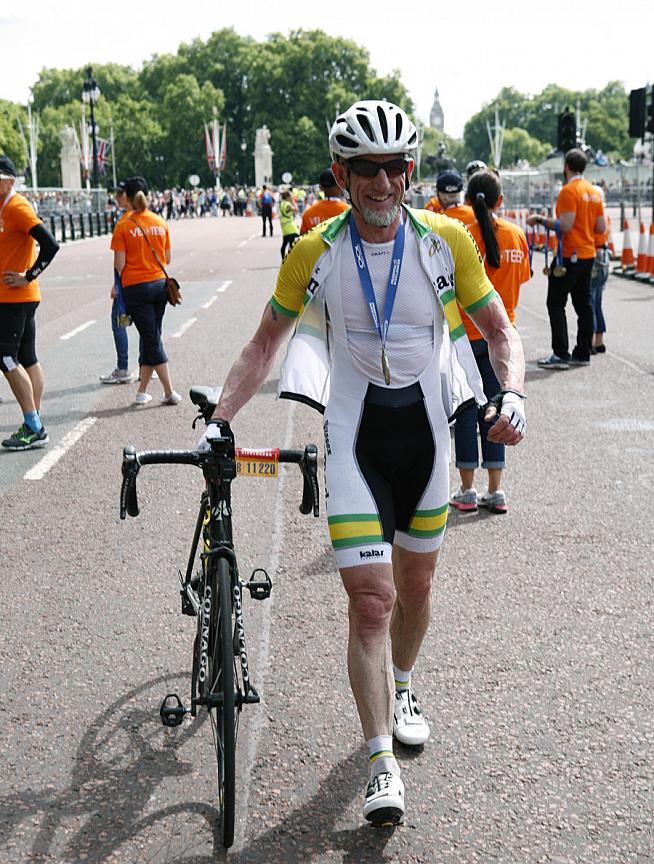 The ballot for entries to the 2018 RideLondon-Surrey 100 is now open. Visit www.prudentialridelondon.co.uk to enter.
0 Comments