As a keen sportivista and lover of cobbles/pavé/kasseien, I've been lucky (or mad?) enough to ride the Tour of Flanders sportive four times. The mix of narrow, rural roads, steep cobbled climbs and a decent post-ride beer have had a moth-to-a-bright-light attraction to me for years.
When I lived in the sunny south, 'popping' over to the Bergs of Flanders on a Friday evening for a weekend of cobble-heavy fun was actually perfectly feasible, hence my regular appearance on the sign-on sheet for the event. Now I'm safely ensconced in the frozen north though, getting to the flatlands is both expensive and time consuming.
So, what is a keen cobblista to do? I needed my annual fix of having my fillings rattled loose for 6 or 7 hours, but couldn't quite raise the motivation (or cash) to head over to Belgium. Luckily, fate was obviously watching over me and the chance the ride the Ronde van Calderdale came my way instead.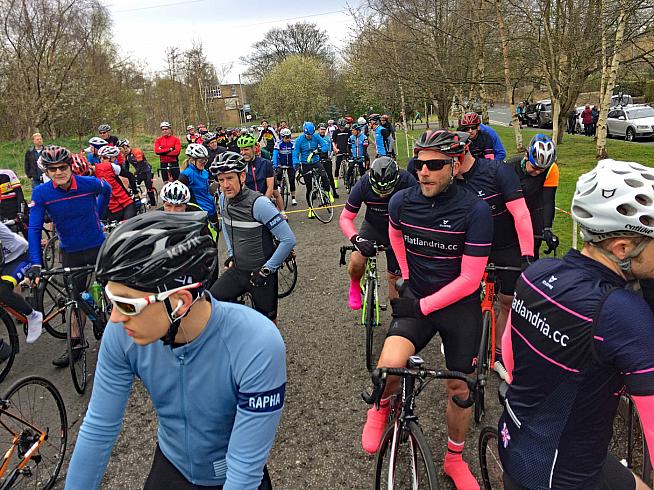 What the hell is the RvC, you may well be asking! It's the Yorkshire equivalent of the Ronde Van Vlaanderen, the Flemish name for the Tour of Flanders - one of the infamous northern European classic races that is always run on the first weekend in April and which appeals to some of the fastest/maddest/hardest of the world's professional road racers.
Held on the weekend of Paris-Roubaix, the Ronde van Calderdale features 13 cobbled climbs of finest Yorkshire "pavé anglais". Unlucky for some? I was about to find out...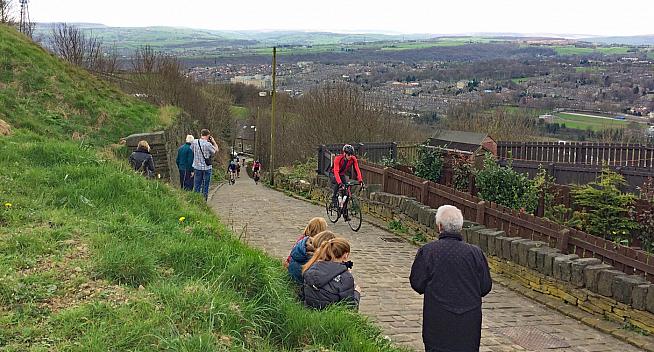 With my experience of different RvVs over the past few years including everything from cold temperatures, constant drizzle and greasy cobbles to blue sky, sunshine and sunburn lines, I knew roughly what to expect for both bike and body. I'd love to say that I'd got a perfect training plan in place, had been doing regularly stretching and had my pre-event diet finessed to within an inch of its life. I would of course be lying - my pre-event training consisted of being ill for almost 4 months over the winter (and doing basically bugger all riding) followed by a random mix of mountain biking in the snow, a couple of decent road rides and playing on my cyclocross bike in my local woods.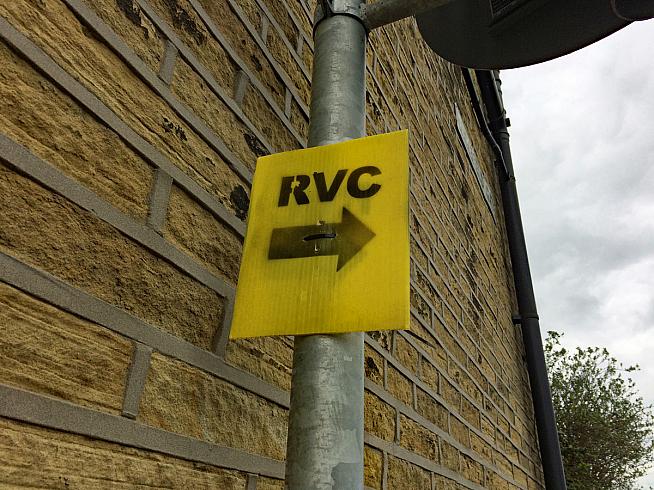 Luckily, I did what all self-respecting cyclists do to make up for lack of training and proper preparation - I hit the internet and did a spot of retail therapy. A few clicks of the mouse later and I had some super-supple 28mm tyres and the thickest bar tape known to man ordered and on their way. I figured that the current vogue for fat tyres run at lower pressures would be ideal and when combined with some extra cushioning on the bars would see me float over the cobbles with abandon. Rather than needing to abandon.
In a moment of last-minute genius, I also borrowed the cassette off my wife's cyclocross bike, which gave me a bail out gear of 34-32 - I hoped this would be low enough to minimise the screaming leg pain of riding up 30% gradient cobbled climbs for hours and hours.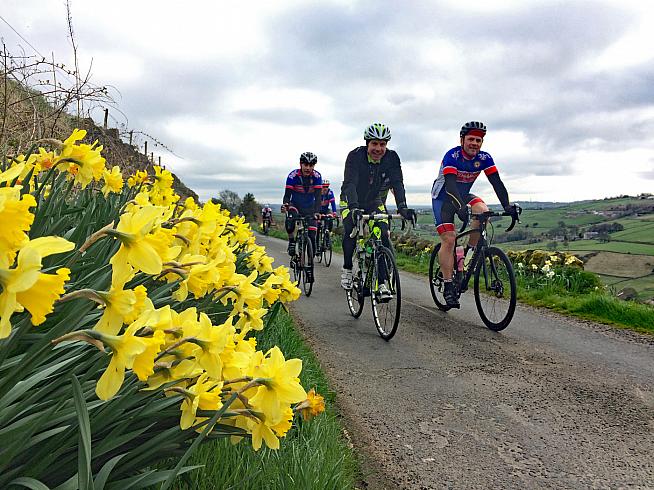 The day of the RvC dawned surprisingly sunnily. Even checking 76 different weather forecasts, it looked as though conditions would be dry, with a chance of sunshine warming our pasty winter-white bodies in the afternoon. My only concern was that a cold start, followed by a warm afternoon would play havoc with my kit choices (and more worryingly, expose my legs to the world in their winter plumage - it had been way too cold/wet/hideous in the run-up to the event to have justified introducing Mr Gillette to my leg fuzz).
Right from arriving at the carpark, the event had an amazingly friendly, almost family-run feel to it. From the cheery greeting of the carpark marshals to the vast tables laden with bananas and flapjack (with packets of porridge available for anyone who had missed breakfast), there was a distinctly different vibe to the event than other sportives I had ridden in.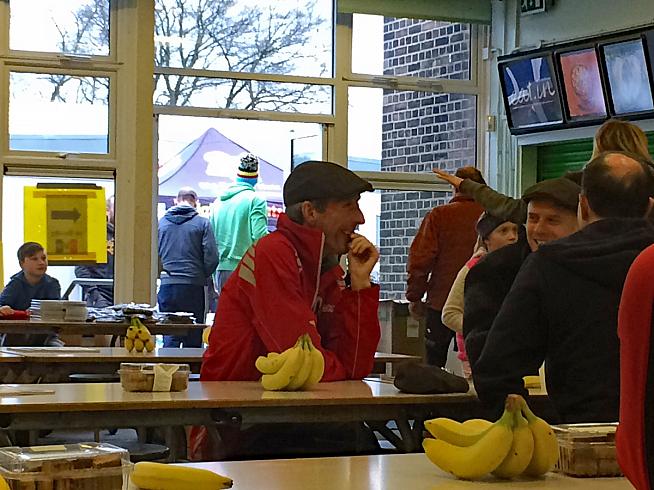 This friendly, family-run feeling managed to permeate the whole day. From the legion of bobble-hatted helpers proffering boxes of sugary goodness or filling up your water bottle for you at the feedstations, or the cheerful encouragement and cowbell ringing of locals on the cobbled climbs, the event organisers managed to pull of the Holy Grail of sportives of being extremely well organised, but at the same time feeling low key and friendly rather than over-branded and corporate-ified.
Of course, the main job of an event organiser is to put on a decent route. Luckily in this respect, the organising team managed to pull a real rabbit of the hat. If you like PROPERLY HARD (and yes, it does warrant the capital letters) cobbly climbs, amazing sweeping views of moorland, challenging technical descents and some beautiful flowy sections of roads barely visited by traffic, then the RvC should be on your list for next year.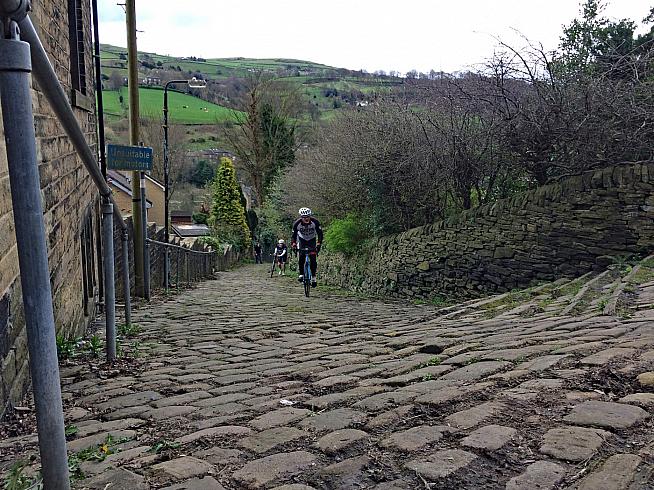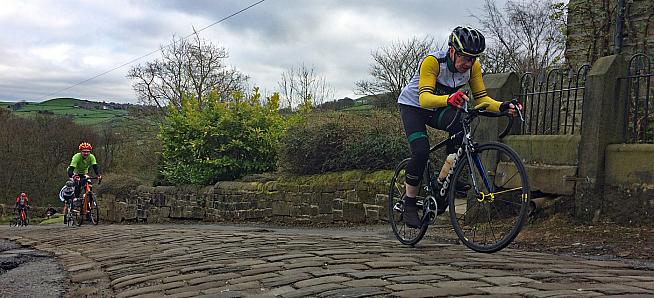 The climbs are a big challenge. Anyone who 'cleans' all of them and manages to get up them without walking, even for just a few seconds, warrants proper superhero status (and I don't mean the false Kudos frequently donated on Strava for people who manage to safely cycle 600m to their nearest supermarket). I would love to say that with my fat tyres, cheating gears and squishy bar tape, I cleaned the whole lot.
I would of course be lying. Sickeningly, on one particularly greasy cobbled horrorshow, a rider in front of me stalled, failed to unclip and then clattered unceremoniously to the floor, managing to take up almost the entire width of the climb in an impressively precise piece of following-rider sabotage.
As tempted as I was just to ride over them in order to keep my 'no dabs' record intact, it seemed somewhat churlish. And to be honest, the cobbles had about as much grip as a liberally greased piece of ice, so I probably wouldn't have made it any further anyway. Plus, you have to leave something to come and nail next year too, right?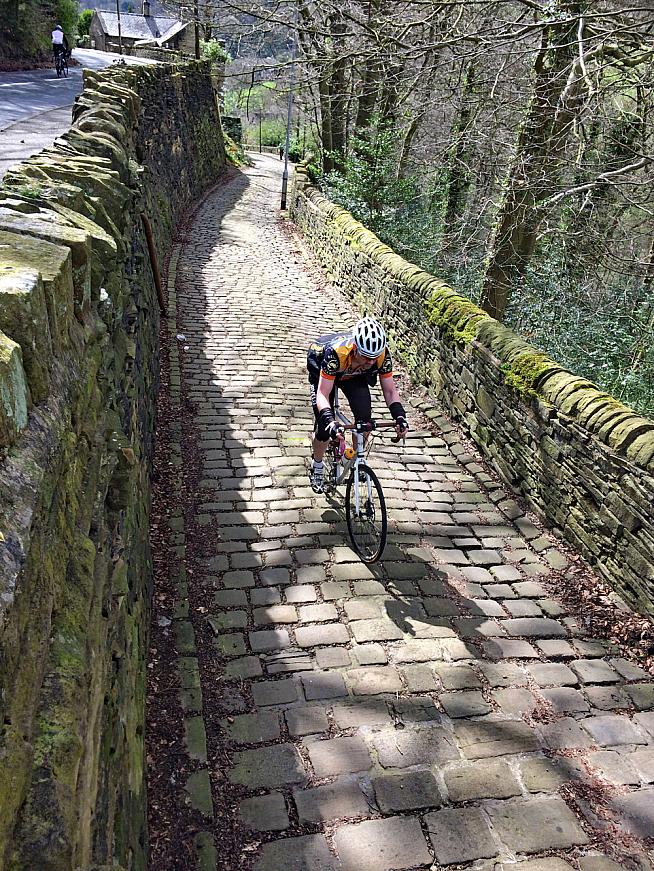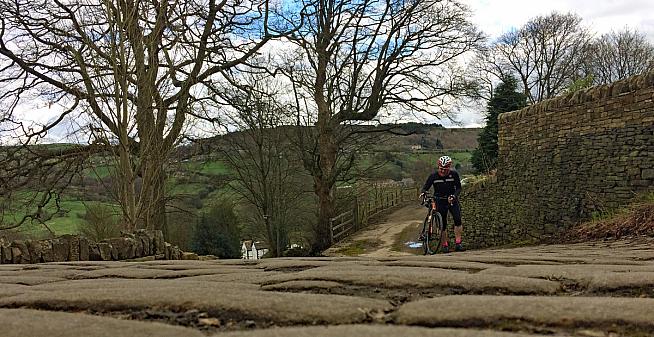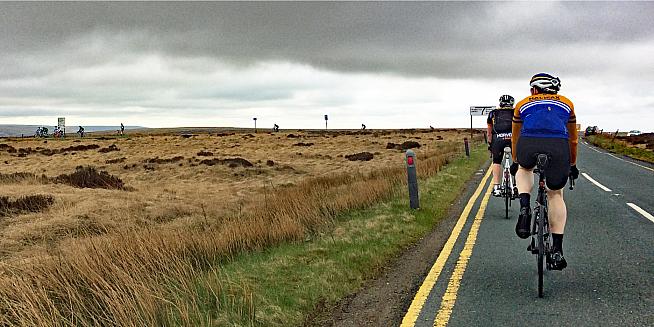 When riders made it to the top of the last cobbled climb (which has now been christened 'Assassins' in my brain, in homage to the strangled call of riders in the first Tour de France as they struggled to make their way over a brutal climb laid on by sadistic organisers), on the left-hand side was a small, round metal table, of the type normally found in peoples' conservatories.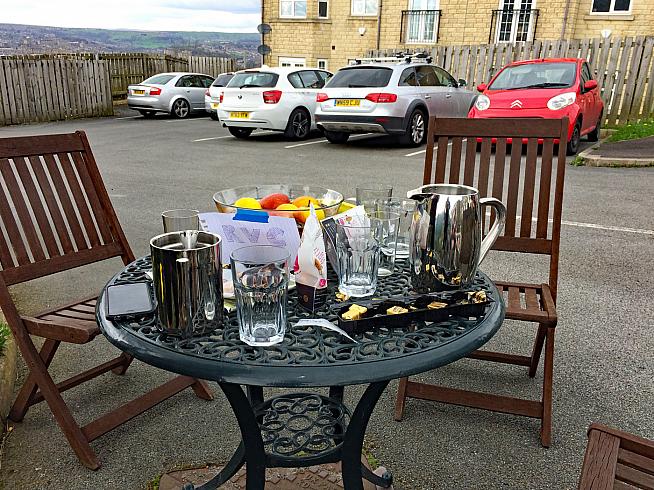 A small handwritten note simply had the letters RvC on it and the table was laden with posh, individually wrapped chocolates, bags of expensive salted nuts, a bowl of fresh fruit and a couple of jugs of iced water. Your standard corporate sportive feedstation, replete with boxes of foul-tasting energy bars and a jerry can of stomach-cramp inducing energy drink, this certainly wasn't.
It was so low key, it looked distinctly like one of the locals had blown a good chunk of their weekly food bill to stock a small table with goodies for the crazy, cobbled-addicted fools who had made the effort of coming to visit their lovely bit of England. Which may well have been what actually happened.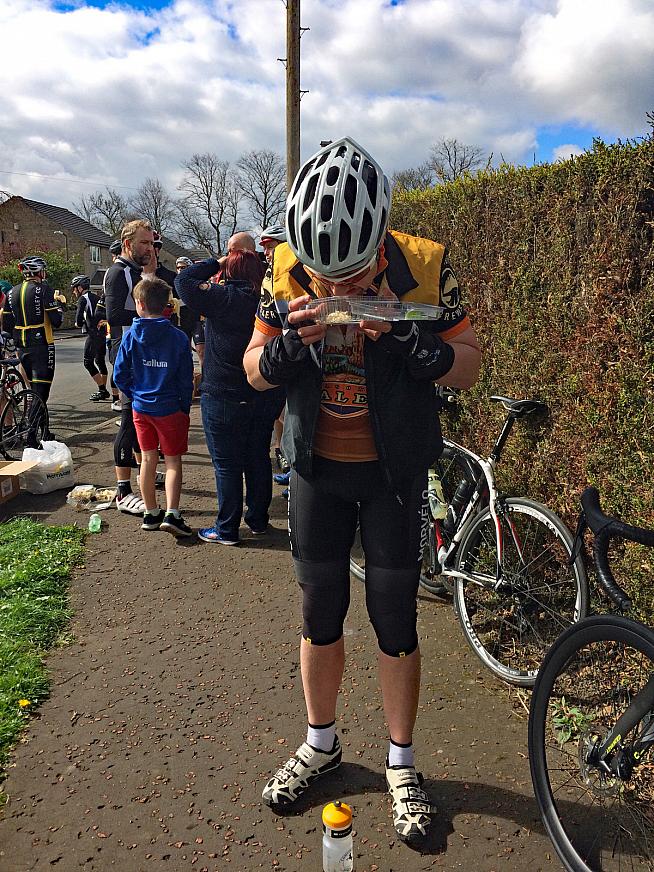 This small table actually managed to be an eloquent metaphor for the whole event - brilliantly low key, everything you need, in just the right place at the right time and about as un-corporate and family-run as was possible to get.
The organising team of RvC, I salute you.
And, I will be back to 'clean' the whole thing next year!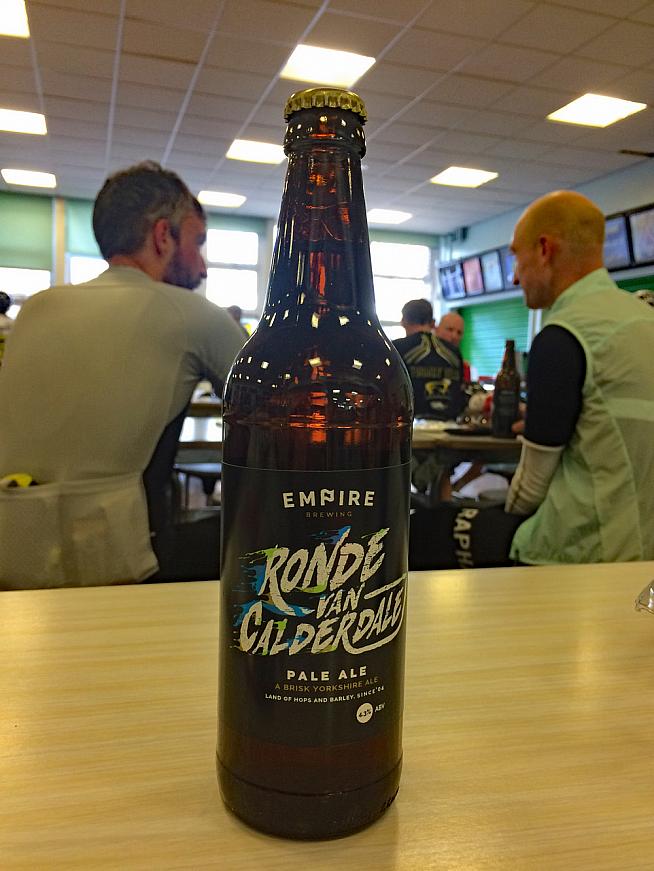 0 Comments