The Wiggle Royal Flyer Sportive, which sets off from Fakenham racecourse, is one I've wanted to ride for a while now. I tried to ride it last year, but a thick layer of ice on the roads meant it was called off at the last minute.
Norfolk is one of my very favourite places to cycle. The lack of any serious uppy-downy bits is more than offset by the network of rolling, virtually traffic free lanes that criss-cross the county. Before the ride started, I expected to be writing about the twisting singletrack roads winding their way through bucolic countryside, and dappled autumn light refracted through a canopy or red and gold. I should have known better.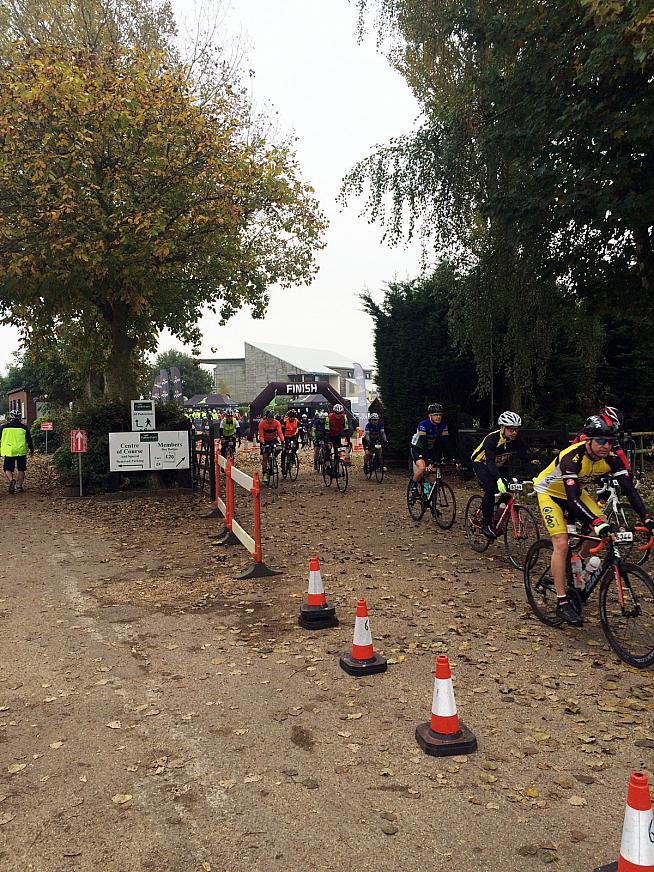 I woke up on Sunday morning to a world swathed in a thick blanket of fog. Gone were the beautiful autumnal colours, replaced by a dank grey mist that seemed to swallow up the road a few feet in front of my wheel, making the road seem like the kind of unending, unforgiving route beloved of post-apocalyptic novels.
Arriving at the start, I was struck by how different it was from last year. Then, there were a couple of cars in the car park and a few forlorn cyclists drinking Bovril out of paper cups and cursing the ground frost that had canceled the sportive. This year, the car park was rammed and there was a buzz about the racecourse. It was heartening to see riders from across East Anglia and further afield had gathered to enjoy one of the last opportunities to get some pre-winter miles in, Alongside the usual clutch of road bikes and the odd tandem were more than a few disc-braked 'crossers or gravel bikes. This is definitely a thing now.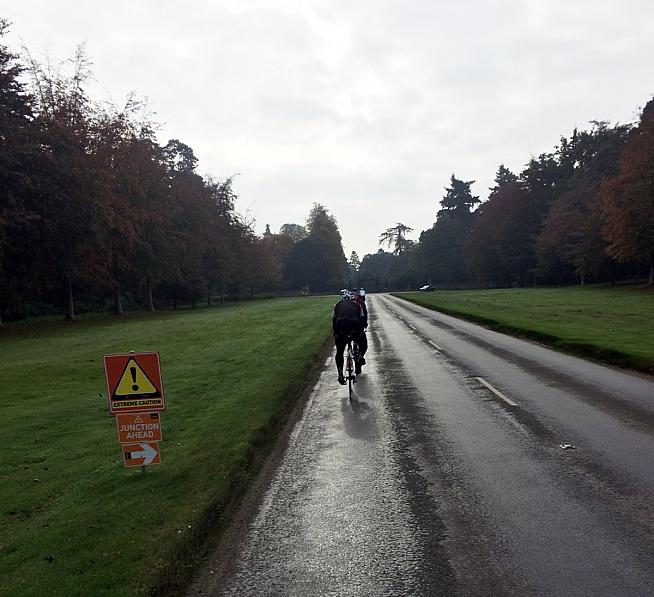 Somewhat sadistically, Oisin, the editor at sportive.com had entered me in for the epic race. However, given that I've ridden my road bike literally a handful of times since our firstborn arrived earlier this year, I had doubts that I'd have the legs for it. I didn't have long to make up my mind however as the course divided between the epic and the 72km standard immediately on leaving the racecourse. Not trusting my stamina for the epic, I turned right and set off for the standard.
The route itself was everything I hoped it would be. Rolling west though pretty north-Norfolk villages like Docking and Stanhoe, the ride was a real quintessence of East Anglia, all millponds, brick and flint cottages and Range Rovers.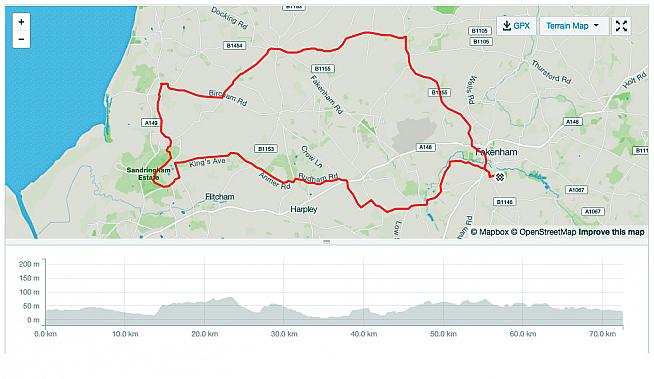 The course negotiated a mix of small lanes and quiet B-roads, which undulated gently without being too challenging. Which made it all the more surprising when I picked up a a drafter who stuck to my wheel with the tenacity of used chewing gum on a shoe and and refused to take a turn on the front no matter how many times I flicked my elbow or waved him past. I ended up towing my new shadow the final three miles to the feed station where he promptly disappeared without even a nod of acknowledgement. Baffling, since neither the terrain nor the weather was really that taxing, but I suppose it's all about the marginal gains...
The feed station was everything you'd expect from a UK Cycling Events sportive: decent facilities, bike checks, and piles and piles of Powerbar freebies. I didn't stick around too long however, as I was determined to be away before Mr Draftypants (nb, his name may not have actually been Mr Draftypants).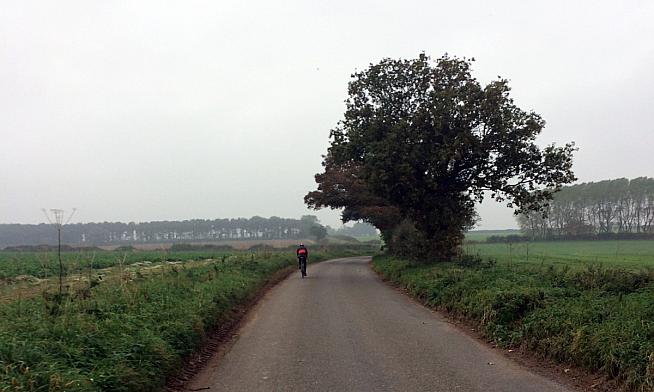 The ride continued its tour of the county's seemingly endless supply of lanes and pretty villages, and just when I'd started to think I wouldn't need to climb at all, a sharp little puncheur out of Dersingham up to the royal pile at Sandringham woke me up. As her maj wasn't in, I didn't stick around but instead got my head down and blasted through the villages of east Rudham and West Raynham before heading back toward Fakenham racecourse and the finish line.
Weirdly, a few miles before the end, my wheelsucking companion appeared in front of me like the ghost at the feast. Suspecting he'd found a secret short cut, or hitched a lift, I took great (and childish pleasure) in sitting on his wheel for 500 metres or so before pedaling past and off into the distance.
Rolling into Fakenham racecourse with the very respectable time of 2:39:51, I was handed a commemorative T-shirt, a medal and an enormous bag of Ritz crisps before heading back to the car to peel off the lycra and make myself reasonably presentable for a family lunch back at home.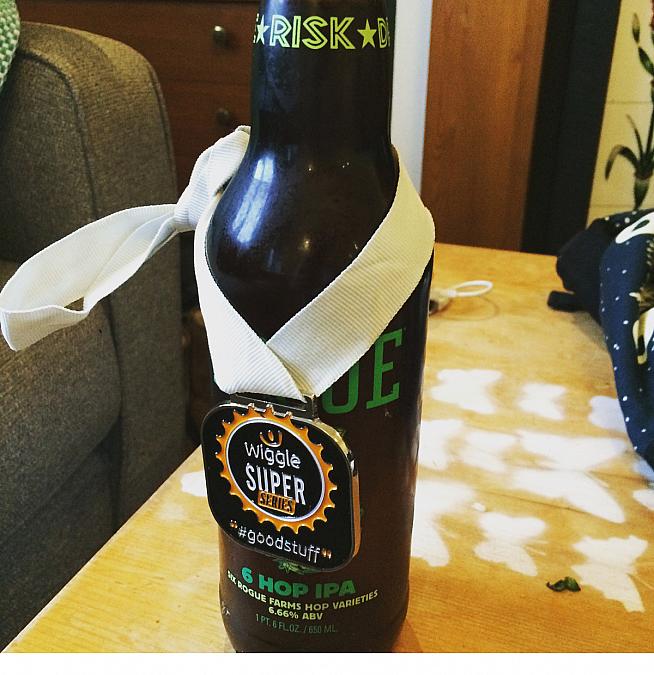 All in all, the Wiggle Royal Flyer is a very well planned and thoroughly enjoyable sportive through gorgeous countryside. It provides the perfect end-of-season wind down before the knobbly tyres come out and we move over to more muddy off-season pursuits, and is a lovely showcase for a beautiful part of the country. But don't all rush at once, will you? I kinda want to keep the the lanes to myself.
The Wiggle Royal Flyer Sportive returns on 29 October 2017. For more information and to register, visit www.ukcyclingevents.co.uk.
0 Comments