Last December I had another of those moments where I lost all rational thought, like I had a few weeks earlier when booking onto the Marmotte, and I entered the Ariégeoise XXL - a sportive which runs in late June.
Not heard of it? I thought so. For some reason, this great event, which is run every year in the Ariège department of the Pyrenees (with a different route every year), is totally anonymous in the UK. Despite it being listed on the UCI calendar and attracting around 5,000 entries every year, I get the impression it's very much a 'local event for local people' (to quote the dwellers of Royston Vasey), with the majority of riders being French or Spanish.
However, this isn't exactly some reliability ride or club sportive; at 168km and 4400m ascent, the Ariégeoise promised to be quite a day out, complete with all the palaver you expect from a European gran fondo: event villages, service centres, feed stations, and a free jersey to add to the collection!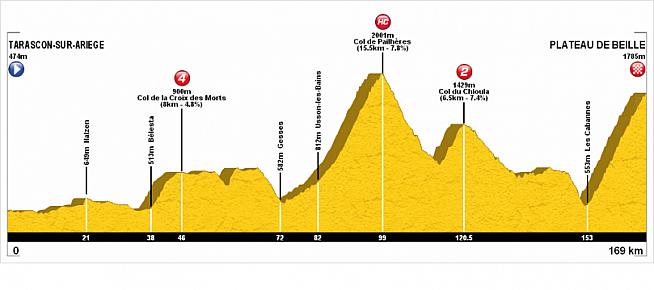 When I saw the route for 2016 a brief chill went down my spine; the day finishes with the huge ascent of the Plateau de Beille.
It's been used by the Tour a handful of times, most recently in 2015, when Rodriguez danced his way up the col in a storm to take the stage. However, it is generally overlooked by Prudhomme and co, as is typical of the Ariège region as a whole.
Just coz it's not a favourite of the ASO gang, don't write it off. I'd say it's possibly the most brutish ascent I've ever taken on; long, unrelentingly steep (it rarely drops below 8%, and is mostly nudging on 10%), and with many very straight sections that offer no mental relief, this is one you want to go into feeling strong.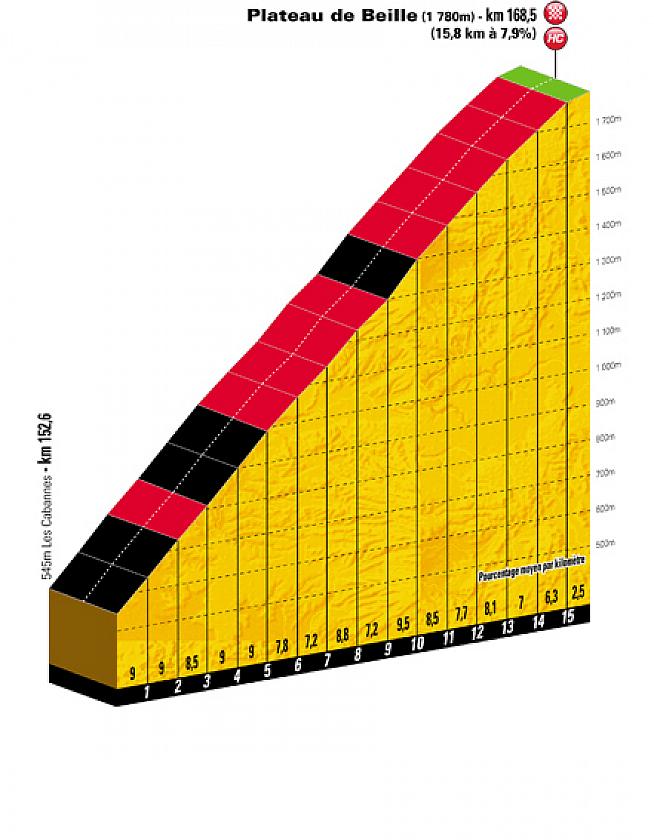 My friend Matt and I climbed the Plateau in July 2015 in the mid afternoon sun of a cloudless July day. As it's a functional road up to a ski station, as opposed to a tranquil pass only frequented by locals and idiots on bikes, it's wide, open, exposed and torturous. The relatively new road surface and steep gradient seems to radiate heat in all directions - it's a true furnace.
There's another huge col on the route, the Pailheres. I didn't know this one, but the gradient graph said it all; it's a truly typical Pyrenean climb that is constantly pitching up and down, preventing any rhythm or consistency of cadence. And at 16km long with 1200m ascent, it's easily comparable to better known HC passes in the Alps and Pyrenees.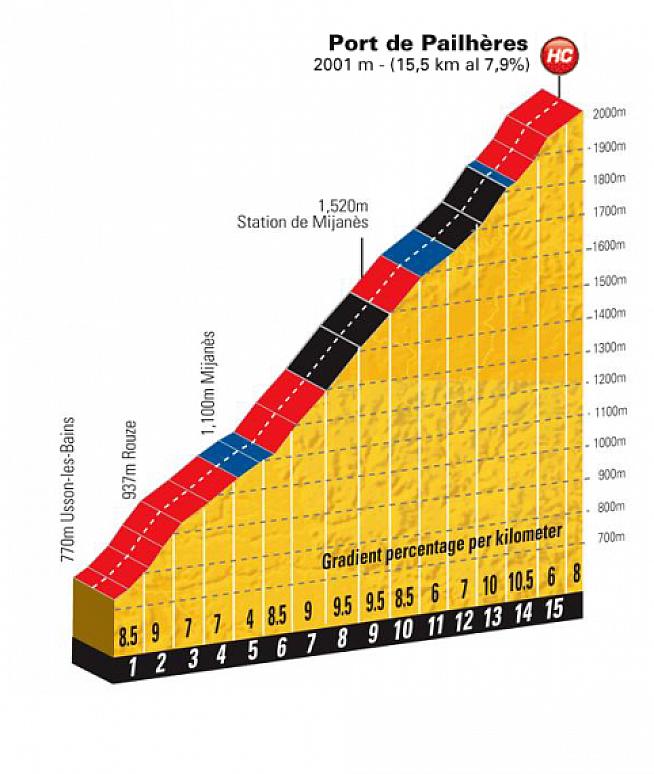 It was all shaping up to be a fitting prelude to the Marmotte, and the Ariégeoise more than delivered.
How did it go? I hear you ask. You didn't ask? Oh well, tough, you're going to find out anyway... Basically, it was pretty ace.
The before
To get to the start town and pick up all our crap (bib numbers and whatnot) we had to leave ridiculously early, like 5.30am. So all the kit was ready to go the night before, the breakfast was half made, the stash of bars, gels and other teeth-melting provisions were laid out like an armoury.
As I started to ready for bed, the most brutal thunderstorm (the preceding days had been c.32 degrees and so a storm had been long brewing) I've ever experienced unleashed its wrath, putting the fear of god into me to be frank. I lay there praying it would all get it out of its system before the morning.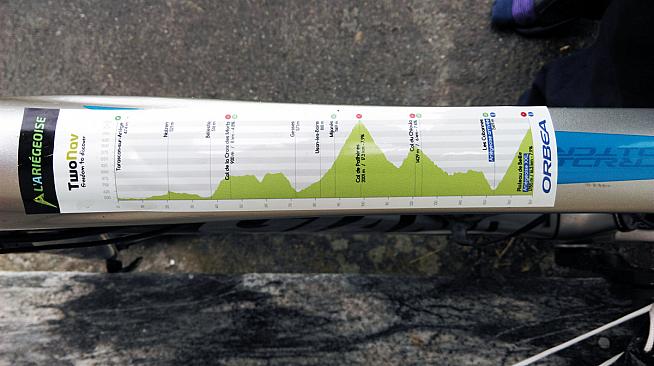 Following a 4.15 alarm and stagger to the shower, a vat of coffee and Hors Categorie bucket of porridge, fruit and peanut butter to match the cols to be faced later were semi reluctantly quaffed. The essential jam-peanut butter-banana sandwich was readied for eating en route in the van and the box of chocolate-covered coffee beans was stashed safely in my bag. This combo is fast becoming my 'transfer to big ride' meal of choice. It served me excellently at the Tour of Wessex, and worked a treat today.
Long story, but we arrived at the start town late, and in my rush to get my shit together and get to my start pen for 8am, I managed to have one of those terrible super slow motion cleat engagement fails and subsequent uber-embarrassing tumbles that you hope no one sees. Having tried to get into the pedals on a steep little hill at the car park and being put off my balance by a rider breezing all too closely past me, the fall from grace was shameful. Thankfully no bike damage (obviously, the first thing to be checked), but a lightly bloodied elbow. Fantastic. What a start.
The start
Despite my massive rush to meet the 8am time for the Ariégeoise XXL riders, I missed it by about 10 minutes. I either had to wait til half past for the next route's start time, or set off solo. I begrudgingly and grumplily set off alone.
Cue an hour of me riding out into the unknown, doing my best to follow the (generally excellent) signage, repeatedly telling myself to 'remain calm, don't blow your bollocks this early trying to catch up, just make sure you beat the broom wagon'. I managed to take a wrong turn at one point at a slightly oddly signed junction, putting me another 5 minutes behind and increasing my anxiety about getting timed out. It took all the discipline I could muster to just ride at wattage that I knew would give me good progress, but remain at an 'all day' effort.
My relief at seeing another rider from my route on the horizon, and catching and overtaking the broom wagon was immense. 'Just stay in front of this, and I'll be fine. I'll gain time on the climbs' became my mantra. For all of about 5 minutes that is.
All of a sudden, the next wave of riders, taking on the 'Mountagnole' - a 110km ride cutting out both major climbs - descended upon me. I shit you not, but a peloton of about 100 riders came flying past me at about 50kph. It was made up of what seemed to be all the local club riders, and they were expertly marshalled into their own bunches within the peloton, just like a pro race. This was clearly being seen as the local road race of the weekend, and this ridiculous start to a gran fondo is pretty common in Europe.
I thankfully managed to get into the wheels, and was sucked along for a good 30 minutes or so. Whilst this did great things for bringing me back closer to my fellow XXL riders, it was madness, really like a road race. I was almost knuckle to knuckle in the peloton, which was careering through narrow villages and around road furniture like it was a closed highway, with team mates shouting at each other and it generally being a bit boisterous. Keeping in the wheels around the torturous accelerations through junctions etc was tough, but well worth the dips into the red.
Eventually these guys peeled off to take on their route, by which point I was at the back of the XXL riders. To be honest, I was pretty relieved when the routes split and the peloton vanished; now I was in the field I wanted to be in, there was space to ride, and I could settle into the rhythm.
The middle
The defining point of the route profile was the Col de Pailheres, a monster topping out at 2001m. For some reason I'd got really nervous about it in the week prior. I was determined to not do my typical 'oooh it's a climb I'm really excited' big push at the bottom, leading to me inevitably flagging at the top, and set my pace to a power that I knew I could sustain on a climb that I was estimating would be over 75 minutes. For the first few kms it was great to be riding within myself, but still steadily working through the pack, not being passed at any point.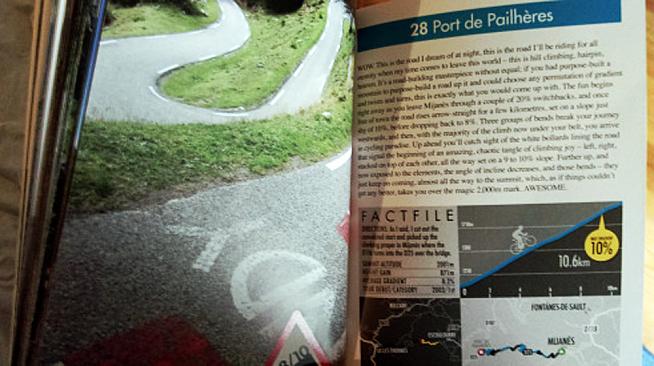 In Simon Warren's great piece on the Pailheres in his 'Climbs of the Tour de France' book, he gets very excited about it being a hairpin heaven, and once towards the top half, it really was. Banks of stacked 180 degree bends unrelentingly came at us, and it was a fantastic climb. Always changing, keeping you guessing, keeping you moving in and out of the saddle. The top half averaged 8-9% at a guess, and this type of gradient always seems to really work for me. The only thing holding me back was working through the other guys who were struggling and taking up the width of the, at times, very narrow (maybe 10ft?) farm road.
The only let down of the climb was that you could see NOTHING. As soon as you climbed to over about 800m, you were enshrouded in heavy mists meaning visibility was about 100m max, and that you were slowly but surely getting soaked through. Whilst riding into the cloud-covered peaks can feel quite epic, it does always leave you wishing you could see the world around you! The weather made me feel very pleased with myself that I'd opted for a Gabba jersey for the day. Although I was sweating like a pig down in the valleys, I was dry, and, obviously, warm. I knew from past experience that if my core starts to get wet and cold it's game over, prompting the donning of the trusty wetsuit-cum-jersey.
The top of the col was fucking freezing, probably about 6 degrees. Thankfully, I'd paced myself well and so was in a good state at the top, capable of kitting up and starting the cold and sketchy descent as soon as I could. The way down on greasy roads, in extremely limited visibility, was hairy to say the least, and brought back unpleasant memories of similar descents off other HC climbs like the Bonette and Tourmalet in similar conditions, so a steady and safe descent followed.
The end
Throughout the ride, I kept fuelling well, making sure I drank loads, and ate more than I probably needed. I was conscious in my mind that bonking and then having to get up the Platuea De Beille would be a horrendous experience, so went for the 'more is more' approach.
As the final ascent of the brutish Beille approached, the nerves started jangling. It was made all the worse by a difficult section of rolling road in the 10km prior, that seemed never to end and slowly sapped the energy. Determined to keep calm and keep up my thus far successful pacing strategy, I was patient and steady, and eventually I was in Cabannes, the start of the climb.
A final nervous re-fill of the bidons, and off I went.
75 minutes later, it was done. Again, the top 2/3 or so of the climb were done enshrouded in mist and wetness. The lack of visibility almost made the climb easier; when I rode it previously, my main memories were the endless long, straight and steep ramps that crushed your spirit, and the similarly mojo crushing way in which you can see the plateau itself with around 5km still to ride, making progress feel torturous. I made it to the top and felt surprisingly OK. My eating and pacing had worked perfectly and I almost felt that I should have given it more. Whilst I by no means pootled along the ride (and am pleased to say that I was never dropped on a climb, always gaining positions), I came back down the climb wondering what could have been...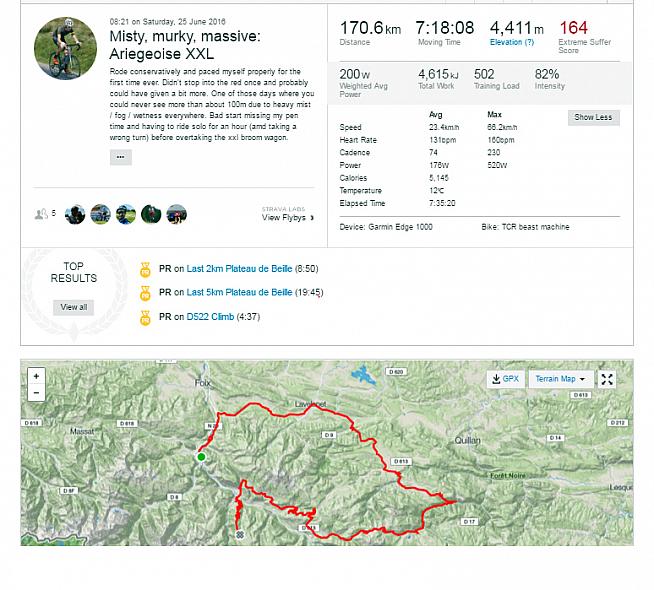 So, all in all, a good day out. I was approaching it more as training for Haute Route and Marmotte, and I gained a lot from it. It seems to have only taken me about 7 years of riding to learn how to pace myself. I'm a quick learner.
The event organisation and surrounding admin and bits and bobs were fantastic. The Ariège is an amazing, and relatively unknown area to ride in, and this is an event well worth its UCI status. I thoroughly encourage you to give it a go. Just be prepared for some very big, and at times, unpleasantly steep, climbs. The best types in my book.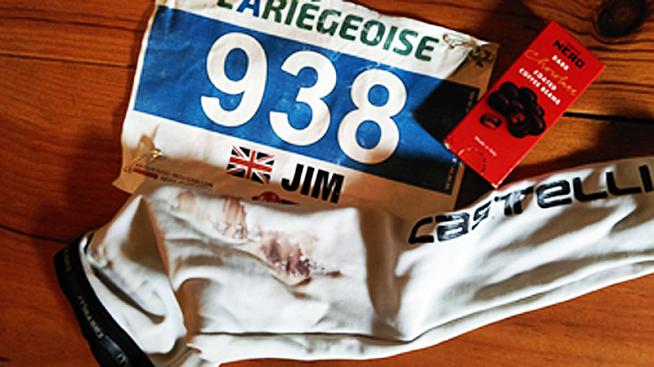 0 Comments