There are two highlights of the ICAP L'Etape London that pushed me to ride this sportive. The first one is the starting point at the Olympic Velodrome, aka the Lee Valley VeloPark in East London (a 15 minute ride from my house) and, the second one, the chance to meet this year's Tour de France winner Chris Froome.
Unfortunately, neither of these perks quite lived up to my expectations: as a regular visitor to the VeloPark the start location lacked novelty for me (not the organisers' fault of course), but more disappointingly, if you were not riding the short route the chances are you've still only seen Froome on TV as it seems he dashed off before the main bulk of riders from the medium and long routes arrived back at the finish.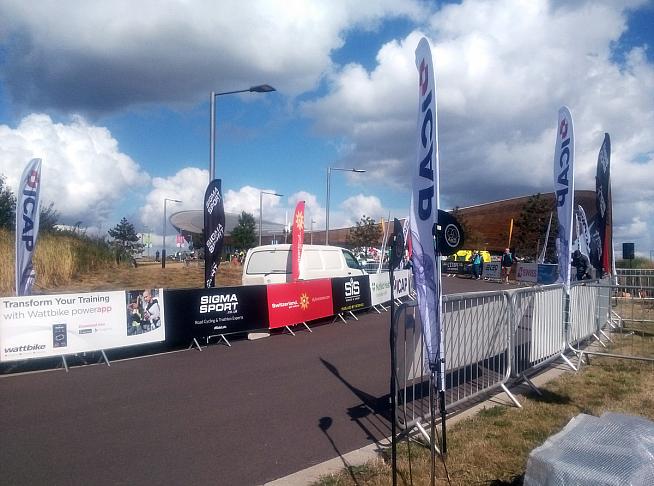 Anyway, less of my whinging and more facts now! As with many other sportives, L'Etape London offers riders three routes: short (79km), medium (147km) and long (185.5km). The medium and long routes take in many of the roads from Stage 3 of 2014 Tour, part of what the event bills as bringing "the glamour of the Tour de France to the capital".
I personally thought that it was really nice to find a sportive still offering a very long route. At this time of the year, many riders have already lowered down the mileage, but this is an excellent push to celebrate the end of the season ahead of colder months.
Starting line
The start line was for many a highlight. For London cyclists like me who train weekly at the VeloPark circuit around the Velodrome this was not particularly exciting, but the organisation was really good and I liked that my friends and I could all group in one wave without too much fuss and fluffing around. In fact, L'Etape allows friends to start together as long as you go in the wave with the latest starting time (e.g. if I had 7:55 starting time and my friend had 8:05, we would set off all together at 8:05).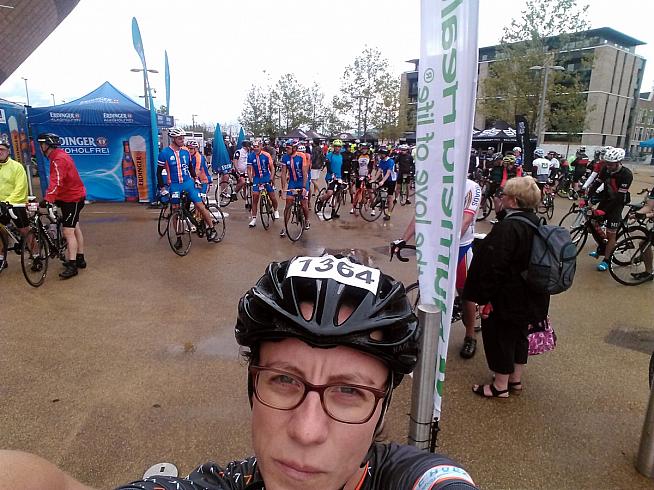 Getting out of London
I arrived at The VeloPark just in time to get into my wave. The sponsors and food stalls were already up and running, but I was surprised to see relatively few participants in the waiting area. Probably most of the riders for the long route had already left by that time.
Once we were grouped in our wave, just behind the black and yellow inflatable arch that was our starting line, I could actually spot in the far distance Mr Froome: possibly giving a morning interview on the other side of the VeloPark track. He soon faded away in the distance, probably to get ready and get changed to ride his own L'Etape London! I would not see him again, and nor did my friends (who probably care way less than me).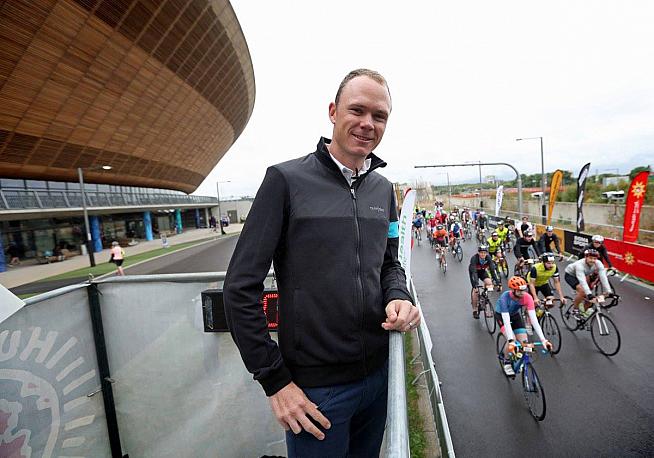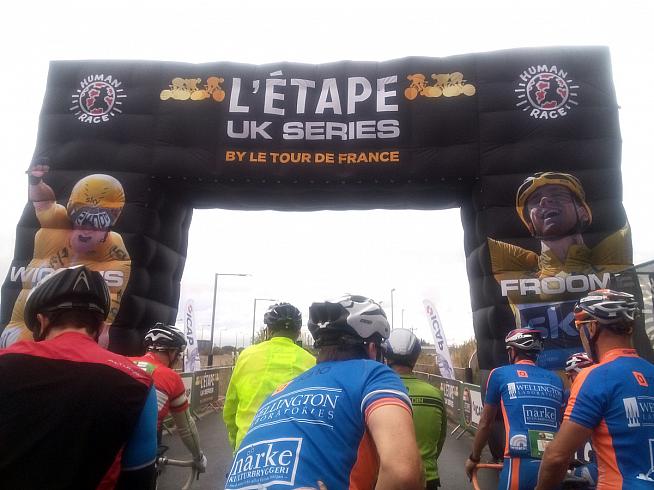 We left the VeloPark escorted by a motorbike. We would see a few of them along the way going along with the riders and offer support (before you ask - no, the Tour de France experience did not include being knocked down by the motorbikes!).
Medium route
I rode the medium route as the weather in the morning wasn't great. The weather forecast had rain and wind to keep us company all morning, whilst the afternoon turned out to be pretty sunny and pleasant.
We set out riding east, down to Epping Forest and into Essex. The course here, and on the whole, was really flat and fairly featureless - it didn't actually go into Epping Forest, so the menacing Mott Street climb was still a fair distance away from your route.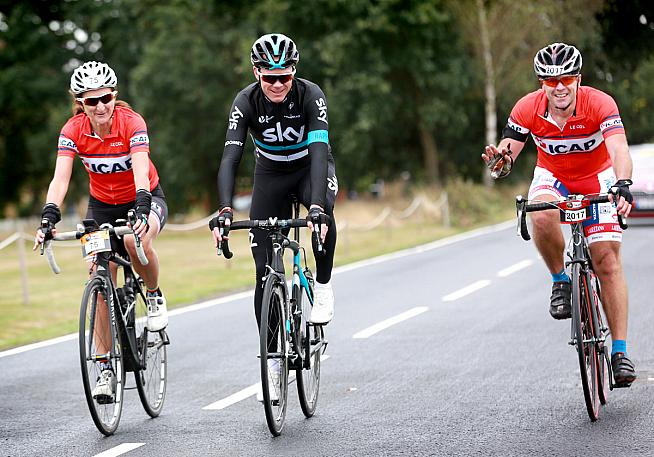 Just to give you an idea, after a relatively quiet month of training in September, I did the 147km of the medium route really easily: my legs were not screaming at the end, and my time was just over 5 hours with a visit to both food stops. You can see a fly-by of my route on the excellent relive.cc website here: www.relive.cc/view/724605711
Food stops
Human Race events have an excellent reputation for their feed stations, and I found this to be deserved. There was plenty of food to choose from, including savoury snacks like baked potatoes, corn chips and olive bread, and replenishing drinks as well as a great offering of SiS products (which are top quality, I believe) so... thanks for that!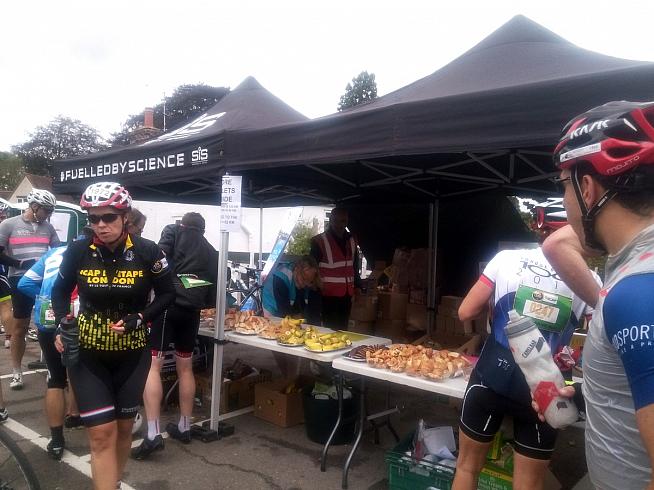 I was a bit surprised to see only two food stops over a 147km route (the long route had three along its 185km). Now, the truth is that I rarely stop at food stops anyway, but for the people who actually rely on them an extra stop may have been appreciated.
Nevertheless, the second feed stop had one of the highlights of the day: a musician who welcomed us with his accordion and a funny French man outfit, including the blue and white stripe shirt, red scarf around his neck and beautiful moustache!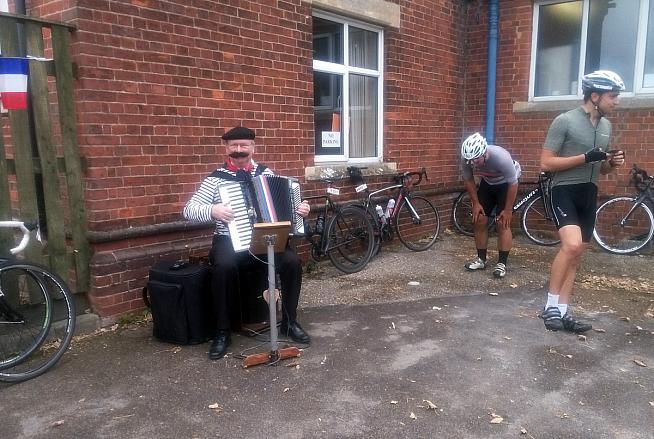 It was here that I noticed I had a slow puncture to my rear tyre. I asked the mechanic for help and he was immensely kind and pumped my tyre up in a few seconds. Me being lazy, I didn't actually replace the inner tube there and than - hoping the slow puncture was so slow that I could ride home without stopping up until the finishing line.
The last leg
If the accordion player was a highlight, one of the low points of the sportive was actually the finishing 60km back into London. Apart from the moto marshals there was an astonishing lack of marshals at junctions all along the way; at one point a sign seemed to have been taken down and quite a few (too many) riders rode in the wrong direction for up to 10km before realising they were off course. This is not ideal, when you already have already 100+ km in your legs (even more for the long route riders).
At about an hour from the end (not sure how many kms left as there were no distance markers on the course), I had to stop again to pump my tyre. Retrospectively, I should have probably just changed the inner tube when I had a chance. The low pressure in the tyre killed my back and on such a long sportive, your body does feel it and suffer from it!
Finishing line
The last 15km back into London are just through (quite obviously) the crazy East London traffic. I saw another participant comment afterwards: "at least some more traffic control on the last 10 miles - after riding 105 miles, the last thing needed was negotiating London traffic!" - and I couldn't agree more.
By now it was early afternoon, the sun was high and we had quite a few horrible drivers to be wary of. Though, I was lucky enough to bump into a bunch of ICAP riders who were still quite fast, friendly and incredibly funny. By trying to be on their wheels, I actually had quite an impressive last leg of the route (by this time I left both my friends behind: sorry guys!!).
I arrived back at the VeloPark with this group, but a bit too exhausted to sprint around the last of the VeloPark. Never mind, I said to myself, as there's no way I'd beat my PR on it with 146km already in my legs!
No podium photo, no Froomey
I hung around the VeloPark for about an hour after I'd arrived. I had to ask my boyfriend to take a picture on the podium with his mobile phone because, unlike what was advertised, there was no "Tour de France finish podium photo experience"... unless you consider a selfie a photo experience!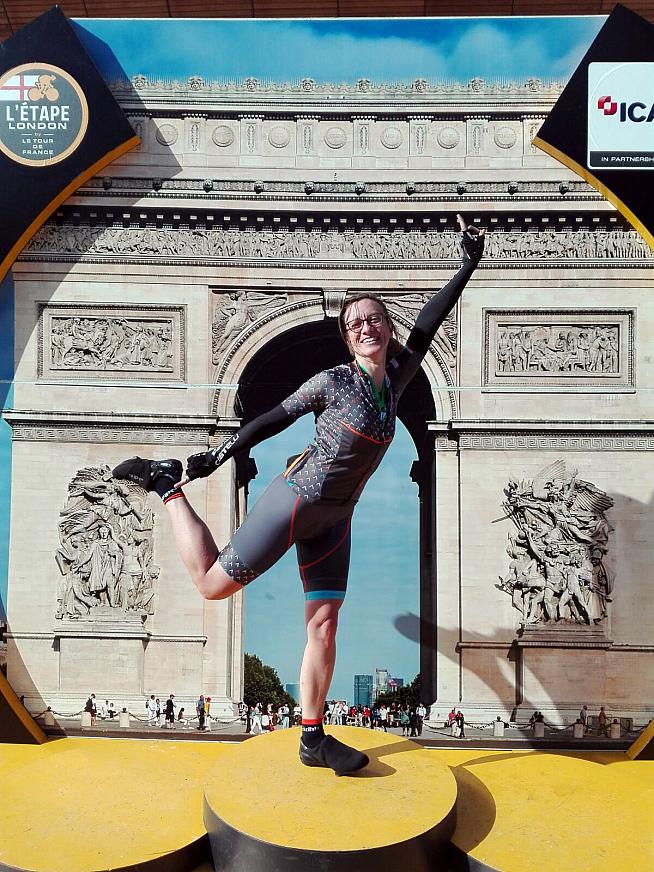 Unlike most sportives, including other Human Race events, there was no finisher's bag at the end. After an epic effort riders were greeted with a medal and had to fetch a glass of water at a nearby stand (horror)!
And when I asked the staff how we see Froomey (mind you, it was only about 2:30-3pm by now) the girl told me that he was out and about earlier in the afternoon but believed to have left by the time riders from the medium and long route actually arrived at the finishing line.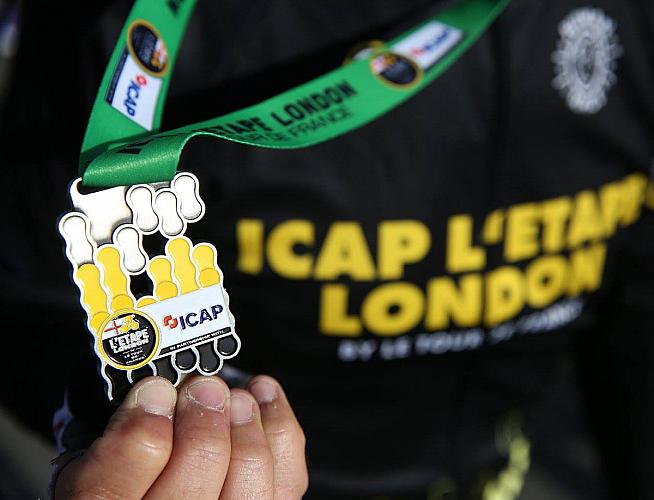 L'Etape London is priced £49 for the long route (£2 less for the medium), and while riders are promised a Tour de France experience I felt a little underwhelmed by some aspects. I guess, though, that riders less familiar with the VeloPark, and certainly those who were lucky enough to meet and ride with Froome, came away with a very different - indeed, unforgettable - experience on the day.
L'Etape London is only in its second year, and no doubt will continue to grow and improve. Next time though, if I catch Froome at the start I won't let him out of my sight!
1 Comments