It's fair to say I've not had the best of seasons so far, what with a virus in January turning into months of bronchitis, wheezing, and a cough my colleagues have long since got sick of; so the London Cycle Sportive on Sunday 26 June was actually my first real sportive of the year. Although writing off the season for racing, at least it means I can have some fun rides instead and the Telegraph London Cycle Sportive, 'Powered by Maserati' (and my legs, and potatoes — but more of that later) was definitely fun.
Organised by Human Race and finishing at Herne Hill Velodrome, the event offered three different routes: 48km, 104km, and 166km (103 miles). The 166km option, with a reported 1,000 metres of climbing, was the ride for me. I'm not entirely sure who did 'report' that figure for climbing, as it turned out to be more like twice that; but I wasn't really complaining, the route was great and sometimes it's better not to know what lies ahead of you.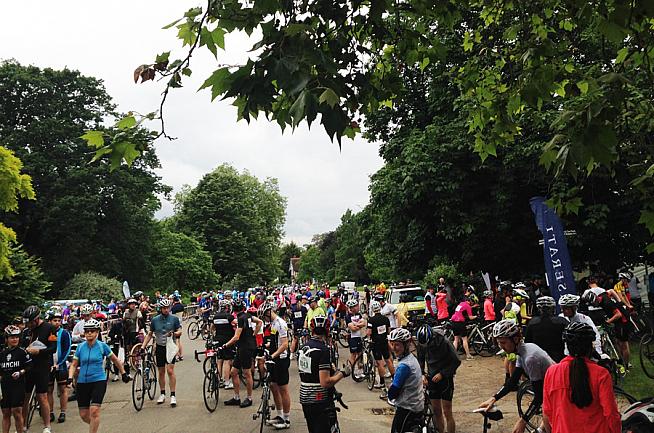 My start time was at 7:30, after only 5 hours sleep the previous night — a combination of a late shift at work, those pre-race fitful dreams (where you dream you've turned up at a race without your shoes, gone to the wrong place, or you're riding a shopping trolley), and a really humid night. After standing under the shower for a bit, shoving a load of porridge into my face, and then downing some coffee I cycled from North London to Dulwich for the start.
Riding to any large event you slowly begin to spot more and more people heading in the same direction and soon small pelotons start forming. Usually there are one or two people who have some idea where they're going, with a group of somewhat lost individuals tagging along with them. In this fashion I arrived at Dulwich Park with around 10 other riders at the start area, which comprised various sponsor gazebos, the PA playing 'Pre-race Energetic Mix #3', and an MC wishing us all a great day.
Having another night shift immediately after this event I'd brought a backpack packed with shoes, clothes and recovery shakes. There wasn't an official bag drop, but while I considered stashing my stuff in a hedge in the park, a lady from the sign-on table affixed a tag to it with my race number and said that it'd be waiting for me at the end; which it was. Thank you to that lovely lady!
Rolling into the start funnel, we were briefed about the event and reminded we were riding on live roads, with no closures, although this lends events an audax feel and makes the feed stops much more attractive as it's a good time to hang out with the bulk of the riders in the event. So much so that I stopped at all three, although that could be due to the flapjacks and amazing roast new potatoes with rosemary that were on offer.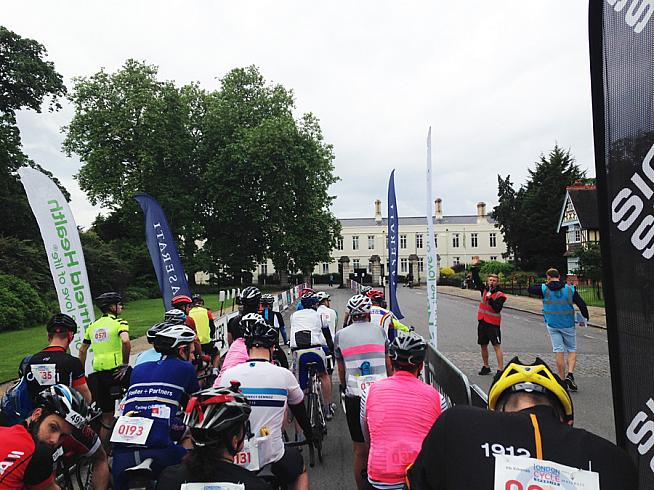 The course took us on a familiar route out of London via Crystal Palace and down Anerley Hill; a road I was glad I was going down rather than up! Passing Elmer's End and West Wickham brought us to the more bucolic roads near Biggin Hill. Although the ride out of town hadn't been too busy it's always nice to hit the country roads, and we were all starting to warm up by this point.
We were soon at Titsey Hill, home to White Lane, the legendary location for the Bec CC hill-climb. The road is only 700m long, but ramps up to 25% near the top. It's a ride I've done twice. Well, once and a half; I fell off the second time...but only because I'd stopped to chat with friends, forgot I was in a low gear and nearly did a back-flip when I started off again. It's intense though; the first time I rode to the top I arrived with my vision blurred and feeling like I'd gone into the future! Anyway, that wasn't included on today's ride, thankfully.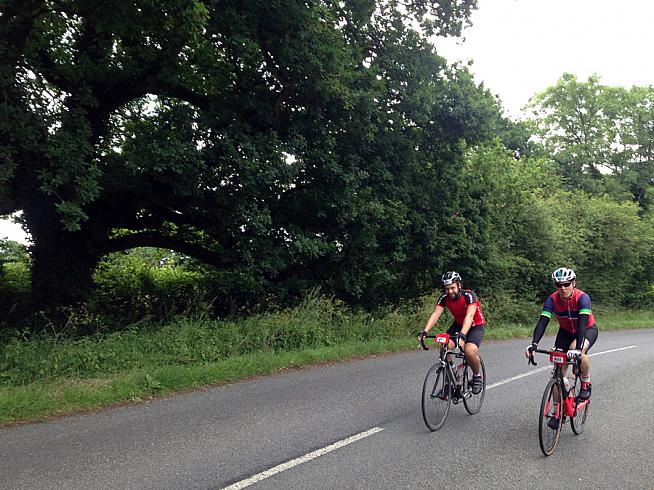 Heading along The Ridge we plummeted down Gangers Hill, eventually picking up Tilburstow Hill Road. Turning right at Blindley Heath we headed towards Outwood where the first feed stop was located, in the car park of The Castle pub. After flapjacks and refilled bidons we skirted Hornecourt Wood and followed the pleasant roads towards Betchworth, in the shadow of Box Hill, where we turned almost back on ourselves returning to tackle Box Hill some 50 miles later.
Other than a bit of a ramp near Glovers Wood the route was quite fast and rolling towards the next feed station near Walliswood. Here the organisers had provided what can only be described as a trough of roast potatoes with rosemary, along with lots of the customary flapjacks and other sweet and savoury snacks.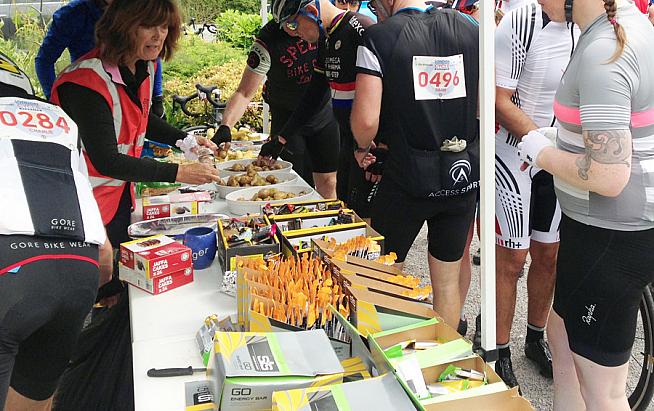 Fueled and ready to go we headed through Ewhurst then hit Pitch Hill and, surrounded by trees, we cranked up the hill into Winterfold Wood. It sounds like a place on Game of Thrones, but this wood has a pub and a B&B so it's probably a bit more welcoming. This was the first of two big spikes we had to climb, the second being just past Shere around 7km later. By this time we had 100km in our legs, and climbing up Coombe Lane we reached a left-hand blind bend. I heard a guy about 100m ahead deploy the f-bomb as he saw the road kept ramping up around the corner too. It made me burst out laughing at his comical surprise.
Pressing on via Gasson Wood we followed the signs towards an offset crossroads. The sign pointed right so we went right. It was only a few kilometres down the road that we bumped into a group of fellow sportive riders and it was clear we'd taken a wrong turn; we should have gone straight across. After some smartphone navigation and a shout of "Where's Box Hill, mate?" to a passing cyclist who then gestured "over there" we were doubling back and on the correct route. Rumours had it that somebody had stolen a sign, but you never really know. Maybe it dropped off...or a dog ate it...or something...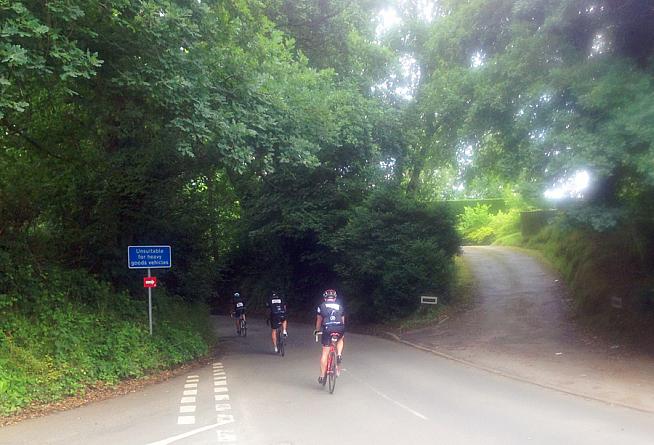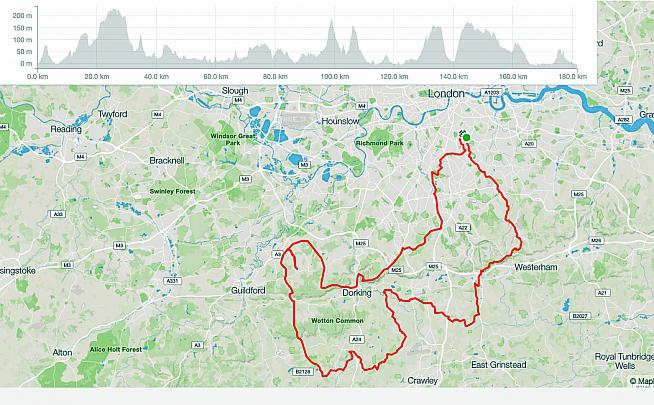 Back on course, we looped around to the east and headed for the picturesque village of Effingham. Rolling out of the village we hit the climb up White Hill; a crank up into the woods, complete with a perfectly positioned temporary traffic light system halfway up which meant having to stop on the incline, dismount and wait, then get going again. However, we were soon at the top and descending Ranmore Common Road.
By this time we had 140km behind us and up next was Box Hill. As regular riders of Box Hill know, it's not the most aggressive climb, but it can still do some damage. After an enjoyable ride up there I stopped for a bidon fill-up and some last of those roast potatoes and a bit of flapjack; I have to admit I'd been thinking about those potatoes for a while now.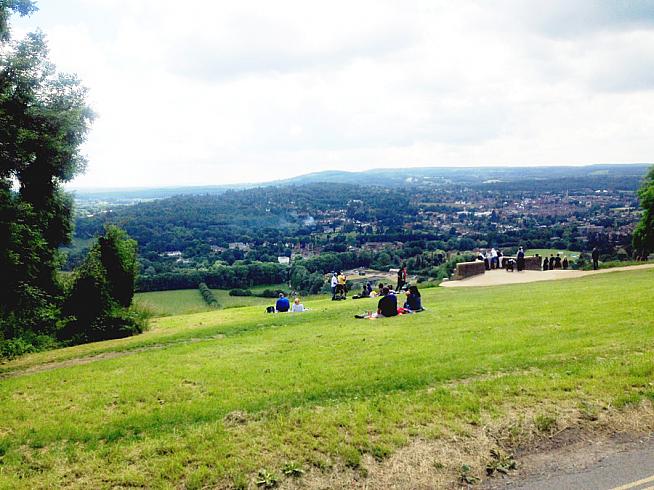 Leaving Box Hill behind it felt like the home lap and we headed back towards London, slaloming to the west of Croydon then the east of Streatham and heading for Herne Hill. Arriving at the track we got the chance of a Roubaix-esque final lap of the velodrome before finishing in the infield area; a really nice touch. Riding around the track I thought I'd give it some beans but then immediately thought "falling off here would be a bit stupid" so I slowed down a little, cruising into the finish funnel after 181.5km and 2,394m of climbing with a big grin on my face. It was a great day, well organised, and the volunteers and marshals were really helpful and friendly. The start and finish locations were perfect and it was definitely a well considered route, much of which I'm going to re-use on other rides in the area.
After collecting a medal, sundry free goodies and my bag, all that was left for me to do was head to work, have a shower and survive another 8-hour night shift. Well... maybe I could spare a minute or two to work on my tan first.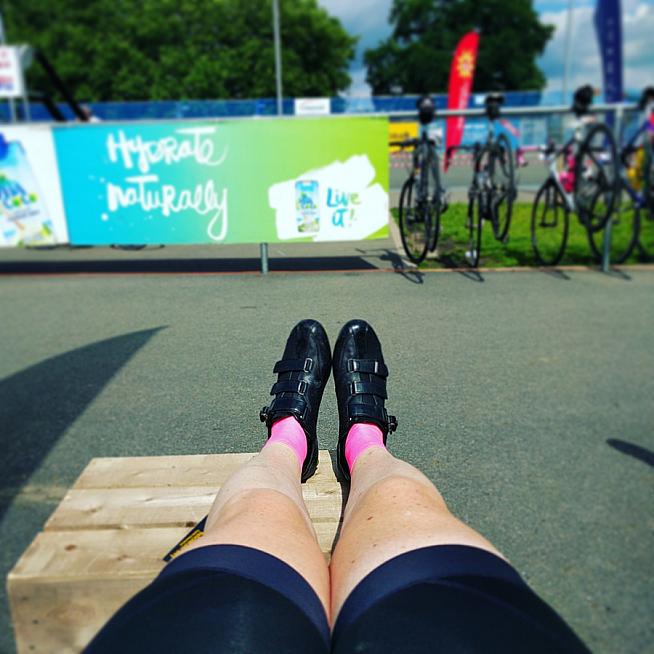 0 Comments