Sportive.com publisher Joe Saumarez Smith rides the Maratona dles Dolomites, Italy's most famous sportive.
I was worried. Last year I rode the Marmotte, one of France's most famous sportives, and beat my friend Dan by a couple of hours. However the Dan that turned up on my doorstep to drive out to Italy for the Maratona dles Dolomites was a different version of the Dan who had been in the French Alps last summer. This new Dan had clearly been in training and was in prime condition for the Maratona. Over 1,200 miles on his turbo through the bleak New York winter, followed by a lot of club riding and various gran fondos had clearly had a positive effect.
By contrast I had not done enough preparation. I had ridden a couple of sportives in the early May bank holiday weekend and ridden the Velothon Wales in a pretty respectable time but work pressures had meant that I simply had not been out on enough long rides. That said, my base wasn't terrible and my times up north London's legendary Swains Lane climb were on par with last year.
As Dan and I drove out from London to the Dolomites, it did occur to me that there was a chance he would be faster than me. But he still had a lot of time to make up, judging by the previous year's Marmotte.
We stayed in a hotel in Selva di Val Gardena, about 30 minutes drive from the start line near Corvara. You can read all about preparing for the Maratona in more detail in another article.
The alarm was set for 4.30am. At 1am I woke with stomach cramps and that was the last time I had any sleep. Nerves? Dodgy supper? I don't know but my stomach was not at all happy.
Oliver, the hotel owner, had left out a breakfast for us but was out of bed early to serve coffees to Dan and the two British guys from Dulwich Paragon cycling club who were also staying in the hotel. He clearly thought we were pretty mad.
We were in the car by 5am and heading for Corvara. We had been told when needed to be in our starting pens by 6.15am at the very latest (if you miss the cutoff then you are sent to the last pen). We parked about 1km outside Corvara in the car park of the Colfosco ski lift - four euros for the day and a car park attendant already checking tickets at 5.30am - and after the usual last minute checks and a quick chat with a fellow Rapha Cycling Club member we were on our way down to the start line and in the pens by 5.50am.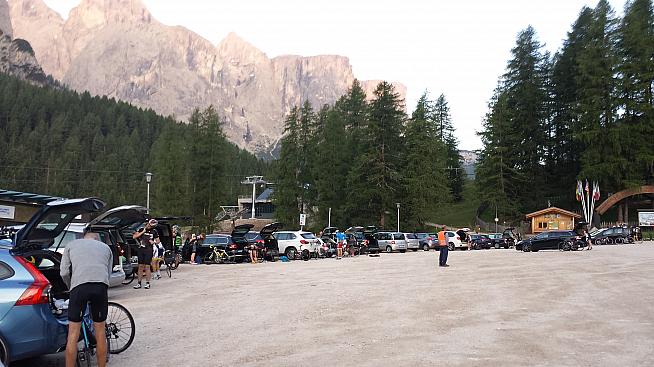 The Maratona organisers had given me and Dan (who edits GranFondo.com) press places for the race and had allocated me bib number 150. As a result I found myself in a pen with all the leading race contenders, previous winners and a selection of people like me who were either on sponsor's invitations or had some connection to the organisers. The organisers also seem to have a policy of putting all the female riders in the first two pens so there was a large over-representation of women in the pen by comparison with the overall race where just 258 of the starters (out of roughly 4,600) for the longer race are female. It was great to be starting so early but I also knew I would spend a lot of the day being passed by superior riders.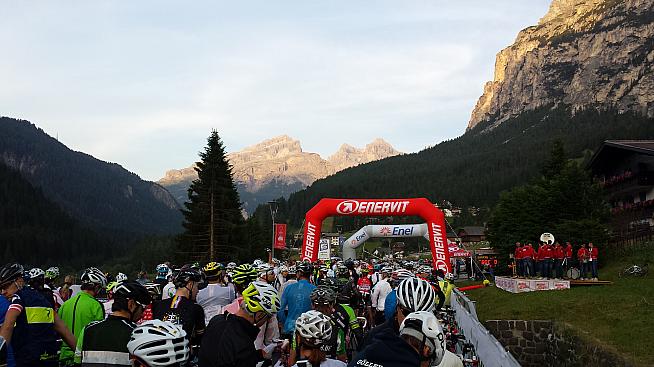 I was quite relieved to find that I wasn't the only person in the first pen who hadn't shaved his legs. I don't think many people were paying much attention to the state of my legs as a group of fairly well refreshed young men were doing their best to entertain us with their home made drum, vuvuzela and crate of beer, which they proceeded to offer us as an early morning refreshment. I thought they were at the end of a long night but others reported seeing them at the Mur de Gaat in mid-afternoon, so perhaps they were just starting early.
As the 6.30 start time approached the announcer became increasingly excited and the helicopters from RAI sport - the Italian national broadcaster who shows the first five hours of the Maratona live - buzzed ahead. As the race started (and the Maratona is a proper race although no prize money for the winner, just the recognition and the sponsor's appreciation) a funk band serenaded our departure.
The start was not quite as fast and furious as I was expecting, perhaps because it was slightly uphill, but I kept to the right of the road to allow others to overtake. About 90 seconds later the faster riders from the later pens (they set off the pens at very short intervals, roughly two minutes apart) started streaming past with an array of warning shouts and mainly Italian profanities. About a minute later there was a sudden shout of alarm and the sound of crunching carbon fibre somewhere over my left shoulder as what sounded like a group of five riders colliding. I didn't look back, fearful that I myself would cause a crash.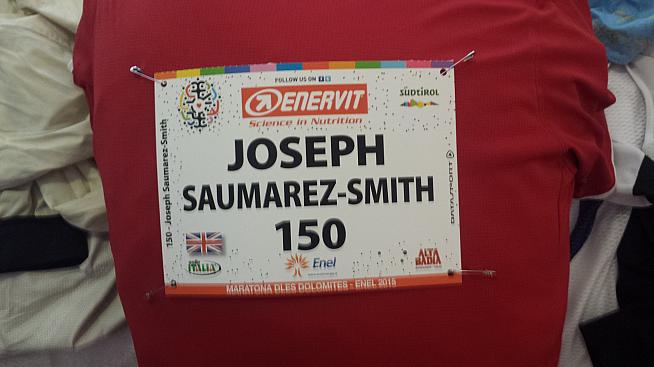 Five minutes later we were riding through the centre of Corvara with plenty of locals and families of riders out to cheer us on, despite the early hour. Then the first climb of the day, the Passo Campolongo (5.8km at an average of 6.1%), was on us. There was still a decent crowd, including a man in lederhosen cracking a long whip on the side of the mountain (some people pay good money for that sort of thing). The real pain was still to come.
With number 150 on my back I spent most of the first four climbs being passed by much faster riders. This was true whether I was going up or downhill. On the descent down the Campolongo I stuck well to the right as Italians who knew the roads flew past at terrifying speeds. I don't think I passed a single person on the first descent.
One person I did encounter during my first three climbs was Alex Zanardi, the former Formula 1 and CART driver, who lost his legs in a motor racing accident in 2001. I caught him midway through the second climb and then found that he was basically on exactly the same pace as me for the next 30km or so. The difference was that he was in a handcycle and it was incredible to watch him and see how much power he was putting into it. It is no wonder he is an Olympic gold winning athlete. As I passed him and then he passed me (he was much faster on the descents than I was!) there were so many Italians saying "Bravo, Alex" and suchlike, clearly so proud of his achievements for his country. It was all pretty humbling how fast he is and clearly he's an elite athlete in any sport.
The Passo Pordio and Passo Sella descents were a little better than the first one of the day - I was a bit more confident and felt a bit better than I had earlier in the day - and by the time I was descending the Passo Gardena I was only passed by 28 people over a roughly 10km descent and while I didn't count how many I passed, I was definitely in surplus in terms of moving up or down the field. My top speed was 66.8km/h, which was probably fairly pathetic.
The views on these climbs and descents were fantastic. The scenery in the Dolomites is very attractive and it was a pleasure to ride and take in the surroundings. The roads were in decent condition too, especially the descent of the Passo Gardena which had fresh tarmac for large sections. By the time I got back to Covara - the finish line for the 55km 'Sella Ronda' course (which is not trivial by any means) - 3 hours and 5 minutes had elapsed.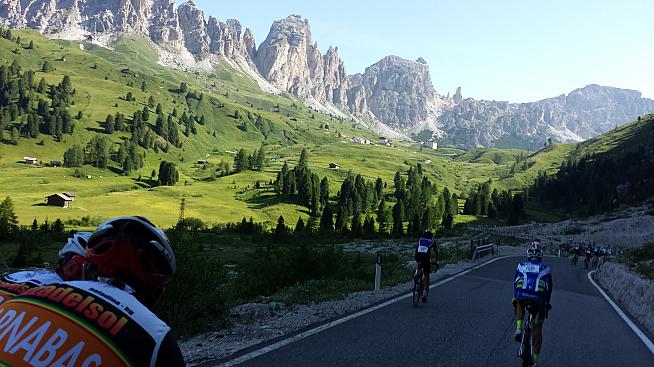 By then there were tons of spectators in Corvara to cheer us on through the town and out to the second ascent of the Campolongo. I felt okay but the temperature in the valley was definitely going up rapidly, which was bad news as I am not brilliant at coping in heat. Perhaps if I had a little more practice I would be better but given 27 degrees in London is considered a heat wave, I am never likely to be as acclimatised to summer weather as an Italian. I made it slowly up to the top of the Campolongo, stopping once to take some photos for this article, but feeling okay (and much better than the person who was being hauled away in the back of an ambulance).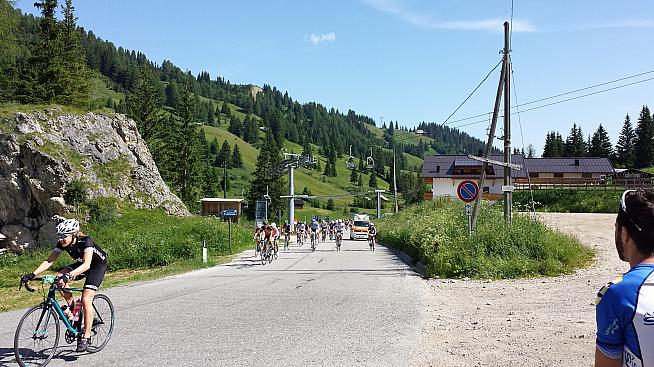 At the bottom of the descent of the Campolongo I stopped because I was feeling a bit of cramp in my right foot. It has happened before and usually gets better when I adjust my sock. As I was doing so Neil, the club captain of the Rapha Cycling Club, whizzed past and shouted his greetings. That was the signal to crack on and ten minutes later I caught up with him at the feed stop before the famous Giau climb. He had told me previously that if I could survive the Giau then everything after that would be fine; this was his fifth Maratona and he looked in good shape. I was busily eating bananas and necking Coca Cola, trying to get as much energy into my body before Giau as I could.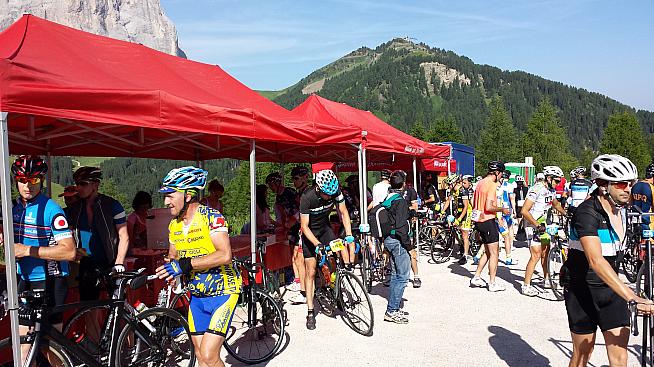 Shortly after the feed stop there is the turnoff for the shorter 106km middle course and in retrospect I probably should have made the turn. Instead I headed off on the longer route.
The Giau is not the longest or the steepest climb I have ever attempted. It was however the hardest. I don't know how many times I stopped on the climb but it was a lot. It made the climb of Alpe d'Huez at the end of the Marmotte the previous summer seem perfectly reasonable. I could feel myself overheating with monotonous regularity. The temperature on my Garmin peaked at 38 degrees (100 degrees fahrenheit). My skin felt really cold, which is definitely a bad sign when it is that hot outside. I would stop, allow my heart rate to drop (and watch a few hundred people go past me) and then get back on the bike and do another five minutes before having to stop again. It was not pretty.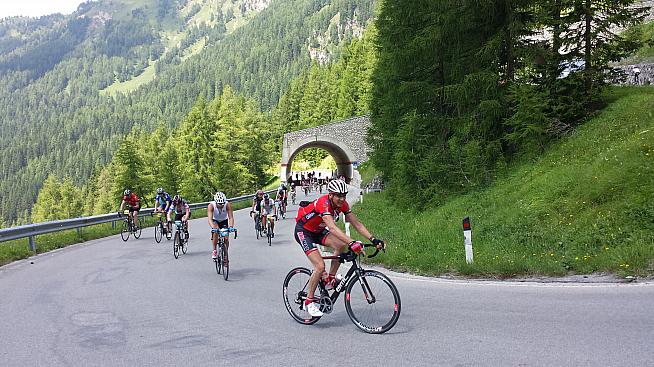 At the top I was shattered. I needed water to pour on my head and Coke to pour down my throat. I was weak with exhaustion. I sat down on a rock to recover. I remember the area stank of urine (there are plenty of portable toilets available but for some reason people want to piss next to the cars) but I didn't mind that much. I just needed to lower my heart rate. Dan suddenly appeared and shook my hand. He'd arrived about five minutes behind me and was looking a lot fresher than I felt. He expressed concern about my welfare and even said "There's no shame in giving up", to which of course I replied that there definitely was.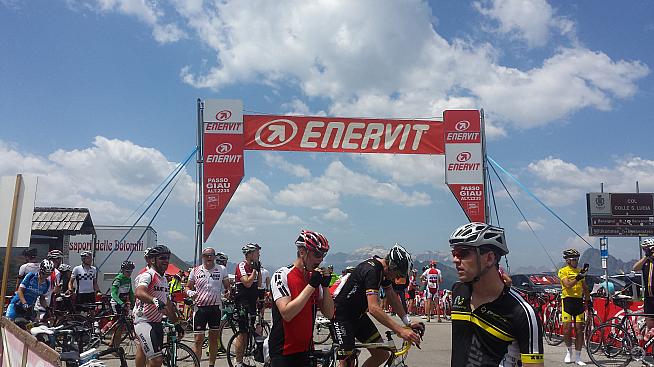 After about 15 minutes rest I started to feel a bit more human and even managed a piece of the local cheese that was on offer at the feed station, although I resisted a glass of prosecco which was also on offer (I didn't see a single person who tried the booze option).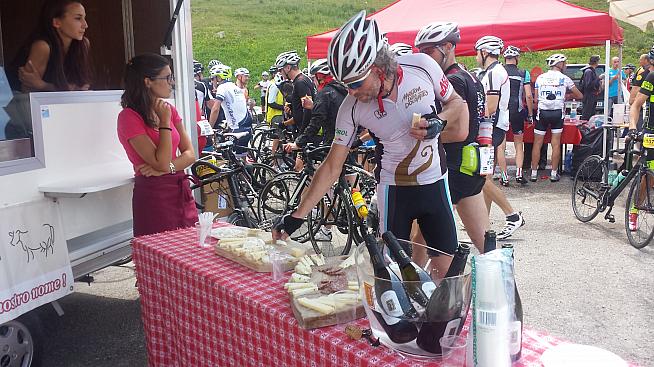 I urged Dan to crack on and a couple of minutes later I was back on the bike and descending the Giau, taking it fairly easy because I was feeling quite weak. At the bottom I caught up with Dan, who had stopped to take off his jacket, and we pedalled our way up Passo Valparola together for a good 30 minutes before my right foot started cramping again and I needed to stop to adjust my sock. It was good to have Dan there to check that I was still in one piece. The Valparola is 11.8km at an average of 6.7% but it has plenty of flatter sections and there was a bit of shade and while I was feeling pretty rough I was pretty sure I'd be able to finish. Somewhere along this section my Garmin ran out of battery so I wasn't able to see how hot it was or how slowly I was going but it must have been impressively slow.
At the last feed stop of the day I was feeling pretty awful. Getting off the bike I was a bit dizzy and I needed to find somewhere to sit and calm down. I was not in good shape. However there was only a short uphill ride to the summit and I told myself that the worst was over and that pretty much the rest of the way home was downhill. I was more or less correct.
Over the top of the Valparola there is a lovely descent back to the start line, followed by the final climb of the day in the form of the Muro del Gatto (translates as Wall of the Cat), a 360 metre timed climb which only rises 47 metres but gets as steep as 19% at one point. A few long-suffering spectators were still there to cheer me on (I assume it was a lot busier earlier in the day) and I managed to get up it in a respectable time of 2:31, which was faster than quite a lot of the people who finished a long way in front of me.
The last 4km ride to the line was fine and I even sprinted in the drops for the final kilometre to cross the line in 8:48.05, to finish 3,878th overall and 748th in the 40-44 age category. To put that into context, there were only 4,448 finishers in the 138km race and the last person finished in 10:01.20.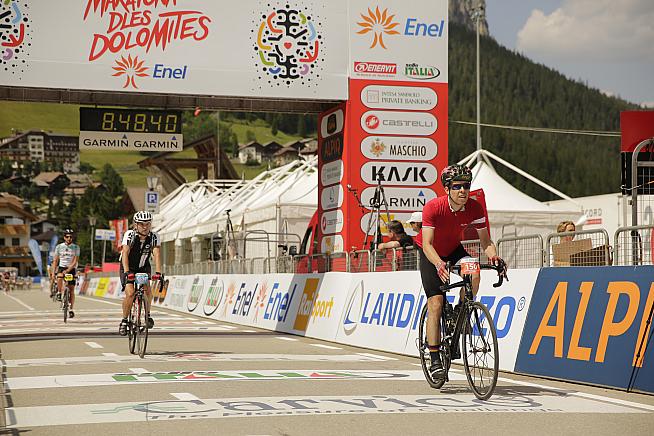 Dan found me immediately after the finish and steered me to a spot in the shade. I was broken. After about five minutes he offered me a beer but I was so shattered that I didn't even want one. We retired to a nearby cafe where I sat recovering with two Cokes. I felt completely drained and not very well. Dan suggested I meet need some medical attention and we agreed that if I wasn't feeling better in five minutes we would go and find a doctor. Fortunately I did perk up a little and half an hour later we were back on our bikes and pedalling slowly back to the car. It was only really the next morning that I felt anywhere near normal again. Dan had beaten me by 18 minutes and had managed to get round without stopping (apart from the feed stations), thanks to his sensible policy of riding with a 32 cassette and also strictly keeping to his heart rate zones and not overdoing it. The improvement in his riding since the Marmotte last year was incredible and it was a massive bonus for me that he was there to look out for my welfare and to make sure I didn't expire once I had finished.
The Maratona is an amazing event. But it is a tough event. There really is no proper point to rest and recover as you are riding - the profile of the route is such that you are either climbing or descending, both of which require concentration and effort. Add in extreme heat and it becomes super tough. Was I fit enough? Probably not quite. Being ill the night before did me no favours either but I really don't know whether I suffered so much because of that or because I just hadn't trained hard enough.
I didn't have the energy to appreciate what was going on for the second half of the race but early on I thought how fantastically well organised the event is, how much everyone is committed and enthused about it and how it feels better than any sportive I have ever ridden. Touches like the free Maratona jersey and gilet for every entrant are fantastic and it is a pleasure to ride on closed roads and feel that the locals are not massively hostile to the idea of it. I'd love to ride it again but please don't tell my body that for at least another month.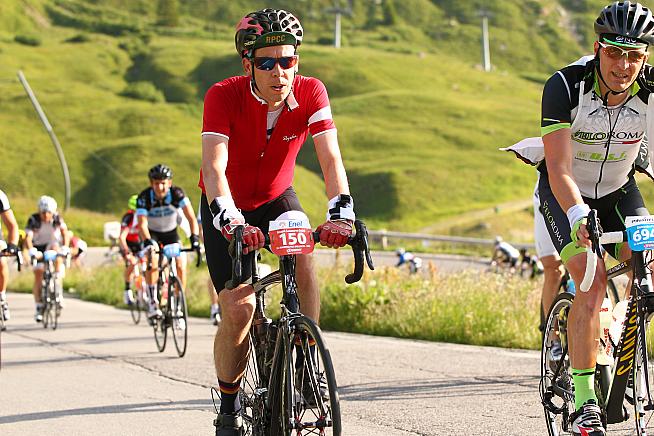 Read Dan McCausland's Maratona ride report on GranFondo.com.
0 Comments