Entries for La Marmotte sold out in record time again this year with the 7,500 places registered in the space of around eight hours. Undoubtedly this reflects the growing popularity of one of Europe's great sportives, as well as the improved online ticketing systems that organisers Sports Communication have put in place.
If you've got a place on La Marmotte, well done. Now you have to decide how to get there and where to stay.
If you haven't got a place, don't give up. Of the 7,500 spaces that were on offer, approximately 1,000 were allocated to tour operators who have an official relationship with the organisers. Or you could buy one of the 30 'entry only' places being sold by Cyclomundo at 120 euros each (only about 35 euros more than if you'd paid for the official entry to the Marmotte)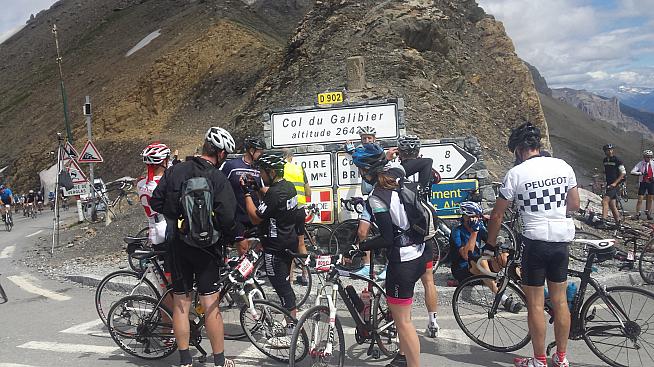 Obviously it costs a bit more to use a tour operator but some of the packages are pretty reasonable and it is by no means a certainty that you would be able to organise it cheaper yourself, once the cost of flights, car hire, food, hotel/self catering accommodation and everything else is taken into account. And if you have a busy job and a family to look after (as well as trying to fit enough training in to be fit enough to ride the Marmotte) there is a lot to be said for using a company with local knowledge to make sure that all the details are taken care of.
One other thing to note is that because everyone knows the date of the Marmotte years in advance - it is always the first Saturday in July - and the route is also always known, the best accommodation is already booked by the tour companies years in advance. So if you organise your own trip you're at an immediate disadvantage.
That said, I've organised my own trip in the past and only started sorting it out in late May, so it's not impossible to do it yourself (unless you don't have your own entry!).
Based on our experiences of riding La Marmotte and other recommendations, here's who we suggest as tour operators:
We had heard about More Than 21 Bends from friends who recommended them for their local knowledge of the Alps and their passion for mountain cycling. They are a British-run company based in Bourg d'Oisans and they have access to a good range of accommodation in Bourg (where the Marmotte starts) to cater for all ranges from luxury to budget requirements. Helen and Phil, the owners, know the local area intimately and Phil even runs the local bike shop in Bourg (and will rent you a bike for the Marmotte if you don't want to bring your own or it gets crushed by an airport luggage handler). They currently have two packages for the 2015 La Marmotte: 1) a week long Gran Fondo Tour package which runs from 28 June to 5 July and has guided rides of the Col du Glandon, the Telegraphe and Galbier as part of three days of riding at the start of the week. The cost is £699 based on a shared room and includes bed and breakfast, a mini feed station at the bottom of Alpe d'Huez, a recovery area at the finish line and access to a bike workshop to make repairs to your bike if anything has gone wrong (entry to La Marmotte costs an extra £100 and the single room supplement is £200). 2) Petite Rive three night package which runs from 2 to 5 July. £399 per person based on sharing a room for four. B&B plus the ride support in the Gran Fondo package (£100 supplement for entry to La Marmotte...please note these are only available if you book an accommodation package).
Velocamps organise around 16 cycling tours per year and only deal with cycling holidays, so they are specialists. They come highly recommended and have plenty of local knowledge for the Marmotte. For 2016 they have booked a four star hotel almost at the start line. You have guided rides on the Friday and Saturday and four nights accommodation - based on two people sharing - the cost comes in at £900 (single supplement is £350 extra if you don't want to be kept awake by someone else's nervous shuffling). The price includes a pick up from Venice Marco Polo airport and mechanical assistance.
Trek Travel is at the luxury end of the cycling tour market and they will look after you very well, albeit it will not be cheap. Think thousands of dollars (most of their customers are American).
Sport Active are a Northern Ireland-based operator that has been taking cyclist to the Marmotte for the last eight years. Flying in and out of Lyon, a four night package including airport transfers comes in at 853 euros (£675 at current exchange rates) plus a 160 to 320 euros single room supplement, depending on what accommodation you opt for. The package is based on B&B so you need to buy your own lunch and dinner. Flora and Martin, Sport Active's owners, have a three star hotel close to the finish line in Alpe d'Huez and previous guests have commented that you get a decent sized room for your cash. Feedback from customers seems to be highly positive.
Other tour operators we have heard good things about include:
Cyclomundo
Alp Cycles
Stuart Hall Cycling - £395 package including entry until January 15, 2015
Ronan Pensec - 2015 package not yet announced
And then there is Sports Tours International. The giant beast of cycling tour operators and with an enviable choice of Marmotte hotels to choose from and packages offering different combinations of nights. We're sure that some people have good experiences with STI but we know enough people who have not to exercise quite a lot of caution in terms of recommendations. Let's just say the personal touch is something that people regularly complain is missing on their tours.
0 Comments