Amid a rising tide of corporate sportive homogeneity, how very refreshing - think a trough of icy water in the face - to discover the artisanal approach to event curation is alive and kicking in darkest Sussex.
Sunday saw the world premiere of Doom Cross UCX, a 70km off-road romp around the South Downs. This ominous-sounding ride is the handiwork of Paul Hamble, former proprietor of Brighton's Rule5 Bikes. The shop may be shuttered, but Paul continues to scratch the itch by serving up an occasional lo-fi sportive(ish) "treat" to local cyclists in the know.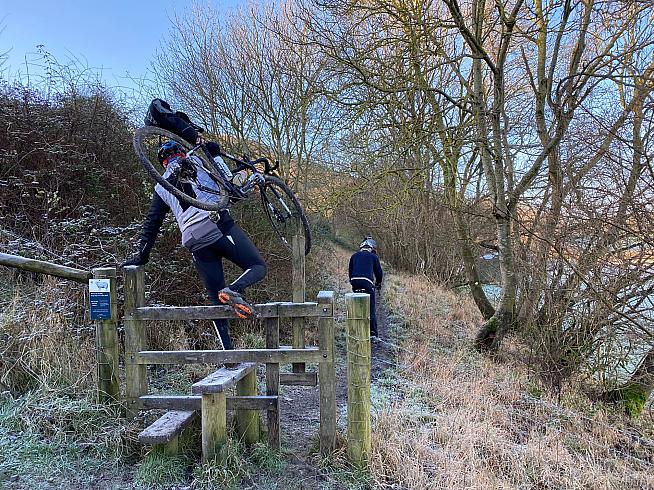 With event marketing seemingly conducted solely through social media, and entry by old-school postcard: deadline 1 January (err, isn't that a bank holiday?), it's safe to assume the hard sell doesn't feature in Rule5's playbook.
Then again, when you've come up with a name like Doom Cross you can kick back and relax - the ride will sell itself right?
Yes, it will. A select bunch of Sussex's cycling cognoscenti were waiting at the semi-secret start point, shivering happily in a thicket as though readying an ambush.
I'd never have found them only for a chance train meeting on the way in. The only other passenger on the platform at Worthing was Jack and his Trek hardtail; we got chatting on the way to Brighton, it turned out he was the creative force behind Jehu Bikewear. Jack now heads up Morvelo's rebel breakout brand, Overland, check it out - handsome-looking kit.
For some reason Doom Cross had attracted a record turnout from the sportive posse: myself, Eoghan, Andy and photographer Peter lined up for the ride. We picked up a fifth, Spenser, somewhere en route - his piratical beard adding a touch of panache to offset Eoghan's Atlas Mountain Race-unready ensemble of jogging bottoms and trainers.
Although cold the weather was perfect. Budgie-blue skies and St Moritz sunshine sparkled off the glittering flanks of the chalk ridges that quarantine Brighton from the Sussex shires. Puffs of breath and the clatter of gear shifts as we rolled out and straight onto the draggy road climb towards Ditching. We soon ducked into a field, crunching across the frosted stubble, skirting the hedge and swooping downhill - and the tone was set for the day.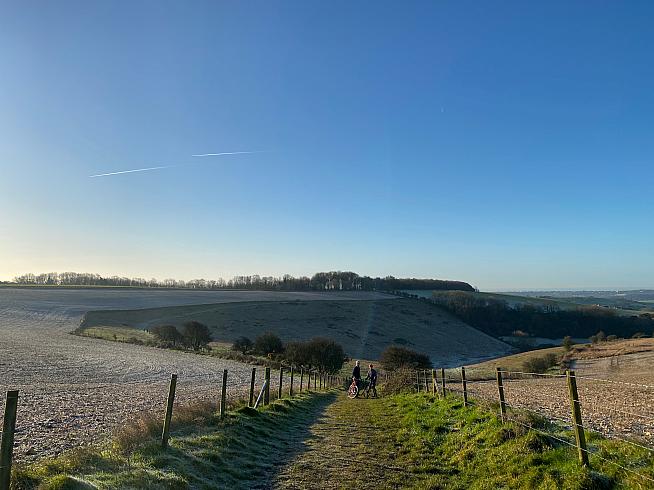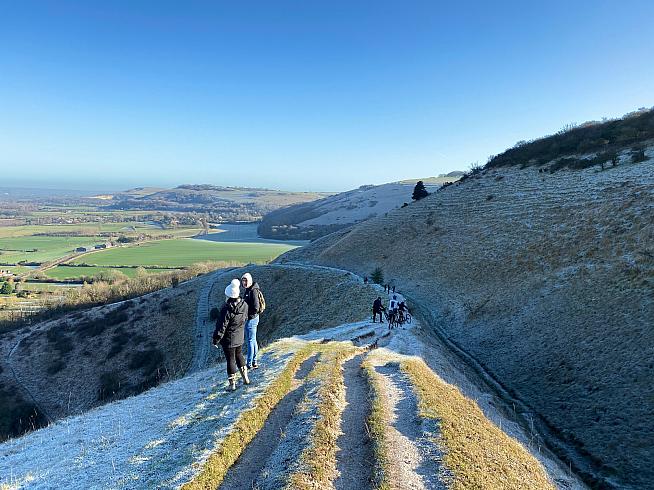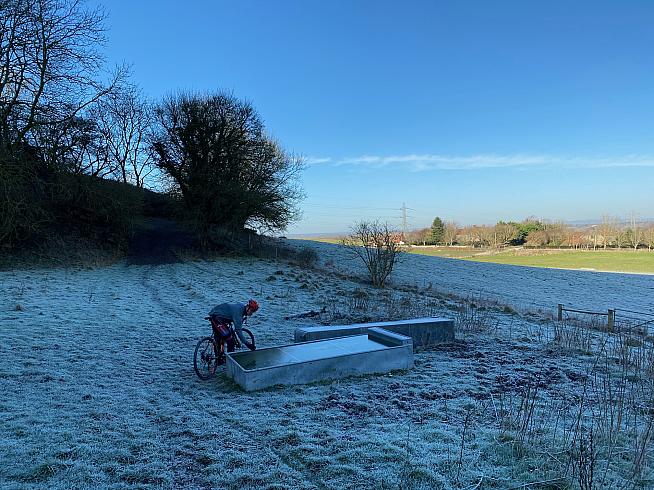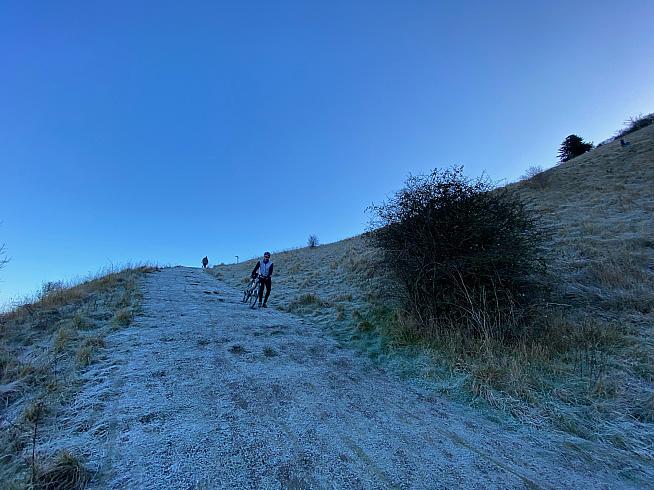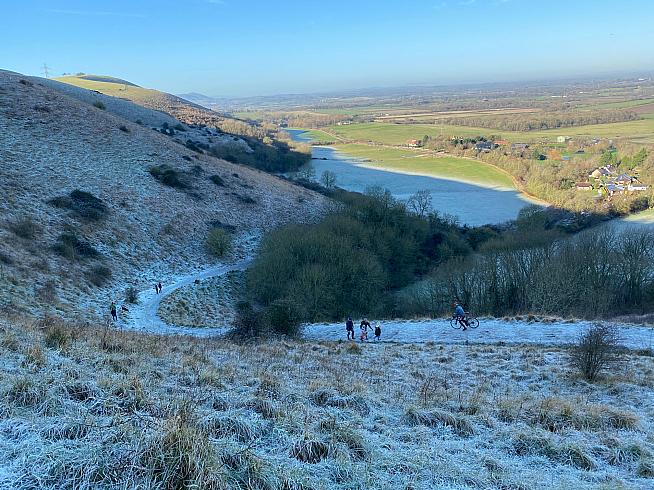 Doom Cross turned out to be a treat. Paul has recognised that the South Downs is essentially a geological skate park, and devised a route that involves repeated assaults up one or other rubble-strewn ramp of the ridge. Lots of climbing, then, but also plenty of hold-on-to-your-hat descents, eye-pleasing views, and all the rustic gates, rutted trails and slippery stiles your heart could desire.
Highlights? The descent to Fulking off a frost-laced Devils Dyke was stunning, vast views over Sussex distracting from the steep falls either side of the ridge. As one glowing-cheeked rider we met along the way observed, it felt more like a day's skiing as the bright sun made slow work of thawing the Downs' shadier folds.
It's a proper workout too, our average speed of about 11kmh putting my ambition of riding the South Downs Way in a day into some perspective.
Another revelation was Komoot for navigation; with my phone tucked into my pocket, the robo-navigator provided near-flawless turn-by-turn directions in a comedically portentous US accent. Worth a download just to hear it say "Sing-letrack".
Lowlights, well my rear mech jamming with mud and snapping off wasn't ideal. But truth be told, we'd ridden less than half way round the course in over four hours, so the chance for an early lunch wasn't entirely unwelcome.
With the bike hacked to single-speed mode we rolled down to Portslade for debrief over omelettes and chilli at Eddy's cafe.
Thanks to Paul and Rule5 for a fantastic ride, we'll definitely be sniffing around for the next one. South Downs, cyclocross and sunshine, it's a winning recipe.
Chalk up another win for off-road, too. The mental and technical challenge of addressing a conveyor-belt of different surfaces is strangely addictive. I've got a feeling the year ahead could feature higher than usual "gravel" content...
First things first though, must fix the bike: anyone looking to buy half a Campag rear mech?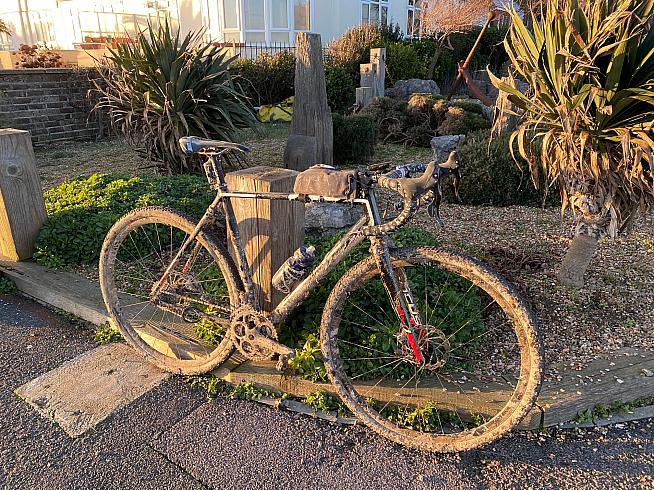 0 Comments