Entries for the 2024 Ford RideLondon-Essex 100 will go on sale tomorrow, Tuesday 15 August.
Launched in 2013, RideLondon is the UK's largest sportive and one of the world's biggest closed-road cycling events. Next year's edition takes place on Sunday 26 May 2024, and for the first time all entries will be available on a first come, first served basis.
Past editions have seen entries allocated via a public ballot, while this year's edition for the first time saw 10,000 places released for general sale with the remainder done by ballot.
Demand has always exceeded supply with RideLondon and while the route has changed - Surrey Hills have been exchanged for the relative flatlands of Essex - places are still in high demand. Last year saw the initial allocation of 10,000 entries sell out within 48 hours, so early entry is advisable for those looking to enjoy one of the country's blue riband road cycling events.
Entries for the 2024 Ford RideLondon-Essex 100 cost £99, the same as in 2023.
Book your place at www.ridelondon.co.uk.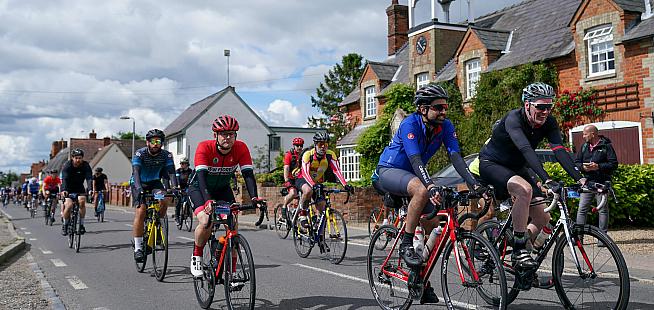 Created by the Mayor of London (Boris Johnson - remember him?) as a London 2012 Olympic legacy event in 2013, RideLondon sees thousands of amateur cyclists tackle a route that starts and finishes in central London via a loop of Essex.
Three distances are on offer, the RideLondon-Essex 100, RideLondon-Essex 60 and RideLondon-Essex 30 ranging in length from 30 to 100 miles.
2024 will be the third year in a row that Essex has welcomed the event, and the extended partnership with Essex County Council means the county will continue to host the event for the next three years (2024 to 2026).
Since its first edition in its current format in 2022, the Ford RideLondon-Essex 100 has been hugely popular among participants with 92 per cent of respondents to this year's post-event survey rating the ride good or excellent.
The Ford RideLondon-Essex 100 is also part of the London Classics challenge, which includes the London Marathon and two-mile Swim Serpentine.
Ford RideLondon Event Director, Hugh Brasher, said: "The Ford RideLondon-Essex 100 is the ultimate challenge ride. It's a unique opportunity to cycle 100 miles on traffic-free roads that take in the contrasting beauty of the Essex countryside and the stunning urban landmarks of central London.
"We expect entries to sell out fast, so visit ridelondon.co.uk on Tuesday 15 August to secure your place for next year's ride on Sunday 26 May."
In addition, there are a limited number of 250 VIP entries - also available on a first-come, first-served basis - on offer for the 2024 Ford RideLondon-Essex 100.
Priced at £275, the VIP entry gives riders access to hospitality at the Start and Finish, the ability to select their start wave, including choosing to ride with friends, baggage drop and collection, and a VIP feed stop at 50 miles.
The full format of the 2024 event and the routes across London and Essex will be announced over the coming months.
Find out more and enter at www.ridelondon.co.uk.
0 Comments