Garmin has announced the latest models in its range-topping Edge 1000 series cycling computers - and for the first time, cyclists will be able to harness the energy of the sun to top up their device on the move.
Two versions of the Edge 1040 GPS bike computer have been unveiled, with the Edge 1040 Solar featuring a Power Glass™ solar charging lens.
The result, say Garmin, is a device that offers up to 100 hours battery life between charges - a phenomenal improvement on comparable devices from Garmin and rival brands.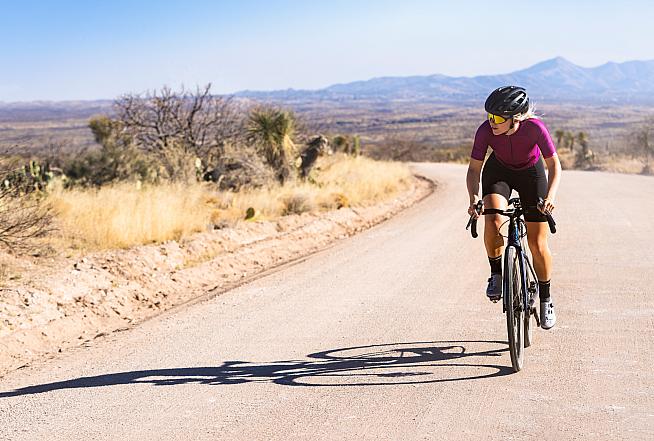 Both the Edge 1040 Solar and its non-solar counterpart also feature multi-band GNSS technology for more accurate GPS positioning in challenging ride environments, such as dense urban areas or under deep tree cover.
As you might expect of Garmin's flagship devices, the Edge 1040 is packed with state-of-the-art navigation, performance, safety and connectivity features, all housed behind a 3.5-inch touchscreen display.
"Cyclists expect as much from their GPS bike computer as they do themselves, and that is why we are thrilled to introduce the Edge 1040 Solar," said Dan Bartel, Garmin vice president of global consumer sales.
"Durable, accurate and ready to go the distance, the Edge 1040 Solar is the pinnacle of GPS bike computers. No matter where you ride, or what bike you choose to use, the Edge 1040 Solar is ready for any adventure - from remote gravel trails to epic climbs."
Plenty new under the sun
If you already own an Edge GPS computer, or are thinking of upgrading, what has the new Edge 1040 got to tempt you?
The standout new feature is of course the solar charging capability of the Solar edition. Garmin claim the Power Glass solar charging lens extends the battery life to up to 100 hours in battery saver mode, giving cyclists an additional 42 minutes per hour during daytime riding.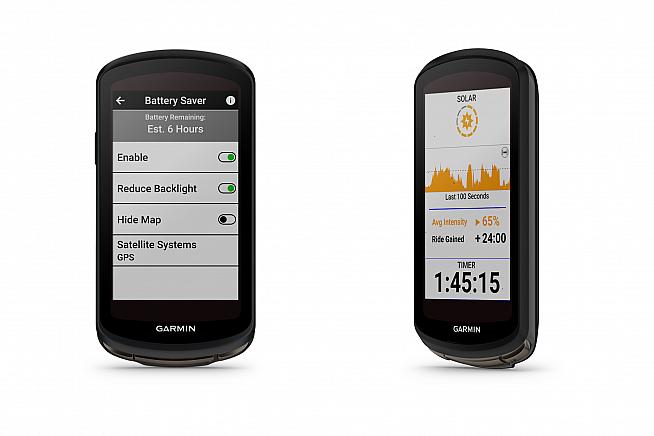 But both devices also include a number of enhancements over previous models, including:
Multi-band GNSS technology: Receive better positional accuracy and coverage, even in the most challenging environments.
Cycling ability and course demands: Classify strengths and weaknesses as a cyclist, focus on improvement and prepare for the demands of a specific course.
Power guide: Recommended power targets make it easier to manage efforts throughout a course.
Real-time stamina insights: Monitor and track exertion levels in real-time during a ride.
Simple setup: Custom ride profiles prepopulate based on previous Edge data, ride types, and sensors. From there, cycling activity profiles can be managed directly on your compatible smartphone from the Garmin Connect™ smart device app.
Training and performance
If you're investing in this level of kit, the likelhood is you're pretty serious about your cycling - and the Edge 1040 caters to performance-oriented riders with an array of in-built features.
The Edge 1040 Solar provides insights from Firstbeat Analytics™ such as VO2 max, recovery time, training load, training focus and more to see how your body is responding to training efforts. You can even get daily workout suggestions based on your current training load and VO2 max.
During a ride, the Edge 1040 Solar lets riders see how their body is holding up in different environments with heat and altitude acclimation and receive in-ride notifications when it's time to refuel or rehydrate. What's more, ClimbPro lets riders see the remaining ascent and grade for each climb when following a course and review their performance on the climbs post-ride right from the Edge 1040 Solar or in Garmin Connect.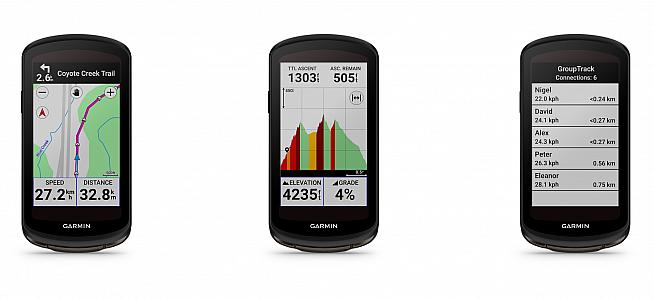 Meanwhile, mountain bike metrics, including jump count, jump distance, hang time, grit and flow track the epic details of every ride.
Whether cycling indoors or outdoors, cyclists can sync workouts automatically from Garmin Connect or other training apps, including TrainingPeaks, right to the Edge 1040 Solar.
Maps and routes
Battery life - or lack of it - is the bane of the bikepacker, and if you're relying on your device for navigation over multi-day tours in remote areas then solar charging could be a game-changer.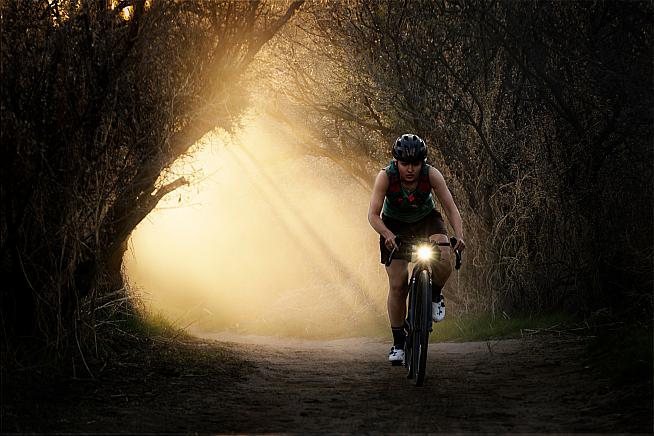 Whether riding through busy cities or exploring remote areas, the Edge 1040 Solar includes advanced navigational tools to help cyclists stay on track.
High-contrast, ride-type-specific maps use Trendline™ popularity routing to highlight popular roads and trails based on billions of miles of ride data that other users have uploaded to Garmin Connect.
Turn-by-turn navigation and alerts notify riders of sharp curves ahead.
Pause route guidance and off-course notifications to explore beyond the beaten path. Route guidance can be turned back on at any time to get back to the original route or starting point.
Download the recommended Trailforks app to view routes and trail details from more than 80 countries. When using the Trailforks app, Forksight mode automatically displays upcoming forks in the route and where a rider is within a trail network.
Safety and connectivity
In line with the trend towards growing connectivity, the Edge 1040 features a number of safety and smart features.
Built-in safety and tracking features include incident detection, assistance and LiveTrack to let loved ones follow a cyclists' real-time location and view their entire preplanned course to see where they're headed, while group messaging and tracking let cyclists stay in touch when they get separated from the pack.
For added confidence while riding, the Edge 1040 Solar is compatible with Garmin's Varia™ line of cycling awareness devices, including the new Varia RCT715 rearview radar with camera and tail light, so cyclists can see, be seen and continuously capture video footage during their ride.
The Edge 1040 Solar also works with inReach® devices, so cyclists can view and reply to messages, share trip data and trigger interactive SOS alerts with an active inReach subscription.
And finally - because the sun doesn't always shine, especially here in the UK - the Edge 1040 Solar easily pairs with a Tacx indoor trainer, so cyclists can ride whenever they want.
When connected to sensors, cyclists can keep track of the battery status of their sensors with post-ride reporting directly on the Edge 1040 Solar and battery alert messages between rides through the Garmin Connect smart device app.
The Edge 1040 Solar is available now with a retail price of £629.99, while the non-solar charging version is priced £519.99.
0 Comments