The organisers of Mallorca 312 have cut the headine 312km route and plan to test all riders for Covid-19, as part of new measures to prevent the spread of coronavirus. However the 2020 edition remains at risk of cancellation.

The latest changes to this year's Mallorca 312 - postponed from April to 10 October back in spring - were first announced via the event's twitter feed on 21 August.
The tweet linked to a statement setting out a raft of measures as organisers Milestone Series continue to adjust their plans in response to the ongoing coronavirus pandemic.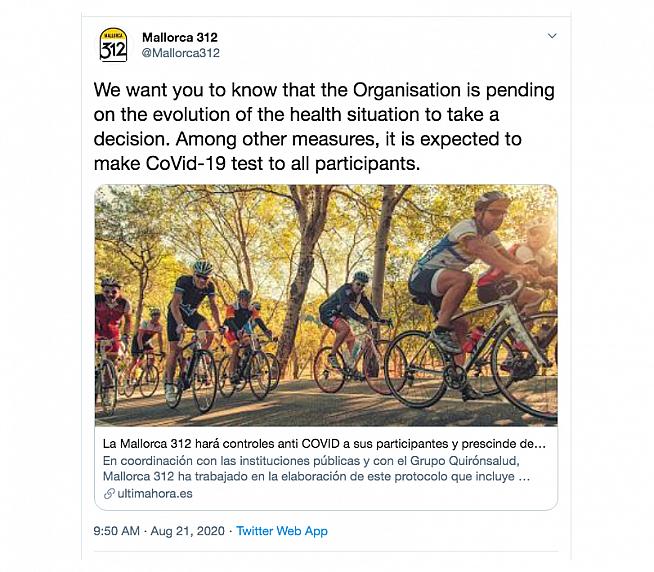 A key change is the removal of the 312km route from this year's edition, with riders instead asked to choose from the shorter 225km and 167km options.
The organisers say the change was prompted by the expense involved in implementing coronavirus measures, along with concern over rider safety given the reduced daylight hours in October.
Chief among those measures is a plan to test all riders for Covid-19.
In an email to entrants on 31 August, the organisers confirm: "We have been working together for months with public institutions and health authorities in order to adapt the race and offer you the safest cycling day possible. As you know, we have purchased 8,000 COVID-19 tests so that this event can be held in the safestest (sic) health conditions."
Worryingly for riders who have made travel and accommodation plans, the email continues:
"However, we have not yet received the authorization for the Mallorca 312 to take place on October 10th as scheduled."
In the face of this uncertainty, and with thousands of overseas participants left hanging over travel plans, the organisers have come up with a plan. Entrants are being offered a Milestone Series Club Membership card: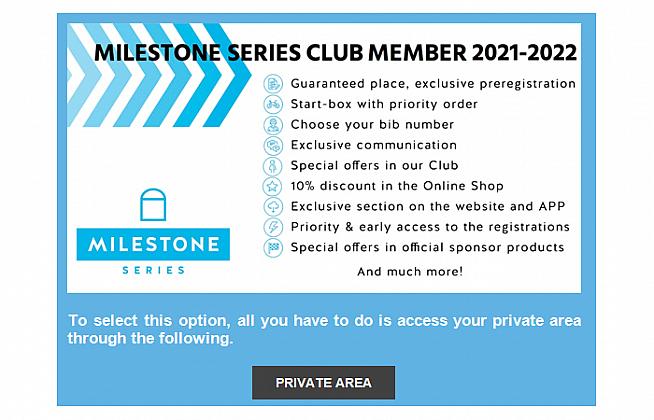 Valid for two years, the card entitles members to a guaranteed place on the 2021 and 2022 editions of Mallorca 312, with a priority start and the option to choose their own bib number.
This solution is unlikely to placate all entrants, with some riders voicing complaint in particular at the late notice to withdraw the 312km route option.
Organisers are not offering refunds at this point, and the option to transfer entry to another rider via a dedicated online marketplace closed before the route change was announced.
Entrants now face a waiting game to see if the postponed Mallorca 312 receives authorization to go ahead - and, if it does, must take a difficult decision on whether to travel for what will be a much altered event.
Thanks to Sportive.com reader John Simpson for informing us of the changes to Mallorca 312 and providing us with the organisers' emails to entrants.
0 Comments