This September will see the first-ever British Gravel Championships take place at the King's Cup Gravel Festival 2020, a new event at the King's Forest in Suffolk.
Organised by Golazo Cycling - the same team behind the popular Tour of Cambridgeshire granfondo - the King's Cup Gravel Festival is billed as "a unique event with multiple gravel categories for all abilities, live music and camping."
The festival is scheduled for the weekend of 25-27th September 2020, and will host a full Gravel Race, Gravel Fondo, Time Trial, Team Relay and family riding events.
Golazo say the routes are "exciting and perfect for every rider as they weave their way through the pristine King's Forest", with riders able to look forward to "a gravel cycling festival with high production value, a professional racing experience and a unique atmosphere right here in the UK."
Weekend camping will be available on site at Wideham Farm near Bury St Edmunds. Early-bird entry starts at £35 for the Gravel Fondo and £39 for the Men's and Women's Gravel Race.
Entry to the Team Relay, where teams of four riders will compete over four laps of the 18.1km course, is priced £80.
British Gravel Championships
Golazo Cycling is proud to host the inaugural races for the British Gravel Championship titles and jerseys.
The British Gravel Championship will be awarded in the Gravel Race and Time Trial categories for both men's and women's events. Riders will be able to compete for the prestigious title in their Master's age group for 2020.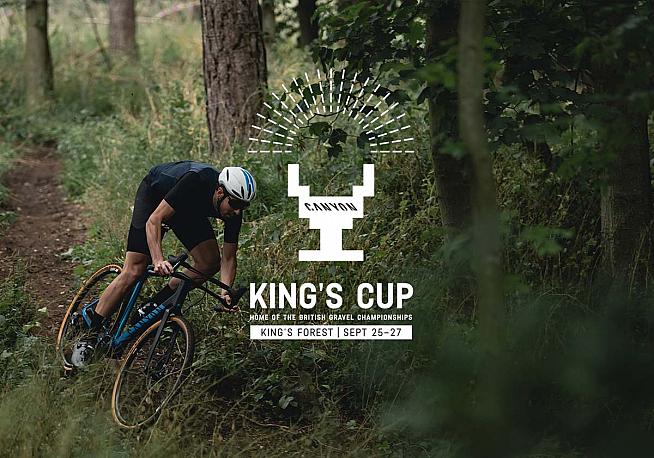 Launching an event amidst a pandemic
If this seems a strange time to be launching a new cycling event, well - it is. Golazo acknowledge as much, and are taking steps to reassure entrants both around health precautions and contingency measures in the event the festival has to be moved back in the calendar.
"Our riders, staff and contractor's safety is paramount, so we will be ensuring all safety measures are in place following all government guidance," say Golazo.
"Our goal with the King's Cup Gravel Festival is to celebrate the return to sport as soon as government regulations permit and once we are absolutely certain, we can keep our participants safe and healthy. We have contingency plans in place to allow us to dynamically adjust the event date into October or 2021."
Free pre-registration
With many sporting events across the country being cancelled throughout the year and riders being left disappointed and frustrated, Golazo have introduced a free-of-charge pre-registration system for King's Cup Gravel Festival.
Riders simply register their personal details and express their interest in participating, without having to pay an entry fee. Pre-registered riders will guarantee a spot at the King's Cup Gravel Festival when it goes ahead and receive a significant discount on their entry fee.
Entry fees are only collected at a later date when the event date is confirmed. Pre-registration launches on Monday, August 3rd 2020.
Tom Caldwell, Director of Golazo Cycling, said:
"We're thrilled to be hosting the first-ever British Gravel Championships at the King's Cup Gravel Festival. This will be a truly exciting event, which will see all abilities of riders taking on various events throughout the weekend. Not only will those riders who like to ride on gravel and off-road terrains be able to ride alongside thousands of other riders but we'll also get to see some top amateur riders race for the British title and jersey."
"While these championships represent the pinnacle of amateur gravel racing, they are also a celebration of cycling as a whole."
"This festival will be unlike anything witnessed before and fits perfectly with our core mission to create a partnership between elite sports and mass participation. Our objective is to encourage more people to live healthier lifestyles through participation in sports - Let's Move."
Find out more and enter at www.kingscupgravel.com.
0 Comments