Italian tyre masters Veloflex have launched their 2020 range - and there's some excellent news for fans of tan-wall tubeless tyres.
Known and loved by many cyclists for their hand-made tubulars and folding "open tubular" tyres, Veloflex are based in Presezzo in the Italian province of Bergamo.
The company suffered, like many businesses, when they had to pause production during the recent Coronavirus lockdown.
"As Veloflex is a small artisan business, with 10 employees, almost all of them women and mothers, we decided to stop," they explain.
"It was a very hard decision to make and a tough reality to face up to, but health and wellbeing come first."
Happily, the Veloflex team are now back in action and have launched their 2020 range of tyres.
"Now it's time to look to the future and get back to cycling in the open air,"  they say.
Here's a quick run-through the current Veloflex range.
Corsa EVO: For training and racing

For cyclists looking to combine performance with durability, the Veloflex Corsa EVO ticks all the boxes. Two versions are available, the Corsa EVO clincher (23, 25 or 28mm sizes; all black or tan sidewall; €38) and the tubeless-ready Corsa EVO TLR (25mm or 28mm sizes; all black or tan sidewall; €46).
The tyres feature a supple 320 TPI (Threads Per Inch) casing and a Kevlar belt for puncture protection. They are also impressively light weight, at just 215g for the 25mm clincher.
The tubeless TLR version is only slightly heavier at a claimed 230g. It employs the same 320TPI Corespun casing as the clincher, but with the addition of an air-lock membrane to minimise air loss, and non-stretch Zylon beads to help the tyre seat properly even under high pressure.
If you're running tubulars, there's the ProTour​: a new tubular with a ​puncture proof protection belt​ and a latex inner tube offering more flexibility in all conditions.
Corsa RACE: For pure performance
Alongside the EVO range, Veloflex have introduced a selection of even more refined tyres designed for riders seeking the ultimate race-day performance.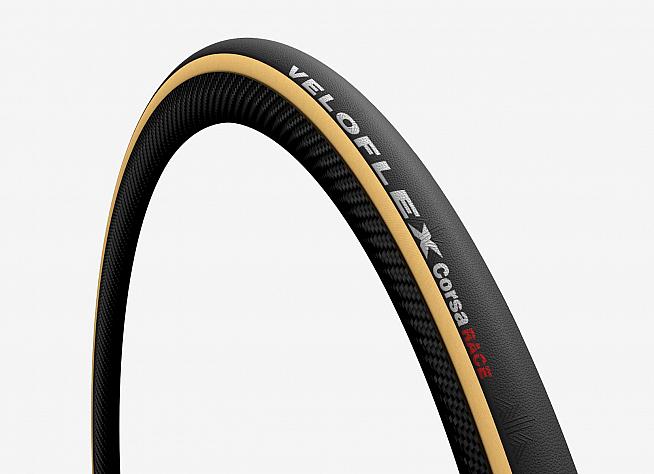 The RACE line-up is again available in clincher or tubeless-ready versions, but features a higher 350TPI casing and lower rolling resistance than the EVO. The tread, like the EVO range, features a minimal "Raindrop" pattern. I
The Corsa RACE Open Tubular (clincher) comes in a choice of 23mm or 25mm widths, in all-black or tan sidewall. The 25mm weighs 200g and is priced €42.
The Corsa RACE TLR is available only in 25mm size, in a choice of all-black or tan sidewall. Priced €49, Veloflex claim the tyre weighs 220g (+/- 5%).
A tubular version, the ProTour RACE, is also on offer in 23mm and 25mm sizes.
And for time trial or track use, the Record - which features a fully slick tread and no puncture protection - is available at the super light weight of just 135g.
Available now direct from Veloflex
The new range of Veloflex tyres is available to buy online now, direct from Veloflex's new online store.
We're hoping to get a pair of the EVO tubeless and Corsa RACE tyres in for testing shortly - impressions and a full review to follow soon.
Find out more: www.veloflex.it
0 Comments