Cyclists looking to enter RideLondon - either for the 46 or 100 mile distance - can now do so by joining The Bike Project team.
The Bike Project, a UK charity providing refurbished second-hand bikes to refugees and asylum seekers, has been appointed official Charity for the 2020 Prudential RideLondon-Surrey 46. Entry costs £25 for the RideLondon 46 or £30 for RideLondon 100, and the funds raised by riders will provide bikes for refugees.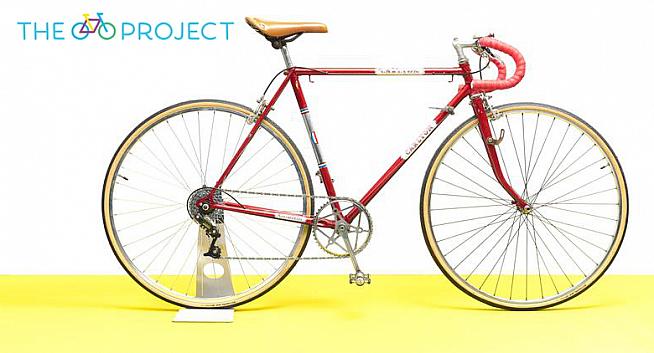 Launched in 2013, The Bike Project fixes up second-hand and abandoned bikes and donates them to refugees. With a bike, a refugee can access the essential services they need - food banks, education, healthcare, legal advice - without the cost of public transport, making their money go further and giving them a chance of sustaining themselves until their future is settled.
To date, The Bike Project has provided over 6,000 bikes to refugees living in London and Birmingham, but there's currently a waiting list of over 800 people in need of a bike. By joining The Bike Project at this year's Prudential RideLondon, riders will help The Bike Project provide more refurbished bikes to refugees.
Riders on the 46-mile ride will commit to raising £275 for The Bike Project, while the target for riders on the 100-mile route is £600.
Already got a place through the ballot? You can still join the team.
The Bike Project will provide their charity riders with a range of benefits, including:
An exclusive discount of 20% off bikes, accessories, merchandise and bike services at their London store or via the online shop
A training plan designed by Double Olympic gold medallist Joanna Rowsell
Priority start pen and free breakfast for RideLondon 100 riders
Free merchandise, including a Bike Project jersey, fundraising pack & t-shirt
Access to a one-off training ride
Plus groups enter for free and receive 50% off bike services and a bonus training ride
Exclusive training plan by Olympic gold medallist Joanna Rowsell
The Bike Project's partnership with Prudential RideLondon-Surrey 46 is being supported by the actor David Morrissey who has been the charity's Patron since 2018. Double Olympic gold medallist Joanna Rowell is also lending her support to The Bike Project and has prepared an exclusive training plan for riders who sign up to ride for The Bike Project.
David said: "The Prudential RideLondon partnership is a great way for people to support The Bike Project. By using your bike you're effectively supplying a bike to a refugee in desperate need of low-cost transport.
"A refugee seeking asylum is not allowed to work in the UK and must survive on just £5.29 a day. The cost of a day's travelcard alone is £13.50 in London. The Bike Project's vision is that no-one should have to choose between a square meal and catching a bus, and with a bike they won't need to.
"Riders can join me and cycle Prudential RideLondon-Surrey 46, perfect for those wanting to do their first sportive and make a positive difference to the lives of refuges in the UK., or choose RideLondon 100 if you're after something more challenging Sign up today at www.thebikeproject.co.uk."
For just £100, The Bike Project can fix up a bike and get it to a refugee who desperately needs it. Within this, the project also provides safety equipment (helmet, hi-vis wear, lights and bike lock), road safety and cycle maintenance training.
The Bike Project also run Bike Buddies, a way for the general public to connect with refugees through cycling together, and Pedal Power, female-only training programme that teaches refugee women how to cycle, often for the first time in their lives.
Cielo, 31, is originally from Mexico and came to London seven years ago, she describes how The Bike Project has helped her:
"I received my first bike from The Bike Project in 2018. I then joined their Pedal Power group to learn how to cycle. Cycling was always something I wanted to do but being so focused on immigration and family issues, I never had the opportunity.
"With The Bike Project, I felt safe and supported to learn. It's really made me feel that I have value as a person and I've met other women through the group who have become like family to me.
"Since having my bike, I can get around London much more easily and its helped save me money on public transport. It's given me freedom and the opportunity to cycle with friends and bond with new people. It's changed my life in the best possible way."
Join The Bike Project Team
The Prudential RideLondon-Surrey sportive will return on Sunday 16 August 2020.
To sign up to join The Bike Project team and help transform lives, visit thebikeproject.co.uk/pages/ridelondon-2020.
0 Comments