The Nove Colli: for cyclists unfamiliar with this celebrated granfondo, it's almost certainly the biggest sportive you've never heard of. Based in the Adriatic port of Cesenatico - home town of one Marco Pantani - this Italian epic lays claim to being the world's oldest granfondo, with 2020 seeing the event celebrate a landmark 50th edition.
Every May the seaside town of Cesenatico, about 90 minutes' drive from Bologna, welcomes 12,000 cyclists from across Italy and beyond for the Nove Colli.
One of Italy's most famous granfondos, the Nove Colli is a picturesque ride through Emilia-Romagna's lush rolling countryside. Next year's edition takes place on 24 May 2020 with two distances are on offer, 205km and 131km, following an anti-clockwise loop inland. There's even a child-friendly 6.4km option, making it an occasion the whole family can enjoy.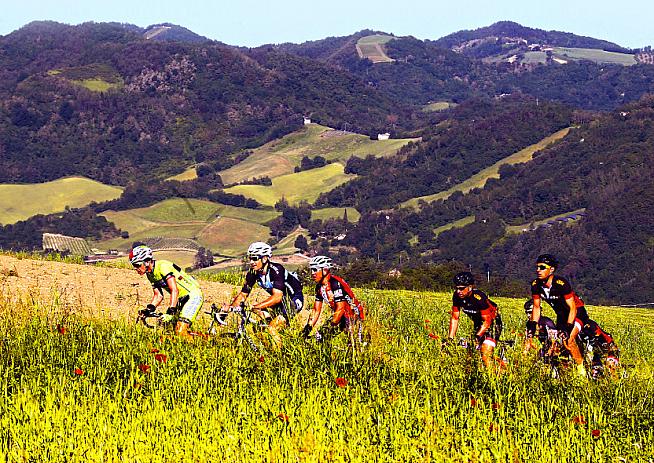 It's a hilly sportive, with nine categorised climbs (3840m elevation) on the 205km route. The Nove Colli's toughest sections come towards the end, and you'll want to leave something in reserve for the event's signature climbs of the Barbotto and Gorolo - the former was a favourite training climb of Pantani's, with 372m of elevation gain at an average 6.9% gradient.
At the business end it's very much a race; in common with most Italian granfondos you'll find some seriously competitive (and fast) riders battling it out for cash prizes.
Further back the field, you'll find riders of all abilities taking a more relaxed approach, enjoying the scenery and the challenge as the route follows a whistle-stop tour of Pantani's picturesque stomping grounds. And at the finish, riders are welcomed home with a uniquely Italian party atmosphere.
What goes up must come down, and alongside the climbs you'll have the chance to enjoy some fast and thrilling descents.
The shorter 131km route includes five of the climbs on the long course. It offers riders a slightly more forgiving parcours, while still providing a stern challenge with 1871m of elevation gain.
Back in Cesenatico you'll find a festival atmosphere in full swing with major cycling brands exhibiting at the event village - and of course, a chance to sample any of the region's incredible culinary delights that you may have missed out on during the ride's five feed stations!
Don't miss the chance to visit the Pantani museum in town, too - there's also a statue of the celebrated climber near the finish line.
Entry to the Nove Colli costs €110 and the event sells out quickly each year. The first 10,000 places for the 2020 edition sold out in just 20 minutes, but you can still take part: a further 2000 packages including entry + hotel accommodation will go on sale on Tuesday 19 November. A waiting list will also be open from Tuesday, so you can put your name down in case of cacellations.
Don't miss the 50th birthday party of one of Europe's classic events!
Find out more at www.novecolli.it.
0 Comments