Entries are now open for the 2020 Paris-Roubaix Challenge, the classic sportive that lets amateur cyclists tackle the legendary pavé of northern France. The sportive will take place on Saturday 11 April 2020, the day before the pro race.
Enter now at www.timeto.com.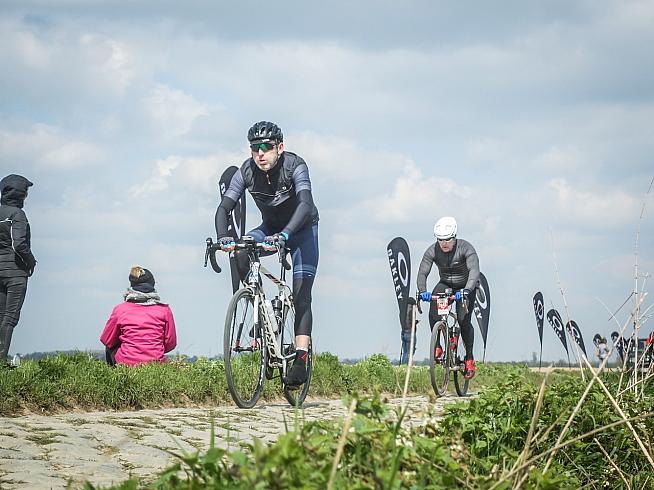 Rated by many as the greatest one-day race in cycling, Paris-Roubaix is also one of the toughest with a well-earned nickname of "Hell of the North". It's the third of the cycling season's five Monuments, taking place the week after the Tour of Flanders and a fortnight before Liege-Bastogne-Liege.
Three distances are on offer for sportive cyclists: 70km, 145km or 172km, offering increasing levels of challenge. The two shorter routes start and finish in Roubaix, while the 172km starts in Busigny and finishes with a lap of the iconic velodrome in Roubaix. After the ride, you can even use the same spartan shower facilities as the pros.
A shuttle bus service from Roubaix to Busigny is available for riders on the 172km route as an optional extra, and you'll also have the chance to snap up all sorts of souvenirs while booking - including an event jersey for €45, or your very own engraved cobble for just €20!
Entry to the sportive costs from €22 for the 70km distance, €35 for the 145km route or €45 for the full 172km option. Those are early bird rates - prices will rise as more riders enter, so it's worth entering early to get the best rate.
Whichever route you choose, Paris-Roubaix offers a fantastic opportunity to sample the best of one-day racing at your own pace in the company of thousands of enthusiasts.
Best of all, the next day you can sit back with a beer and recover while watching the pro peloton blitz the same route at double speed!
Do the double: Paris-Roubaix + Liege-Bastogne-Liege
This year the organisers are offering a special bundle deal with discounted entry if you register for both Paris-Roubaix and Liege-Bastogne-Liege. Prices start at just €40 for entry to the short distance on both rides, €65 for the medium distances, or for €85 you can ride the full-length 172km Paris-Roubaix and 274km Liege-Bastogne-Liege routes.
A limited number of packages are available - just 10 for the short route and 20 for the longer options - so again, speed is of the essence if you'd like to take advantage of this deal.
For more details and to enter, visit www.parisroubaixchallenge.com.
>>> Curious what to expect? Check out Neil's ride report from the 2019 Paris-Roubaix sportive. >>>
0 Comments