Transport for London (TfL) has set out the next steps for walking and cycling improvements in West London, which include a new 7km cycle route connecting neighbourhoods between Kensington Olympia and Brentford town centre. TfL say the changes will transform safety for people walking and cycling, and enable thousands more people to make everyday journeys on foot and by bike.
The plans follow a public consultation carried out by TfL. In response to issues raised during this consultation, in January 2019 TfL invited people to have their say on improvements to the design at two locations along the route.
This feedback has been used to make further changes to the design at the Duke Road and Duke's Avenue junctions with Chiswick High Road, including:
Keeping the eastbound approach to the junction of Duke's Avenue at two lanes, rather than reducing this to one
Reducing the cycle track width from 3m to 2.5m outside Our Lady of Grace and St Edward's church to provide space for two traffic lanes on the eastbound approach to the junction of Duke's Avenue. This would improve traffic capacity at this junction, whilst maintaining pavement space outside the Church
Introducing weight restrictions on the exit movement from Duke's Avenue to Chiswick High Road, rather than making the road entry only, and introducing weight restrictions on the access to Duke's Avenue from the A4. This is in response to concerns raised during consultation about rat running through local roads. Space constraints on the exit of Duke's Avenue mean that large vehicles will not be able to make the turn onto Chiswick High Road safely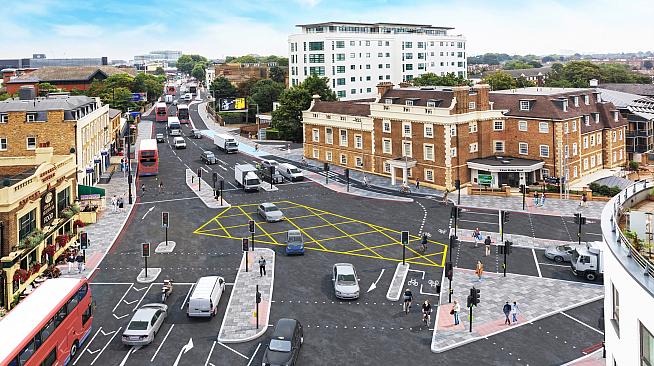 TfL will be moving forward with the designs for Kew Bridge and Kew Bridge Road to Wellesley Road as proposed during consultation, with construction work proposed to begin later this year. TfL is also working with Hammersmith and Fulham Council on their proposals for a new cycle route along part of the A4.
London's Walking and Cycling Commissioner, Will Norman, said: "Getting more people walking and cycling as part of their everyday routine has huge benefits for our health and wellbeing, and we know there is a high demand for more cycling in this part of west London.
"It was absolutely right that TfL took the time to work with the councils to ensure everyone's response to the consultation were looked at properly, ensuring the proposed scheme is the very best it can be. I'm delighted that we are on course for work to begin on the route later this year."
Cllr Stephen Cowan, Leader of the London Borough of Hammersmith & Fulham, said: "We listened to residents, and will be working with TfL and a residents' advisory group to introduce a Safer Cycle Pathway that will complement the streetscape along King Street and Hammersmith Road.
"We've also secured initial funding to investigate a Cycle Highway that could run along the A4 and be more suitable for the faster cycle commuter. This is an important investment from the Mayor of London. Together, we're determined to improve our streetscape and deliver healthier streets that are better for pedestrians and cyclists of all ages and abilities. This is an important part of our approach to improving our environment for all."
Recent TfL research has highlighted the economic benefits of walking and cycling to town centres, with infrastructure improvements such as new cycle routes leading to increased retail spending of up to 30 per cent. The new route would also enable more people across west London to choose walking, cycling and public transport for their journeys, as TfL and the Mayor work to tackle the health problems caused by the capital's toxic air.
TfL and the Mayor say they are committed to expanding the capital's cycle network at pace and increasing the proportion of Londoners who live within 400 metres of the cycling network to 28 per cent by 2024, up from nine per cent. According to TfL, the amount of protected space for cyclists has doubled since 2016 and is on course to triple by 2020.
TfL cite 2018 data which shows that cycling in London is at record levels, with the average daily total distance cycled exceeding four million kilometres for the first time. Construction on major new routes between Tower Bridge Road and Greenwich and Acton and Wood Lane is underway, and TfL is also currently inviting people to have their say on another route between Dalston and Clapton.
The consultation report is available on the TfL website at tfl.gov.uk/consultations.
0 Comments