Since its launch in 2014, Rapha's annual Manchester to London Challenge has become a fixture in many cyclists' calendar. The 220-mile ride pits north against south to see which team can complete the distance the fastest - but more than a competition, or even a sportive, it's a ride with a good cause at its heart.
In just five years the ride has raised over a million pounds for Ambitious about Autism, a charity dedicated to improving opportunities for children and young people with autism.
It's a cause that's close to the heart of Rapha founder and CEO Simon Mottram, whose son Oscar has autism. And now, for the 6th edition, Rapha are ringing the changes with a reversed route that starts in London, along with some light gravel sections, and a brand-new relay competition...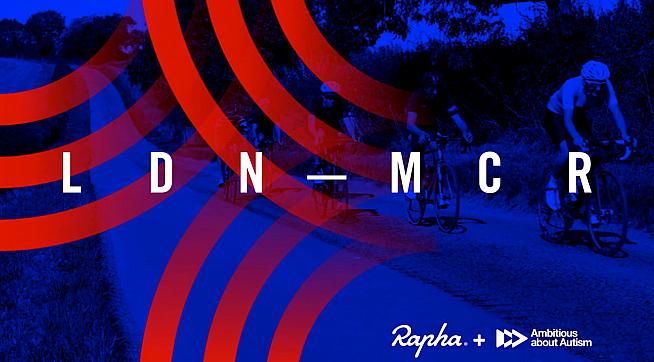 This year's London to Manchester Challenge will take place on the last weekend of August. Up to 300 riders will set off from a new start location, London's Allianz Arena, at midnight on Saturday, 31st August.
"Travelling towards the light of a new day, riders will navigate a redesigned route, including new off-road sections," say Rapha, "and reach the new finish location at Adlington Hall by early evening."
Another change for 2019 is the addition of a relay option, with teams of five - four riders and a driver - able to enter together. Two riders must be on the road at all times, while the designated driver must remain in the support vehicle.
Invidiual entry costs £150 with a £750 fundraising target, while the entry fee per team is £200 with a £2000 target.
It's a serious challenge - both the ride, and the fundraising - but Rapha have your back in both respects, providing entrants with support in their fundraising and training.
Out on the road, you'll find the route is fully signposted, with feed stops serving locally sourced food and a fleet of support vehicles and a broom wagon to ensure no rider is left on the road or falls too far behind.
While the main aim of the ride is to raise funds for Ambitious about Autism, there's a competitive element too. Entrants must choose to ride for North or South (if you're wondering, Birmingham is considered the dividing line).
Last year saw the North break a four-year losing streak to win for the first time. Playing towards the "home end" this year, will the northerners prevail again - or can the South prove it was just a blip?
Either way, it's sure to be another unforgettable ride for everyone who takes part.
To find out more and enter, visit www.rapha.cc/gb/en/stories/london-to-manchester.
0 Comments