In this summer heat, wool jerseys may not be the first thing you reach for before a long, sunny sportive - but British sportswear brand ashmei has teamed up with The Woolmark Company in a campaign that champions wool as the ultimate performance fibre for cycling in high temperatures.
Stuart Brooke, founder of ashmei, says: "It's incredible really, but we still meet customers who don't realise that Merino wool will keep athletes cooler in hot conditions than synthetics. I think it's because they relate Merino wool to the jumper they wear in winter. It feels to us that it's high time for a re-education programme."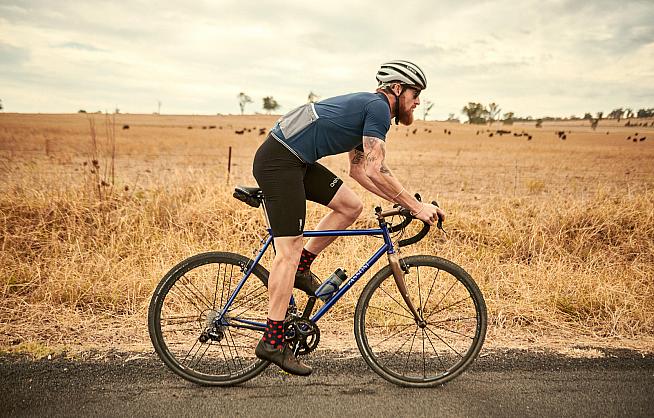 Earlier this year, Brooke visited Australia to shoot a short film championing the benefits of Merino wool alongside The Woolmark Company's in-house videography and marketing teams. The resulting film, Be Cool in Wool, is set on a sheep farm in New South Wales and features a fictional farmer and keen cyclist/runner testing out the natural Merino wool fibre he produces.
Comparing the latest Merino wool cycling and running gear with synthetic apparel, the film showcases the performance benefits of wool and how, according to the film makers, it outperforms its synthetic counterparts.
"Australian Merino wool is a technical performance fibre loved by athletes worldwide," explains The Woolmark Company Managing Director Stuart McCullough. "Our partnership with ashmei champions the performance benefits of wool, highlighting wool as a fibre for all seasons, and all levels of exercise intensity. The rapid growth in demand for technical textiles has significantly boosted wool's prominence in the activewear industry, coupled with the fact that wool's naturally inherent qualities - such as effective odour control, superb breathability and moisture management properties - cannot be matched by any man-made fibre."
Of course, you'd expect a film by the Woolmark Company to champion the benefits of their product - and it's a slight cheat, because the majority of cycling jerseys, including ashmei's, blend Merino wool with synthetics. But all the same, and despite the tongue-in-cheek approach, the film makes a persuasive case for the advantages of incorporating this breathable, natural material into sportswear.
You can check out the film at www.ashmei.com/becoolinwool.
And if you're tempted to try out the benefits of wool for yourself, why not check out our rundown of seven of the best Merino cycling jerseys: Sportive.com: seven of the best Merino cycling jerseys.
0 Comments