Severe weather including snow across much of the UK has led to the cancellation of several of this weekend's sportives.
But while the Beast from the East takes its toll, many cyclists are looking ahead; entries for the new Vélo South sportive opened today, and thousands of places have already sold.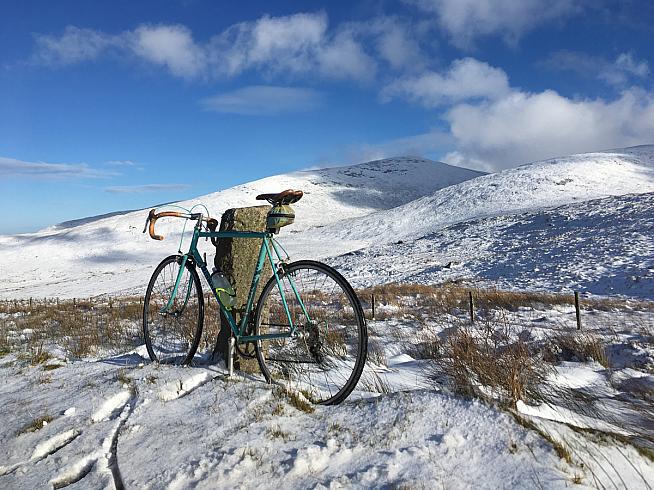 To anyone looking out their window to find their street blanketed in snow, the news that most of this weekend's sportives have been cancelled or postponed will be less a surprise than a relief. Icy conditions spell danger for cyclists and several organisers have moved early to cancel their events.
The Haywards Heath Howler and No Excuses Shropshire sportives - both run by UK Cycling Events - were cancelled yesterday, while organisers of the Eden Valley Epic have written to entrants to say that the ride, scheduled for this Sunday, is to be postponed until a later date.
One ride to have survived, at least so far, is the popular Puncheur sportive based in Ditchling, East Sussex. The organisers are keeping tabs on the weather forecast for the weekend and will update riders tonight. If you're thinking of riding, keep an eye on their Twitter feed for the latest news. (UPDATE: The Puncheur has now been cancelled on safety grounds.)
If you've entered the Kinesis UK Surrey Hills Switchback Gravelcross event, it's still on but the organisers are monitoring the situation with weather forecasts not looking optimistic. A decision will be made by Friday at the latest, and announced on the event website. (UPDATE: This event has now been rescheduled for 15th July. See website for further details.)
Other rides still on at time of writing are the Mad March Hare and the Evans Cycles Havant Road Sportive, both set for Sunday 4th March. (UPDATE: The Evans Havant sportive has now been cancelled.)
The March Hare is sold out, but entries for the Evans ride are available on the day if you're feeling hardy.
Entries open for Vélo South, Rapha rides and Tweed Run
While the weather has thrown this weekend's plans in disarray, looking ahead the forecast is bright: entries for new closed-road sportive Vélo South opened this morning, and the organisers report that thousands of places have already been snapped up.
Taking place on 23 September over a 100-mile course out of Chichester, Vélo South looks set to be one of the UK's biggest sportives. If you've already pre-registered, you can enter now at www.velosouth.com.
Other events to have opened today include Rapha's ever-popular tribute to Paris-Roubaix, renamed A Day in Hell for 2018. Taking place on 8th April, the London edition has already sold out, but you can still enter the numerous international editions as well as the new Manchester ride at www.rapha.cc.
And finally, if you like your cycling with a dash of vintage style, you'll be excited to hear that entries for this year's 10th annual Tweed Run are now open.
Taking place on 5th May in London, the 12-mile route follows canal towpaths for some of the way, with feed stop barges en route and finishing up at the Cycle Revolution festival. Enter now at www.tweedrun.com.
0 Comments