Are you using your training time wisely? Do you have a heart rate or power meter, and need advice on how to get the most from it? Whether you a cyclist or triathlete, could you be getting more from your time on the bike?
Let's face it, we could all use a bit of expert help to improve our fitness and performance on the bike. Dr Garry Palmer, coach, athlete, exercise physiologist and author of Successful Sportives, is one such expert - and he's holding a training seminar this weekend offering tips and guidance for efficient training.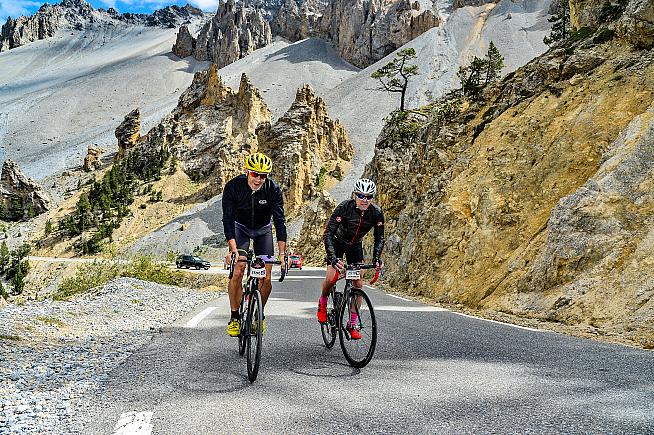 "Successful cycling - taking your riding to the next level" is a three-hour seminar taking place from 16:00 - 19:00 this Sunday 13 October at the Holiday Inn Express Stafford.
Hosted by Dr Garry Palmer, the session will cover topics including:
Goal setting
Physiological responses to cycling
Effective use of your training tools (heart rate monitor, power meter and turbo trainer)
How to optimise your training time
Building a training plan
How to structure your training week
Briefly look at nutrition for cycling.
There'll be plenty of time for questions and discussion afterwards, with the goal of optimising your training time, elevating your performance, and explaining the secrets of getting more from your training.
Tickets are priced £25, and with many cyclists looking to build on their fitness over the winter, it's a great chance to learn some good habits and lay the foundations for a strong season in 2020.
To book your place, visit www.eventbrite.co.uk.
And in the meantime, check out our Q&A with Garry below including his top three tips for sportive cyclists:
Tell us a bit about your cycling background; did you compete or enter the sport as a recreational cyclist?
My background was really as a runner, then more of a triathlete. However I did an undergraduate degree in Chichester where Peter Keen was my supervisor, and I got into cycling in far greater depth at this stage. Mostly riding time trials, but also recreationally mountain biking, and the odd road race. The weekly Goodwood "gallops" circuit race became a staple part of training. In my final undergraduate year I became involved with the GB squad going to Barcelona, and had four of the team as my dissertation subjects!
I then moved to Cape Town to do a PhD where again cycling supported my triathlon, but at this point I was able to study the elite riders doing the Giro del Capo (a 4 day professional road race that used the Cape Argus (now Cape Town Cycle Tour) as the final stage of racing. This was published in international scientific papers as the first ever analysis of pro riders during competition.
You wrote a book, Cycling Successful Sportives - what inspired that?
I was giving a presentation at the Cycle Show (on a topic very similar to that being delivered) and I was approached by the publishers and asked if I would be interested in writing a book on training for sportives. At this point there was nothing available for sportive riders, so it seemed a sensible to be able to fill a much-needed gap.
Do you still ride sportives?
In a fashion! Last summer I rode the final 8 days of the Tour de France route with Le Loop, and then 5 weeks later I rode the Haute Route Alps. Neither really are sportives, but probably a stage up from there. That said, they are events that many sportive riders aspire to achieve.
Which is your favourite sportive? And the toughest you've ridden?
Purely for the scenery, the Maratona! I want to go back as I loved it so much!
It's hard to say what I have found the toughest. All have considerably different challenges. I really struggled on the Giau, the heat and the gradient made it a really tough day in the saddle.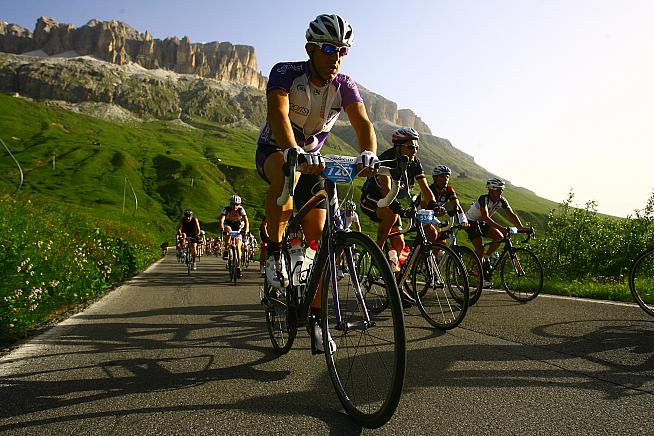 I was in great from when I did the Marmotte, and lucky with the weather, but on paper that's probably one of the toughest one day events out there. The Etape is hard because of the route change every year. I loved Paris-Roubaix, but I couldn't feel my hands properly for two weeks after (despite double bar tape and track mitts - which being a triathlete, I am naughty and never wear!).
However, an event that is not currently run, was an event by KilotoGo Tour of the Peaks! I nearly turned for home after 40k, but eventually managed the medium route... the full long would have been too much that day. The shorter steeper hills, and damp autumn weather, and very strong winds made it SERIOUSLY hard.
I much prefer a European event with long gradual climbs and decent weather.
What would be your three top tips for preparing for a major sportive?
Research the route, to know what you are facing.
Don't underestimate the value of really great base fitness.
Repeatedly riding short steep hills is no replacement for the training you need for long mountain climbs.
...Oh and 4: pace yourself!
What common mistakes do you see sportive cyclists making?
See above! They often go out like lunatics and suffer in the latter stages of a long ride. Either because pace and/or nutrition has gone horribly wrong.
***
If that sounds like you - or you'd like to discuss ways of improving your cycling training - Garry offers a range of personalised coaching and testing services at sportstest.co.uk.
Testing provides a wealth of information such as your Vo2 max, aerobic threshold, lactate threshold, aerobic capacity and much more.
Whether you're a beginner at cycling or an elite athlete, knowing your personalised training zones will help you improve faster and to a higher level.
Find out more at www.sportstest.co.uk.
0 Comments