The weather's been so hot recently across the UK we like to imagine even Scottish farmers are dreaming of styling out Brexit by switching from traditional exports like whisky and midges to tropical fruit (Fife's bananas has a ring to it). For cyclists, the eternal sunshine means skin protection is probably higher up the list of priorities than usual so the launch of Pelotan, a factor 30 sunblock designed for cyclists, couldn't be better timed.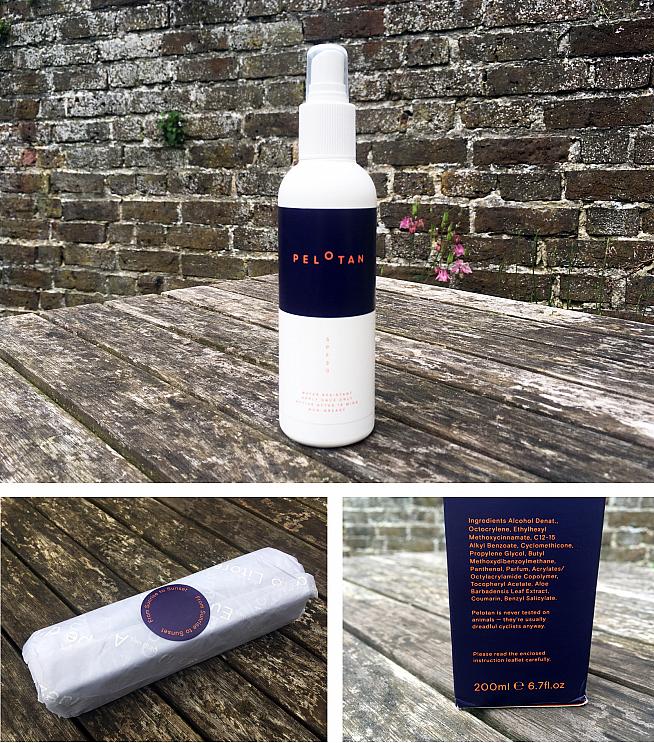 We've been testing an early batch of Pelotan for the past few weeks and it's a nice product. It sprays on with a nice thin consistency and doesn't leave a greasy residue on the skin. The scent is pleasant albeit hard to pin down - notes of vodka, citrus and...chloroform? - but fades fairly quickly so you needn't worry about it clashing with your embrocation.
What doesn't fade quickly is the sun protection: Pelotan is water and sweat resistant and a single application is said to be enough for a full day's riding. While it's hard to assess that claim we can confirm we haven't managed to burn it off yet, even over the course of some dawn-till-dusk rides in northern Italy.
Coming in a smartly branded pocket-sized 200ml bottle, Pelotan is available now on Indiegogo with a range of pledge packages available including Pelotan x Isadore jerseys, bidons and some rather special pro cycling experiences.
Plenty to like then, and as we set out to perfect those all-important tan lines before summer's end Pelotan could be the perfect ally
Pelotan, £20 for 200ml (Early Bird launch offer) - www.pelotan.cc 
0 Comments